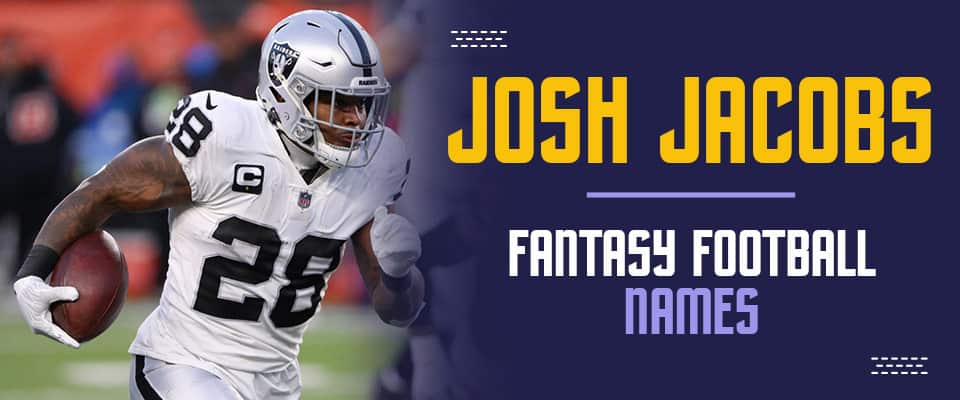 The Raiders were 4-12 the year before Josh Jacobs arrived, and they've improved every season since his arrival. Shockingly, that success wasn't enough for Las Vegas to pick up the fifth-year option on Jacobs' contract.
What can you do? The Raiders are always gonna Raider.
Here are some Josh Jacobs fantasy team names for 2023 because you've got more faith than Mark Davis.
And probably a better haircut too.
Josh Jacobs Fantasy Team Names for 2023
Josh Jacobs is in one of the most elite fraternities in sports: the brotherhood of Alabama running backs. Among that exclusive group, Jacobs is arguably the best (non-Derrick Henry division, that is).
I mean, he's good. But he's not quite Derrick Henry good yet. Yet.
Josh Jacobs and the Amazing Technicolor Dream Coat
If you want one more layer, I like Josh Jacobs and the Amazing Technicolor Dream Team.
Jacobi-Wan Kenobis
Jacobs the Dog's Adventure Time
Jacobbs Salad
Very Joshinteresting
Jacobean Era
This Josh Jacobs fantasy team name is for all the history nerds out there.
Josh Jacobs and the Neverland Pirates
Josh Jacobs from State Farm
Jacobian Matrix
The math nerds will appreciate this Josh Jacobs fantasy name. And to my peeps, congrats on winning your league again this year (I assume).
Jacobs in the Box
Jacobs the Snake
I think Jacobs the Snakobs is funnier. But I guess it depends on how silly you want to get.
Jacobs County
Jacobs Have I Loved
Maybe funny fantasy team names are how you process the traumatizing books they make you read in middle school?
The Josh Fight
If you don't know about the #JoshFight, then watch this. The world is a weird, weird place. That's all I'll say.
Jacobs Two-Two and the Hooded Fang
I would also accept Jacobs Two-Eight and the Hooded Fang.
Jacobsfuscation
JJ the Jet Plane
Josh Jacobs Fantasy Football Team Name Generator
Josh Jacobs Fantasy Football Team Names From Writers & The Community
Funny Josh Jacobs Fantasy Football Names
Josh Jacobs has done a fantastic job staying focused while playing in Las Vegas. I'd have blown my entire rookie contract at the Strip's poker tables.
Sure, there was that minor traffic issue after the 2020 season. But the season had been over by eight hours, so it was technically the offseason.
Josh Vegas
Las Jacobs Raiders
Unhealthy Jacobsession
Josh JacOBGYN
Smokin' Fatty Jacobs
JJ's Boulangerie
You probably need to have visited Paris to get this one. And by Paris, I mean the hotel in Las Vegas (not the actual Paris).
Vegas fans should check out our article dedicated entirely to Las Vegas Raiders fantasy team names.
Suggest a Josh Jacobs Fantasy Football Team Name
Your name may be added to this post!
Josh Jacobs Fantasy Names from Around the Internet
Hey, fellow Internet writers. I see you out there swiping my Josh Jacobs fantasy names!
Granted, I borrow names too. But I have the decency to admit when someone else wrote them, you Plagiarizing Pats.
Josh Jacobs Jingleheimer Schmidt
Just Joshin'
Josh Kosh B'Gosh
LL Cool Jacobs
Corn on the Jacobs
Fantasy Football Team Names for More NFL RBs
We have team name ideas for all RB studs in 2023.
More Josh Jacobs Fantasy Team Name Ideas
If you have a funny team name idea for Josh Jacobs, we'd love to hear it! Put it in the comments below, and we'll add the funniest ones to this list.