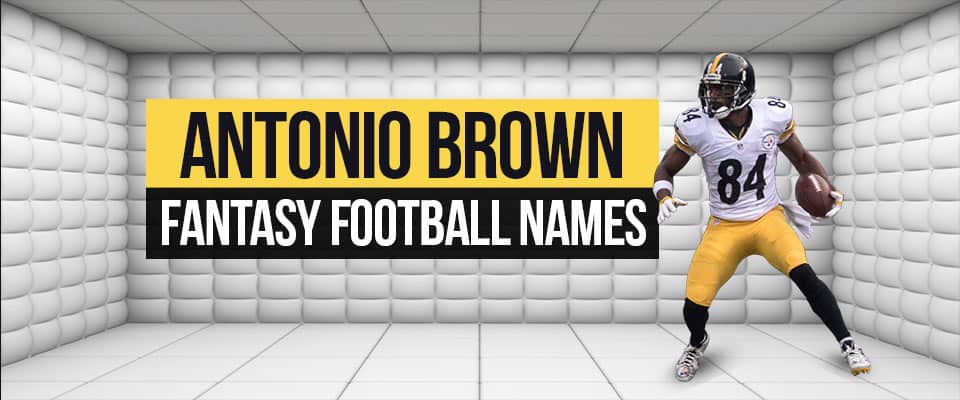 There are few wide receivers as talented (or as nutzo) as Antonio Brown. And in 2023, there are plenty of reasons an owner might want to name their fantasy team in honor of AB.
Maybe you're a true blue fan and you want to keep reppin' your guy. Maybe you're a 2019 AB owner that burned a second-round pick on a guy that played in one stinkin' game. Maybe you're just here for the lulz.
Regardless, here's a list of the best Antonio Brown fantasy football team names for any and all occasions.
Funny Antonio Brown Fantasy Names
I remember winning a league back in 2013 where I got Antonio Brown for $3 at the end of an auction draft. Man, that seems like three Antonio Browns ago now.
Antonio's Old Helmet
Find someone that fights for you like AB fought for his old helmet. And never leave them.
Frostbitten Football
Cryo Me a River
Seriously, Brown's run-in with his cryotherapy chamber is going up there with Bill Gramatica and Gus Ferotte on the stupidest injuries ever list.
Antonio Brown Isn't Working Out
Meltdown Brown
Antonio Catch and Release Brown
God's Pain
I bet Drake's glad he didn't give AB any more screen time now.
Antonio's Insta
Someone that cares about AB should've taken his socials away a long time ago.
The Facemasked Singer
The Unmasked Steeler
Obviously, he's not a Steeler any more. But he was when he shot this:
Also, check out our full list of Pittsburgh Steelers fantasy team names.
The Cuffed Singer
Dancing Behind the Bars
These last two aren't as applicable yet, but they will be. This dude is going to jail for something soon, that much is certain.
Pride Will Be Your Brownfall
AntoniO-Face
That's the face you make when he puts up a 30-point week. Also, the face you make when you read that he's been arrested for assaulting a delivery driver.
Suggest an Antonio Brown Fantasy Football Team Name
Your name may be added to this post!
Silly Antonio Brown Team Names
Forget about the slow-motion trainwreck that is Antonio Brown's life and career. Here are some AB team names that are just dumb.
Antonio BroDown
Antonio Frown
Antcharlio Brown
New England Dreamin'
That sound you heard was AB's master plan going up in smoke. That magical pairing with Tom Brady just wasn't meant to be.
You can always check out our New England Patriots team name ideas and dream of what could have been.
He's not in New England anymore, but we do have a full article dedicated to fantasy football names for Tom Brady.
Cornholio Brown
You Photoshoppers out there, get on this one. Cornholio, but with Antonio Brown's face coming out of the shirt.
It's almost elegant in its simplicity.
Antonio Clown Shoes
Don't Take the Brown Acid
This advice is as applicable to fantasy owners as it was to Woodstock goers back in 1969.
AB, CDeez Nutz?
So this last one is in bad taste, I grant you. But maybe that's just the kind of freaky crew you run with.
Antonio Brown Fantasy Football Team Name Generator
Antonio Brown Fantasy Football Team Names From Writers & The Community
Antonio Brown Fantasy Team Names From Around the Web
Because I'm not the first person to devote brainpower to mocking Antonio Brown.
What Can Brown Do for You?
Brown Out
Antonio Brown Belt
Antonio Brownderas
Brown Bagged It
Dirty Antonio Brown Team Names From Around the Internet
So the more puerile amongst us may have noticed that Antonio's last name could be used in a vulgar manner. I would never write such a team name, but these other authors have.
If dirty names are your thing, check out our complete list of raunchy fantasy football team names.
Antonio's Brown Eye
The Brown Noise
Downtown Brown
Browntown
Take the Downtown to Browntown? Too far? Not far enough?
Team Name Articles for Other NFL WRs
If you're looking for team name ideas for stud WRs, check out these articles.
More OJ Simpson Team Name Ideas
Do you have more team name ideas for Orenthal? Do you have any tips on where to find the real killer?
If so, please me about it in the comments below. I'll add the best OJ team name ideas to this list. And I'll send the best murder leads over to OJ so he can look for the real killer.
Sources: [1]