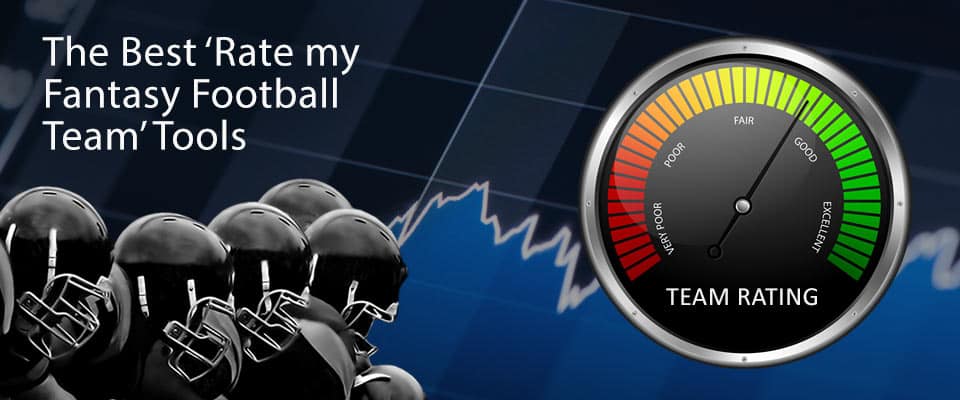 It's hard to be objective about your own team. Of course, you think they're great after draft day – that's why you drafted them. At the same time, it's easy to think that they all stink after a rough three-game losing streak.
To find the truth, you might need to turn to some outside eyes, like a rate my fantasy football team tool or draft analyzer. This article looks at why you might need an evaluation tool, the different ways that they can help, and breaks down some of the top team-ranking tools available.
Features of a Quality Team Analysis Tool
When picking a team analysis tool, it's important to look at factors like the metrics on which they base their algorithms, the tool's cost, and usage requirements. It's also important to use the right type of team evaluator or draft rating tool for your specific situation.
Rate my Team Tools vs Draft Analyzers
The basic underlying principles behind draft analyzers and rate my team tools are the same. The primary difference is when you use them.
Draft analyzers are typically used, surprise, after your team's draft (and before the start of the season). This is because draft analyzers usually work off pre-season statistics and aren't updated after the season beings.
Some rate my team tools can be used at any time (before or after the season starts). But most team analyzers become effective after the first week of games (when real stats become available) and get more accurate as the season progresses.
Superior metrics paint an accurate team outlook
It's not enough to say that your team is good or bad. The right tools will tell you how and why they came to their conclusions.
Make sure you choose a fantasy football tool that aligns with your league's scoring system. The closer you can map the tool's settings to your league's configuration, the more accurate the analysis you'll receive.
Picking the team analyzer that works for your budget
Some fantasy sites will let you use their tools for free, others make their tools free but ask you to register, and some premium sites require both registration and a subscription. As with most things in life, you get what you pay for.
If you're playing in a free league, it may not make sense to pay for a team analyzer. But if you're playing for a prize (or pride), the advanced features you'll get in a paid rate my team tool will be well worth the investment.
The Best Rate My Team & Draft Analyzer Tools
Now that you know the features of a great team analyzer, let's look at a few specific tools. We've already weeded out all the lower-level tools, so these are all top-tier analyzers.
FantasyPros League Analyzer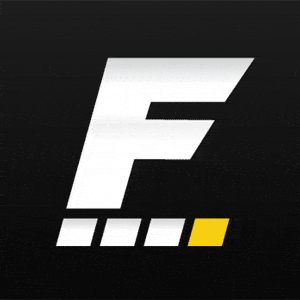 The FantasyPros League Analyzer is like a team analyzer on steroids. That's because it does all of the heavy lifting for you.
This tool is part of FantasyPros' My Playbook suite of in-season tools.
The League Analyzer automatically syncs with your host, downloads your entire league's information, and provides a thorough evaluation of every team in your league. This is far superior to other tools that just analyze your team ( make you enter your roster manually) with no context from the rest of your league.
And the metrics are much better too!
To use the league analyzer, just navigate to the page in your My Playbook Dashboard. By default, the analyzer displays your projected standings over the season and odds of making the playoffs (things don't look good for me after week 5).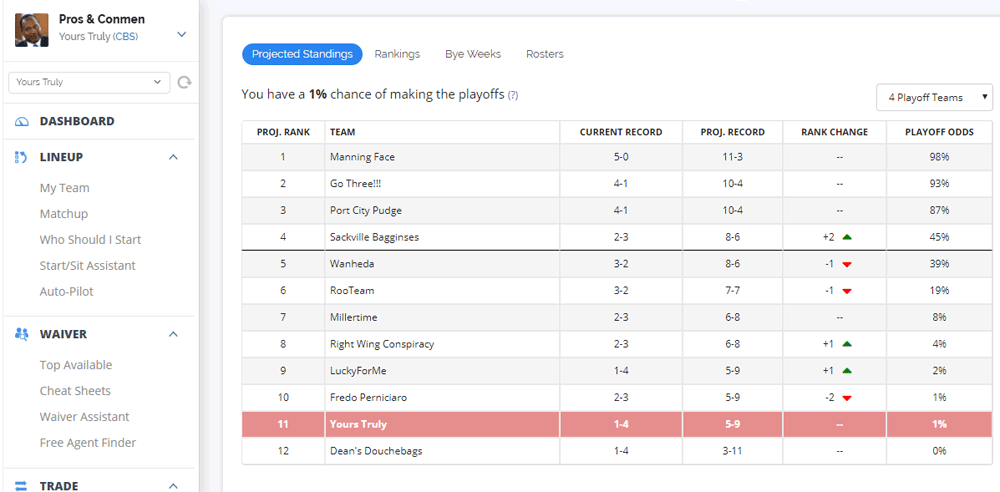 The Rankings tab includes power rankings and evaluates down your roster by position, showing how you stack up against the rest of your league. It also rates your roster of starting players, showing how each position group ranks compared to other teams.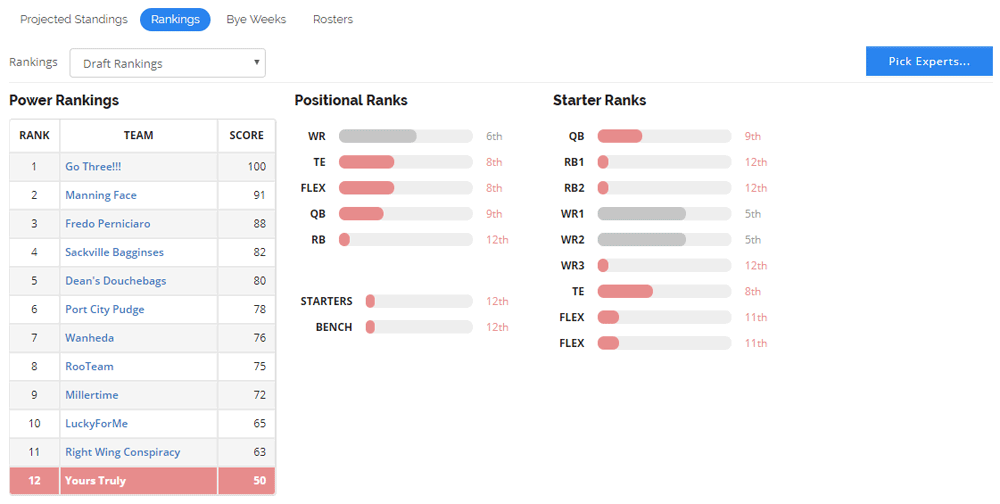 For even more control over the metrics, use the Pick Experts button to select those prognosticators whose opinion you value the most. You can filter based on historical accuracy and so you're getting the best possible analysis.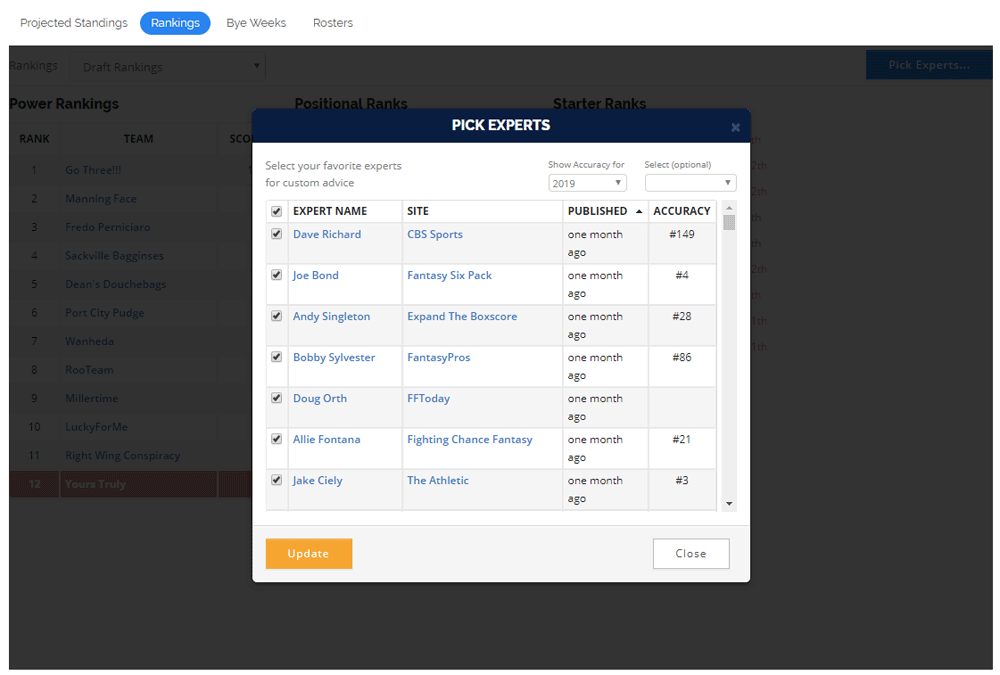 My Playbook includes the League Analyzer and many more in-season tools. If you want a suite of league tools, not just an analyzer, be sure to check out their affordable plan options.
FantasyPros Draft Analyzer Tool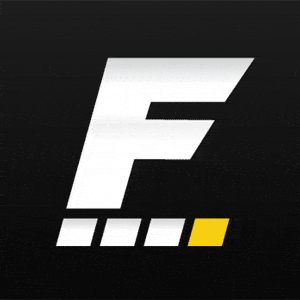 FantasyPros' draft analyzer is a fantastic tool for examining how well you did in your draft (or mock draft). It's also a great way to determine where your team needs to improve.
FantasyPros uses their consensus projections (aggregates of many different experts' rankings) to assess your assets and offer VORP scores for each of your players.
Overview of FantasyPros Draft Analyzer
This draft analyzer works with the results of both mock drafts and real drafts. In order to leverage this tool for real drafts, you'll need to use the Draft Assistant which is also available as part of their Draft Wizard suite of tools.
For the purposes of evaluating this analyzer, I'm going to use these mock draft results from Fantasy Football Calculator.
This tool is separated into five components:
Projected standings
Draft analysis
Team analysis
Final Draft Board
Team Rosters
Projected Standings does just that, determining how your drafted team is projected to rank in the standings. It separates this analysis into overall roster, starters, and bench warmers.
The Draft Analysis section lets you examine who made the best moves during the draft. You can identify steals, highlight instances where an owner may have reached on a pick, and even adjust the algorithm based on the ADP published by a few popular advice sites.
In the image below, the tool highlights the best steals. That is, player who were drafted at least two rounds after their projected ADP.
Team Analysis reveals where you stand vs. your league competition on a position-by-position basis. It offers an evaluation of each roster position, assigning roster values and comparing your team to others in your league.
Finally, there is a grid showing the best players at each position, highlighting the players that are on your roster.

The basic version of this draft analyzer is free, though there is a premium version that has all the bells and whistles. With the premium membership, you can adjust stat categories and scoring systems. The free version provides general, one size fits all analysis.
FootballGuys' Rate My Team (Draft Analyzer) tool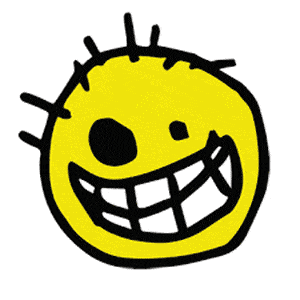 The team analyzer from FootballGuys is billed as a 'Rate my Team' tool, but the disclaimer clearly states it is only updated during the preseason. So to remain consistent with how we defined these tools earlier, I consider this a draft analyzer.
The FootballGuys' tool is highly customizable and adaptable to any league size, roster size, or scoring system. It provides particularly in-depth analyses of your team that can also be adjusted based on several different experts' projections.
Breaking down the FBG analyzer
One of the major perks of the FootballGuys' evaluation tool is that it's free. You simply plug in the players on your team and set the analyzer with your league's configurations (which, admittedly, can take a minute or two).
Then, they send you a highly detailed email report that reveals your team's pluses and minuses, how likely you are to make the playoffs, and other useful facts about your squad.
Note: I just tried to analyze this tool for in-season evaluations and it seems that it may be completely non-functional once the season starts. As a pre-draft tool, it worked pretty well. But you should avoid it otherwise.
FantasySP Fantasy Assistant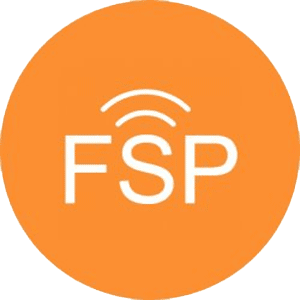 Fantasy SP's Fantasy Assistant is a suite of tools similar to the My Playbook offered by FantasyPros. Unlike their free team analyzer tool, this package is more a dashboard that gives you insight into your team in the context of your specific league.
Although the Fantasy Assistant is a paid tool, they do offer a free trial that lasts for a full week. So if you're simply looking for a draft analysis tool, sign-up for the deal and don't renew your membership.
Analyzing your team with the Fantasy Assistant
Once you access the Fantasy Assistant dashboard, you'll see a range of tools that can help you evaluate your roster. The Projections section reveals how your position groupings stack up against the rest of your league for a particular week.

In the image below, you can see my RBs are projected to score 34 points this week, good for 2nd in the league. The tool thinks I will score 107 points total, and if I played every team in my league this week I'd finish 6-5.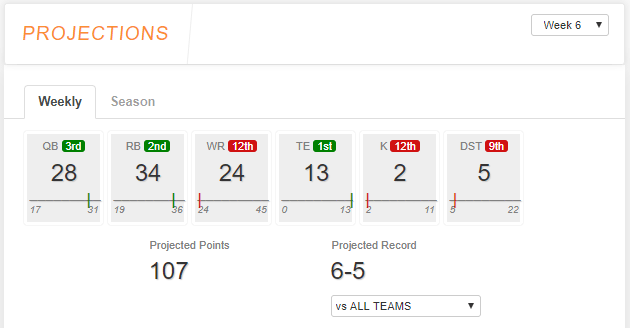 Want to know how your team will perform for the remainder of the season? There's a tab for that too.
Based on these projections, it looks like I need to upgrade both my wide receivers and DST could use an upgrade.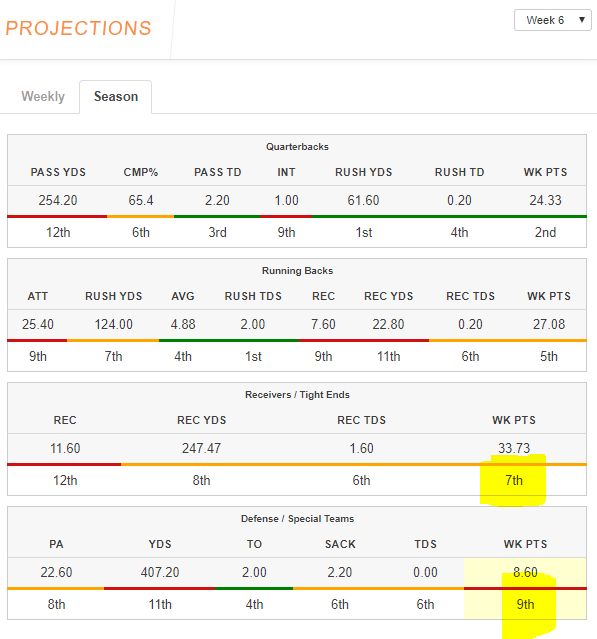 You can also quickly identify your best and worst players. You're probably already painfully aware of your top and bottom players, but it never hurts to get some validation.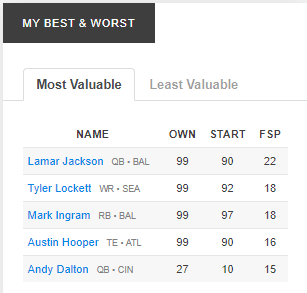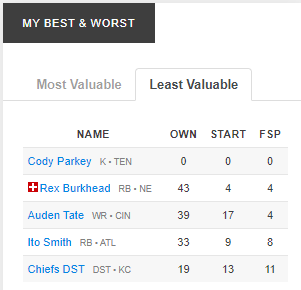 RotoTrade 'Rate my Team' Analyzer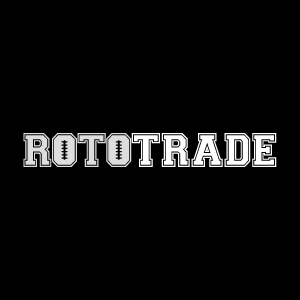 I like the Rate my Team analyzer from RotoTrade because it's highly configurable, thorough, and free. This tool is obviously updated regularly (it even asks you how many games you've won so far), so it makes it a great option if you want to evaluate your roster mid-season.

The one gripe I have with this tool is that you have to enter your entire team manually. However, if you register for a free account, you can save your roster and run the analysis with one click going forward.
Using the RotoTrade 'Rate my Team' tool
To populate your team, just start typing the name of each player into the roster area and select the target player in the dropdown that appears. From there, configure the settings to match your league as closely as possible and click 'Analyze my Team'.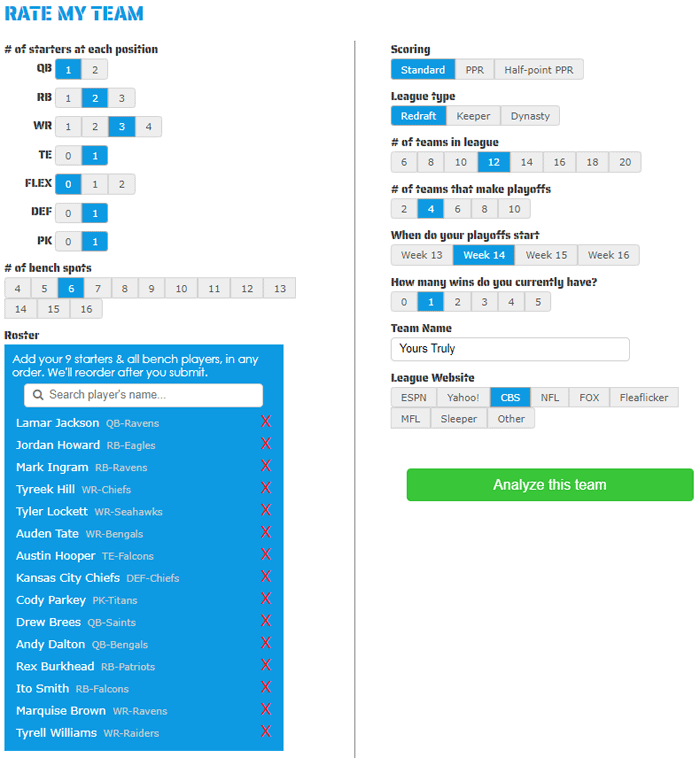 The output from this analyzer includes quite a few metrics:
Overall Team Score
Playoff Chances (%)
Final Record Prediction
Positional Grades
Depth Analysis Grade
Recommendations
Here is the analysis I received for my team:
I particularly like the animated gif they use to sum-up my team's outlook: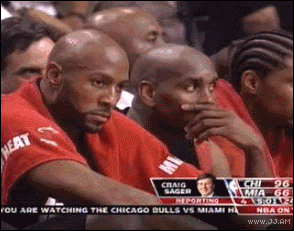 While I agree with most of this tool's analysis. It did miss on a couple of things.

I received a C in my tight end analysis. And while Austin Hooper is no Zac Ertz, he is currently leading all TEs in scoring. So I'm going to call that a miss.
I also received a D+ for my running back analysis. While my bench is absolutely awful, I can live with a starting duo of Mark Ingram (#4 overall) and Jordan Howard (#16 overall).
Still, this rate my team tool is a great option if you're trying to pinch pennies.
'Create A Rank' Draft Grader Service
Create A Rank is a newer fantasy football site with big ambition. This site was built entirely from funds won playing fantasy football.
These guys provide a couple of unique services related to fantasy draft evaluations. They're both paid services but are an incredible value.
Create a Rank's Draft Grader service costs $1.99. For this price, you'll receive an in-depth draft analysis from their lead expert. Plus, you'll get a grade and brief evaluation from five other staff writers.
Using the Draft Grader service
To order the Draft Grader analysis, you can place an order through their website. From there, you'll receive an email asking you to provide information about your completed draft.
I emailed them my draft results and received a response about twelve hours later. Here is the analysis I received from their lead expert:
Lead Expert Grade: D. Good start with Chubb in the first. While I prefer Dalvin Cook or some of the WRs, there is a strong argument to be made for Chubb in what is expected to be one of the more prolific offenses in the league.

You continued your strong start with Hill in the second. I'm not a fan of Ingram, he could lose work to rookie Justice Hill and despite the Ravens desire to run the ball, is a reach in the third round. In the fourth, I'm thrilled with the Lockett pick as the Seattle passing game will go through Lockett.

Assuming this league is 1QB, I don't like the Mayfield pick in the fifth. I like Baker, but too early to take a QB for my liking. I'd rather wait a few rounds for Lamar Jackson, Kyler Murray, or Jameis Winston. The follow-up with Brees makes it even worse for me (unless it's 2QB/Superflex). You are passing up on talented RBs and WRs in the middle rounds which is an incredibly important time to target those positions and instead taking multiple players at a devalued/deeper position.

Eric Ebron is the biggest negative touchdown regression candidate. I would prefer a Vance McDonald, David Njoku, or Austin Hooper around that ADP. Justin Jackson was quite a reach in the ninth. He will at best split carries behind Austin Ekeler and we don't know when Melvin Gordon will return. I would prefer many other options in that part of the draft.

Drafting Kareem Hunt makes little sense unless you have an IR spot to stash him, and even then the 11th is too soon for a back that is not eligible to return until very late in the fantasy regular season and will have a limited role when he does. I would rather an upside/breakout candidate like Justice Hill, Jaylen Samuels, Damien Harris.

As it turns out, this analysis turned out to be quite prophetic. So this service is definitely worth the money if you want an honest, unbiased evaluation of your roster.
Custom podcast analysis of your draft
Another killer service offered by Create A Rank is their podcast service. For $30, they'll create a podcast for just about anything related to your league.
I definitely want to check out this service for my league's 2020 draft. When I do, I'll report back.
Updated on