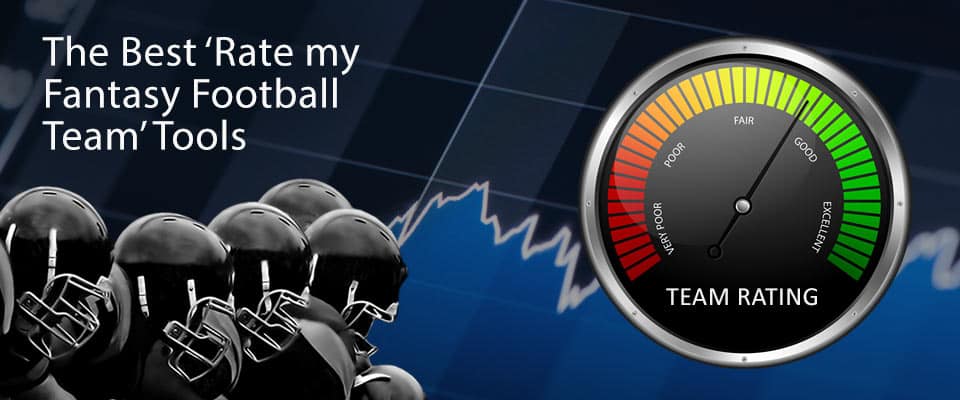 If the truth is what you seek, you need the impartial analysis provided by an accurate team grading tool.
Whether you're looking for a draft analyzer to grade your latest draft or seeking a rate my fantasy football team tool to determine your strengths and weaknesses mid-season, I've got you covered. Today, I break down six popular roster analysis tools, what makes them valuable, and how you can leverage them to improve your roster and win more championships.
The Best Fantasy Draft Analyzer Tools
Let's take an in-depth look at some of my favorite fantasy draft grader tools for 2023. As I experimented with each of these grade my draft tools in detail (with the results shown below), I used these draft results from Fantasy Football Calculator (I'm Team 9).
Publisher
Analyzer
Rating
FantasyPros Draft Analyzer

(click to try for free)

DraftSharks War Room

Football Diehards Draft Grader

FootballGuys Rate My Team Tool
FantasyPros 2023 Draft Analyzer Tool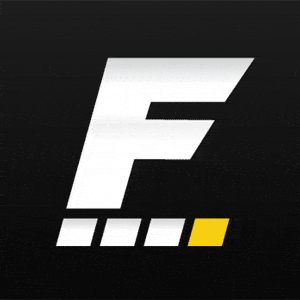 FantasyPros is a well-known name in the industry. Their wide range of tools (and vigorously vetted fantasy experts) make them a popular choice for owners looking to get objective team analysis.
The FantasyPros' Draft Analyzer is a fantastic tool for examining how well you did in your draft (or mock). But I think this is one of the best apps for fantasy football because it presents an action plan for how your team can improve.
FantasyPros uses their consensus projections (aggregates of many different experts' rankings) to evaluate your players and offer VORP scores for your entire roster.
Overview of the FantasyPros Draft Analyzer
This draft analyzer works with the results of both mock drafts and real drafts. It assigns a grade based on your full roster, starters, and bench warmers.
To leverage this rate my team tool for real drafts, you'll need to use the Draft Assistant, a component of the Draft Wizard suite of fantasy football draft tools.
This analyzer tool breaks down your roster into five tabbed reports:
Projected standings
Draft analysis (available with Premium upgrade)
Team analysis (available with Premium upgrade)
Final Draft Board (player selection grid)
Team Rosters
Projected Standings rank your fantasy team
Projected Standings predicts how your final roster compares to the other teams in your league. The playoffs definitely seem like a possibility in 2023!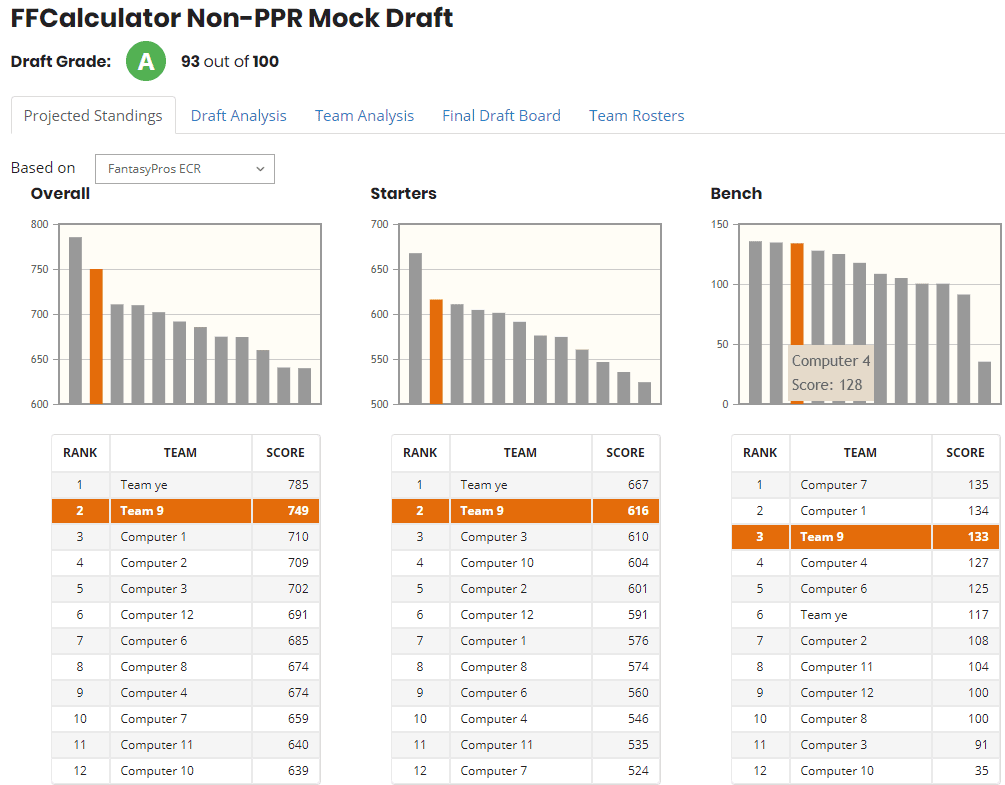 Draft Analysis rates your best selections
The Draft Analysis tab reveals who made the most valuable selections. It identifies steals, highlights instances where an owner may have reached on a pick, and even adjusts the algorithm based on current ADP statistics compiled by the best fantasy football sites.
The Draft Analysis tab is the most insightful component of this tool, but you'll need to upgrade to Premium to access this data.
FantasyPros is currently offering a 60% discount on their yearly Premium plans. That's less than $8 a month for their best plan (MVP), which even incorporates daily fantasy tools (and a reliable DFS lineup optimizer).
Below, you can see that the tool highlighted my best steals. It turns out I got some great value with these picks:
Allen Robinson in the 5th
Jonathan Taylor in the 7th
Marvin Jones in the 9th
Hayden Hurst in the 15th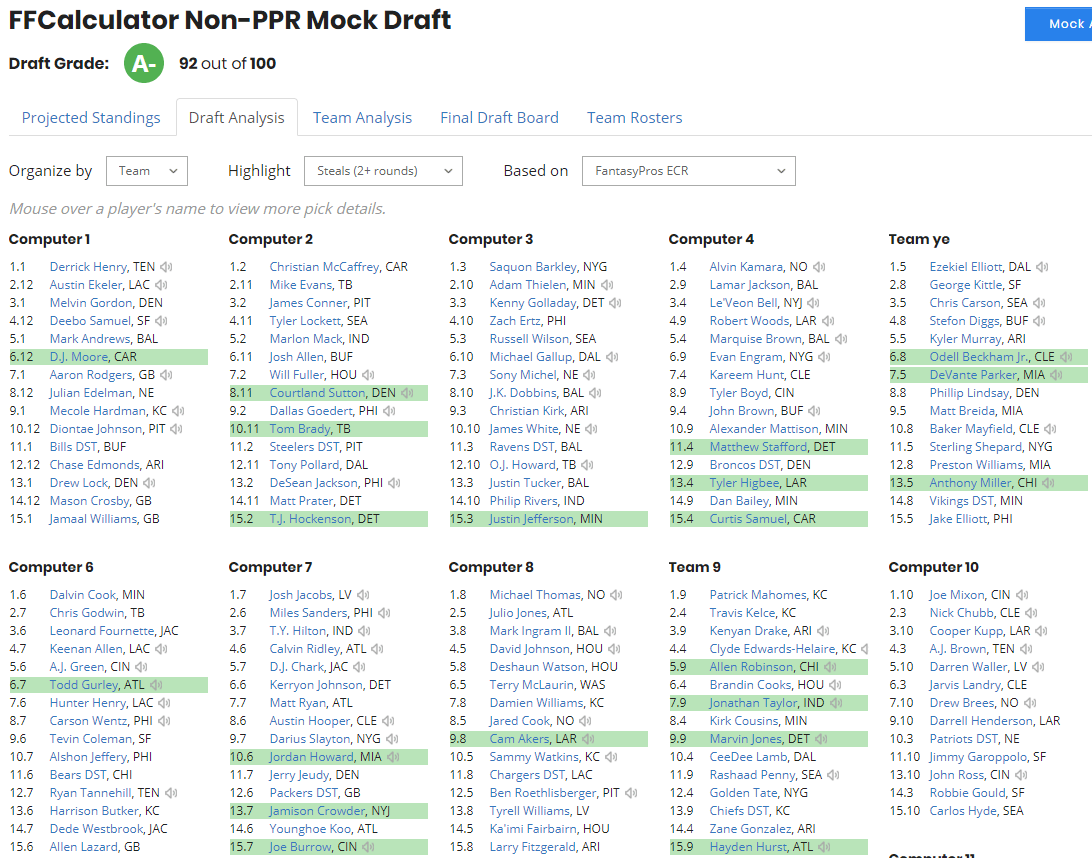 The FantasyPros Draft Analyzer considers a player a steal if you picked them at least two rounds after their projected ADP.
Team Analysis grades your fantasy team by position
The Team Analysis report reveals where you stand vs. your league competition on a position-by-position basis. It ranks your fantasy roster by position, assigning an overall ranking to each position and declaring your strongest and weakest position.
Finally, a grid ranks every selected player by position. The rater algorithm highlights your selections to convey your positions of strength.

It's evident that I have some work to do at wide receiver. But at least I have the top quarterback and tight end in all of football!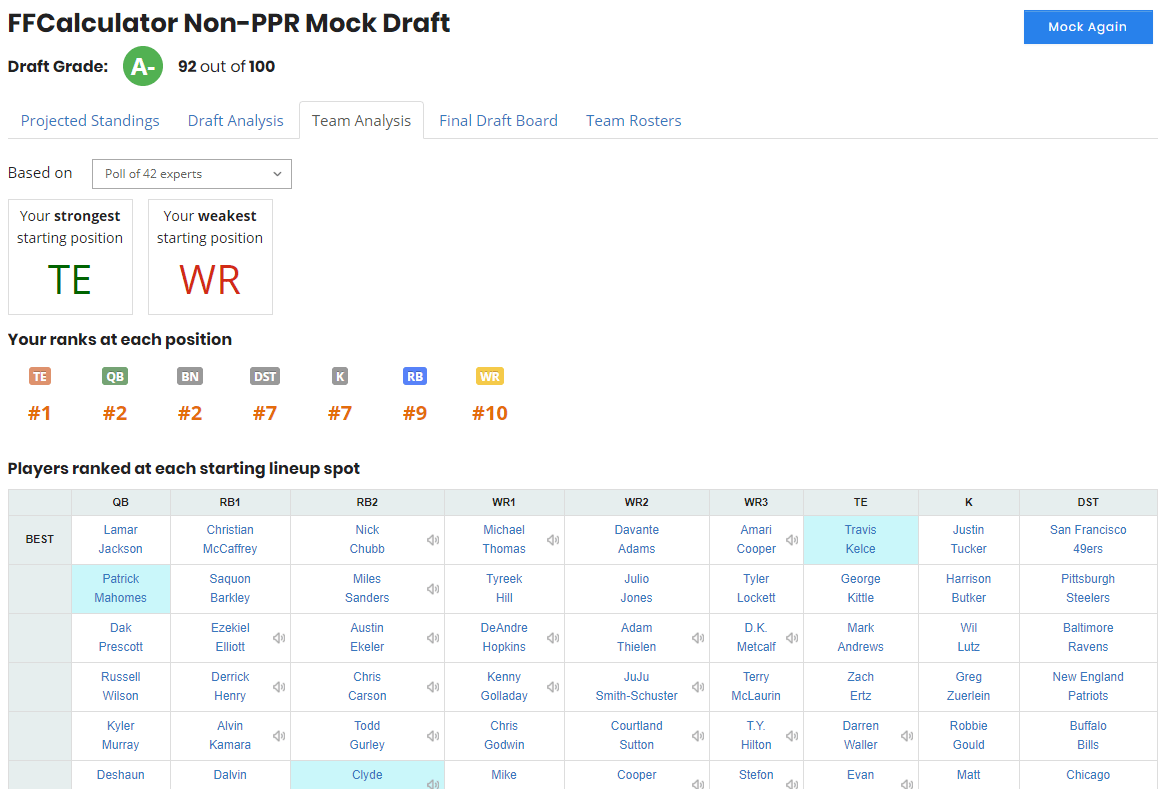 Premium Draft Analyzer Expands Configurations
The basic version of this fantasy draft analyzer is free and provides general, one-size-fits-all analysis. The premium version has all the bells, whistles, and advanced options you'd expect from the best rate my fantasy draft tool.
For instance, with the paid analyzer, you can adjust stat categories and scoring systems to match your league configuration precisely. You need to consider these advanced features if you're serious about taking your team to the next level.
---
Draft Sharks Warm Room Analysis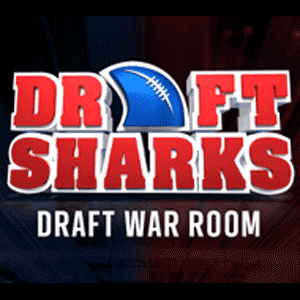 Draft Sharks built roster analysis directly into their Draft War Room tool. So, if you use this tool to sync and track your selections, the analyzer will automatically calculate your grade once it is complete.
If your draft is already complete, sync the tool with your league to get your in-depth analysis. And if you're trying to grade some mocks, they've got you covered there, too!
When it comes to metrics, Draft Sharks provides a team analysis using their own metrics but also includes grades based on consensus projections. This way, you can compare and contrast to ensure the stats are consistent across the industry landscape.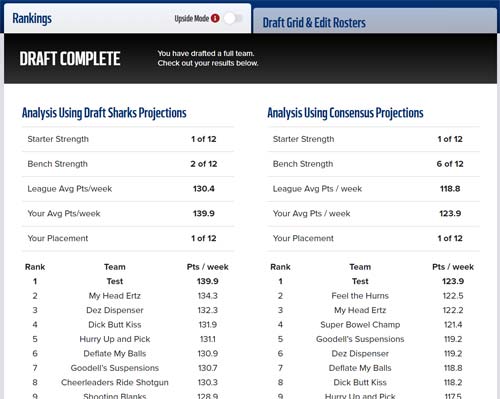 The Draft War Room is a feature that comes with their 2023 package. Along with the war room, you'll get access to extensive premium content:
3D Projections
Scientific Injury Predictor
Round-by-Round Draft Strategies
Through my partnership with Draft Sharks, they're offering my readers one full week of free access to all of their tools. After this trial period, you can sign-up for the $39 package. Or, you can sign-up for DS Insider to get access to all of their tools (pre-season, in-season, & daily) for only $36 semi-annually.
---
FootballDiehards Free Draft Grader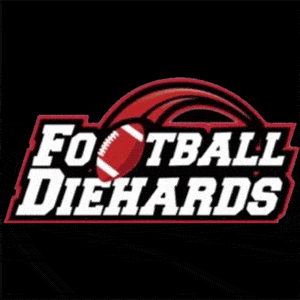 The Football Diehards draft rater tool doesn't have all of the bells and whistles of the FantasyPros Draft Analyzer. But it's a useful analyzer and is entirely free.
And unlike the free tool from FootballGuys, the Diehards assign an actual grade to every player selection. If you're seeking a true performance rating, isn't that ultimately what you want to see?
Configuring the draft grader
To get started, select your league scoring system, number of managers, and roster configuration. Then, enter each player on your team.
After fixing a couple of spelling mistakes, I got my roster loaded.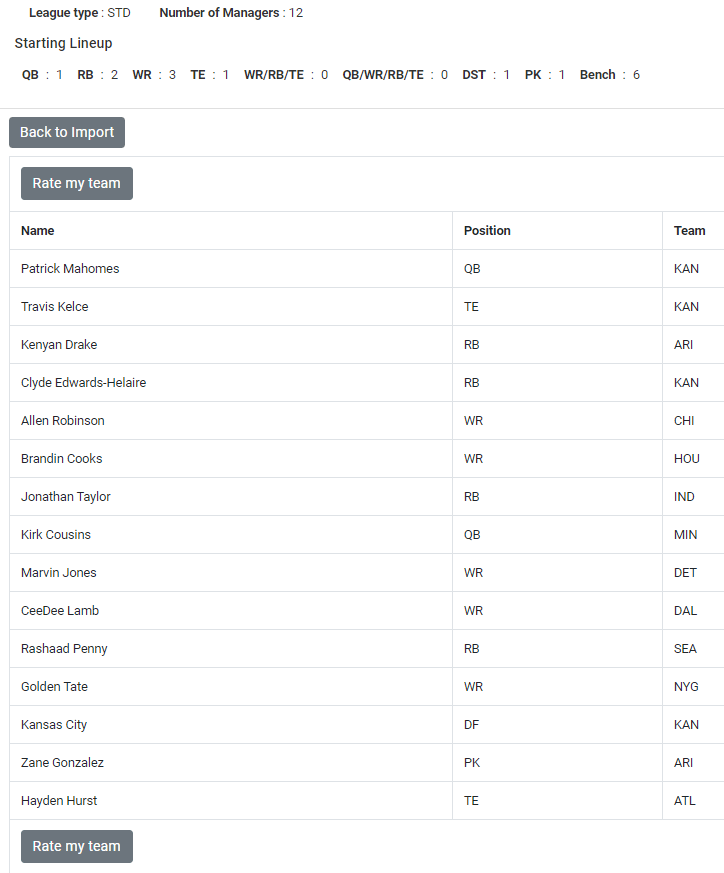 Grading my Fantasy Draft
The Football Diehards assign a pure letter grade to each fantasy position. The grades I received mostly aligned with the output of other analyzers (I'm killing it at QB/TE, but I probably need some help at RB/WR).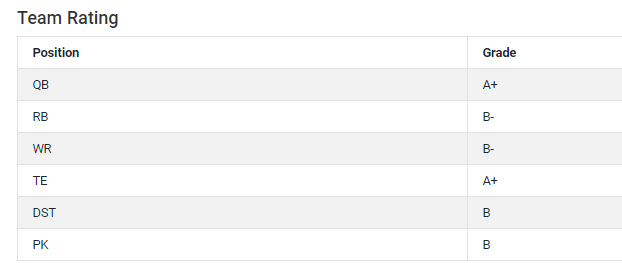 If you haven't named your fantasy team yet, we've identified some tools to help inspire you. Pick a fantasy football name generator from our list and get those creative juices flowing.
Fantasy Bye Week Analysis
One unique feature of the Diehards team grader is that they evaluate your positional strength when one of your players is on a bye week. So, while I'm set at quarterback when Mahomes or Cousins are on byes, there's trouble coming in week ten if I don't make a move at tight end.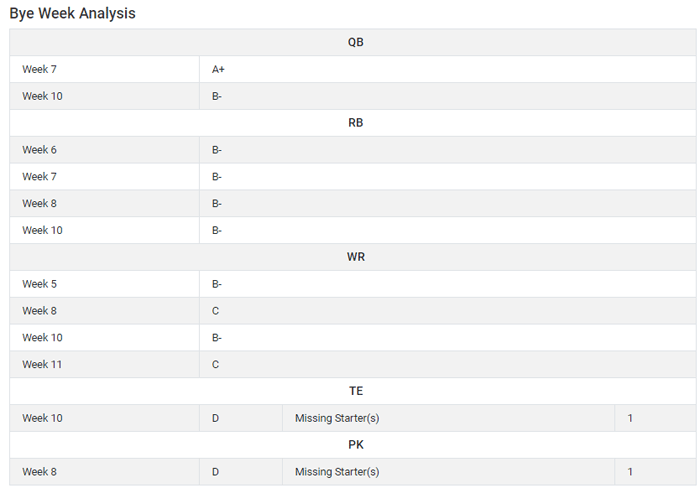 A fast, reliable draft grader with room to grow
The free draft grader from the Football Diehards is a simple but useful tool for those looking for quick feedback. The bye week analysis is a unique angle, and I'm hoping to see more improvements to this tool in the future.
---
FootballGuys' Fantasy Football Draft Analyzer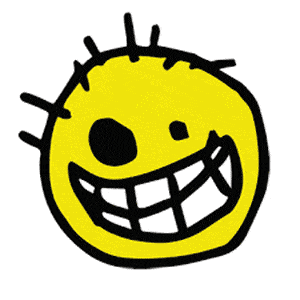 FootballGuys revamped their "Rate my Team" tool for the 2023 season. And let's just say it was way past due.
I was excited to take this grader for a test drive, as their previous tools were lackluster. Their analysis was always on point, and their projections were more than adequate.
But the software was always clunky and wasn't in the same class as others in their review. Did they improve in this area?
Let's take a closer look.
Fantasy league synchronization support
For starters, their rater is completely free. And unlike most other free fantasy draft evaluation tools, they allow you to sync with your league host.
Before writing this review, I had just completed my draft at Underdog Fantasy. Specifically, I threw my hat in the rink for their Best Ball Mania tournament- fairly certain I would walk away with the 3 million dollar prize (checking out my article on making money with fantasy football for details).
But to my surprise, Underdog Fantasy isn't one of the fantasy football hosts that they support. Bummer. So I tried to sync with one of my ESPN leagues, but still no dice.
A little perturbed, I reluctantly entered my roster manually. Here's the list of platforms they claim to support.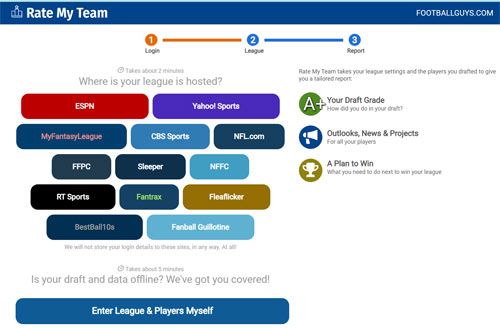 Evaluating the Report
The good news is, I ended up scoring an "A"! Here is a link to my report, posted to Twitter, that you can review for yourself.
First, I'll note that the draft grade report is formatted extremely well. There's a good mixture of imagery, graphs, and textual analysis that makes the report easy to digest.
Note: In order to gain access to the report, you will have to give up your email address. So expect to get some follow-up correspondence from the FootballGuys.
My draft report correctly surmised that quarterback and tight end are my top strengths and that I drafted two quarterbacks with the same bye week (guilty!). They also aptly noted that I'll need a little luck at wide receiver and running back if I'm going to put together a strong season.
My draft grade summary also recommended some top-rated free agents I could consider targeting. This would be more suitable for standard leagues (Underdog's tournament is in the best ball format). But overall, this was an excellent analysis.
My thoughts on the FBG Draft Analyzer
The new draft analysis tool from FootballGuys is a significant improvement over their previous products. It's free, and in the report, you can earn an additional 10% off of their premium content. Everyone should give this tool a test spin.
The Best Rate My Fantasy Football Team Tools
Once you understand the features of an excellent team grading tool, it's time to find the best team analyzer. I've already weeded out inferior graders, leaving these tools as my top team analyzers of 2023.
Since these team rater algorithms crunch in-season data, I am basing my analysis on tests I ran during last season. Yes, my team finished horribly, but I did have the most points scored against my squad (not that it would have mattered).
FantasyPros' League Analyzer – Fantasy Football Draft Grades for Your Entire League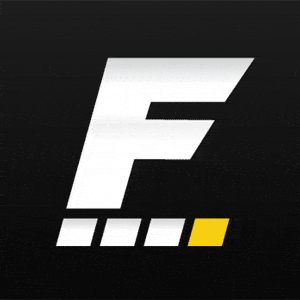 The FantasyPros League Analyzer is like a fantasy football rater on steroids. That's because it does all of the heavy lifting for you.
This roster analyzer is part of FantasyPros' My Playbook suite of in-season software. It is a collection of tools that help you make those critical personnel decisions once the season starts.
The League Analyzer automatically syncs with your host, downloads your entire league's information, and provides a thorough evaluation of every team in your league. I love this because once the season starts, I want my fantasy team rater to rank my team against my league opponents.

This level of integration is far superior to other tools that only analyze your team (and make you enter your roster manually) with no context from the rest of your league.
The player metrics provided by the League Analyzer are also light-years better than other team analyzers. We're talking practical, actionable insights you can use to start upgrading your roster immediately.
FantasyPros also has tools to help with your weekly sit or start decisions. You can get advanced start-sit advice for your entire team with the Start Sit Assistant, or use their free tool, which provides limited but valuable advice.
Getting started with the League Analyzer
To use the League Analyzer, just navigate to the tool in your My Playbook dashboard. By default, the analyzer displays:
Projected standings throughout the season
Odds of making the playoffs (things don't look good for me).
Each team's change in rank over the last week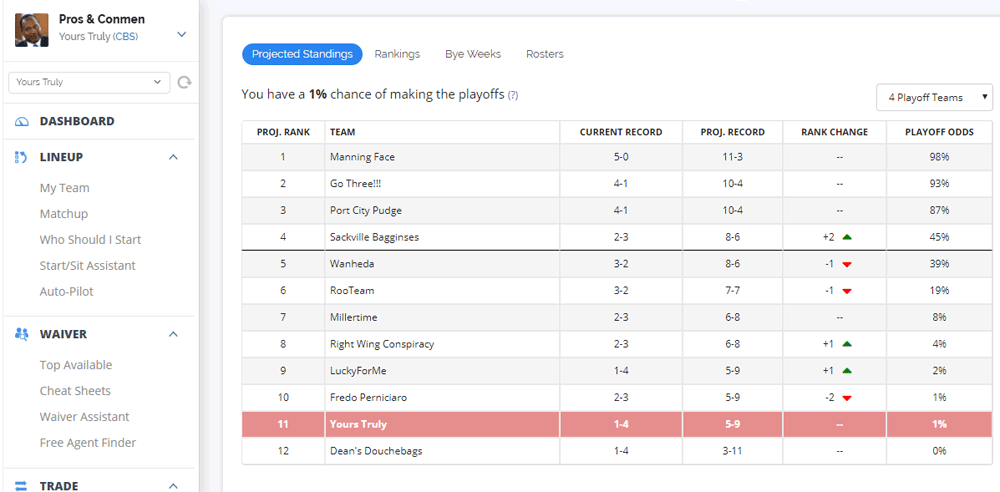 Ranking my team against other owners
The Rankings tab contains power rankings and evaluates your roster by position, showing how each stacks up against the rest of your league. It also rates your roster of starting players, revealing how each position group ranks compared to other teams.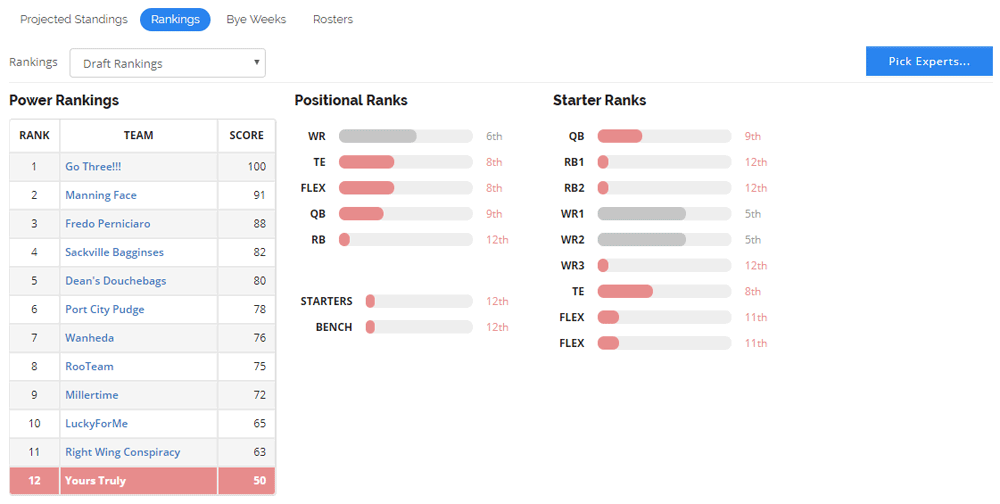 For even more control over the grading algorithm, use the Pick Experts button to hand-pick those prognosticators whose opinions you value the most. You can filter based on historical accuracy, so you get team analysis from the most legit industry experts.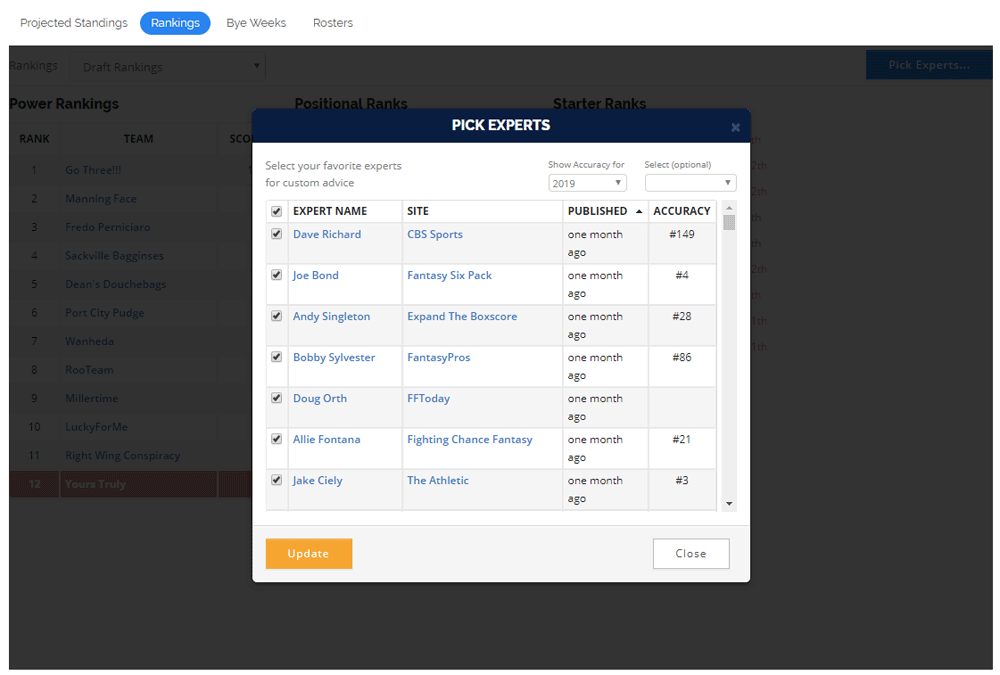 How to get the League Analyzer
FantasyPros in-season package, My Playbook, includes the League Analyzer and many more tools to manage your team. If you want an entire suite of league tools, not just an analyzer, check out their affordable plan options.
---
FantasySP Fantasy Assistant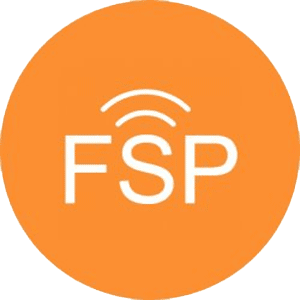 Fantasy SP's Fantasy Assistant is a suite of tools similar to the My Playbook offered by FantasyPros (I review them in detail here). Unlike their free fantasy football team grader, this package from FantasySP is more of a dashboard that gives you insight into your team in the context of your specific league.
Although the Fantasy Assistant is a paid team evaluator, they offer a free trial that lasts for a full week. So if you're simply looking for a draft analysis tool (it works quite well before the season), sign-up for the deal to get your analysis then cancel your membership.
Analyzing your team with the Fantasy Assistant
Once you access the Fantasy Assistant dashboard, you'll have access to a range of tools that can help you evaluate your roster. The Projections section reveals how your position groupings stack up against the rest of your league for a particular week.
If your competition is superior at a position of need for your team, maybe a trade is in order? I evaluated the best fantasy football trade calculators in another article. Check it out for ideas on how to identify and close lucrative trade opportunities.
Below, you can see that this roster analysis tool expects my running backs to score 34 points this week (good for 2nd in the league)! It projects I will score 107 points total, and if I played every team in my league this week, I'd finish 6-5.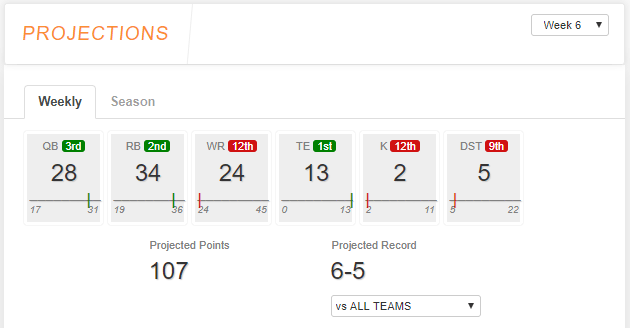 Want to know how your team will perform for the remainder of the season? There's a tab for that too.
Based on these projections, it looks like I need to upgrade both my wide receivers and DST.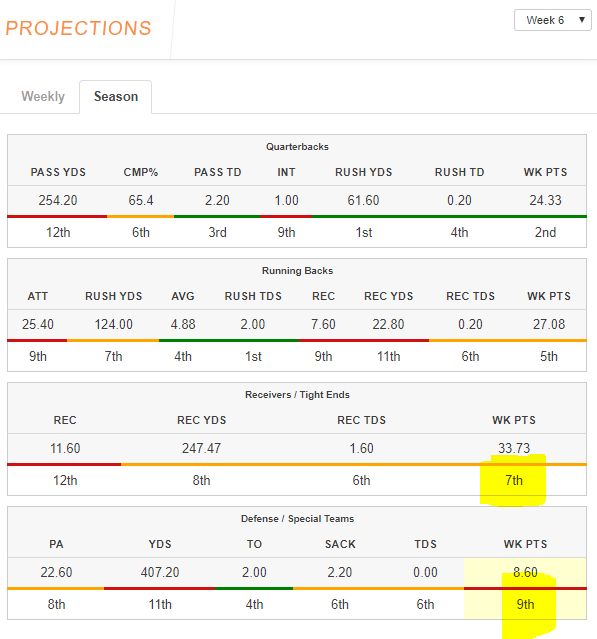 You can also quickly identify your best and worst players. While you're probably already aware of your studs and drop candidates, it never hurts to get some validation.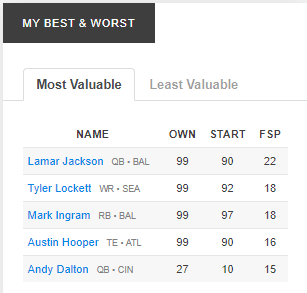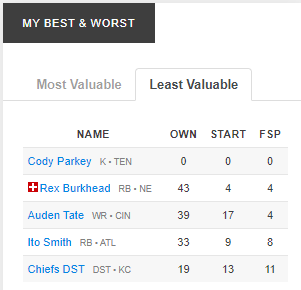 ---
RotoTrade 'Rate my Team' Analyzer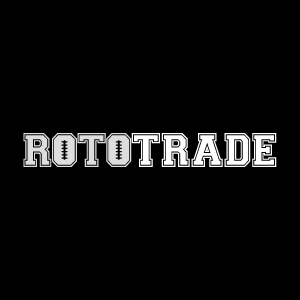 I like the Rate my Team analyzer from RotoTrade because it's highly configurable, thorough, and free. This tool is updated regularly (even asking you how many games you've won so far), so it makes it a great option if you want to evaluate your roster frequently throughout the season.

My one big gripe is I have to enter my entire team manually. However, if you register for a free account, you can save your roster and run the analysis with one click going forward.
Using the RotoTrade 'Rate my Team' tool
To integrate your team with this team rating tool, start typing each player into the roster area, selecting the target player in the dropdown that appears. From there, configure the settings to match your league (as closely as possible) and click 'Analyze my Team.'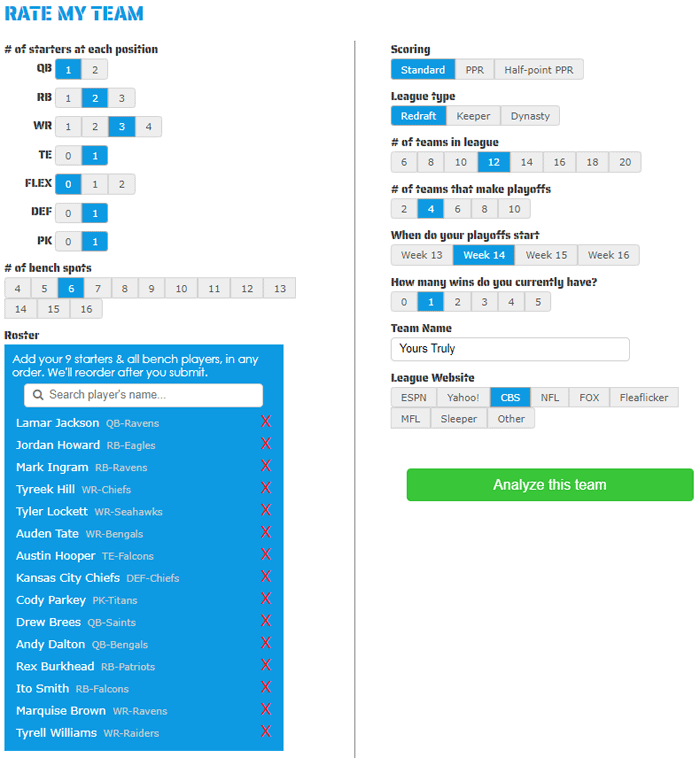 The output from the team evaluator includes quite a few useful metrics:
Overall Team Score
Playoff Chances (%)
Final Record Prediction
Positional Grades
Depth Analysis Grade
Recommendations
Here is the analysis I received for my team:
I particularly like the animated gif they use to sum-up my team's outlook: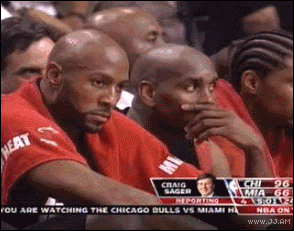 While I agree with most of this tool's analysis. It did miss a couple of things.
I received a C in my tight-end analysis. And while Austin Hooper is no Zac Ertz, he was currently leading all TEs in scoring when I ran this test. I'm going to call that a miss.
I also received a D+ for my running back analysis. While my bench was atrocious, I could live with a starting duo of Mark Ingram (#4 overall) and Jordan Howard (#16). So I feel they may over-value bench players.
This rate my team tool is sufficient if you're trying to pinch pennies. It's my favorite free team analyzer.
Features of a Quality Team Analysis Tool
It's football time, and you know what that means. Everyone is asking the same question: "How good is my fantasy football team?"
Just visit Reddit, forums, or your league message board, and you'll see owners asking other enthusiasts to rate my draft or rate my team. This is where fantasy draft grader tools come in handy.
When considering any rank my fantasy team tool, it's essential to consider these factors:
The metrics on which they base their algorithms
The cost (if any) associated with using the tool
How actionable the statistical output is to your roster
It's also critical to choose the right type of team evaluator or draft rating tool for your league's configuration.
Let's take a closer look at the various types of evaluation software and what makes them unique.
Draft Analyzers vs. Rate my Team Tools
The basic underlying principles behind draft analyzers and rate my team tools are the same. The primary difference is when you use them.
Draft analyzers are typically used (surprise, surprise) after your draft. This fantasy-grading tool classification is put in an exclusive category because these tools base their analysis on pre-season projections, and their publishers rarely update them after the season begins.
Conversely, rate my team tools (sometimes called team analyzers) can usually be used at any time (before or after the season starts). However, usage ramps-up after the first week of games (when real stats become available) and get more accurate as the season progresses.
Superior input metrics will paint an accurate outlook on performance
Try to find a fantasy football tool that aligns with your league scoring system. The closer you can map the tool's settings to your league configuration, the more accurate the analysis you'll receive.
If you want to improve your roster, knowing if your team is good or bad is not enough. The best team analysis tools indicate how and why they came to their conclusion.

In this way, you can act on the analyzer's output metrics and improve your chances of success.
Picking an analyzer that works for your budget
Some fantasy sites let you use their team grader tools for a small fee. Others release their tools for free, but require that you register. Premium rate my team tools frequently require both registration and a subscription.

As with most things in life, you get what you pay for.
If you're playing in a free league, it may not make sense to pay for a team analyzer. But if you're playing for a prize (or pride), the advanced features of a paid "rate my team" tool are well worth the nominal investment.