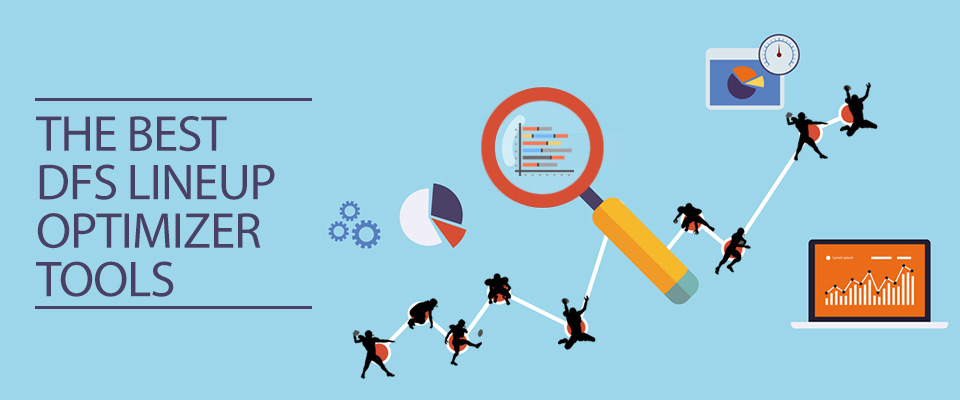 Did you know that less than 2% of all DFS players collect over 90% of the winnings? In the competitive space of daily fantasy sports, you're either the hunter or the hunted.
To be competitive, you can't bring a knife to a gun fight. And in daily fantasy, the most effective tool is the DFS lineup optimizer.
I've done the analysis, crunched the numbers, and now it's time to reveal the best DFS lineup optimizers of 2023.
The Best DFS Lineup Optimizers of 2023
There are many daily fantasy research tools on the market, and developers create more every year. For 2023, I ranked the best optimizers according to the following metrics:
Usability – How easy the optimizer is to use both beginners and experts
Value – Which optimizer delivers the most value for the cost
Effectiveness – Those optimizers that can quickly produce positive results
Tool Suite – Lineup generators that are part of a comprehensive software package
I also reveal the top optimizers in several categories:
Let's get started with an overview of the leading lineup optimizers for 2023.
Draft Dashboard supports a range of usable DFS tools
Daily Fantasy Nerd's affordable plans provide great value
DFS Army's expert staff makes their tools more effective
The Key Features of an Effective DFS Lineup Optimizer
Lineup optimizers are not one size fits all tools. While some DFS players insist on the most feature-packed optimizers, others prefer to utilize tools that emphasize simplicity and speed.
Here are other important factors that may influence your choice of an optimizer.
In the next few sections, I dig a bit deeper into the essential features of lineup optimizers. I also reveal the best DFS lineup optimizer in each of the primary feature categories: usability, value, effectiveness, & tool suite.
A usable lineup optimizer should be versatile and intuitive
DFS tools, especially lineup optimizers, were created to reduce the time needed to generate the best DFS lineups. Confusing and clunky interfaces increase research time, leading to lousy fantasy lineup decisions and poor contest performance.
The best lineup optimizers are feature-rich, but convey the most actionable player metrics clearly and concisely. Access to this data helps you to make faster, more informed roster decisions.
Streamlined research means you can enter more contests, win more prizes, and make more money.
Draft Dashboard promotes efficiency when building lineups
Daily Fantasy Nerd emphasizes simplicity and flexibility
A valuable daily optimizer should provide bang for your buck
At the interestion of cost and effectiveness lies value. The goal for every aspiring DFS expert should be to adopt a lineup optimizer that provides the best return on your investment.
After all, the ultimate goal is to make more money!
Let's look at a few optimizers that are both affordable and have a proven track record of success.
Daily Fantasy Nerd offers valuable, affordable optimization tools
DFS Army supplements its tools with helpful advice
An effective fantasy lineup optimizer produces outstanding results in minimal time
Just about every DFS lineup builder provides some level of value. But just because an optimizer is marginally functional doesn't mean that it is effective.
Effective lineup optimizers accomplish two primary goals:
They simplify and streamline lineup generation quickly and at scale
They provide social proof with proven, documented successes
Let's look at the most significant features of two optimizers that have a track record of sizable and consistent winners.
DFS Army's pros make you a more effective player
Daily Fantasy Nerd produces deep tournament winners
A DFS Lineup Generator should be the centerpiece of a comprehensive software suite
If you look at the sites with the best lineup optimizers, you'll notice that their roster generation tool is usually the core of a more extensive tool suite. The best DFS research sites develop additional tools that address other common daily fantasy problems:
Managing your contest selection and bankroll
Delivering exclusive player news in a timely fashion
Helping you identify sneaky value plays
Integration with popular DFS sites for bulk contest management
Let's look at a few sites that excel when it comes to developing tools that complement and enhance their base lineup optimization functionality.
Draft Dashboard's tools approach optimization from varying viewpoints
Can you try a daily fantasy lineup optimizer for free?
Everyone wants to try before they buy. Luckily, most of the lineup optimizers in this article have a sign-up deal that allows you to test the goods before forking over your hard-earned cash.
Draft Dashboard provides a full month of free access
DFS Army offers free access for new DFS site registrants
The Daily Fantasy Lineup Optimizer with the Widest Sports Coverage
Every daily fantasy lineup optimizer in this article supports all four major US sports leagues (the NFL, NBA, MLB, & NHL). However, as contests for these sports get saturated with DFS players, new sports leagues are being introduced to the fantasy world.
Players looking for lucrative contest opportunities are experimenting with new daily fantasy sports leagues and having huge successes. But which fantasy lineup generator supports the most sports in 2023?
Looking for an NBA lineup optimizer to take your basketball DFS Game to the next level? I researched a slew of NBA daily fantasy tools and reveal the best optimizer for your 2023 contests.
DFS Army has a DFS lineup optimizer for ten major sports
The DFS Optimizer That Integrates with the Most DFS Sites
Many daily fantasy players utilize several different DFS hosts when looking for contests, trying to identify the weakest possible competition. These players need to be able to quickly optimize their daily fantasy sports lineups for platforms beyond DraftKings and FanDuel.
But which lineup optimizer features algorithms flexible enough to support multiple DFS sites?
Daily Fantasy Nerd supports the four most popular DFS sites
The Best Budget DFS Lineup Generator
If you've just started playing daily fantasy sports, it can be hard to justify extra expense of a DFS optimizer. This is especially true when you have a limited bankroll.
Luckily, there are lineup optimizers that are full-featured and won't break the bank.
Daily Fantasy Nerd has a budget plan for single host players
The Best Free DFS Lineup Optimizer for 2023
If you can't pull together the cash (or don't want to pay) for a quality lineup optimizer, you have a couple of options. First, Daily Fantasy Fuel has a free DFS lineup optimizer that is simple and seems to be adequately maintained. It's probably the best free DFS lineup optimizer available in 2023.
Fantasy Football Nerd also maintains an optimizer that isn't entirely free but costs only $8.75 for an entire year (pretty darn close to free compared to other tools). If you're only playing fantasy football and have a tight budget, it's definitely better than nothing.
The risk associated with using a free DFS lineup optimizer
Free DFS tools can be helpful in certain situation. But beware of any free lineup optimizer that claims to produce outstanding results.
If they're free, it means the lineups they're suggesting are likely being used extensively across many different DFS hosts. That's because (surprise, surprise) free tools are quite popular.
Remember, more winning DFS lineups are well-researched but also deviate from the norm. That simply isn't possible if you're configuring your rosters based solely on the output of free lineup optimizers.
Draft Dashboard has a Lower Barrier to Entry
Their lineup optimization tools support the NFL, NBA, NHL, and MLB (we've got another article on how to pick a baseball lineup optimizer). A consistent user experience makes it easy to transition from sport to sport as you prepare for various contests.
I wrote a detailed DraftDashboard review that covers their best features. It's an especially good read if you're considering signing up for their one month $1 trial.
Daily Fantasy Nerd Showcases Proven Results
Daily Fantasy Nerd's player projection metrics are straightforward yet comprehensive. It's simple to integrate your custom projections, tweak their daily fantasy sports algorithm, and generate lineups that are both unique and productive.
It doesn't hurt that they are also the cheapest lineup optimizer with some of the most massive documented payouts of any DFS tool. My DFS Nerd review has more info on their line of daily fantasy software.
DFS Army is a Daily Fantasy Collaboration Platform
I reviewed DFS Army in one of my previous articles. If you want to learn more about their suite of collaboration-based DFS tools, it's a must-read. Their platform and services are especially attractive for daily fantasy novices.
What is a Lineup Optimizer and Why is it Necessary in 2023?
You may have heard that less than 2% of DFS players earn over 90% of the player profits. One big reason for this is that the top players know how to leverage analytics that gives them a statistical advantage.
Lineup optimizers are tools that help you configure DFS lineups with the highest potential point output. It's the primary tool used by the top players to start winning lineups consistently.
Let's take a closer look at lineup optimizers and why they're so crucial for people looking to win money playing daily fantasy.
Every DFS Optimizer aims to solve the "Knapsack Problem"
The classic knapsack problem (or more specifically, the "0-1 knapsack problem") is a classic computer programming puzzle that asks you to solve this combinatorics question:
The Knapsack Problem
"Consider a thief gets into a home to rob and he carries a knapsack. There are a fixed number of items in the home – each with its own weight and value – Jewelry, with less weight and highest value vs tables, with less value but a lot heavy. To add fuel to the fire, the thief has an old knapsack which has limited capacity. Obviously, he can't split the table into half or jewelry into 3/4ths. He either takes it or leaves it…
Given a knapsack of a maximum capacity of W and N items, each with its own value and weight, throw items inside the knapsack such that the final contents have the maximum value"
If you replace the knapsack in this problem with a salary cap-limited DFS lineup, then replace the items in the home with sports players, you'll have a true understanding of the problem that lineup optimizers aim to solve.
To begin evaluating this problem, lineup optimizer developers first assign a value to each player. Then, they utilize daily fantasy algorithm software to determine the precise players to include in your optimal fantasy football lineup (i.e., your knapsack) to maximize the potential point output of your entire DFS roster.
When you consistently start lineups with high potential, you'll win more contests and earn more money.
Do lineup optimizers work in 2023?
No one has the data necessary to definitively prove that lineup optimizers give you a huge advantage. However, empirical evidence suggests that these tools are incredibly effective.
Just review the documented success stories at Draft Dashboard, Daily Fantasy Nerd, and DFS Army, to get an idea of how much you can win with a quality DFS lineup generator. Here is one take-down that is particularly impressive.
A DFS Lineup Optimizer provides distinct statistical advantages
As more and more people try to make money playing DFS, the level of competition gets more and more intense. So it's only natural that being a consistent winner will get increasingly difficult over time.
But data-rich lineup optimizers provide statistical tools to help you maintain that slight mathematical edge, even as more daily players enter the space. And as the adoption of DFS software expands, optimizers are becoming even more essential to your ongoing success.
An effective DFS Optimizer scales contest entry to boost earnings
Most above-average DFS players, with proper bankroll management, can consistently stay in the black. But to earn significant money playing daily fantasy sports, you need to scale up.
One study found that the top eleven DFS players in the world spent an average of 2 million dollars in entry fees in a single year, accounting for an astonishing 17% of all entry fees!
It's an unavoidable fact. Winning more money means you'll have to enter more contests.
But entering more contests means your research and lineup decisions must be even more on point, or you could also stand to lose big. Mass lineup research and bulk contest entry/management are two areas where lineup optimizers can also help to solve these issues.