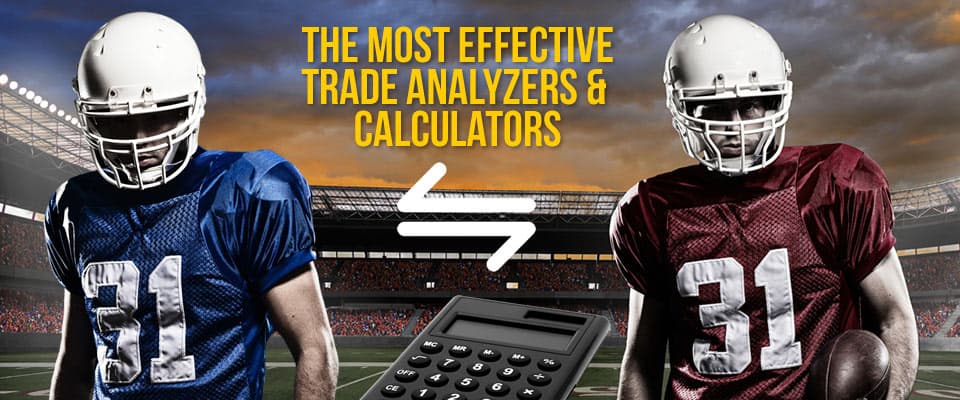 Fantasy football trade tools help you evaluate trades by highlighting the pros and cons of each potential deal, providing projections for each player going forward, and presenting their final verdict on which team gets the better deal. Heck, some trade tools even go out and find the best potential trades for you.
Today I evaluate the best trade analyzers, trade calculators, trade finders, and every other trade-related tool imaginable so that you can click accept or reject with confidence.
The Best Fantasy Football Trade Analyzers of 2023
Trade analyzers are the fantasy football tools that reveal if you're getting a fair shake or being robbed like Andy Garcia in Ocean's 11. The best ff analyzers don't just say yah or nay, though.
Today's owners want detailed fantasy football trade analysis with their tool, especially when utilizing a paid analyzer. Here are my favorite comprehensive fantasy football trade analyzers for 2023.
FantasyPros Trade Analyzer
Draft Sharks Trade Analyzer
Razzball Trade Analyzer
Dynasty League Football Trade Analyzer
Fantasy SP NFL Fantasy Trade Analyzer
The Best Trade Finders of 2023
Sometimes it feels like you've hit a wall with your fantasy football roster. There's no one on the waiver wire who can help, and every trade you propose gets shot down immediately.
Well have no fear, trade finders are here. A fantasy football trade finder helps you get out of your roster rut by suggesting promising trade ideas that may actually be accepted.
FantasyPros Trade Finder
Dynasty League Football's Trade Finder
Fantasy Football Player Trade Value Charts
Sometimes you don't need fantasy sports software to do all the dirty work for you. You just want an idea of how others might view the value of your roster.
This is where trade value charts shine. They assign a single value score to each player on your team, making it easy to scan your opponents' rosters for comparable comps.
Player value charts can differ wildly depending on your league configuration and scoring rules. For instance, a player's trade value in a dynasty league could be drastically different than in re-draft leagues.
Draft Sharks Player Trade Value Charts
FantasyPros Player Trade Value Charts
Fantasy Draft Pick Trade Value Charts
For pre-draft trades, it can be challenging to ensure all teams are getting a fair shake. The last thing you want is one of your league owners building a powerhouse because they swindled another unsuspecting owner.
Adopt these draft pick value charts in your league to set a baseline for draft trades going forward.
Reddit Draft Pick Value Chart
The Ringer Draft Pick Values
Free Fantasy Football Trade Calculators
When solely determining the winner and loser of a proposed trade isn't enough, a fantasy football trade calculator can provide additional context. Trade calculators trade do typically provide more functionality than trade analyzers.
Luckily for you, each fantasy football trade value calculator I review below is completely free. Here are my favorite, free trade calculators you can use to analyze your 2023 trade offers.
Dynasty 101 Trade Calculator
Free Fantasy Football Trade Analyzers
Sometimes, it doesn't make sense to shell out your hard-earned cash for a paid trade analyzer. In a low-stakes fantasy league, a free trade analyzer may be better than nothing. For example, it could highlight a player injury that you missed.
Here are some free fantasy football trade analyzers that you can utilize if you're trying to pinch pennies. Bear in mind, these free trade tools are little more than crowdsourced, 'rate my trade' widgets.
Wondering if your potential trade will pay-off in the short term? Use a player comparison tool to determine who to start. Most start or sit tools provide metrics that can provide a quick sanity check before you press the accept button on a trade.
Fantasy Football Nerd Free Trade Analyzer
RotoTrade's Free Trade Analyzer
Finding the Right Trade Tool for Your Specific Needs
When fantasy football trade advice is hard to come by, owners reach to fantasy tools. But as any honest handyman will tell you, different jobs require different tools.
Let's break down the differences between a trade analyzer, trade calculator, trade finder, player trade chart, and a draft pick trade chart so that you can make sure you're never the Andre in any deal.
A fantasy football trade analyzer evaluates a trade from all angles
Trade analyzers (sometimes referred to as a fantasy football trade evaluator) are what you need when you're proposing or considering a specific, pending offer. They compare the two or more players' past stats, projected output, and how they might fit into your team.
Most declare a winner and loser for the trade.
But the best trade analyzers show you, often on a week by week basis, how your team's production may vary by accepting or rejecting the deal. While the projections are rarely going to be 100% accurate, they do provide an objective viewpoint that hard to find elsewhere.
If nothing else, ff trade analyzers are a sanity check to validate your gut feeling.
A fantasy trade calculator helps you formulate the optimal offer
Executing a successful trade is one of the hardest things to do in fantasy football. Not only do you need to perform research and find an interested trade partner, but the other owner has to actually accept (or provide a legitimate counter to) your offer.
A well-designed fantasy football trade calculator can be especially useful because it allows you to examine the impact of different player combinations when considering a deal. It will enable you to add and remove players from the proposed transaction until you determine fair value.
After all, the best fantasy trades are those that help both sides.
A fantasy trade finder identifies opportunities you may have missed
There are two flavors of fantasy football trade finder:
Finders that scan your league's roster for potential trade opportunities.
Finders that search a league host's trade database for accepted trades that involve the same players.
In both cases, a trade finder identifies potential deals that may have never occurred to you. In some instances, they provide a spark of inspiration to mastermind a season-altering deal.
Trade value charts are an impartial player value guide
Player value in fantasy football is very subjective. That's what makes it so hard to get on the same page as a potential trading partner.
Sometimes, what is needed is an objective trade reference for comparing different players.
Trade value charts assign each player one overall value score that is separate from their actual or projected stats. These scores make it effortless to determine reasonable comps.
These charts are a sensible starting point for any trade negotiation.
You can also get perspective on current player values by using a fantasy football team analysis tool. We wrote an entire article about those tools and even revealed our pick for the best fantasy football draft analyzer.
Fantasy draft pick value charts ensure fairness of pre-draft trades
In some fantasy football leagues, it's not enough to trade players during the season. Some owners want action before the draft even starts.
But how can you assign value to a draft pick, especially in something like a serpentine draft? Draft pick trade value charts make this possible by a compensatory value to each draft selection.
This compensatory value can be used to determine how an owner might use their remaining draft picks to equalize the trade. Adopting these charts in your league will ensure that owners are compensated fairly for the draft picks they trade away.
If you haven't picked a team name yet, check out a fantasy football team names generator from our list of the best. They are sure to help inspire some creative and funny name ideas.