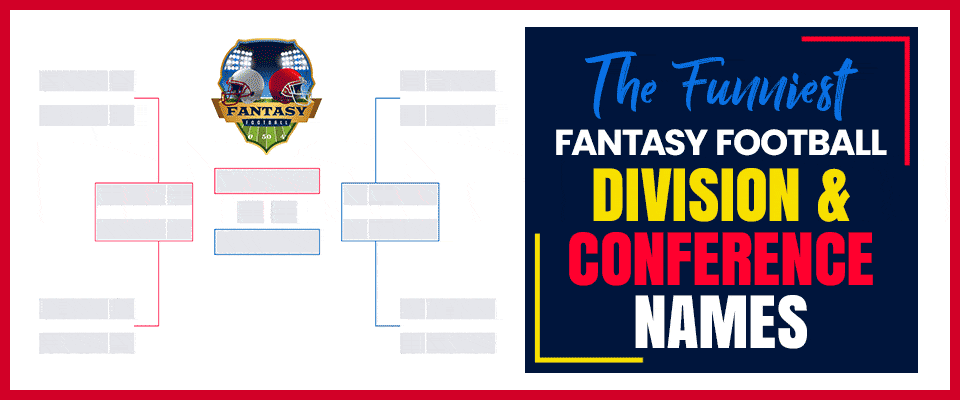 The best fantasy football division names highlight the natural divisions among your owners. Do half sport Apple phones and the others Samsung? Do half work in one department and half in another?
That said, it's usually pretty hard to find a split that works out perfectly. So pick something fun and go with it.
Here are some funny fantasy football division names to liven up your 2022 leagues.
Two-Division or Conference Names
For a standard 8-12 team league, all you really need is two divisions (some leagues call them conferences). Anything more than that, and you just like naming things.

Here are some fantasy football conference names that integrate comic book and political themes. We also have some good fantasy football league names that use similar themes.
Rivalry-Based Fantasy Division Names
If your league buddies are all fans of a specific team, you can honor your franchise's icons through your fantasy division names. Or, go the other way and honor your biggest draft busts. Maybe call them GOATS and Goats?
Check out these conference name ideas featuring various NFL greats.
Names For Three-Division Fantasy Football Leagues
One prize you can award your league champion is the right to name the divisions. Be careful though – that kind of power can go to some people's heads.

These funny division names incorporate several pop-culture icons.
Names For Four-Division Fantasy Football Leagues
If you play in a four-division league, then you've got some deep rosters, baby. Enjoy pouring over depth charts trying to find the 2022 Raheem Mostert.
And hey, never underestimate plain ol' cardinal directions. No matter how close or how dispersed your owners are, you can split them into quadrants based on location.
Funny Fantasy Football Division Names From Around the Web
I love a clever fantasy name, whether I wrote it or not. Here are some of my favorites that I've curated for your use or reading pleasure.
Conference name ideas for leagues with two fantasy football divisions
Funny division names for three division leagues
Cool division names for huge leagues
One scenario where divisions in fantasy football are a must is in huge leagues. The following football division names can fit the bill for most oversized leagues.
Know More Good Division Names for Fantasy Football?
If we're honest, fantasy football divisions aren't truly necessary. I rarely use them in leagues that I commission.

But truth be told, funny fantasy football division names can liven-up a league and add to the overall enjoyment.

Do you have funny conference name ideas that you use for your own leagues? Tell me about them in the comments below.