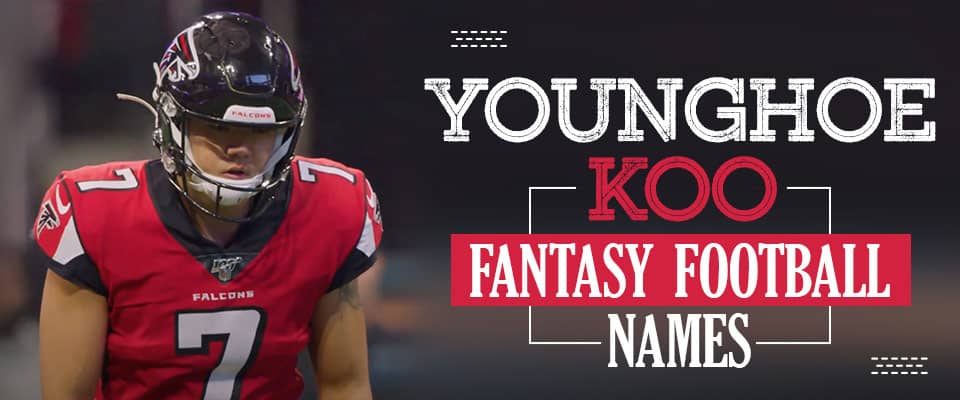 It's not often you see a fantasy team named after the kicker. It's also not often that you find a kicker as good as Younghoe Koo (or with such a perfect name, for fantasy purposes).
Strong leg. Strong name. You deserve some strong Younghoe Koo fantasy team names.
Let's kick it.
Younghoe Koo Fantasy Names for 2023
Fair warning: some of these will contain the words young and hoe. But that is likely exactly what you're here to see.
Younghoe Never Broke Again
This Younghoe Koo fantasy team name checks out after he signed a new $24.25M contract. That's backup quarterback money, baby!
While We're Younghoe
Boats and Younghoes
KooKoo's Nest
Boomer Falcon fans should appreciate this name idea that incorporates Koo's name, a bird pun, and the second film ever to win all five major Academy Awards.
We've also got more Falcons fantasy team names where that came from.
The Younghoes and the Restless
Younghoe Jeezy
If Young Jeezy and Young Boy Never Broke Again aren't your speed, I've got good news. There are quite a few rappers that choose to go by Young Something, regardless of how old they are.
Younghoe MC
Younghoe Dolph
Younghoe Thug
Younghoe Chris
Younghoe Dro
Younghoe at Heart
Alternately, Young at Hoert also works for a Koo team name.
Bright Young Hoe
Hoe Lotta Love
This Younghoe team name idea comes with a logo.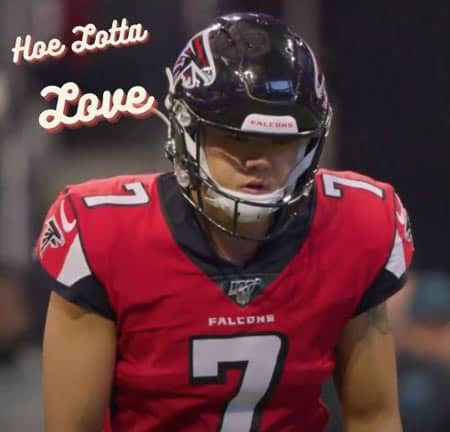 The Younghoe Turks
Youth is Wasted on the Younghoes
Cool Younghoe Koo Fantasy Team Names
Younghoe Koo is cool under pressure. Also, his name sounds a lot like the word cool.
So here are some Koo fantasy team names in that vein.
Koo Koo Koo
It helps if you say the Koo fantasy team name like Andy Samberg in Brooklyn 99.
It's Koo Baby
It's All Koo
Koo As Ice
Be Koo
Before it Was Koo
Koo Your Heels
Koo Your Jets
Don't Lose Your Koo
Keep Your Koo
Keep Your Koo is the perfect Younghoe Koo fantasy team name for a keeper or dynasty league.
Koo as a Cucumber
Koo Heads Prevail
Koo Kats
You could spell this Koo fantasy name Koo Cats, but why? If children's marketing has taught us anything, replacing C's with K's is hilarious.
Koo Story, Bro
Ice Koo
Does icing the kicker even work anymore? Or is icing just a dumb thing coaches do to look like they're coaching extra hard?
Spoiler alert: icing largely doesn't work.
Younghoe Koo Fantasy Football Team Name Generator
Younghoe Koo Fantasy Football Team Names From Writers & The Community
Younghoe Koo Fantasy Football Team Names From Readers
Somethin' Koo Proof
Submitted by

Mike Hogue
Max 3 votes.
Olbishtrippin butmyyounghoekoo
Submitted by

Kevin harrington
Max 3 votes.
koo klux klan
Submitted by

thomas
Max 3 votes.
KOO kicking clan
Submitted by

Jake
Max 3 votes.
Younghoe Koo Fantasy Names from Around the Web
If you think our Younghoe Koo fantasy names are inappropriate, you should see some of the other stuff on the web! The internet has one super-filthy collective imagination.
Koo and the Gang
Koo D'etat
A part of me that is jealous of whoever wrote this Younghoe fantasy name. And that part probably needs therapy.
Bros Before Younghoes
Pros Before Younghoes
Younghoe and Company
Koo Aid Man
Gs Up, Younghoes Down
Fantasy Football Names for other NFL Players
If you're looking for player-specific fantasy football names, here are our dedicated articles.