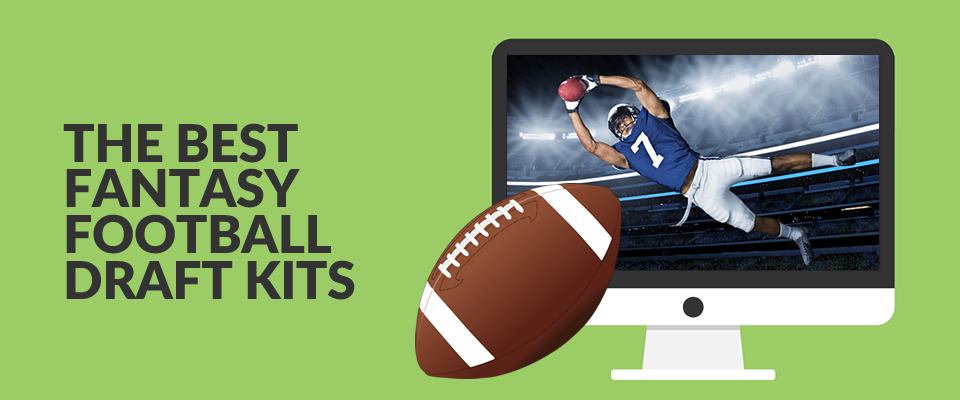 Modern fantasy football draft kits feature innovative tools, unique statistical insights, and diverse consumption channels (think exclusive podcasts, video player reviews, etc). Draft kits are vital if you're looking to gain an edge and win more championships.
Today I reveal the best kits of 2023 including the best features, pros, cons, and even some exclusive discounts.
Comparing the Best Fantasy Football Draft Kits
If you're looking for physical, paper-based draft boards, check out my review of offline fantasy football draft boards. There I evaluate reusable, auction-based, and fully-customizable draft boards.
The 3 Best Fantasy Football Draft Kits
Let's look at each of these kits in detail.
Draft Sharks' provide actionable content and tools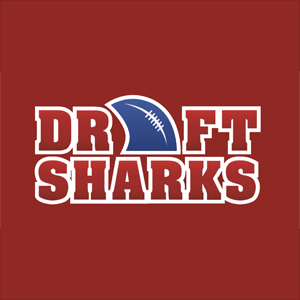 The 2023 Draft Kit from the guys over at Draft Sharks is an intelligent blend of premium content and innovative tools. In addition to the standard features you'd expect (in-depth player profiles, sleepers, busts, etc.), you'll also get unique components you won't find anywhere else.
There's also the fact that Draft Sharks has won seven accuracy awards from the FSTA since 2012. So you know the rankings that power their tools are reliable, which could be the difference between making the playoffs and winning a championship.
And sometimes, those small margins are what tip the scales.

Let's look at some of the more popular aspects of their 2023 package.
Draft War Room hosts mock and live drafts
The Draft War Room is Draft Sharks' premium preseason tool. It doubles as both a mock draft trainer and a live draft software tool.
Owners looking to sharpen their drafting skills get free access to the Mock Draft Trainer version of the tool. Draft Sharks' realistic draft pick algorithm enabled you to practice an entire draft in minutes, honing those skills that give you an edge.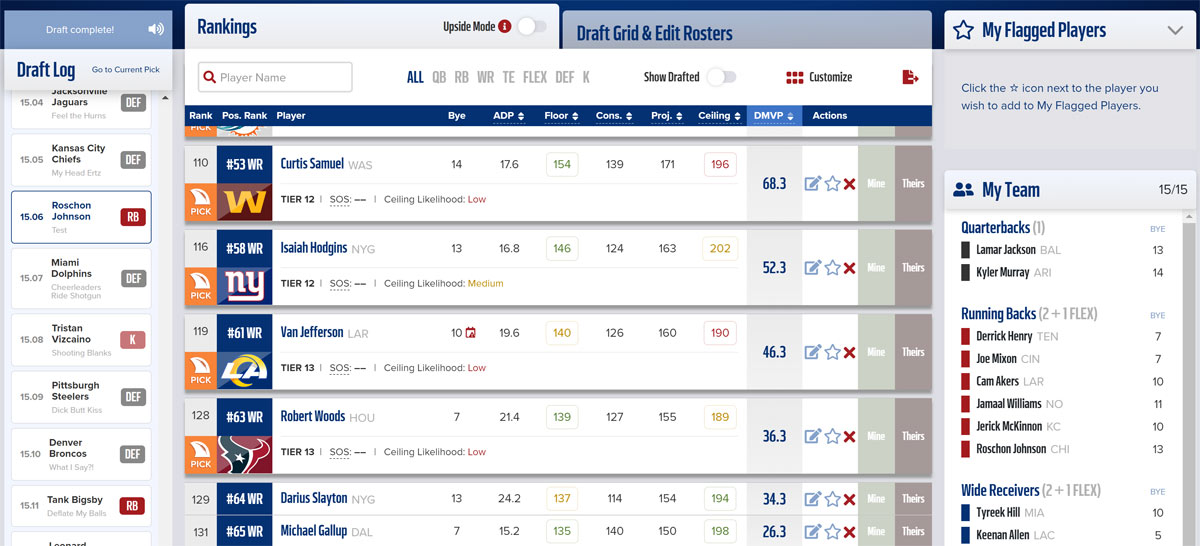 If you like what you see, you can purchase their pre-season kit and use the same interface to host your actual live draft. So there's no need to learn new software!
Round-by-round draft strategies
Draft Sharks also publishes in-depth content to help you develop sound draft day strategies. These articles detail breakout players, comeback players, early-round buses, and other actionable tactics to deploy on draft day.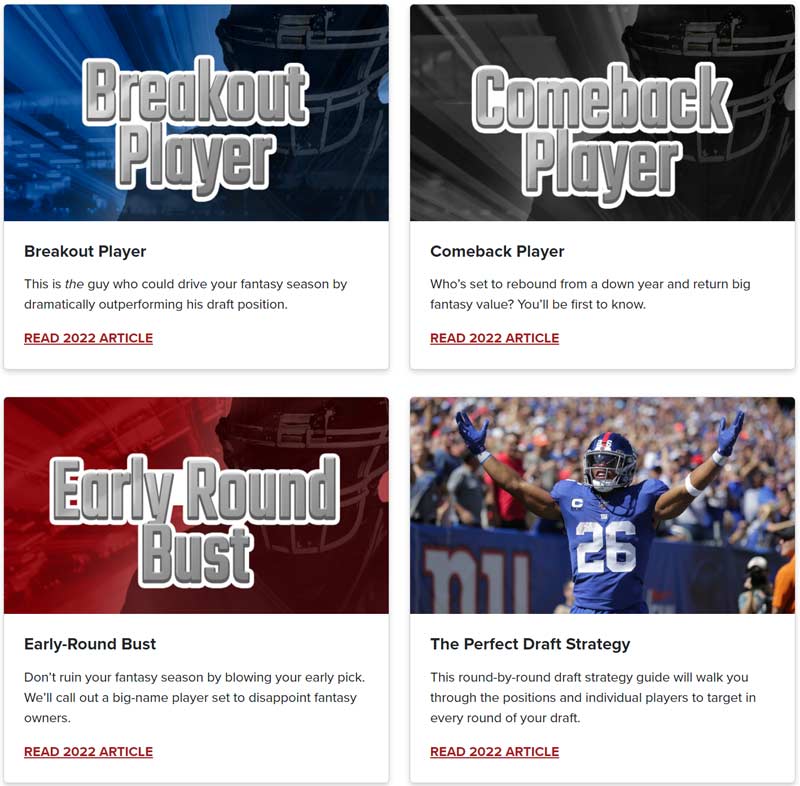 If you want to check out some of their draft day strategies from last year, you can do so here.
Injury predictor helps keeps your roster health
One of the most unique features of their 2023 kit is the Injury Predictor interface. While most draft kits consider a player's proneness to injury in their ultimate ranking, Draft Sharks actuality quantifies the value of the projected loss in production:
Identifies players with a concerning injury history
Provides detailed breakdown of those injuries
Classifies players into distinct risk levels
Predicts their injury risk going into the 2023 season
Postulates the estimated game time to be lost
Provides a final point projection that considers value loss
Now you'll know definitively how far you should demote a player when considering these factors.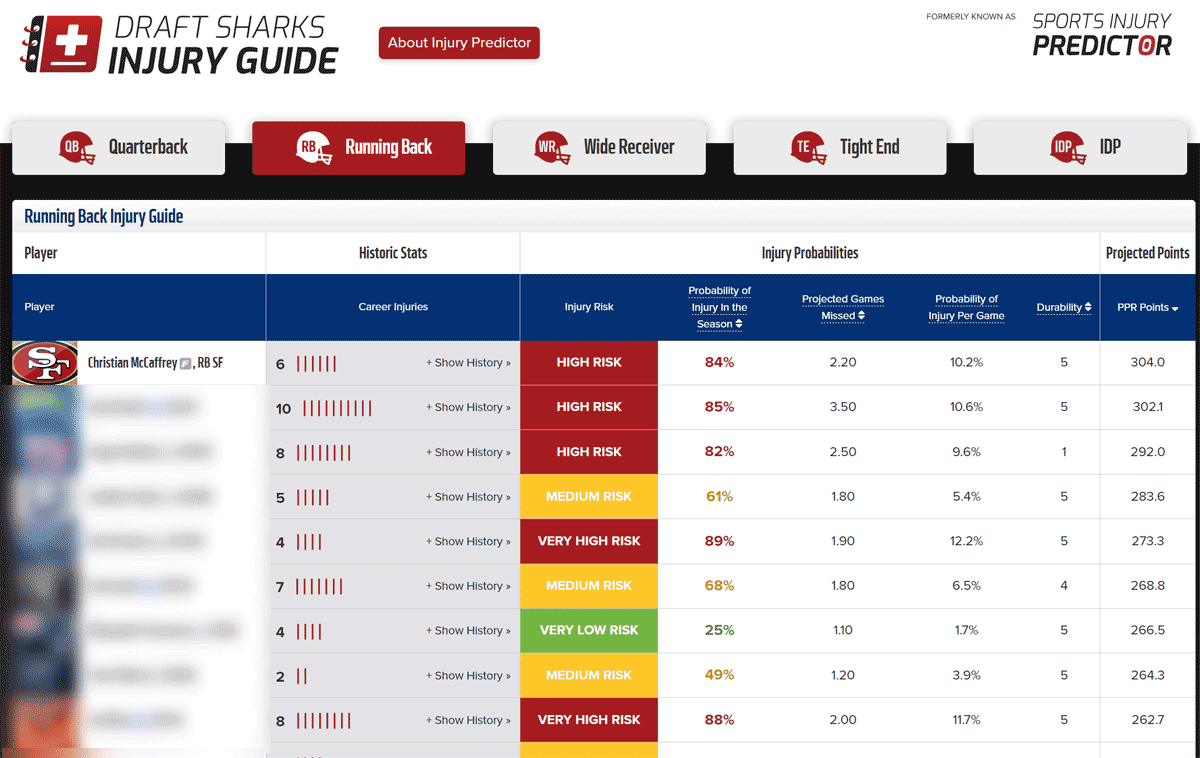 Think you might want to give this kit a try? Well for a very short time, Draft Sharks is offering my readers one full week of free access to their DS Insider package. This deal includes their draft package, in-season tools, and even their daily fantasy sports features.
Draft Wizard has tools for every phase of the game
FantasyPros' Draft Wizard is an extensive draft kit that is easily adaptable to a wide variety of league types. They have numerous widgets that leverage the top fantasy minds to help you gain a significant advantage on draft day and beyond.
The most popular tools in the Draft Wizard include:
You can learn more about the Draft Analyzer and other rate my fantasy team tools in our dedicated article on team graders. There you'll find our favorite draft rating tools for 2023.
Draft Simulators predict player availability in real-time
Anticipating your opponents' draft picks can help you make the most of each draft selection. The Draft Simulator feature in the Draft Wizard can predict owner selections, creating a realistic reflection of how the draft might play out in real life.
The Draft Simulator is an excellent mock draft tool with an array of customization options. I illustrate those options below.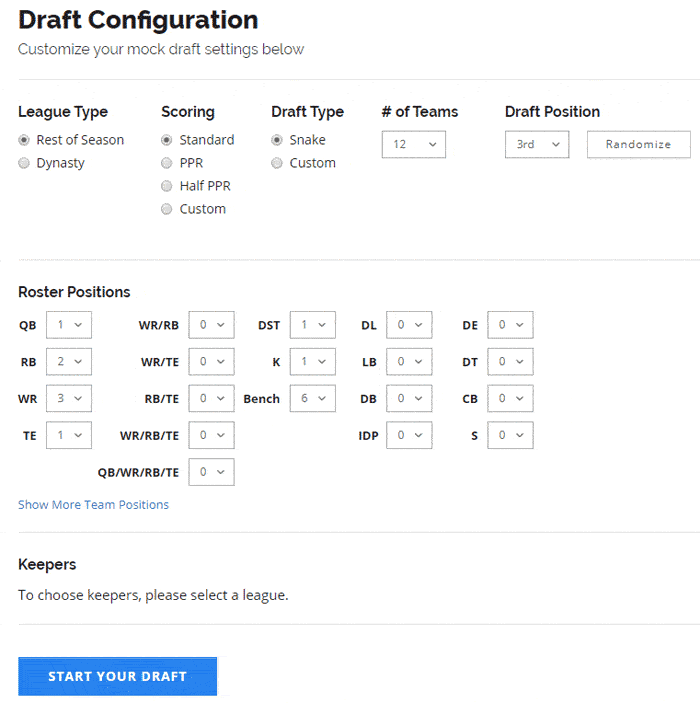 If you're in a keeper league, you can import your opponents' rosters before running mock draft simulations. Does your league have custom scoring you need to consider? This fantasy football draft kit has that covered too.
They even have an auction draft simulator.
The Draft Assistant offers advice for every pick of your draft
The Draft Assistant tool inside the Draft Wizard does more than identify the BPA (best player available). It delivers real-time draft advice that considers factors like your existing roster, opponents' rosters, and the remaining player pool.
So if there a run on wideouts, the Assistant will let you know that the wide receiver pool is dwindling. By the same token, if the other owners are set at a particular position, the assistant will indicate that you can address different positions.
It's that smart!
Oh, and it's also fully-functional on mobile. So if you don't want to drag your laptop with you to the draft, use the included app instead.
Check out my Fantasy Pros Draft Assistant Review for a details breakdown of this impressive feature.
The Draft Analyzer puts the upcoming season into perspective
After the draft is over, it's natural to look at your roster and overreact. Maybe you hate your team and decide to pursue daily fantasy instead.
Perhaps you love your team so much you want to gawk at the results and rosterbate.
In either case, there is much work to do. Why wait for the first game when you can start scouting immediately after your draft?
The Draft Analyzer helps you identify areas of weakness so you can start to improve through waivers or trades immediately.
Plenty of auction league features in this kit
Auction league owner may think there is no such thing as a fantasy football auction draft kit. But Fantasy Pros has you covered there, too.
In addition to their Auction Draft Simulator, they publish multiple cheat sheets with auction values that adjust based on your specific scoring system.
Every kit feature for one low monthly price
Unlike the Ultimate Draft Kit, the Draft Wizard pricing structure is subscription-based. The subscription model requires that you sign-up for recurring billing and cancel when you no longer want the service.
You get access to every feature and every tool in the Draft Wizard for $12.99 per month (or $7.99 if you don't need auction or keeper support). But if you purchase a year subscription, that price plummets to only $4.99 per month (or $2.99 for simple, re-draft leagues).
That's a crazy good deal for year-round fantasy advice. And the price is even more appealing when you consider that your subscription comes with support for not only fantasy football, but also fantasy basketball, fantasy baseball, and fantasy hockey.
Draft Wizard leads into My Playbook post-draft
The best part about a yearly subscription FantasyPros is that most of their widgets are designed to help you succeed during the season. So if you're looking for a fantasy football draft kit that provides value even after the draft, a subscription to FantasyPros is your best option.
Once the season starts, you can begin to use their My Playbook kit. This includes tools to help you improve your team and make that push toward the championship.
Pros
Mock drafts are flexible, fast, and accurate.
Post-draft analysis helps you improve even after your draft.
Draft Assistant syncs seamlessly to your league to provide fantasy advice during your draft.
Tools are adaptable to practically any league type or draft structure.
Year subscription to all services is very inexpensive
Cons
Most auction draft features require the MVP or HOF subscriptions.
RotoWire's Draft Kit adds a human element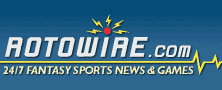 RotoWire has been a fixture in the fantasy sports industry for as long as I can remember. They're known for publishing breaking players news and providing personalized fantasy advice from (gasp!) real human beings!
If you need specific advice, Ask an Expert
Fantasy football can be a lonely game. You can't talk to your opponents about strategies, ordinatry people don't get it, and experts don't have time to answer questions from the 59.3 million people that play fantasy sports each year.
But somehow, RotoWire has a team of experts on hand to do precisely that. If you're wondering if you should accept a trade, or unsure of who to add from the waiver wire, RotoWire lets you ask an actual human being what they think.
When it comes to accepting or rejecting a trade, it helps to utilize online tools. Check out my review of the best fantasy football trade analyzers for a list of trade tools for 2023.
This Rotowire draft kit runs on your PC
RotoWire's draft tools aren't web-based, like most sites. Instead, they've developed a downloadable software package that you install on your PC.
This draft kit includes cheat sheets that you can generate based on your league type and scoring system. And these cheat sheets are highly-customizable, including over 30 different stat categories.

The Rotowire Draft Kit also features a mock draft utility, draft pick tracker, and personal note-taking widget.
Pros
Confer directly with proven fantasy experts
More affordable than both FantasyPros and Fantasy Footballers
Draft Assistant syncs seamlessly to your league
Tools are adaptable to practically any league type or draft structure
Cons
Fewer features than other draft apps
PC-only kit not nearly as versatile as web-based packages
What Makes an Effective Fantasy Football Draft Kit
A good draft kit mixes standard and innovative features
Insightful features for draft preparation and assistance
Efficiently prepare for your draft in less time
Develop an intelligent draft strategy
Make informed picks during your draft
Find diamonds in the rough
Evaluate your final roster after a draft
The keys to finding a draft kit that speaks to you
Evaluating draft kit pricing and refund policies
The most common kit pricing structures
Refunds are rare, so choose your kit wisely