Today I reveal the best fantasy football draft boards for the 2021 season. I'll cover standard draft boards, reusable boards you can use over and over, customizable boards you can tailor to your league, and even boards made specifically for auction leagues.
Let's get right to it with the best draft boards in each category.
Draft Board
Specs
Size
Rating

Teams: 10-16

Round: 24

Labels: 450+

Board: 5ft x 3ft

Labels: 4in x 1 in

Teams: 8-18

Round: 12-39

Labels: ~365-530

Board: Customizable

Labels: 3 Sizes Available

Teams: 8-18

Round: 28

Labels: ~365-530

Board: Customizable

Labels: 3 Sizes Available

Teams: 14

Round: 20

Labels: 304

Board: 5ft x 3ft

Labels: 4in x 1 in
The Best Standard Draft Boards of 2020
Here is a quick summary of the best fantasy draft boards for standard, serpentine-style drafts. This year's top picks are the Manager Kit from Fantasy Jocks and the Jumbo Draft Board from Bruno's Draft Boards.
Standard Board
Specs
Size
Rating

Teams: 10-16

Round: 24

Labels: 450+

Board: 5ft x 3ft

Stickers: 4in x 1 in

Board: 5ft x 3.5ft

Stickers: 5in x 2 in
FantasyJocks Manager Draft Board Package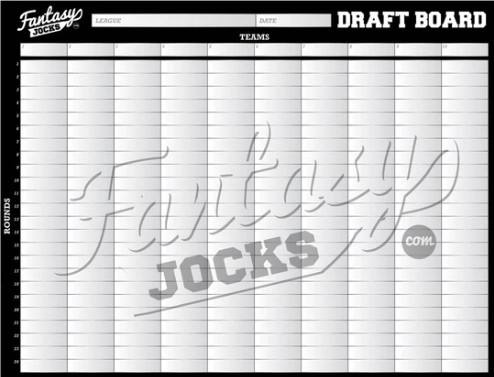 Fantasy Jocks is a well-respected merchant in the fantasy sports space. They sell championship belts, fantasy football rings, and league trophies in addition to their extensive NFL fantasy draft board line of products.
They are such a popular fantasy merchant that I decided to review Fantasy Jocks in detail. If you're considering this draft board package, read that review to get an overview of their full scope of products.
This particular draft board package from Fantasy Jocks is called the Manager Kit. The Manager is my pick for the best draft kit because it has everything you'll need for your live draft part.
Quality paper and 450+ large player labels
They print the Manager draft board on thick, 80-lb high gloss paper. Their 2021 fantasy football draft board stickers include bye weeks and they refresh them regularly leading up to the season. So you'll be sure to get labels with the most accurate player information possible.
Player stickers that come with this draft board 4in x 1in, which is large enough for most standard rooms. They're tied for the second-largest stickers of any draft board in this review (the biggest labels are part of the Jumbo Draft Board from Brunos, which I'll review next).
A draft board plus party supplies
If you're looking for a 1-stop-shop for your draft party needs, this package is the draft board for you. Every Manager draft board package comes with the following merchandise.
Fantasy football draft board
450+ color player labels
Koozies for all owners
Marker and tape
Loser license plate award
Fantasy penalty flag
Fantasy football championship banner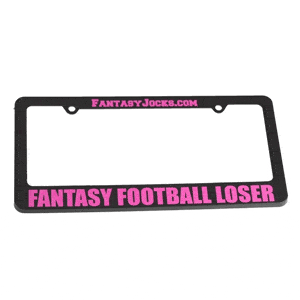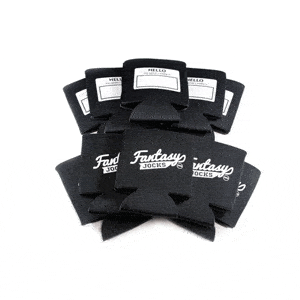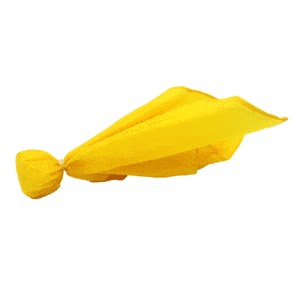 This NFL fantasy board is priced slightly higher than the average offline draft board on the market. But considering the quality of the product, impressive merchant reputation, and peace of mind in knowing that your draft will go off without a hitch, it's well worth it.
What I like..
Board printed on 80lb, high gloss paper
Lage player labels
Labels included all rookies & bye weeks
A free koozie for all league members
Misc merchandise to spice-up your draft party
Bruno's Jumbo Draft board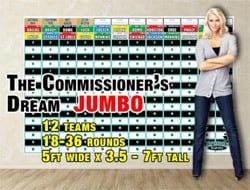 Bruno's Draft Boards has been in the business of manufacturing fantasy football draft boards since way back in 2004! Since then, they've continued to innovate in the space and produce fantasy draft accessories that you simply can't find through other merchants.
The Jumbo Draft board from Bruno's has the distinction of being the most versatile draft board that I've reviewed. The number of add-ons and accessories that are available for this product is insane (more on that shortly).
Examining the 2021 jumbo board, I found that it is the biggest board (5ft x 3.5ft) but also has the largest labels at (5in x 2in). So if you're looking to host a draft party in a large room, this board would be an ideal solution.
Jumbo draft board upgrade options
Where Bruno's boards separate from the pack is in their add-ons and accessories. Although this isn't an exhaustive list, here are some of the extra's you can add to their standard Jumbo Draft Board.
Table-top tension stand
Floor-style tension stand
Deep player pool stickers
IDP Player stickers
IDP Player stickers (deep pool)
Head coach stickers
Deep offensive rookie stickers
All rookie IDP labels
Punter labels
Extra team defense labels
League team name labels
Salary cap & auction-style stickers
If you're in a league with unique configuration or scoring rules, you must check out Bruno's Draft Boards.
What I like..
Draft board configurations to suit any league
The largest player labels in this review
Unique products like draft board stands
You can request tube shipping for a small fee
Not so much..
In-tube shipping is extra
Reusable Fantasy Football Draft Board Reviews
If you run multiple fantasy leagues (or even are a part of a single, long-running fantasy league) and are looking to save a few bucks, a reusable fantasy board will be your salvation. A reusable draft board can drastically reduce the amount of money you have to pay each year to host your draft parties.
This year I review two stellar reusable fantasy draft boards, each with their own unique design approach.
Reusable Board
Specs
Design
Rating

Teams: 8-18

Round: 12-39

Labels: 365-530

A laminated draft board makes stickers easy to remove and reuse.

Teams: 14

Round: 20

Magnets: 304

Board: 5ft x 3ft

Stickers: 4in x 1 in
Bruno's Reusable Fantasy Draft Board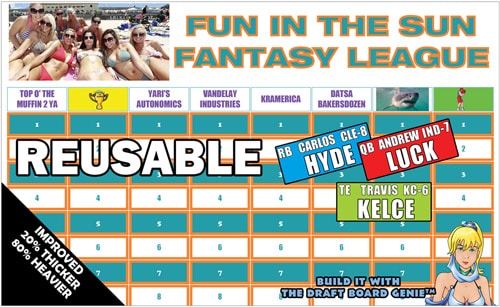 Bruno's Reusable draft boards are an excellent solution for long-running leagues where you want to save a few bucks. Just order the board for the first year (it comes with labels). After that, you only need to buy labels.
So what makes Bruno's board reusable? Instead of printing the reusable boards on paper, they print them on a durable, laminated banner. So when you're done, you simply peel off the labels.
This year, Brunos has introduced a brand new, magnetic reusable draft board. Although this board isn't as customizable as the banner-based reusable board, you can quickly move player magnets around the board.
You can customize this reusable board
You can also create your own reusable draft board using the Draft Genie widget on the Bruno's Draft Board website. Or you can simply tell them what you want and they'll design it for you.
Here are a few of the customizable options available for reusable boards:
Number of teams
Number of rounds
Color scheme
Logos/Graphics
Team Names
Round Names
Do you need multiple reusable boards? Bruno's does offer multi-kit discounts. This is great if you know of another commissioner in the market for a reusable fantasy board. Team-up and save a few bucks!
What I like..
Several customizable options
Paper and magnet-based boards
Discounts for multiple kits
Draft Genie makes it easy to design your draft board in real-time
Not so much..
It isn't entirely clear how you get new rookie magnets each year
Draft Party's Reusable Magnetic Draft Board
This reusable fantasy football draft board from Draft Party is a monster, measuring 60in x 38in. In addition to being completely reusable, this is a suitable draft board for large draft rooms.
The magnetic fantasy football player stickers are comparable in size to stickers in most disposable boards, roughly 3.8in x 1.4in. Much like disposable draft kits, the player magnets in this product are color-coded by position.
Draft Party also provides four magnetic wall strips that allow you to store your player magnets by position for easier identification during the draft.
A reusable board that is applicable to any fantasy sport
Another great feature of this board is that you can use it for multiple fantasy sports. If you want to conduct a fantasy baseball draft using this reusable board, buy the baseball player magnetic labels, and you're ready to go.
If you decide to forego the sticker upgrade packages each year, you can opt to write your player names directly onto the board each year with a dry-erase marker. That's because this reusable board also doubles as a whiteboard.
Although writing player names manually might be annoying for some owners, it is one way to continue reusing the board without any recurring yearly expenses.
Draft Party ships this reusable board in a telescopic tube
Draft Party ships this reusable fantasy football magnetic draft board in a hard, telescopic tube. That makes it a portable drafting board that can be moved between offline draft parties safely and without damaging the board.
What I like..
Huge savings for people in multiple fantasy leagues
Can be used for other fantasy sport drafts
Magnetic draft board makes it easy to correct mistakes
A giant draft board measuring over 6ft x 3ft
Board itself is dry-erasable
Not so much..
The cost of the board is a high initial investment, but it is very cost-effective if you run multiple leagues
The player magnets are a yearly expense, although this is optional
Build Your Own Custom Fantasy Draft Board
Why buy the same board as everyone else when you can design a custom draft board just for your league? Using the Draft Board Genie from Bruno's Draft Boards you can design your board right on the website, preview your board in real-time, then decide if you want to buy.
Draft Board
Specs
Design
Rating

Board: Customizable

Stickers: 3 Sizes Available
Use the Draft Board Genie to customize a draft board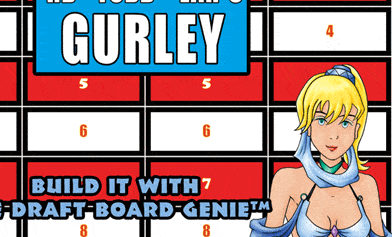 This section of my draft board review won't be much of a comparison. Why? Because I only know one company that sells completely customizable draft boards: Bruno's Draft Boards.
Bruno's went beyond letting you pick custom features to develop software that enables you to build a custom board in real-time. They make this possible through an application called the Draft Board Genie.
Through the Genie, you can customize the following features of your draft board:
Board Dimensions – Medium (36″x36″), Jumbo (42″x42″), or Elephant (48″x42″) size boards
Paper Stock – You can upgrade to a thicker banner stock that is highly durable
Number of Teams & Rounds – Create a board that fits your league just right
Custom Color Schemes – Pick a color scheme that matches your league or logo
League Name or Logo – Print your league name or league logo right at the top
Team Names – Forget stickers, have your team names printed on the board
Here is a custom board I designed for my league in about 5 minutes. It is the perfect sized board for my league, no bigger or smaller with no wasted space. It also has my league name printed, all team names printed, my league logo, and colors of choice.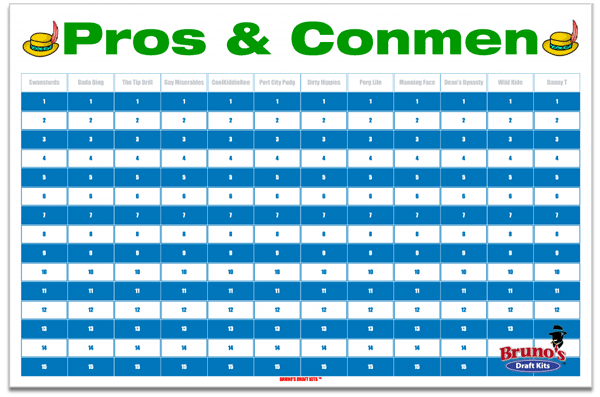 That's pretty cool for a ff draft board that's priced comparable to a standard board with no customization features!
Here is a video explaining the basics of how to use the Genie.
In addition to designing a custom draft board, you can also save your draft board design so that you don't have to re-design your board when the next fantasy season rolls around. The Design Genie is a genuinely unique approach to creating fantasy football draft boards.
A Draft Board for Your Auction-Based Draft
Auction drafts are unique in that owners bid on players, rather than pick from specific draft positions as they would in a serpentine draft. As such, auction draft boards have some features that make them more suitable for auction drafts.
Draft Board
Specs
Design
Rating

Teams: 14

Round: 20

Magnets: 304

Board: 5ft x 3ft

Stickers: 4in x 1 in
That Fantasy Doctor's Fantasy Auction Draft Board
2020 is the first year I have featured a draft board from The Football Doctor. I particularly like this draft board package because, in addition to having the standard board and player stickers, it also has signs that owners can use to bid on players. Bidding signs are a unique feature that I have never seen on other auction-based products.
But for an auction-based draft board, the real challenge comes in creating player labels that make it easier to track how much a team spent on a player and how much money they have left after the selection.
The Football Doctor accomplished this by designing player labels that provide room to write both player cost and the remaining owner salary budget. This label design is ultra-convenient as everyone can see each player's value and every owner's remaining cash as soon as the stickers are applied to the board.
This auction board can accommodate 12 teams and up to 20 rounds, with 240 player stickers. I'm also quite impressed that they were able to squeeze player bye weeks onto the stickers.
If you have an auction league and are struggling to find a fantasy football auction draft board to buy, this product will fit the bill.
What I like..
Labels accommodate player price and remaining owner salary
Bidding signs for every owner in your league
Affordable price and free shipping
Not so much..
Fewer labels than most draft boards
How to Find the Ideal Fantasy Draft Board for Your League
Selecting the best fantasy football draft board for your 2020 league isn't as straightforward as it sounds. There are several factors to consider when searching for the perfect board:
How many teams are in your league?
How many rounds will the draft last?
What is your league budget for the draft?
Will your draft include IDP players?
How many leagues do you run?
Is your draft serpentine or auction?
Knowing the answer to all of these questions will make it much easier to find the optimal fantasy football draft board for your league. It will also enable you to save a few bucks as you can zero-in on the cheapest board that fits your league's criteria.
In this next few sections, I'll reveal how to find the best draft board available based on your answers to these questions.
The 4 fantasy football draft board classifications of 2020
In 2020, there are four different types of draft boards to consider. Before you start comparison shopping, first determine the ideal kind of draft board for your league's goals.
Standard Draft Boards – For leagues with a standard serpentine draft, these are the most common solution.
Reusable Draft Boards – If you're a member of more than one league, A reusable fantasy football draft board can save you big money.
Auction Draft Bards – Looking for a draft board designed explicitly for auction leagues? An auction draft board the answer.
Customized Draft Boards – Build a one-of-a-kind draft board with custom teams, rounds, colors, league logos, and more.
Standard fantasy football draft boards for serpentine drafts
For the vast majority of fantasy football leagues, you'll be looking for a draft board that supports the serpentine draft style. These ffl draft boards are very basic and owners almost always throw them away at the end of the draft.
Want to spice up your fantasy football drafts a bit? Save your completed football draft board after every live draft. Then, break it out at the draft the following year and relentlessly ridicule those owners who blew it the previous year!
Standard draft boards are great if you're looking for a quick solution or a draft board on a budget.
How to save big money with a reusable fantasy draft board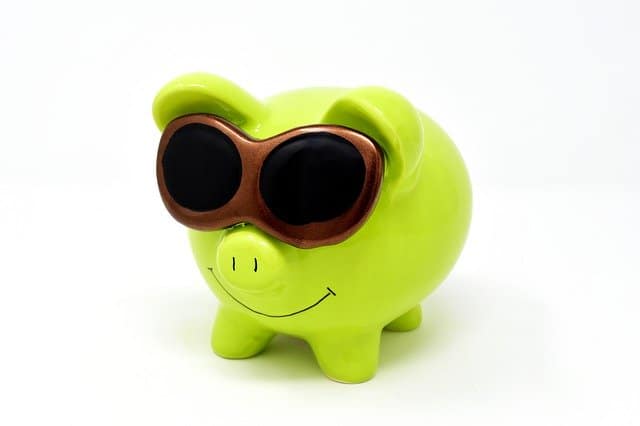 If you've run any fantasy sports league for multiple years, you know that draft party expenses can quickly add up. The great thing about some fantasy league prizes is that you can buy them once and pass them from owner to owner each year. However, when it comes to offline draft boards, you've historically had to buy a new board for every draft party, year after year.
And if you're in more than one league, the costs for multiple draft boards can quickly add up.
Luckily, there is a solution to the money drain that is yearly NFL fantasy draft boards: reusable draft boards. Although they aren't necessarily the perfect solution for every situation, they do end up being a big-time money saver if you operate multiple fantasy leaguesevery season.
Ways manufacturers make fantasy football draft boards more reusable in 2020
Fantasy football draftboard merchants make their boards reusable through several different manufacturing methods. It's quite impressive to see the different techniques they utilize to create a draft board that can be recycled year after year.
Here are some of the most common techniques used to make reusable draft boards:
Utilize a metal draft board and use magnets instead of fantasy football player stickers
Instead of using a paper-based fantasy football draft board, use a dry erase board with a draft grid
Use a nylon draft board instead of paper, making the stickers easier to remove
Laminate a standard draft board, making the player labels easy to remove without damaging the board
If you need a quick fantasy football and NFL news refresher before your fantasy draft, look into buying a fantasy football magazine. Magazines provide a great way to cram before your draft and even gain an advantage over your fellow fantasy owners.
If you're looking to gain a strategical edge against your "low brow" fantasy owners, check out my evaluation of the best fantasy football books on the market. These books cover the most effective draft strategies that can give you a significant advantage.
How you save money with a reusable draft board
If you only conduct one draft a year, there are some instances where you'd come out ahead simply buying a one-year, disposable draft board every year. For example, a disposable board would be cheaper than buying a magnetic draft board and getting new player magnets each year.
That is because the initial cost of the reusable board is considerably higher than a single-year board (around $65 higher as you'll see below).
However, if you conduct more than one fantasy draft each year, a reusable fantasy football draft board starts to make a lot of financial sense. Hosting multiple leagues, you can purchase one set of new player magnets each year and reuse them for all of your drafts. The more leagues drafts you conduct each year, the more money you'll save.
Sometimes reusable draft boards are not a wise choice
The time it takes you to start saving money with a reusable draft board depends primarily on if you plan on purchasing new player labels or magnets each year for your reusable board.
If you don't plan on buying new player labels or magnets each year, you can start saving money after just a couple of drafts using a reusable board. One-time purchases are typical of dry-erase fantasy football boards where you plan on writing the player names manually on the board.
When you'll start saving money with a reusable board
If you plan on purchasing new player labels or magnets each year, then the time it takes to start saving money will depend on the number of drafts you conduct each year. Here are some basic guidelines:
If you run only one fantasy league, you will not save money with a reusable draft board
If you run two fantasy leagues, you will start saving money around the third year.
If you run three fantasy leagues, you will start saving money in the second year.
For four or more fantasy leagues, you will save money with a reusable board in the first year.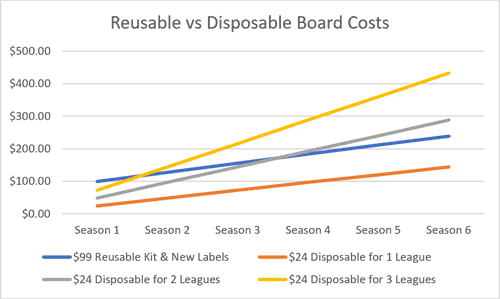 Features to consider when comparing 2020 draft boards
To simplify this review, I chose to focus solely on fantasy draft boards that support at least 12 teams and 15 rounds. That is the standard configuration for most fantasy leagues, so it is the bare minimum requirement for inclusion in this draft board review.
Considering fantasy football boards with a standard set of minimal features makes it easier to compare boards fairly.
Now that we have defined a minimally-viable board, let's look at other draft board features that you should consider when comparing products.
1. Size matters for a fantasy football draft board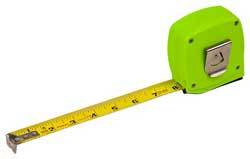 I hate that I have to be the one to break it to you, but size matters. Think about it. Your 2020 fantasy football draft board will be the centerpiece of your draft party.
As such, it only makes sense to buy the largest board that will fit into your drafting space (assuming it meets all your other criteria).
In this review, I only considered boards that are at least four feet wide and three feet high. Boards this size should be adequate for viewing in a standard living room where the owners are within 10-12 feet of the board.
2. Thicker fantasy football draft boards are easier to work with
Draft board thickness varies wildly from merchant to merchant. Some print their fantasy draft boards on thick, glossy stock paper. Others seem to print their boards on thin tissue paper that is susceptible to wrinkling and tearing.
Thicker boards are also much easier to work with when hanging them on a wall or trying to affix the player labels. They are also more durable and will last longer if stored away.
3. Draft labels come in different shapes, sizes, and formats
Most player label packages for standard scoring leagues come with the six fantasy football positions (color-coded by position):
Quarterbacks
Running Backs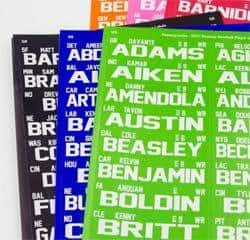 Beyond the standard positions and color-coding, player label formats frequently vary from merchant to merchant.
For example, labels can come in different dimensions, the size of the text can vary, some labels show pictures of the players while others don't, and labels may or may not contain the bye week of each respective player.
Pay particular attention to whether labels include bye weeks because some owners utilize bye weeks to help them choose between players with comparable potential. If you buy fantasy football draft stickers without bye weeks, you may have an owner mutiny on your hands at your live draft.
4. Draft boards typically come with accessories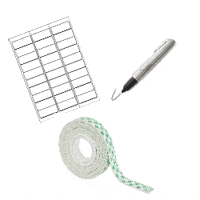 Some merchants bundle a few extra items with their boards and market them as offline fantasy draft kits. So in addition to the standard fantasy football draft board and stickers, you typically get other necessities required to conduct your draft.
Draft boards almost always include double-sided tape to stick your board to the wall, blank labels to record obscure players, and a black marker for writing these players' names.
Some merchants will even throw in free merchandise to earn your business. For instance, Fantasy Jocks includes one free koozie (for the Commissioner) with their Custodian Manager Draft Board or enough for your entire league with their Manager Draft Board (currently on sale).
Fantasy Football Draft Board FAQs
I've compiled answers to the most common questions about fantasy football draft boards. If you have a question that I didn't address here, put it in the comments below, and I'll try to add it here.
1. What is a fantasy football draft board?
A fantasy football draft board is a large grid printed on a paper, or some other surface, that allows fantasy football players to place draft picks during a live fantasy football draft. Draft boards are usually combined with NFL player stickers, a sharpie, and tape, so you have everything you need to conduct the draft.
2. Where do I buy fantasy football draft boards?
The best place to buy NFL fantasy football draft boards is online. Specifically, it's smartest to purchase draft boards from Amazon or merchants who specialize in manufacturing fantasy football draft boards.
3. Can I buy a fantasy football boards in a store?
Some brick & mortar stores sell fantasy football draft boards. If you have to pick up a board in person, you may be able to find a fantasy football draft board in one of the following stores:
Bed Bath & Beyond
Dick's Sporting Goods
Walmart
But draft boards sold in stores likely have player labels that are incredibly outdated. It would be smarter to buy a fantasy draft board from an online merchant that ships overnight.
4. Can I get a fantasy football draft board shipped overnight?
The only fantasy football draft board manufacturer that offers overnight shipping is Bruno's Draft Boards.
5. How do I make a fantasy football draft board?
You can find several instructional videos on how to make a live fantasy football draft board on YouTube. The problem? To buy the materials to make your board would you cost as much as $30.
Why would you spend the time making your own draft board when you can buy a cheaper fantasy football draft board from one of the merchants in this review? Draft board merchants make a profit because they buy draft board materials in bulk.
You don't save that much money (if any) building your own fantasy football draft board. A DIY fantasy football draft board only makes sense if you're bored or want to impress your friends.
6. What is the best fantasy football draft board?
The best fantasy football draft board will vary from league to league as different leagues have different formats, rules, and budgets. The best draft board for your league is typically the cheapest board that has the features necessary to complete a successful fantasy draft.
7. How do you set up a fantasy football draft board?
The vast majority of fantasy football draft boards are set up by taping them to the wall or some other surface. Some fantasy football vendors sell tension stands that allow you to set up a fantasy board outside where there are no walls.
8. Can I get a printable fantasy football draft board?
You can download your own printable fantasy football draft board by clicking below on your league's format and desired draft board format. But be warned that printing this board will cost about half as much as buying a complete draft board. Also, you'll have to purchase your player labels and print them as well.
9. Where can I get a free fantasy football draft board?
One way to get a free fantasy football draft board is to print a free one (see above). You can also get free fantasy draft boards through your league host. For instance, CBS Sports give you a free fantasy football draft board with the purchase of one of their paid leagues.