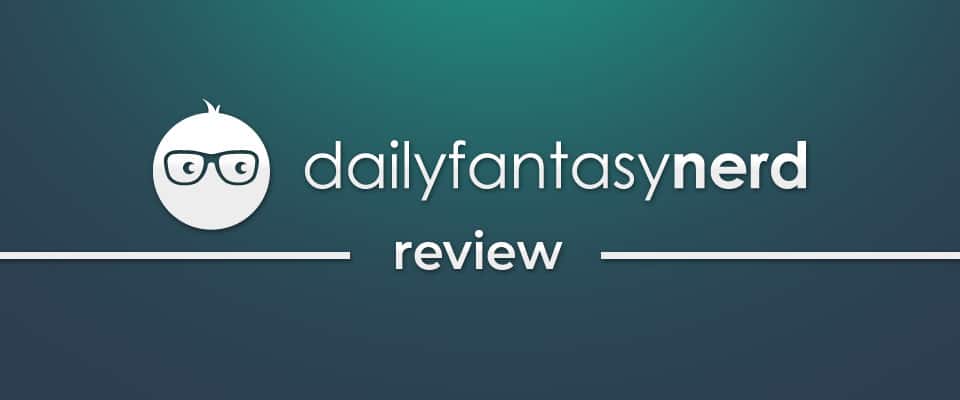 In an increasingly competitive daily fantasy space, you need every edge you can get over the competition. Daily Fantasy Nerd has earned a reputation among DFS veterans as a place where savvy fantasy players go to create superior lineups in less time.
They have one of the best lineup optimizers in the industry and tools that help with bankroll and contest analysis.
In this Daily Fantasy Nerd review, I'll break down everything their software has to offer. By the end, you'll know how to leverage their tools to elevate your DFS game.
Daily Fantasy Nerd is a web-based tool that leverages a wealth of analytics to help you set optimal lineups for DraftKings, FanDuel, and Yahoo. This daily fantasy software factors player performance, the Vegas line, projected weather, and much more to help you construct the best lineups for each week's slate of NFL, NBA, NHL, and MLB games.
DFSNerd also allows you to save optimized lineups, import them into your favorite daily fantasy site, and even create weighted averages based on your projections. It's a massive time-saver with impressive results.
DF Nerd Sign-up Deal
Daily Fantasy Nerd is currently offering a free 7-day trial for all their packages, even their premiere MVP plan.
Is Daily Fantasy Nerd For You?
The Daily Fantasy Nerd DFS tool suite contains some excellent features that are proven to product some big winners. To benefit from their tools, you need to be willing to invest a small portion of your current weekly bankroll in one of their subscription plans.
DF Nerd is a high-end tool and there is a reasonable price of admission. Daily Fantasy Nerd offers $24.99, $44.99 and $79.99 per month subscriptions.
If you utilize the lineup creation tools properly, and enter several contests per week, you should be able to recoup their tool subscription costs quite quickly.
Daily Fantasy Nerd offers packages to suit every budget
If you've got a young family, money can be tight. How much are you willing to spend on software that can save you time and improve your performance?
If the subscription costs seem high, consider that you're buying back DFS research time that can now be spent doing other things you love.
Higher-end plans cater to those who play DFS regularly
Are you someone who spends hundreds or even thousands of dollars a month on tournament entry fees? Or are you someone that might enter a few $10 tournaments each week of the NFL season?
To pay for their All-Star or MVP plans, you need to be participating in enough contests to make the investment worthwhile. A good benchmark would be if spending at least 3x your monthly fee on tournaments.
Start with a reasonably priced plan and build a bankroll
For someone starting in DFS, or even a fantasy veteran on a budget, the entry-level Veteran plan makes the most sense. With a modest initial investment, you could enter five to ten contests each week as you build up a sizable bankroll.
Then, you can upgrade to the pricier plans as necessary.
Daily Fantasy Nerd Has Everything You Need to Be Successful in DFS
Daily Fantasy Nerd has a comprehensive tool suite that puts you in a great position to succeed. The software aims to improve all aspects of a DFS player's game, from research to strategy development.
The Lineup Optimizer interface uses a wealth of data to build the best lineups possible according to your specified preferences. Similarly, projections and analysis allow you to gauge the performance of your predictions (if you choose to provide them) and identify areas to improve your prognostication skills going forward.
The bankroll tracker is the perfect way to monitor your DFS successes over time. This data can be sliced and diced to identify problems with your existing strategy.
Let's review each of these features in detail.
The lineup creation tool is an industry staple
The focal point of the Daily Fantasy Nerd software, their lineup generator, is one of the best tools in the industry. Not only is it easy to use, but the proven success stories are very compelling.
You have the option to choose between each of the four major sports: NFL, NBA, MLB, & NHL (their MLB optimizer is among my favorite. Next, you select your favorite DFS host: DraftKings, FanDuel, or Yahoo DFS.
If you're looking for a DFS tool that supports some of the more obscure daily fantasy sports (PGA, MMA, etc), you should check out DFS Army. In addition to having great tools, they also provide channels to interact directly with industry veterans.
My DFS Army review goes into detail about this unique and upcoming research platform.
In the screenshot below, you can see how I generated 150 lineups for the NFL and optimized based on Yahoo Daily Fantasy salaries. I can save these lineups, export them, and upload them into my DFS host of choice.
Where the optimizer shines is in the sheer volume of data that it takes into account. Factors such as the weather, Vegas odds, previous fantasy statistics, and your projections are all analyzed.
It will then assign a weight to each of these factors and generate what it believes to be an optimal lineup.
Advanced projections will narrow the gap between you and the pros
The projections function within Daily Fantasy Nerd can help out beginner and veteran DFS players alike. Using a simple drag and drop interface, you can upload your player projections for each sport.
Then, you can create weighted average projections based on a combination of your projections as well as the ones maintained by Daily Fantasy Nerd. Uploading your projections allows you to see if your predictions are in line with others in the industry and identify any potential areas that you may have missed.
The lineup tool saves a ton of time and hassle
After performing your player research, you can select which players you want to include in your lineups. It gives you the options to 'like', 'lock' and exclude players at your discretion.
Players you lock will be in 100% of your lineups, whereas ones you've chosen to exclude won't appear in any. The ability to see community likes also gives you an insight as to what other users are thinking about each player.
After you've done this, click the "Build Optimal Lineups" button at the top of the page and the software will get to work. It will automatically create the maximum number of lineups for your pricing plan and allow you to save the ones you'd like to play.
Projection analysis tool will advance your game over time
The analysis section is a detailed statistical look at how your projections have performed over time. It does this by using the Pearson Correlation, which measures how closely related different data sets are.
Analyzing correlation is particularly useful in DFS as you can compare these data sets to actual player performance. It acts as a useful measuring stick to see which projections are consistently more accurate.
If Daily Fantasy Nerd's projections consistently out-perform yours, this could help you identify areas of improvement. The Pearson Correlation feature is only available in the MVP subscription.
The bankroll tracker will ensure you manage your money effectively
The Bankroll Tracker is an excellent feature that complements their baseline tool quite nicely. It allows you to analyze all of your DFS results from different sites and sports in one central location.
The ability to filter your past contest performances based on factors such as date range, contest size, entry fee, and contest type help you to analyze your strengths and weaknesses as a DFS player.
Once you've chosen the appropriate filters, the bankroll feature will spit out vital information such as profit, win rate, and ROI. Game selection is a critical component of DFS success, and this will no doubt assist you going forward.
It presents all of this information in a user-friendly line graph format that allows you to see changes to your cumulative profit over time.
Competitive, Comprehensive Tools For A Reasonable Price
Daily Fantasy Nerd compares favorably to competitors according to most of the top metrics. It is a comprehensive tool suite that factors a wide range of data points to generate optimal lineups and metrics for your chosen sport and DFS platform.
An excellent combination of result-driven features
Daily Fantasy Nerd's optimizer, projections, lineups, and analysis features are all designed to give you a statistical edge over your opponents. Being able to upload forecasts each week, and have these analyzed by a projection correction tool, will only serve to sharpen your skills for the future.
Similarly, the bankroll tracker represents an excellent way to see how your DFS performance has been tracking. It's the final tool is a suite that aims to improve your overall daily fantasy results, from contest entry to money management.
I would, however, like to see Daily Fantasy Nerd provide more trending data to its tool set. For a novice or intermediate player, I feel like this may be a more useful feature.
Beginner friendly UI is easy to learn and leverage
Daily Fantasy Nerd has an intuitive user interface that is easy to use. Although there is a ton of data presented through the tool interface, the primary functions easily accessible. For instance:
Generating up to 150 lineups requires only a single click
Statistical data is easily sortable by clicking on table headers
Actionable data points are highlighted, making it easy to identify value plays
One thing that does bug me a bit is the use of blue and orange as highlight colors. I sometimes have to think about what each one means. Using shades of green and red would have been a much better choice.
A statistical model that gives you a competitive edge
Because of the sheer data that Daily Fantasy Nerd can analyze, it is incredibly effective at helping you build optimal DFS lineups. Whereas many DFS tools focus strictly on the NFL or NBA, DFS Nerd processes an extensive amount of data related to all of the four major U.S. sports.
This data takes into account almost every factor that could influence contest results, giving you a leg up over the competition.
There are available subscriptions to meet all needs
Daily Fantasy Nerd has Veteran, All-Star and MVP subscriptions, priced at $24.99, $44.99 and $79.99 per month respectively. Each of these packages represents significant value for money (I specifically named their NBA optimizer as a great value pick), the MVP subscription being particularly justifiable for medium-volume players.
With the MVP package you get access to 4 different DFS sites, unlimited optimizations, and a whopping 50,000 bankroll entries per month to monitor your performance. Saving your lineups and exporting them to CSV is also very useful, and the projection correction analysis sets DF Nerd apart from other DFS tools.
If you play multiple DFS sports and are looking for a cheaper solution, you should also check out Draft Dashboard. Their subscription fee of $39.99 gets you access to three popular sports (football, basketball, and hockey). Baseball support is coming soon.
They also offer an introductory rate of $1 for the first 30 days, which is plenty of time to make a value judgement. I wrote a review of Draft Dashboard that provides more details.
DF Nerd Has a Record of Proven Success Stories
Daily Fantasy Nerd doesn't just claim that their tool helps you win at DFS. They have the proven results and success stories to back it up.
Here are just a few Daily Fantasy Nerd reviews outlining their successes using the tool. Check out this success and more on the DF Nerd homepage.
Ryan K won $85,000 for finishing 2nd out of 85,536 in the Fanduel NFL Sunday Million.
Mitch L won $100,000 by winning a Fanduel NBA GPP.
Allen H won over $522,000 for placing first in a bunch of Draftkings GPP's.
Closing this Review of Daily Fantasy Nerd
Quality DFS tools are proven to efficiently bridge the gap between you and the pros. In this Daily Fantasy Nerd review, I evaluated each of the tools in the DF Nerd toolset and discussed the usability, effectiveness, and value of this DFS software.
Remember, you can try every one of their tools for free for seven days. That's plenty of time to enter a few contests and see if paying for a subscription is worth it. Click the button below to get started without any commitment.
Have you been able to up your DFS game using DailyFantasyNerd? If you have (or even if it didn't work out for you), tell me about it in the comments below.