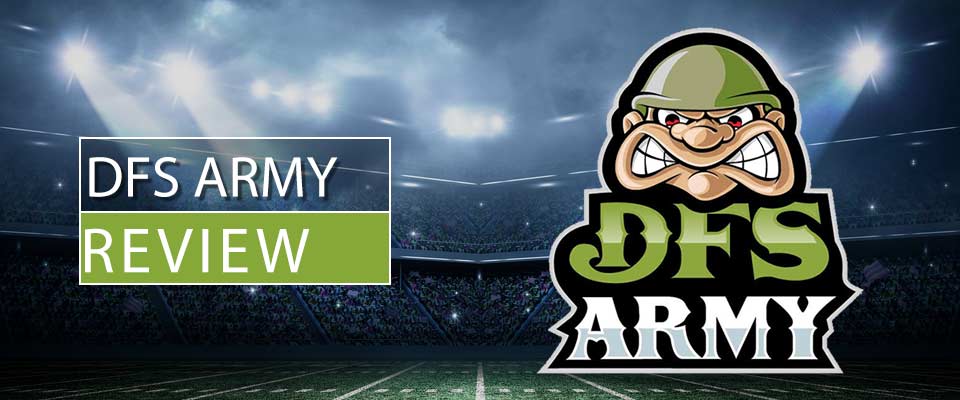 If you're overwhelmed by the endless decisions when building your daily fantasy lineups, a DFS research & lineups tool could be a big help. These sites can both streamline your research and, in the case of DFS Army, increase your daily fantasy sports IQ.
In this DFS Army Review, I will highlight the unique features that set them apart from competing daily fantasy research tools. I'll also show how to leverage their tools to build winning DFS lineups quickly.
DFS Army is a research site, lineup optimizer tool, and collaboration platform bundled into one. It's a popular solution for DFS players looking to both prepare for weekly slates and improve their performance in daily fantasy contests.
The major draw for DFS Army is their community-based environment where you're encouraged to interact with seasoned daily fantasy pros. In this way, you can fine-tune DFS strategies and get valuable input on your lineups.
DFS Army Sign-up Special
Use this coupon code to save 20% on a DFS Army VIP subscription right now!
CHEATSHEETWARROOM
A robust set of research tools, an easy to use lineup builder, & multiple collaborate channels to learn from the best.
The busy UI can be overwhelming and even seem dated at times. But it will grow on you as you learn the tools.
The flow from research, to analysis and consultation with pros, to lineup building, is logical and feels natural.
The Lite plan is priced fairly for those seeking only a lineup tool, but the VIP plan is a must for serious players.
Deciding If DFS Army Is Right For You
Every DFS research tool has a unique marketing angle. The central pillar of the DFS Army platform is the concept of Pros helping Joes.
As a member, you are encouraged to collaborate with seasoned pros to both hone your DFS strategies and improve your lineup decisions. Personally, I think this is a brilliant angle to take in a DFS world where a few sharks rule the waters.
I've tested TONS of daily fantasy tools and most of them are fantastic. But where they struggle is in teaching you how to win at DFS. This is where DFS Army shines.
Let's look at a few other factors that could help you decide whether this the daily fantasy tool for you. At the conclusion of this DFS Army review, I'll also take a look at a few other alternatives that you might prefer.
DFS tools are an investment, not a get rich quick scheme
Novice DFS players sometimes shy away from tools like DFS Army because of the cost. A better approach is to frame a subscription as an investment that will generate higher long-term returns.
The DFS Army cost ($35.00 - $49.99 per month) is in the middle-ground compared to similar DFS tools. It's not the cheapest, but not the most expensive. I'll break down their two primary subscription plans in detail below.
Maximize the DFS Army tool suite to win more contests
DFS Army is equal parts research, insights, and analysis. The manner in which you choose to utilize these features is entirely up to you.
Most members will utilize the research tools to perform player research, then join the VIP chat channels to discuss their strategy and favorite players, and finally leverage the lineup builder to create optimized rosters.
Selecting the subscription package that fits your needs
DFS Army Lite is the cheapest plan ($35/month) and provides access to the core suite of tools for building lineups:
The VIP Plan ($49.99 monthly or $41.67 per months for a year commitment) support everything in the Lite plan, but also includes these features:
If you want to experience the full essence of the site, you'll want the DFS Army VIP membership. Considering the comprehensive tools and the level of expert support you get for that price, it's an incredible deal.
DFS Army coupon code and free trial offer
DFS Army offers a free month if you deposit at least $20 into a new account at some of the most popular DFS hosts (DraftKings, FanDuel, etc.). If you've already have account at these sites, you're out of luck (you can't confirm your identity twice anymore).
However, you can still get a DFS Army Discount of 20% on their VIP subscription for being a loyal Cheat Sheet War Room reader! Just enter this DFS Army code at checkout: CHEATSHEETWARROOM.
If you sign-up using that coupon code, DFS Army will even give me a small kickback for making the referral (high five!).
Reviewing the Core Tools & Features
Great lineups are the product of comprehensive research and reliable, easy-to-use tools. DFS Army offers this simple workflow to maximize their tools for creating winning lineups:
Research your sport and betting platform in the Research Station
Fine-tune your strategy in the VIP Chat Room
Build high-performing lineups in the Domination Station
Let's walk through each of these steps in detail.
Find the best statistical nuggets in the Research Station
DFS Army's research tools have a feature that is unique in the industry. When researching players for a particular sport, you can also tailor that analysis to a specific DFS host (currently only available for DraftKings/FanDuel and the NFL/NBA).
Host-specific research is logical as each DFS site has varying player salaries and contest types. So it only makes sense that your research should take the DFS site into consideration. For the NFL, there are even Research Stations dedicated entirely to a specific contest type (Showdowns).
Each research station provides detailed (and interactive) spreadsheets with insightful metrics. For example, the NFL Research Station provides stats for all positional match-ups and even makes suggestions for the most profitable players stacks.
Vet your strategy in the VIP Chat Room
DFS Army's VIP Chat feature is a Slack channel offering direct access to the best minds in DFS. In addition to discussion and news channels, each DFS Army Coach has a personal channel.
Pro collaboration is the hidden gem of DFS Army. You can bounce lineup ideas off of fellow members and experts alike. Everyone is helpful and eager to help you become more successful in your daily fantasy contests.
Whether you need advice on using their MLB DFS optimizer for cash games, or you want feedback on your NASCAR lineups, their pros are there to help.
Versatile filters make lineup optimization a snap
The idea of garbage in, garbage out is definitely applicable to daily fantasy tools, especially DFS lineup optimizers. The Domination Station lineup optimizer combines your roster preferences with proprietary algorithms to quickly suggest favorable lineups.
Let's walk through an example of how you might generate lineups for a slate of NBA games. You'd start by selecting your DFS host, sport, game type, and game slate.
Next, the games filter allows you to isolate players in specific games.
Player and lineup filters let you weed out low-value players, control the number of generated lineups, and fine-tune the algorithm for your target contest type.
From there, configure stacks to utilize player combinations from the same high-projection teams. You can designate the number of players from one team that you feel is primed to perform well or create rules for specific players.
From there, the Domination Station algorithm produces the designated number of lineups. Below you can see that three lineups were generated using a total of 11 players.
Here is a video that illustrates how to effectively utilize the NFL Domination Station.
Comparing DFS Army to Other Tools
Although DFS Army has some excellent tools and an innovative, synergistic community, they won't be the perfect site for every player. Let's compare DFS Army to some other daily research sites to see how they stack-up.
DFS Army vs Daily Fantasy Nerd
Both DFS Army and Daily Fantasy Nerd have world-class lineup optimizers. But that's about the only thing they have in common.
To access all sports and most DFS sites at DFS Army, it'll cost you $35 per month. The comparable package at Daily Fantasy Nerd will run you $79.99.
Daily Fantasy Nerd does have a few advantages over DFS Army (check out their DFS tools in detail in my Daily Fantasy Nerd review). For instance, they support the Yahoo! DFS platform and also have tools for bankroll management.
If you only play at one DFS host, Daily Fantasy Nerd does have the advantage with a $24.99 Veteran package. But if you're only looking for a DFS lineup optimizer, and want to generate lineups for multiple DFS sites (DraftKings, FanDuel, etc) DFS Army is the logical choice as it is less than half the price of Daily Fantasy Nerd.
DFS Army vs Draft Dashboard
DFS Army and Draft Dashboard are very similar in that both tools provide access to every sport in their baseline package, no upgrade required. Although, DFS Army does support more sports overall (Draft Dashboard only supports NFL, NBA, NHL at the time I'm writing this review).
Both sites also have a similar price point, with Draft Dashboard costing a tad bit more ($39.99 per month) than DFS Army ($35.00 per month). But at Draft Dashboard, you can get your first full month of access for only $1 (no further commitment required). That is an incredible deal for first-time members looking to test the waters.
The one big differentiating factor between these two research tools is in player support. DFS Army, with their excellent collaboration platform, is the big winner here.
I review Draft Dashboard in another article if you want to learn more about their daily tools. They're a bit rough around the edges, but I quite like their interface.
Wrapping-up this DFS Army Review
DFS Army offers many of the features you'd expect from a daily fantasy research site:
Lineup optimization software
Interactive player research tools
Proprietary algorithms and stat projections
But what separates DFS army from other tools is the ability to work closely with DFS veterans. Their collaboration-based platform ensures you not only configure the best lineups possible but continue to develop your daily fantasy strategies to become a better overall player.