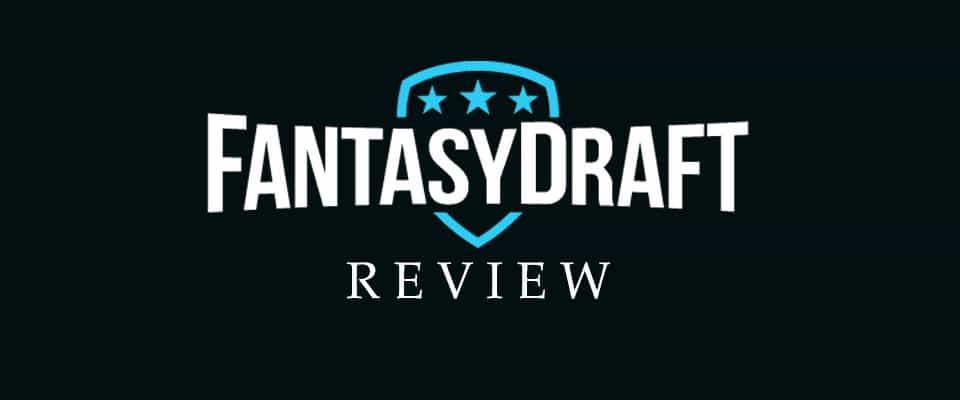 In a daily fantasy world where sharks are feeding and beginners are frequent prey, Fantasy Draft is a protected training ground for DFS novices. In this Fantasy Draft review, I detail how they have remained a viable DFS host while other challengers to DraftKings and FanDuel have failed.
If you're looking for a new DFS site to try-out, or you're a beginner just getting started with daily fantasy, you'll like what Fantasy Draft has to offer.
Fantasy Draft is niche DFS site that focuses on player satisfaction and retention in a market where the other hosts are fixated on profits. Daily fantasy novices will especially appreciate Fantasy Draft's beginner-friendly platform.
Their experience-based contest structure isolates beginners (fewer than 50 completed contests) and intermediate players to create a level playing field. Although their supplemental content is lackluster, Fantasy Draft is an excellent DFS site to quickly and inexpensively build your daily fantasy chops.
Fantasy Draft Sign-Up Special
If you join Fantasy Draft today, your first entry into a paid contest is free.
Considerations Before Registering at FantasyDraft.com
DFS sites continue to be legal in most states, with sports wagering as a whole set to explode based on recent Supreme Court rulings. Although DraftKings and FanDuel (here's my FanDuel review) still own the lion's share of the daily fantasy market, Fantasy Draft has carved a sizable niche thanks to their focus on putting players first.
Let's kick off this Fantasy Draft review with some facts to ponder before you consider creating an account.
Fantasy Draft prohibits participation in some U.S. states
Although more and more states are jumping onto the DFS bandwagon, laws are still ambiguous in some areas. As such, FantasyDraft prevents players in certain states from participating in contests.
You cannot currently play at Fantasy Draft if you reside in any of these following states (check out their Rules & Regulations page for a more current list).
How Fantasy Draft compares to larger DFS sites
Because Fantasy Draft is a niche DFS host, they don't have the massive user base required to justify supporting every sport. But even though their focus is narrow, they do support five major U.S. sports leagues: the NFL, MLB, PGA, NBA, & NHL.
A limited sports lineup does not mean there is a shortage of contests, however. At the time I'm writing this review, there are over 100 NFL contests listed [just for beginners] in the Fantasy Draft Lobby.
As such, there are ample opportunities for a beginner (or even an intermediate DFS player) to stay engaged. As you'll see below, fewer contests also make their apps and services much easier to use.
If you're looking for a tool to help you configure your starting lineups, check out a review I wrote about Daily Fantasy Nerd. They have a free 7 day trial and you can use their software to give you an edge in your first few contests.
A Review of Fantasy Draft's Features & Services
Fantasy Draft is a relative newcomer on the DFS scene. They launched in 2014 and remain competitive even as other challengers to the big daily fantasy sites have gone out of business.
How are they able to do this?
Let's evaluate what makes FantasyDraft.com different from the "Big 2" in daily fantasy.
An emphasis on a player-first experience
Fantasy Draft maintains a loyal core of players due to their focus on player satisfaction. Here are a few of the ways they keep their customer base happy:
Fantasy Draft registration bonuses & promo codes
The best sign-up deal at Fantasy Draft is their free entry into a guaranteed winner contest. If you create a new account and deposit at least $10, you'll have a chance to win a cash prize without risking any of your own money.
Back in the maddening daily fantasy marketing blitz of 2015, DFS sites were offering considerable deposit-match bonuses to new users. These days, those deals are practically non-existent.
However, Fantasy Draft does from time to time offer deposit-match bonuses. In this case, you'll gradually earn this bonus as you enter paid contests. From their FAQ page:
Deposit bonuses are released at a rate of 4% (4 cents) for every $1 of contest entry fees paid with real cash (i.e., not paid with a ticket or FantasyCash) in a qualifying contest. In other words, every time you pay a contest entry fee with real cash in a qualifying contest, you will receive $0.04 for every $1 spent. Any contests that do not qualify will be specified in the contest description.
If you're on the fence about signing up, you can always create an account and monitor their promotional emails for specials. When you sign-up, help us out by using Fantasy Draft Promo Code: CSWR.
Avoid sharks with free and tiered contests based on experience
New players are sometimes reluctant to get started in DFS because they feel unmatched against veterans. I can certainly relate as it took me some time to get my feet wet.
Fantasy Draft recognizes this, so they make it very easy to get involved without having to compete against experts.
Free contests allow you to win real prizes while you practice
Although you won't see many million-dollar freerolls at FantasyDraft, they do sometimes host free games that award cash prizes (or qualifier tickets into paid contests). These freerolls seem to align with the start of each sports season.
Here is a promotion they had at the beginning of the 2018 NHL season.
Practice in contests exclusively for beginners and intermediate players
Playing against other beginners when you get started in DFS increases your odds for success. If you have fewer than 50 contests under your belt, you quality for beginner-only games.
But FantasyDraft.com takes it further to offer intermediate contests as well. Intermediate contests are open to anyone without an Experience badge. Experience badges are triggered when players pass a certain winnings threshold.
Earn Fantasy Cash by referring your friends (they earn too)
One way to preserve your bankroll is to sign-up your friends via Fantasy Draft's 10+10 referral program. As your referrals enter paid contests, you'll earn 10% of their rake-back fees (awarded as Fantasy Cash). These friends will also earn back 10% of the standard rake fees for their contests.
Fantasy Draft makes it easy to earn commissions by sharing with your friends through a referrals dashboard. With a single click, you can let friends know about Fantasy Draft through Facebook, Twitter, or email.
You can't withdraw Fantasy Cash like you can with deposited money or cash winnings. However, you can use it to enter contests that have cash prizes.
Fantasy Draft will even increase your commission as your referrals sign-up their friends. Each tier level will increase your rack-back earnings. They refer to as their 6 Degrees of Pay Commission tiers.
A Simple Lobby Interface Extends to Mobile Devices
Fantasy Draft's intuitive desktop interface is a breeze to navigate. In addition to their inviting Contest Lobby, Fantasy Draft offers mobile apps for both Android and iOS. Their Android app has an impressive 5-star rating.
Weekly advice columns aim to help you configure lineups
Fantasy Draft publishes weekly articles mean to help you set your best lineups. To be honest, this content could be much, much better.
Their latest NFL article is short and not very inspiring. With a nominal investment in content, they could easily improve this segment of their business.
Fantasy Draft 101 articles cover basic info on DFS strategy
Every DFS host has a myriad of proprietary terms, site-specific terminology, and rewards frameworks. Fantasy Draft 101 is content meant to acclimate new users to their platform.
These articles and videos present advice on bankroll management, creating custom contests, and more. Again, this content is dated and can be both improved and expanded.
Fantasy Draft Remains a Relevant DFS Host
It doesn't take a rocket scientist to figure out that DraftKings and FanDuel own the lion's share of the DFS market. You check out my DraftKings review for a thorough breakdown of their platform.
But history has shown that when the big cats get fat and happy, there's room for companies with a narrow focus to the market.
FantasyDraft has remained relevant due in part to their core mission of putting players first. Over the last few years, interest in their services has stayed consistent while DFS competitors such as Draft Day, Boom Fantasy, and & Draft Pot have all closed up shop.
Like most DFS hosts, players sometimes call them out for alleged deceitful bonus structures or a pyramid scheme-like rewards program. But based on my review of Fantasy Draft and experience playing at this DFS host, their promotions are not disingenuous.
Especially for DFS novices, I think they're a great place to start without a huge time or monetary investment. If you want to give Fantasy Draft a try, use our referral link to enter your first contest for free.