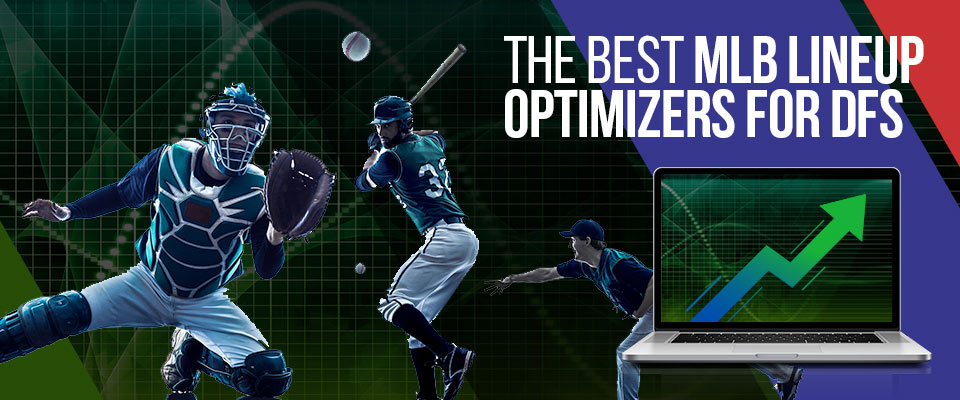 Of all the daily fantasy sports, baseball is the most stat-heavy. Moneyball, anyone??
The top DFS players have historically utilized MLB lineup optimization software to give them an edge in daily fantasy contests. But now, any player with ambition and a few bucks can harness that same algorithmic power to build high-scoring baseball lineups and compete with the pros.
Today I analyze and rank my favorite MLB lineup optimizers for 2023. I'll reveal their strengths, weaknesses, and how you can use them to win more MLB DFS contests consistently.
MLB Optimizer
Sign-Up Deal
Rating
Stacking
Custom Projections
MLB Contest Hosts

1 Month for $1

Not Supported
Not Supported
DraftKings, FanDuel

1 Month Free (terms)

Coupon Code:

CHEATSHEETWARROOM

(10% off)

Supported
Not Supported
DraftKings, FanDuel

7-Day Free Trial

Not Supported
Supported
DraftKings, FanDuel, Yahoo DFS
The Best MLB Optimizers of 2023
For 2023, I examined a slew of optimizers to evaluate their ease of use, effectiveness, cost, and supporting software tools. Let's review the top MLB optimizers of 2023 and what makes them stand out.
An optimizer and a community of MLB DFS experts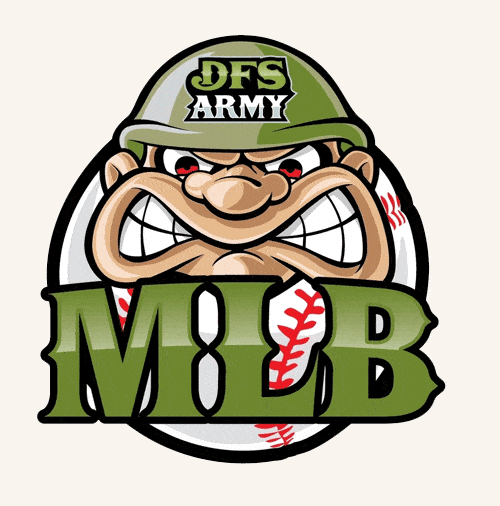 Elite DFS players comprise roughly 1% of active players. This disparity means the vast majority of us have plenty of room to improve our game.
The draw of DFS Army is that they back their lineup optimizer (called the Optimization Station) with in-depth tutorials and expert advice. No other MLB optimizer company provides that level of instruction and support.
Members can browse video tutorials detailing tips using their baseball optimizer effectively for different contest types. If you have a question or need advice on a slate of MLB games, jump over to their Discord server and chat with their staff to get their input.
Advanced configuration options for baseball slates
The MLB optimization tool itself is very effective, supporting numerous advanced configurations:
Advanced Hitter Stack Rules – Use projections and batting order to dictate stacking
MLB Legacy Stack Mode – Configure stacking (or double stacking) rules for GPP tournaments
Player Combo Options – Limit stack candidates to players you specify
Those are just a few of the features available in the MLB Domination Station. There are numerous other optimization settings and advanced player searching options available, as you can see in the screenshot below.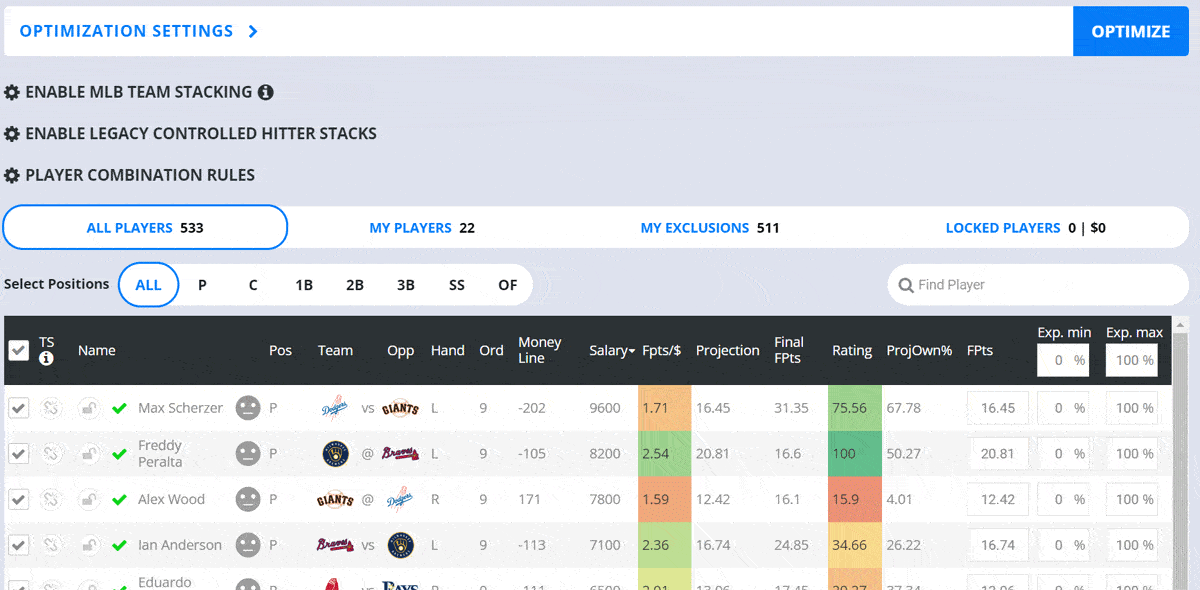 Consistent MLB DFS contest winners
DFS Army members frequently post their W's on Twitter. Five-figure prizes are common in MLB contests, and you can check out Wall of Wins page where they highlight even bigger winners.
Outside of the optimizer itself, I can't say the DFS Army interface is my favorite. But even with the dated design, it gets the job done when it counts.
Right now, you can get a 10% discount on any DFS Army plan by using the coupon code: CHEATSHEETWARROOM. You can also get an entire month free if you take advantage of their sign-up deal.
Draft Dashboard's Optimizer is one of many MLB DFS tools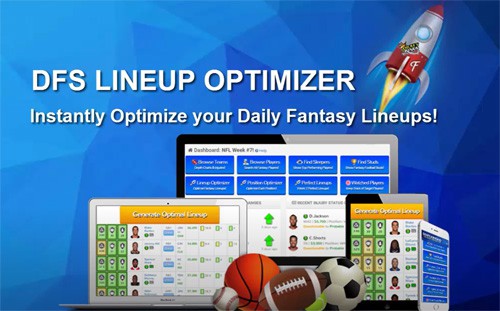 If you're looking for an effective MLB optimizer without the social aspect, look no further than Draft Dashboard. In addition to their top-rated optimizer, they have numerous other DFS baseball tools in their arsenal to help you win more contests.
I enjoy Draft Dashboard's baseball optimizer because it's dead-simple yet feature-rich. While other daily fantasy tools can be overwhelming with all the bells and whistles, these guys focus on the core functionality essential to building high-scoring lineups. This effectiveness also carries over to their stellar daily fantasy basketball optimizer.
Make MLB Optimization a two-step process
Players looking to generate optimal lineups quickly can do so with Draft Dashboard's MLB lineup optimization tool. You can generate up to 150 different lineups with one click.
But if you're a research-focused player, start with the Position Optimizer tool. Inside the Position Optimizer, you quickly analyze the best players for a particular slate of MLB games.
Leverage DD"s DashRank© score to help you identify the most promising players for a particular slate. Use the wealth of on-screen metrics to target or exclude specific players, instructing the algorithm how to prioritize them in your lineups.
Draft Dashboard's MLB Lineup Optimizer
Using the MLB optimizer is a breeze once you've used the Position Optimizer to specify your top (and bottom) prospects. Each baseball lineup you generate in the optimizer will factor in your player preferences, making it much faster to create rosters to your liking.
In most optimizers, you generate tens (or even hundreds) of lineups, then scour over the lineups to find the most promising rosters. By using the Position Optimizer first, you know your favorite players will be prioritized in every lineup.
The optimizer interface is simple but has some interesting capabilities, like suggesting stealth upgrades your roster without generating more lineups.
This feature works by highlighting swappable players with high projected point output who won't put you over the salary cap. I find this a huge time saver compared to other baseball lineup maximization tools.
We reviewed Draft Dashboard in detail in a separate article. There you'll find a deeper analysis of their most popular MLB optimization tools.
The MLB optimizer is one of many DFS tools
Similar to DFS Army, Draft Dashboard has a slew of tools to help you further research and optimize your baseball DFS lineups (more than 15 at the time I'm writing this). These tools are geared toward research and can help you identify studs and sleepers, make smart swaps before roster locks, and track recent player trends.
But don't take my word for it. Here are some testimonials from happy Draft Dashboard users: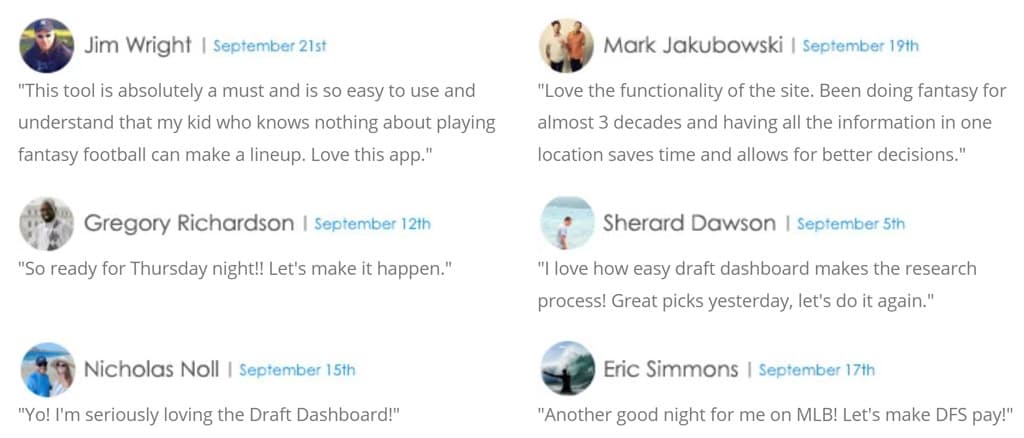 Take advantage of the current sign-up special to get an entire month of access for only $1. After you do, come back and tell me how well it worked.
Simple, Metric-Heavy MLB Optimization – Daily Fantasy Nerd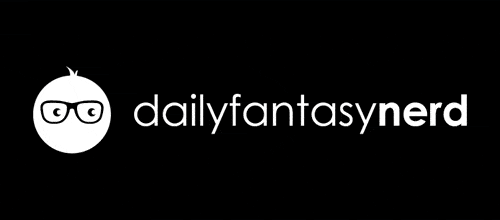 Daily Fantasy Nerd is a no-frills MLB optimizer with a proven track record. You won't find many supporting tools or a social following around DFN, but their baseball optimization tool is both feature-rich and stat-heavy.
To streamline the lineup generation process, Daily Fantasy Nerd merges their baseball player projections and optimizer in a single user interface. To feed the algorithm, you can exclude, lock, or like specific MLB players for a particular slate DFS slate.
An orange background marks players with favorable match-ups. Alternatively, you should steer clear of players highlighted in blue.
Here's a detailed run-down on how to use their MLB optimizer effectively.
Personalize the MLB algorithm with custom projections
If you're a stat geek who maintains your own MLB projections, you'll love DFN's custom projections feature. Just upload your projections to tailor their algorithm to your liking.
Custom projection integration is a feature you won't find in any other MLB optimizer. Learn more in an article where I reviewed the DFS Nerd.
Manage your MLB DFS bankroll effectively
Outside of their primary baseball optimizer, DFN also has a bankroll management tool. This tool analyzes your contest history and generates charts that detail your performance across various contest types.
Effective bankroll management can be valuable for your development If you play a decent volume of daily baseball contests. It helps you quickly determine your strengths and weaknesses, so you can focus on contests where you excel.
DFN has proven results in MLB
Daily Fantasy Nerd has built a reputation for success in daily fantasy baseball contests. Here's a user who had consistent success in MLB Fanduel contests.
And another who thinks their prices aren't high enough!
Regarding pricing, Daily Fantasy Nerd is currently giving away a 7-day free trial (their Premium plan) for first-time members. That's sufficient time to generate a bunch of free lineups and test the waters in major league baseball daily fantasy sports.
How MLB Optimizer Algorithms Work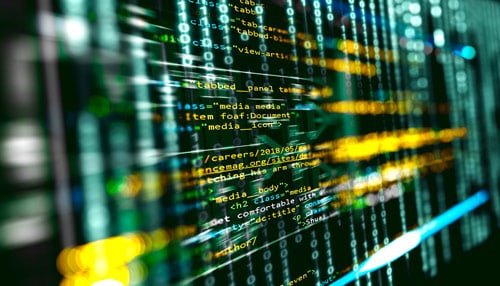 Most developers of MLB optimizers create algorithms that target the three big daily platforms: DraftKings, FanDuel, and Yahoo! DFS. But how do their algorithms vary across these hosts?
This question is key when it comes to evaluating MLB optimizers. If the algorithm isn't tuned for a particular DFS host, you can assume that if it excels in DraftKings contests, it should be effective for both FanDuel and Yahoo DFS contests.
In speaking with the creators of several popular MLB optimizers, I found that indeed they rarely tune their algorithms to a specific daily host. There are some minor exceptions (rare contests with very specific scoring rules), but their algorithms are consistent. The most important variables are player projections and host-specific player salaries.
While this review is focused primarily on major league baseball, we have another article where we review the best DFS lineup optimizer of 2023. That is a more comprehensive review that covers additional optimizers.
So when choosing a lineup optimization tool, you can feel safe knowing it will work consistently across the popular daily fantasy hosts. Next, let's discuss my pick of the best MLB optimizer for DraftKings, FanDuel, and Yahoo! DFS.
The Best MLB Optimizer for DraftKings & FanDuel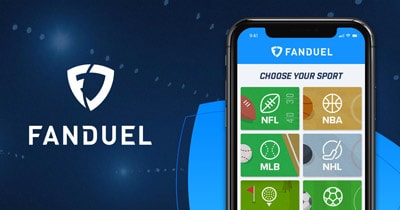 A significant factor in determining the best lineup optimizer for Major League Baseball is your level of experience in daily fantasy sports. Are you a beginner, a casual player, or a volume player?
If you're reading this article, you're likely either a beginner or a casual player. For this player classification, I think the best MLB optimizer is one with a proven track record, superior support, and (most importantly) a strong community.
Strong community and access to daily fantasy baseball pros
My pick for the best DraftKings and FanDuel MLB Lineup Optimizer is DFS Army. I favor primarily largely due to their community and support for specific hosts and contest types.
When building baseball lineups, I usually scan their MLB strategy content for the type of contest I'm targeting. Their library of instructional videos is extensive:
Crushing Contests with the MLB Domination Station
How to End a DFS Downswings for Baseball
MLB SuperDraft Multiplier Strategy
3 Keys to Dominating MLB Cash Games
If you're looking for a more in-depth analysis, check our daily fantasy army review where we get into the specifics of using their MLB optimizer.
In addition to their support content, DFS Army has actual daily MLB experts on staff. On their premium plan, you'll get access to these baseball insiders on a Discount discussion board.
Claim your 10% discount for a limited time
Right now, you can get a 10% discount off of any DFS Army plan (even their top-level VIP Plan that gives you access to staff experts). Just use promo code CHEATSHEETWARROOM and sign-up for any of their weekly, monthly, or yearly subscription plans.
MLB Optimizer
Sign-Up Deal
Rating
Stacking
Custom Projections
MLB Contest Hosts

1 Month for $1

Not Supported
Not Supported
DraftKings, FanDuel

1 Month Free (terms)

Coupon Code:

CHEATSHEETWARROOM

(10% off)

Supported
Not Supported
DraftKings, FanDuel

7-Day Free Trial

Not Supported
Supported
DraftKings, FanDuel, Yahoo DFS