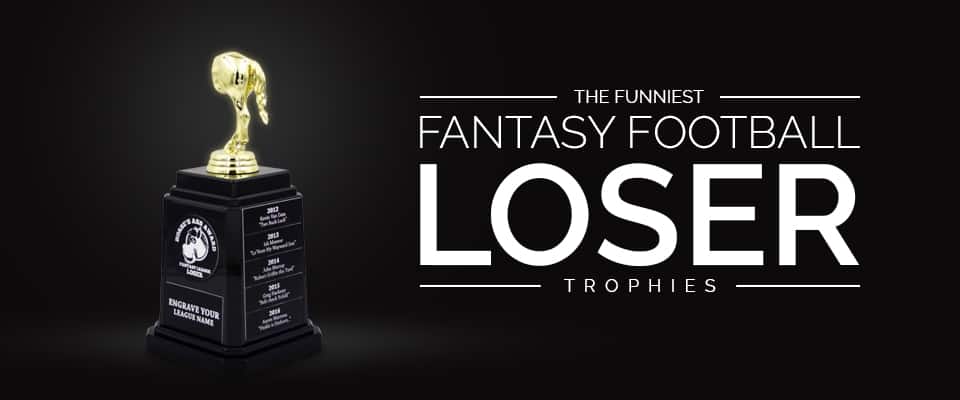 The great thing about a funny fantasy football loser trophy is that it can be enjoyed by your entire league.   OK, maybe everyone will appreciate it except the owner who receives it.
But still, 11 out of 12 isn't bad!
In this article, I rate and review the most appalling and embarrassing loser trophies for your fantasy football leagues in 2023. Let's get to it!
| Trophy | Product | Rating | |
| --- | --- | --- | --- |
| | Trump Perpetual Loser | Best Perpetual Loser Trophy | |
| | Horse's Ass Trophy | Best Value Loser Trophy | |
| | Fantasy Loser Belt | Most Humiliating Loser Trophy | |
| | Toilet Bowl Trophy | Best Budget Loser Trophy | |
| | Toilet Lid Trophy | Most Unique Loser Trophy | |
The Funniest Fantasy Loser Prizes of 2023
It's 2023 and every fantasy football league worth its salt should have a loser trophy. They're inexpensive, hilarious, and (outside of humiliating fantasy punishments) an excellent way to motivate your owners to avoid the league cellar.
Let's look at the best loser prizes for the upcoming season.
Funniest Fantasy Football Trophy
The funniest fantasy football prize this year goes to Trophy Smack and their massive perpetual El Presidente loser trophy. If anyone can spot a Loser when he sees them, it's The Donald.
For a limited time, Trophy Smack is also offering my readers a free FFL Championship Stunna Ring with any purchase of a trophy or belt over $100. Check it out here.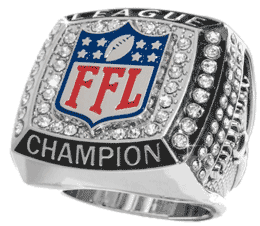 Just add the Stunna ring to your cart before you check out and use the coupon code: CHEATSHEETWARROOM.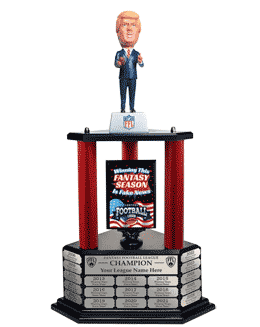 This giant perpetual loser trophy stands 26 inches tall and even comes in larger sizes (36 inches and a colossal 56 inches. You can customize the front engraving plate and choose between four column colors.
There is ample space for up to 19 past league losers (and engraving is 100% free). If finishing the season in last place isn't humiliating enough, you can now ensure this shame is permanently etched in time.
---
Best Value Fantasy Loser Trophy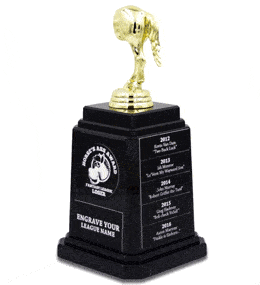 This funny fantasy football trophy is my pick for the best-value loser trophy of 2023. I have used this trophy for my leagues, and it's a solid and sturdy design.
Another great feature of this trophy is that it is perpetual and has space for up to fifteen past champions. That's a rare feature of cheap fantasy trophies.
---
Best Standard Fantasy Football Belt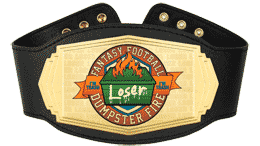 This loser fantasy belt is a hilarious trophy alternative if you want to shake up your bottom-dweller prizes. The itsy bitsy design measures 19″ across and weighs a minuscule one pound! An award fit for a peon!
To add insult to injury, make the last-placed team wear this belt to all league functions. It's a crowd-pleaser!
Funny Fantasy Football Loser Trophy Guide

When researching the funniest fantasy football trophies for league losers, I narrowed my focus to the most humiliating trophies possible. In this review, I tried to choose a variety of hilarious trophies to give you a wide range of prizes to choose from, based on your level of depravity.
Although most of the items reviewed are meant to be last-place fantasy football trophies, you can award these for just about any embarrassing performance.  For instance,  you could award a funny fantasy trophy for:
Lowest total score
Worst coaching decisions
Dumbest team name
Loser Trophies are typically inexpensive
One of the reasons that every league should invest in a funny loser trophy is that they are cheap compared to other league prizes. Also, these are not the type of fantasy prizes that you buy every year.
Fantasy football leagues generally buy a loser trophy once and passed it around from loser to loser, year after year. In that sense, the comedic value they provide is well worth the one-time investment.
Fantasy football last place trophies also offer some incentive for the worst owners to actively manage their teams and start optimal lineups each week, which is never a bad thing- especially later in the season.
Fantasy football belts and rings also make excellent league prizes. I just finished reviewing the best fantasy football championship rings and the best fantasy football belts for the 2022 NFL season. Check them out if you want to upgrade your league championship award this year.
Which owners to recognize with a loser trophy
In most of the leagues that I run, the loser trophy usually goes to the worst fantasy football team. More specifically, I present the trophy to the last-placed team in the loser playoff bracket. This game is aptly named the Toilet Bowl Championship.
As you'll see in the reviews below, one of the funny trophies is tailored specifically for this pivotal game.
I've also been in leagues where the team with the worst record, or the team with the lowest point output, are recognized in some funny way. I generally prefer the Toilet Bowl trophy approach because it also gives the worst teams a reason to pay attention late in the season.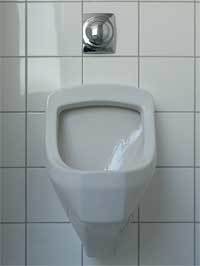 Funny fantasy football trophy names
You may want to brainstorm some funny trophy names for your loser trophy. You could then have your trophy name engraved on the single plate if you do not opt for a perpetual loser trophy.
Most leagues crown the recipient of the loser trophy the Toilet Bowl Champion. In my leagues, we call this owner the League "Chumpion" (and the Toilet Bowl is re-branded as the "Chumpionship").
However, merely accepting the Chumpionship trophy isn't the end of the suffering for our last-place team each year. The worst team has to endure other forms of humiliation as well.
Way to further embarrass your last-placed teams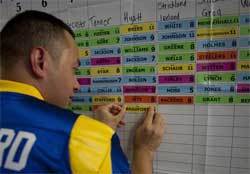 For my leagues, one of our rules is that the loser trophy recipient has to display their trophy out in the open for all to see until the next fantasy season begins. This punishment ensures they don't just go home and stick the loser trophy in a closet and forget about it.
Also, the Chumpion does not get to name his fantasy team the following year. The championship team gets to name the loser's team and also pick the team logo for the Chumpion. As you can imagine, this never ends well for the last-placed team.
The last-placed team earns "sticker bitch" duties
Finally, the Chumpion has to serve as the "Sticker Bitch" for the following year's live fantasy football draft. In other words, the league loser is responsible for placing all of the player stickers onto the draft board during the draft proceedings. They also earn the worst fantasy football draft position.
All of these funny antics add to the hardship that is being the last placed team in our leagues. It's a significant motivating factor that our owners want to avoid at all costs.