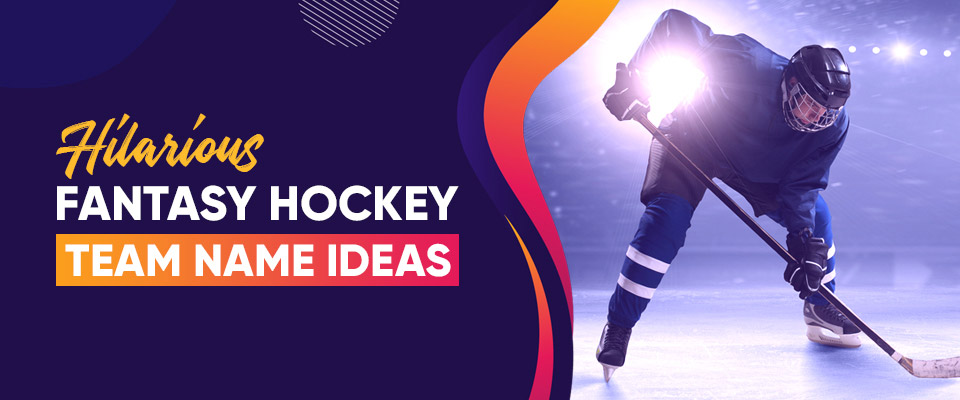 Winter is a cold, bleak, and hopeless time of year. So thank the Great One that there's fantasy hockey to give you some hope and excitement.
As long as your team's good, that is. When your team is bad, the cold feels even colder.
That's why you must prep for the season, research, and get your team sorted. And of course, you're going to need some kick-ass fantasy hockey team names.
Stoodis.
Fantasy Hockey Team Names for 2023
I like fantasy hockey leagues in part because of how customizable the categories are. Instead of flattening all players out into a single score like football, fantasy hockey embraces the individuality of its players.
As such, you're going to need some fantasy hockey team name ideas as unique as your players.
Conn Artist
Keep Auston Weird
Shippin' Up to Auston
If Auston Mathews played for the Bruins, this fantasy hockey team name would be almost too perfect.
Kirill Communication
Meet Your Makar
Kith and MacKinnon
Tip o' the Kaprizof
The Sid and the Superego
The Sid is Sidney Crosby, obviously. The Superego is whatever player on your team thinks just a little too highly of himself.
Mikko, Myself, and I
You and Mikko
Biff Rantanan
Get Ovech It
Roman à Clef
His Barkov is Worse Than Bite
Would it be going too far to do His Barkov is Worse than His Bitekov?
Roman Candles
Tkachukles
Artemi Video Games
Artemi School Confidential
Life Imitates Artemi
Best Fantasy Hockey Team Name Ideas
What makes a good fantasy hockey team name? Does it have to make everyone in your league laugh, or just you?
Does it have to show your knowledge of the game, or reference your best player? Nah, it just needs to be something you'd be proud to see on a trophy.
Knight Kreider
Kreider Die
KC Masterpiece
That's a Kyle Connor hockey team name and a pretty decent barbecue sauce.
Quickbooks
Quick Draw McGraw
Quick Math
DeBrincats and Dogs
DeBrincat's Pajamas
What DeBrincat's Dragged In
DeBrincat and Mouse
DeBrincat's Meow
DeBrincat's Got Your Tongue
Top DeBrincat
Marked in Stone
Down the Thatch
Thatcher in the Rye
Top Seiders
Moritz Power to Ya
Moritz Than Meets the Eye
Once Moritz With Feeling
No Moritz Mr. Nice Guy
Moritz the Merrier
If You Have to Rask
Rust Bucket
Troubadours
Jesper the Dog
That's a Family Guy reference, ya clams.
Barzal Down
Tage Advice
This Tage of the Game
California Golden Seals
This fantasy hockey team name isn't a pun, it's the name of a defunct NHL team. If you like that idea, here are a handful more options in that vein.
Montreal Wanderers
Quebec Bulldogs
Montreal Maroons
Kansas City Scouts
Cleveland Barons
Hartford Whalers
Funny Fantasy Hockey Names
What does a bad hockey team have in common with the Titanic? They both look good until they hit the ice.
Here are our best funny fantasy hockey team names.
Owen Power is OP
To Boldy Go Where No Man Has Gone Before
Svechis Get Stitches
Bratt Dolls
Cale Salad
If Cale Makar ever grows a mullet, this fantasy hockey name goes from solid to legendary.
Return of the MacKinnon
Zegras is Greener
Nurse's Office
Trouba on My Mind
Wheeler-Snipe-Celly
Dirty Fantasy Hockey Name Ideas
Hockey is the cleanest sport. There's no mud, no turf, just smooth, clean ice. But then you have the players.
Hockey players have some of the dirtiest mouths in all of sports. You're probably going to want some dirty hockey team names to match.
Dickens Seider
Suck My Kahkonen
Kubalik My Balls
Snorting Laines
Bustin' Hyman
If he gets injured again, you can always change it to Busted Hyman.
Rask over Teakettle
Vasilevskiy Deferens
Raging 'Bonies
Netflix and Chell
Cool Fantasy Hockey Team Names
Gen Z loves hockey too. Let's give the youngsters some cool fantasy hockey team names that slap.
Clapper Back
This Team Slaps
No Kap
Panarin Bread
Kiringe Kids
Chad ThunderTkuchuck
Would it be going too far to do Chad Tkunderchuck? Nah, I say go for it.
Mikko's Finna Win It
Shooksterkins
Thirsty for Seider
Red Wings Fantasy Hockey Names
Bringing back Detroit's glory days, one Red Wings fantasy hockey team name at a time.
Jakub Scouts
Vranarexia
Chirot to Know
Husso What?
Husso Ever
Killer Perronhas
Bertuzzi and Ernie
Chirot Does Not Imply Can
Just in case you weren't forced to take a philosophy class in undergrad, here's an explanation.
Mikita Stans
Gordieez Nuts
Gordie's Fisherman
Sawchuck E. Cheese
Lidström's Umlauts
Yzerman of the Hour
Yzerman of the Year
Yzermanatees
Datsyukers
Datsyuk My Dick
Blackhawks Fantasy Team Name Ideas
The Indians are now the Guardians. The Redskins are the Commanders.
But the Blackhawks are still the Blackhawks – for now. Better use these Blackhawks fantasy team names while you can.
United We Stand
Catch as Catch Kane
You Kane Bank On It
Open a Kane of Whoop Ass
Kane of Worms
My Big Towes
I'll Towe You One
Mrazek in the Bathroom
Mrazek Image
Mrazek Fingers
Mrazek Mike
Azek Holes
Mikita Peach
The Hull Truth
Hull of Fame
Hullaballoo
Savardvarks
Fantasy Hockey Team Names from Around the Web
Like Igor Shesterkin snagging a clapper, I snatched these fantasy hockey names from mid-air. Now I'm passing them on to you – so where are my chants?
Oh Say Can Josi
Dzingleberries
It's Raining Schenn
Happy Kuempers
Stairway to Headman
To Kirill a Mockingbird
Auston Translation
Zibanejad News Bears
Times New Roman Josi
What's Kraken
The Kessel Run
More Ideas for Fantasy Hockey Names?
We're always looking for a solid assist. If you have a good fantasy hockey team name, tell us about it in the comments below.
We'll add the funniest ones to this article.