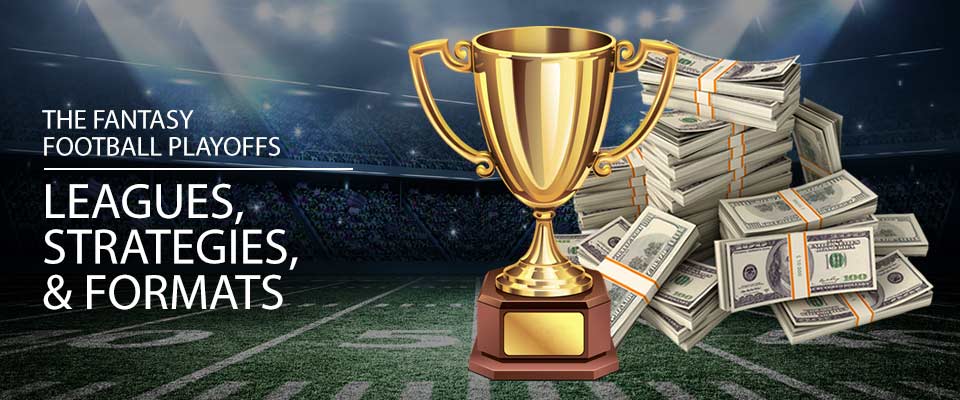 Playoff leagues provide that final shot at fantasy glory before the long and uneventful offseason. Today I analyze the best fantasy football playoff leagues and discuss how they work, what it costs to play, and how much you stand to win.
Some leagues have prize pools of over one million dollars! That's sure to stave off your fantasy hunger (at least until fantasy baseball starts).
Playoff League
Prizes & Fees
Rating

Grand Prize

$100,000

Prize Pool

$1,000,000

Entry Free

$25

Grand Prize

$500,000

Prize Pool

$1,400,250

Entry Free

$200

code: cheatsheetwarroom25

*Limit 1 per household

Grand Prize

Apple Watch
Paid Fantasy Football Playoff Leagues
Let's take a closer look at the top playoff fantasy football leagues for 2023. These postseason contests cover various drafting styles, scoring configurations, and financial commitments.
Playoff League
Entry Fee
Prize Pool
Grand Prize

$25
$1,000,000
$100,000

$200

code: cheatsheetwarroom25

*Limit 1 per household

$1,400,250
$500,000

$35

code: cheatsheetwarroom25

*Limit 1 per household

$476,250
$100,000
Fantasy Playoff Challenge at the FFPC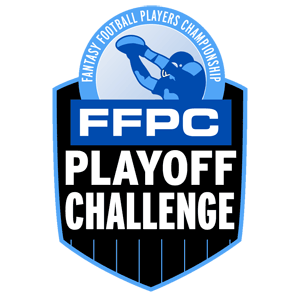 The Fantasy Football Players Championship (FFPC) Playoff Challenge is the biggest postseason fantasy contest online. 7,800 playoff teams are expected to play, even at the relatively hefty cost of $200 per entry.
The pricey league fee, coupled with the vast field, means that the payouts for the FFPC are also quite substantial. The grand prize fantasy football winner walks away with half a million dollars, and the top 900 finishers will receive a cash prize (from $100,000 for 2nd down to $200 of 900th).
There's no draft for this FFPC playoff contest. Just pick your top 12 players (1 player per team) and let them ride to the Super Bowl.
---
FootballGuys Playoff Challenge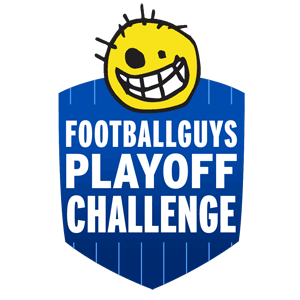 The FootballGuys Playoff Challenge is a joint venture between FootballGuys.com and the Fantasy Football Players Championship. This partnership started in 2010 and provides a cheaper option for fantasy players looking to win big in the NFL postseason.
The beauty of this playoff league is that the entry fee is only $35 (compared to $200 for the FFPC Playoff Challenge). If $35 is too expensive for your taste, consider that new users can get a free $25 credit by using this link. That means you can earn a chance to win the $100,000 grand prize for only $10!
The rules of this contest are identical to the FFPC playoff challenge. Build a roster of twelve players, one player from each NFL playoff fantasy team, and outscore the other fantasy players through the Super Bowl.
---
"The Gauntlet" from Underdog Fantasy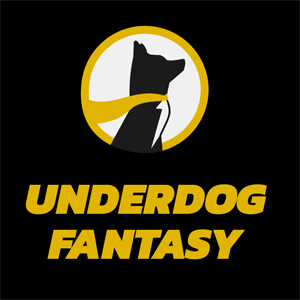 Underdog Fantasy is a relatively new player in the daily and weekly fantasy football space. But they're already making a massive splash by offering a contest with a million-dollar prize pool.
The Gauntlet is their largest best ball game for NFL playoff leagues. It utilizes a live snake draft, and you'll draft a roster of ten players.
Standard best ball rules apply, which means you'll get points from your five best-performing players. A $25 entry fee will earn you a chance at the $100,00 grand prize, but they award many other prizes to the top teams.
---
Free Fantasy Playoffs Leagues in 2023
If you blew all of your cash in seasonal leagues, all is not lost. A few fantasy playoff leagues are free to everyone, and you could even win some considerable prizes (more on that below).
| Playoff League | Entry Fee | Grand Prize | |
| --- | --- | --- | --- |
| | Free | Apple Watches, Rotowire Subscriptions, & Merchandise | |
| | Free | Bragging Rights | |
| | Free | Bragging Rights | |
The NFL.com Fantasy Football Playoffs Challenge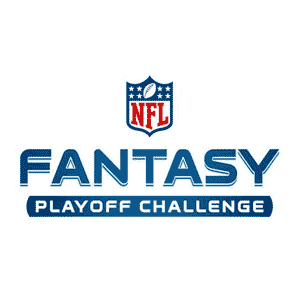 At NFL.com, you pick your best eight-player team (QB, 2 RB, 2WR, TE, K, D) each week of the four-week postseason. Players bonus multipliers for each week that a player was on your roster, so draft your best team early!
On their official page, they say you could win a trip to the Super Bowl. Not a bad prize for a free fantasy postseason contest, especially since it's completely free!
---
Customize your experience at Fantasy PostSeason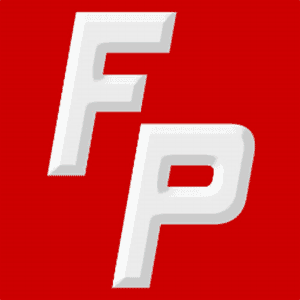 As their name implies, Fantasy PostSeason is a league host dedicated exclusively to playoff leagues. Playoff specialization allows them to offer one of the most extensive league types and playoff styles, including Player Pool, Start Once, Salary Cap, and Box Pool.
If the idea of playing against a massive field is too daunting, you can join or create leagues with a smaller league size. You can even create private leagues for just you and your friends.
In their free 2023 fantasy football playoff league, they're awarding merchandise, RotoWire subscriptions, and even five apple watches. Check them out for sure.
---
The price is always right with Second Season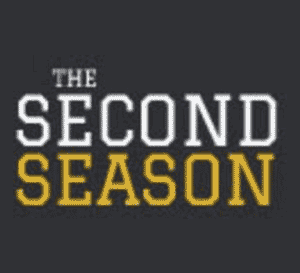 The Second Season is another customizable postseason-only fantasy site. They offer Stack 'Em and Spread 'Em league types, usually played with a 12-man roster (2 QB, 3 RB, 3 WR, 2 TE, K, D).
The Second Season is free to play, but no prizes are available. You can create free, private leagues with your friends, though.
This platform is helpful if you want a free league host and want to play for a prize. Use their service to create your league, collect the entry fees, and handle the payouts yourself.
---
Fantasy Football Playoff League Rules
The rules governing fantasy football playoff leagues are far less standardized than those governing regular-season leagues. A wider variety of draft styles, formats, and unique wrinkles make postseason leagues exciting and fresh.
Adjust draft strategy to fit your playoff league rules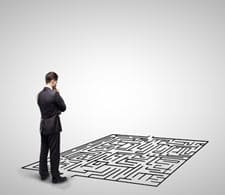 In some playoff leagues, the draft is similar to the regular season. They may support snake-style drafts or strictly auction drafts, where every team ends up with a unique set of players.
There are many other player selection styles, and a few playoff leagues don't even use a draft. Some allow every owner to pick any players they want, similar to a daily fantasy league.
You should also consider adjusting your typical draft strategy for playoff leagues. For instance, you may not want the top player overall, but rather the best player on the fantasy team that you think will go the deepest in the playoffs (more on that later).
Find the postseason league that fits your goals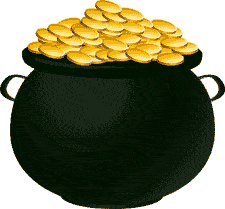 Some playoff leagues use small, eight to twelve-team leagues. Others create massive, winner-take-all pools that pit thousands of players against each other in a fight for ultimate dominance (and sometimes, big cash payouts).
The bigger the league or pool, the harder it will be to finish with cash in hand. But a large league size is also an indicator of a substantial prize at the top.
If pride is your goal, a free playoff league will likely fit the bill. But for those looking for a pot of gold, you'll have to pony up some green in a paid league.
This risk vs. reward trade-off is something you need to consider when signing up for a fantasy football playoff league. But there are postseason leagues for every type of user.
Study and leverage your playoff league's scoring structure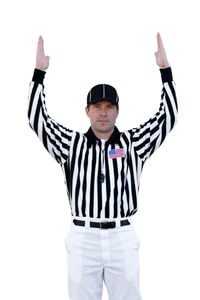 Many playoff fantasy football leagues use the standard scoring system where a TD earns you 6 points, rushing and receiving yards are worth 0.1 points, etc. But don't assume that every league follows these guidelines.
Many postseason leagues incorporate custom scoring formats that are unique to the NFL playoffs. It's these types of fantasy football rules that you can use to your advantage when planning for your draft.
For instance, some playoff leagues give team bonuses based on how many weeks you've had a player on your roster. Rule structures like this heavily favor players that can go deep in the NFL playoffs over those that may flame out early.
Always evaluate your league's scoring system before building your team. Even better, formulate a draft strategy that leverages your unique scoring to gain a significant advantage over your competition.
You have to spend cash to earn cash (sometimes)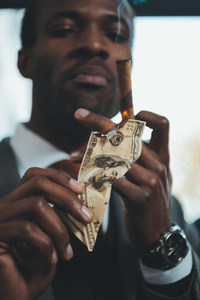 League entry fees and payouts for fantasy football playoff leagues are all over the map. Some sites sponsor free tournaments that are open to anyone, while others charge hundreds of dollars for a single, coveted entry.
Bear in mind that payouts have a direct relationship to entry-free. Free fantasy football leagues typically have minor prizes (if any), or they offer one significant prize but many thousands of entrants.
On the other end of the spectrum, leagues with significant fees can have handsome payouts. In addition to substantial grand prizes, paid fantasy leagues also award many entrants.
I'll cover the most popular fee-based playoff leagues shortly.
FAQs About NFL PostSeason Fantasy Leagues
Is there a fantasy football for the playoffs?
Yes, there are several fantasy football leagues created specifically for the NFL playoffs. These leagues start at the beginning of the NFL playoffs, end with the Super Bowl, and offer considerable prize payouts.
How do playoffs work in NFL fantasy football?
In playoff fantasy football leagues, teams earn points from players that they drafted at the beginning of the postseason. Typically, these are tournament-style leagues where teams with the most points at the end of the fantasy football playoffs are crowned the winners.
What week are fantasy football playoffs?
Most seasonal leagues end their fantasy football playoffs the second-to-last week of the NFL regular season. This extends the fantasy season for as long as possible (for maximum enjoyment) while ensuring that teams in the fantasy championship won't have players sitting out to rest for the playoffs.
What are the best playoff fantasy football sites?
The best playoff fantasy football sites are the FFPC, Underdog Fantasy, NFL Playoff Challenge, Fantasy Postseason, and Second Season. These playoff fantasy sites combine high-stakes leagues with big payouts, low-stakes leagues with respectable payouts, and free leagues with cool prizes.
Where can you find an NFL fantasy playoff cheat sheet?
You can create your own NFL fantasy football playoff cheat sheet by ranking players on an interactive, web-based cheat sheet. Just drag your players around the sheet, then print your cheat sheet before your league's playoff fantasy draft.
Benefits of Playoff Fantasy Football Leagues
After the excitement of the regular fantasy football season has faded, hard-core owners look to playoff leagues to fill the void. Postseason leagues have a few advantages:
They provide entertainment for owners seeking to extend fantasy into the NFL playoffs.
They provide another way to win money.
They add variety to the standard fantasy rules we follow during the regular season.
Playoff leagues are also a viable option if your team was eliminated from playoff contention early in the season but you still want a chance to win some cash. Just be sure to continue managing all of your teams, lest you be targeted for a creative fantasy football punishment.