You've devoted countless hours to watching, reading about, and maybe even playing football. So how can you use this knowledge to prove once and for all that your football acumen is superior to your friends, family, and co-workers?
Simple: fantasy football.
If you're trying to determine where to play fantasy football and want to know some of the more popular league configurations, you're in the right place. In this article, I'll break-down the various types of fantasy football leagues, the difference between seasonal and DFS leagues, popular fantasy football scoring systems, and more.
Seasonal Leagues Based On Roster Retention
Seasonal leagues are a fun way to participate in fantasy football without a long-term commitment. Dynasty and keeper leagues, on the other hand, allow you to maintain roster consistency over multiple seasons, retaining some (or all) of the same players from year after year.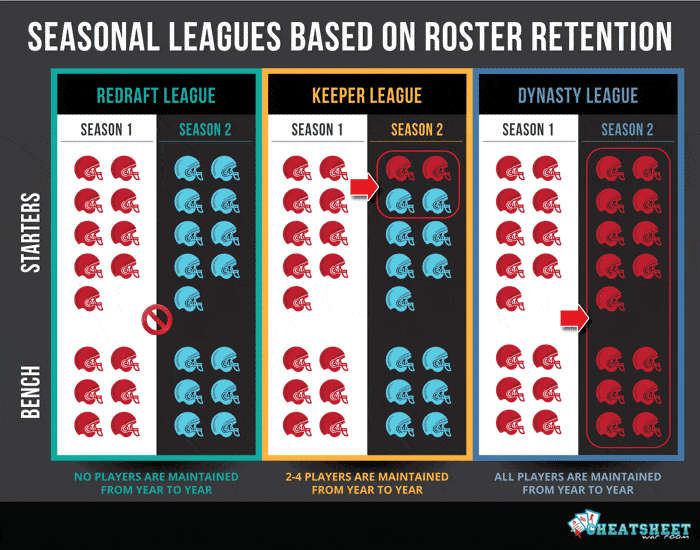 Redraft leagues give you a fresh start every season
The most common variety of fantasy football league is a seasonal redraft league. In these leagues, you draft a team at the start of the season, manage those players throughout the year, then redraft a new team the following year.
In redraft leagues, you can make trades or add/drop players to adjust your roster as you go. You typically compete against one other owner per week in a head-to-head (H2H) matchup, with the teams with the best records making the playoffs. Although, some leagues rank teams by total points scored and ignore records altogether.
Keeper leagues keep you invested from year to year
Redraft leagues can be frustrating for owners like me who get attached to their players over the course of a season. I hate having to let go of my favorite players.
Keeper leagues allow us to retain some of our players from season to season. The number of players you can keep varies widely, although it's typically in the 2-4 range.
Keeper leagues puts an emphasis on identifying young players that could break out. This add an extra element of strategy that doesn't factor into redraft leagues.
Dynasty leagues put you in control of your own fantasy franchise
Dynasties leagues are the ultimate keeper leagues. In a dynasty league you retain all of your players until you drop or trade them away.
Dynasty leagues are as close as you can get to running a true [imaginary] NFL franchise. But beware, it takes a serious commitment to stay competitive. If your team starts to tank, re-building can be a major challenge.
Daily Fantasy Football Leagues for Seasonal Players
In recent years, a new genre of fantasy sports emerged: Daily Fantasy Sports. DFS hosts traditionally hold short-term contests that anyone can enter.
But DFS leagues allow you to participate in contests against a select group of people instead of just internet randos. This means you can invite only your friends and family to compete, similar to how seasonal leagues work.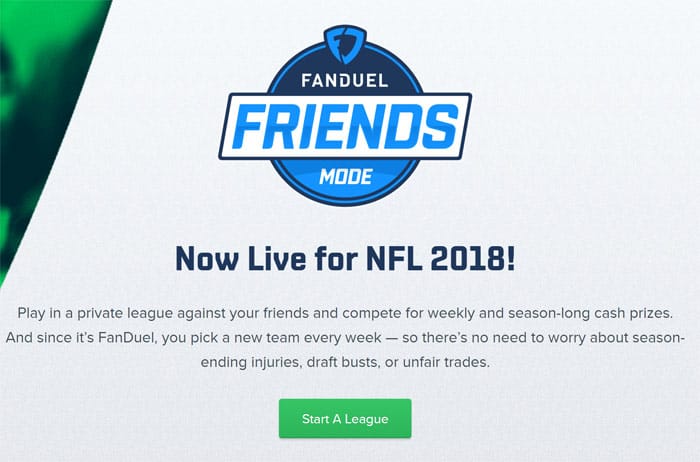 In DFS leagues, you still rebuild your roster for each individual contests. But you also accumulate points and compete against people you know in a league-type format.
Companies like FanDuel, DraftKings, and Yahoo all host short-term as well as season-long DFS leagues. These leagues allow you to pick players according to matchups, avoid player injuries that could derail your entire season, and enjoy roster-building process over and over throughout the year.
Regular Season Leagues vs. Playoff Leagues
Traditional fantasy leagues end a week or two before the NFL regular season ends. But without fantasy players to follow, the NFL playoffs can lose some of their luster for hardcore fantasy players.
Fortunately, fantasy addicts can get their postseason fix in a playoff fantasy football league.
Playoff leagues are similar to seasonal leagues in that you draft a roster of players and complete against other teams. However, in these types of fantasy leagues you try to outscore you opponents rotisserie-style (most total points wins).
Playoff leagues require distinctive strategies
Playoff fantasy football comes with some unique wrinkles. For instance, you typically don't get to make any trades or add/drop any players.
So if a player's team doesn't advance in the NFL playoffs, you can no longer get points for that player. This means that you must predict not only which players will perform well, but which teams will advance to the next round.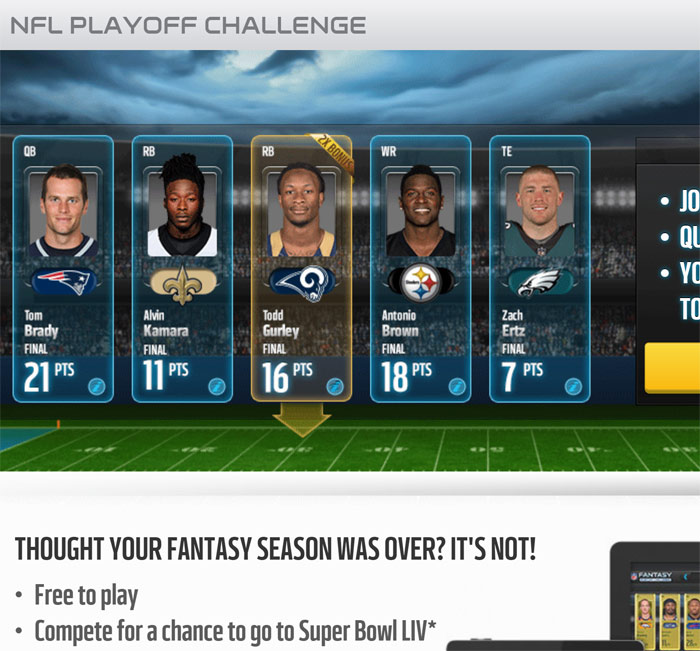 Money Fantasy Football Leagues vs. Free Leagues
Fantasy football is fun even if you're just playing for bragging rights or to test your NFL acumen. However, adding a little gamble into your game can add some spice (and engagement) to your league.
Free fantasy football for the love of the game
There are tons of opportunities to play fantasy football for free online. Yahoo, ESPN, CBS, NFL.com, FleaFlicker, and plenty of other sites offer low-commitment leagues you can form with friends or join along with other, anonymous fantasy players.
While these leagues can be fun, the lack of stakes can also cause issues. For instance, owners that are out of playoff contention often lose motivation and fail to update their weekly lineups.
This can be annoying for committed owners as we watch trade proposals go unanswered, see other teams get wins against half-stocked rosters, and generally feel like we're missing out on the competitive experience of fantasy.
Pro Tip: Leagues should use fantasy football punishments as a deterrent for teams abandoning their teams. In that article, we detail over twenty hilarious penalties that the worst teams must endure.
Raise the stakes to keep owners engaged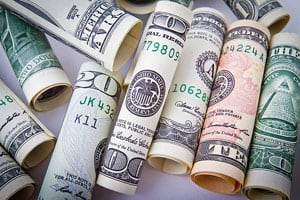 One way to counteract owner apathy is to make sure that everyone has some skin in the game by playing in a fantasy football money leagues. You can find money leagues that cost as little as a few bucks or as much as thousands of dollars.
In private money leagues, owners pay fantasy football dues to league commissioner who disperses the winnings at the end of the season. This popular league type relies on the character of the players to pay their fees and the the commissioner to fairly compensate the winners.
In online money leagues, players submit an entry fee to a site that specializes in managing these types of cash-prize leagues. In the optimal scenario, the prize money is held in escrow until a winner is decided at the end of the season.
Set & Forget in Best Ball Leagues
Best ball fantasy football leagues are becoming more and more popular. The draw to this type of league is that it is low-effort.
In a best ball leagues, the best you draft is the team you're stuck with. The entire season.
There are no waiver-wire moves, add/drops, or trades. Each week, you're awarded points for your players who perform the best (in accordance with your roster rules).
Some best ball leagues rank teams based on overall scoring, others use head-to-head match-ups. For fantasy players without much time, best ball is the type of league for you.
Fantasy Football League Draft Styles and Formats
The most exciting day of the fantasy football season is the draft. A fantasy football draft is intense and requires preparation, strategy, focus, and a little luck.
The reward for a well-executed draft is a roster of players that can lead your team to a championship. When a drat bad, it can doom you to months of misery and frustrating fantasy play.
Snake drafts aim to equalize the value of each draft position
The most common type of fantasy draft is called a snake (or serpentine) draft. In a snake draft, you reverse the draft order from round to round, going from the 1st to 12th pick in round one, the 12th to 1st pick in round two, etc.
So if you get to pick first overall, your next pick won't come until the 24th slot. However, if you're picking last in the first round, you get to take two players in a row (the 12th and 13th pick).
Snake drafts try to equalize the value of each draft pick position by ensuring every team has an equal chance to build a competitive fantasy roster.
Auction drafts help you target the players you really want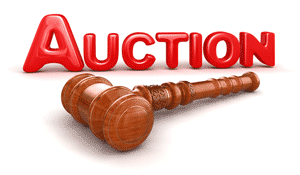 One of the frustrations people have with snake drafts is that they offer limited control over the players on your roster. If someone else picks a player you want before you, there is nothing you can do about it.
They're just gone.
But in auction drafts, owners are allocated a certain amount of draft dollars allowing them to bid on each individual player. This way if you really want a particular player, you have a legitimate chance at landing that player if you have (and are committed to spend) the necessary funds.
E-mail drafts can solve draft scheduling difficulties
One of the hardest parts about planning a live draft is getting all of the team owners to agree on a draft day and time. However, a draft orchestrated through email exchanges solves this problem by decentralizing the draft, spreading it over several days, and giving owners more time in between picks.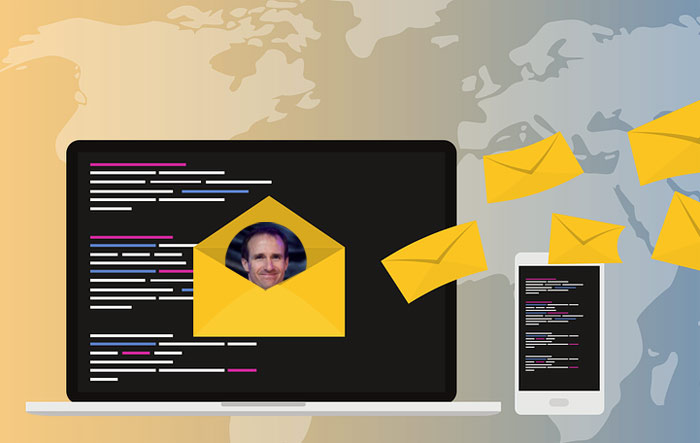 Unfortunately, not every fantasy host supports an email draft framework. You can use sites like Apex or Masters Fantasy Football who support email drafts, or just conduct your own offline version and upload your final rosters manually.
League Roster and Position Configurations
There are a variety of approaches to configuring your league's roster rules. Setting up smart roster rules helps to maximize the fun, interest, and fairness of your fantasy league.
The classic roster configuration mimics real NFL lineups
There are an infinite number of fantasy football roster permutations. But over the years one lineup configuration has become particularly popular:
(1) Quarterback
(2) Running Backs
(3) Wide Receivers
(1) Tight End
(1) Kicker
(1) Defense/Special Teams
This classic roster configuration typically features a bench of 6-8 backup players that you can swap in and out of your active lineup based injuries, match-ups, or player bye weeks.
2 Quarterback leagues can double your league fun
Some fantasy football leagues expand their starting roster configuration to include an additional quarterback. These are referred to as 2 QB Leagues.

2 QB leagues add an extra element of strategy to both the draft preparation and lineup management during the season. For the draft, getting a quality player for your #1 QB positions becomes a must. During the season, owners must decide whether to stream #2 QBs or take flyers on young, upcoming talent.
There are more QBs in the NFL than just Tom Brady, Aaron Rodgers, and Drew Brees. However, owners in single quarterback leagues may never truly appreciate this.
Flaunt your fantasy muscle with a flex position
When setting up your rosters, one of the most important choices you'll make is whether to include a flex position. The flex is a wild card position that is usually limited to the wide receiver, running back, and tight end positions.
The Superflex position, which expands the standard flex positions to include quarterbacks, is also a popular roster configuration. I like Superflex leagues because they allow for playing a second QB if you think that's a good strategy, but without forcing you to as in 2 QB leagues.
The Most Common League Scoring Configurations
The standard fantasy football scoring system awards roughly one fantasy point for every real-life point an NFL player scores. Non-QB positions players tend to get 0.1 point for every receiving or rushing yard they gain.
Alternatively, quarterbacks usually receive 0.4 points per passing yard and lose 2 points for each interception. Another way to think about this is that they earn 1 points for every 25 yards passing.
Points Per Reception (PPR) leagues are a popular scoring configuration that awards an additional 0.5 – 1.0 point for each reception. PPR leagues reward versatile receivers, pass-catching RBs, and TEs while increasing scoring across your entire league.
Choosing a popular fantasy football scoring system like standard scoring is a smart choice if you're starting a new league. It's a tried and true system and you can tweak the settings as necessary once your league is rolling.