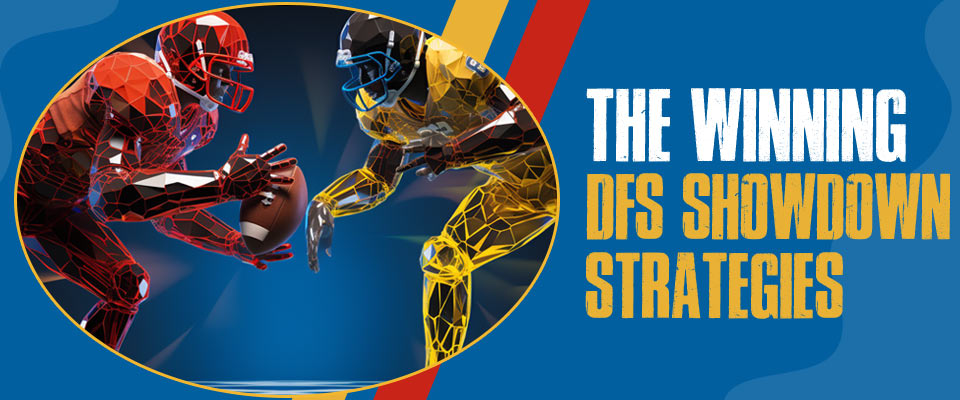 Applying proven strategies is crucial for winning more DFS showdowns. By understanding the intricacies of these contests and utilizing tried-and-tested tactics, you can gain a competitive edge and maximize your chances of success.
Today, I reveal the seven most actionable strategies to boost your winnings and take your showdown game to the next level.
NFL Showdown Strategy – TL;DR
7 Strategies for Winning DFS Showdowns
From roster construction to salary management, this comprehensive showdown primer will maximize your chances of victory.
1. Leverage daily fantasy tools to do the heavy lifting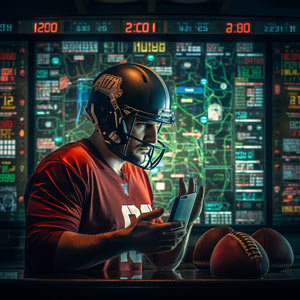 To compete with the best DFS players, you must leverage the same powerful tools the pros employ. After all, why would you bring a knife to a gunfight?
Part of being efficient in your research is relying on people (or tools) much smarter than you do to handle the complex analysis. Leaning on experts and software algorithms allows you to strategize efficiently.
Every showdown strategy involves targeting players that fit some criteria (i.e., low-ownership/high-potential). Effective DFS tools simplify this process by identifying these players for you, freeing up your time to focus on other tasks:
Identifying optimal contests
Managing more winning lineups simultaneously
Analyzing your long-term performance
Strategizing with your bankroll
Stokastic's Alex Baker (known in the industry as awesemo) says this:
"People spend hours every day developing projections for athlete performance, how popular each athlete will be that day, and the best way work them into your squad. I compete with these fantasy champs every day in the highest stakes tournaments and I know how tough they are to beat. If you don't have access to the best tools and information, you're playing at a disadvantage."

awesemo
Here's a list of the daily fantasy football tools that I use weekly, along with the best deals they're offering right now for my readers.
DFS Tool
Sign-up Deal
Rating
Sports
Showdown Features
Supported Sites
Draft Dashboard
1 Month for $1
Best DFS Optimizer
NFL, NBA, MLB, NHL
Captain Selection Tools, Flexible Salary Management
DraftKings, FanDuel
DFS Army
10% Off

(Code: CHEATSHEETWARROM)

Best Collaboration Tools
NFL, NBA, MLB, NHL, PGA, NASCAR, F1, eSports, MMA, Tennis, CFB, CBB, WNBA, CFL
Player Exposure Controls
DraftKings, FanDuel, Yahoo DFS
Daily Fantasy Nerd
7-Day Free Trial
Best Odds Integration
NFL, NBA, MLB, NHL
Vegas Odds Integration
DraftKings, FanDuel, Yahoo DFS
Stokastic
15% off NFL Sims MAX
Best Correlation Tools
NFL, NBA, MLB, NHL, CFB, CBB, PGA, MMA, eSports, NASCAR, Formula 1, XFL, Soccer, Tennis, USFL
Integrated Correlation Algorithm for Stacking
DraftKings, FanDuel
2. Lean toward a captain or MVP on the favored team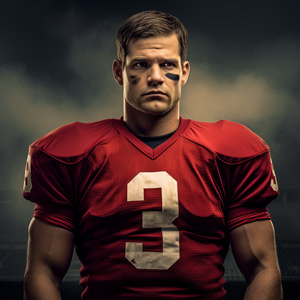 When it comes to selecting a captain or most valuable player (MVP) for your squad, it's essential to make strategic decisions that can give you an edge over your competition. One lineup strategy that has proven to be effective is leaning toward choosing a Cpt or MVP on the favored team.
Let's dive into why this approach will increase your chances of success.
The favored team typically produces the top performer
The favored team typically has a stronger offense, translating into more scoring opportunities (and potential fantasy points). Thus, choosing a captain or MVP from the favored team increases the odds of landing a [higher ceiling] player.
Daily Fantasy Nerd shows NFL game odds directly in their optimizer tool (one of the best fantasy optimizers in the business), making it easy to identify players on favored teams and simplifying the process of identifying promising team captains.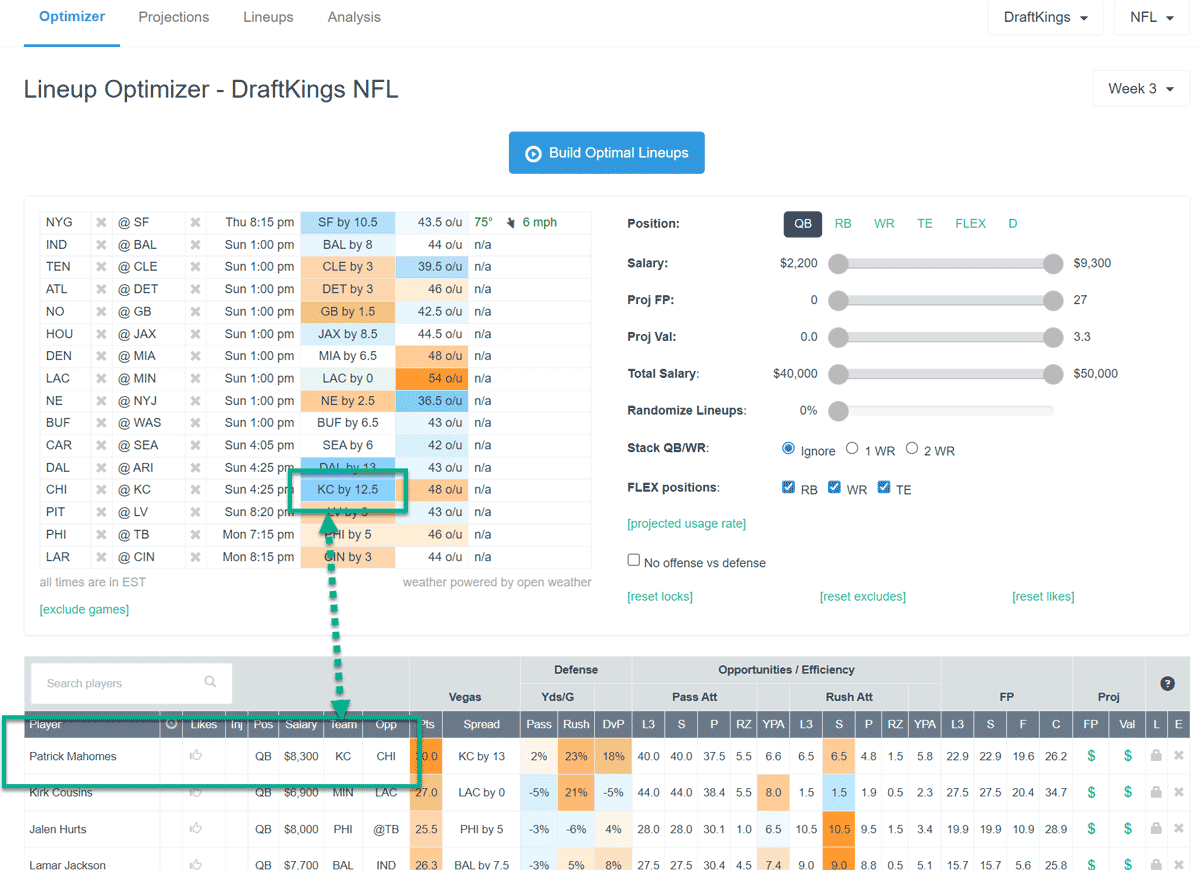 And historical showdown stats don't lie.
A 2020 study found that picking a captain from the favored team was the optimal choice 67% of the time. Additionally, the study revealed that the optimal captain choice was on the winning team 76% of the time.
3. Limit your captain or MVP to QB/RB/WR positions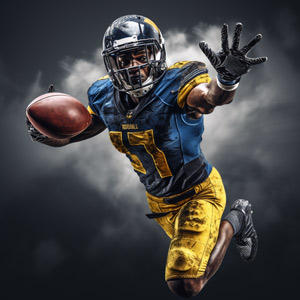 Statistically, the top-performing player will likely come from one of these skill positions:
Quarterback
Running Back
Wide Receiver
These positions have the highest potential to score touchdowns and rack up yards, making them prime candidates for the captain or MVP role.
However, there are rare instances where choosing a tight end (TE), kicker (K), or defense/special teams (DST) as your team leader can be a smart strategy, provided they are elite players and have a favorable match-up (more on that shortly).
The proven dominance of skill positions
According to a study conducted by Establish The Run, the captains in the top 1% of DraftKings showdown lineups (from the 2020-2021 NFL season) broke down like this:
Wide Receivers: 31.4%
Running Backs: 27.4%
Quarterbacks: 25.8%
These numbers highlight the dominance of QBs, RBs, and WRs in these contests. Collectively, they account for 84.6% of winning captains. Whereas TEs, DSTs, and Ks register 12%, 2.7%, and .7%, respectively.
And it makes sense when you think about it. Quarterbacks have the advantage of being involved in every offensive play. Running backs are relied upon for both rushing and receiving yards. And pass catchers can be explosive playmakers, capable of turning short passes into long gains and scoring touchdowns.
Draft Dashboard has a Studs Tool that provides the best prospects for weekly captains. You can even limit the positions shown to QB, RB, & WR to increase your chance of success.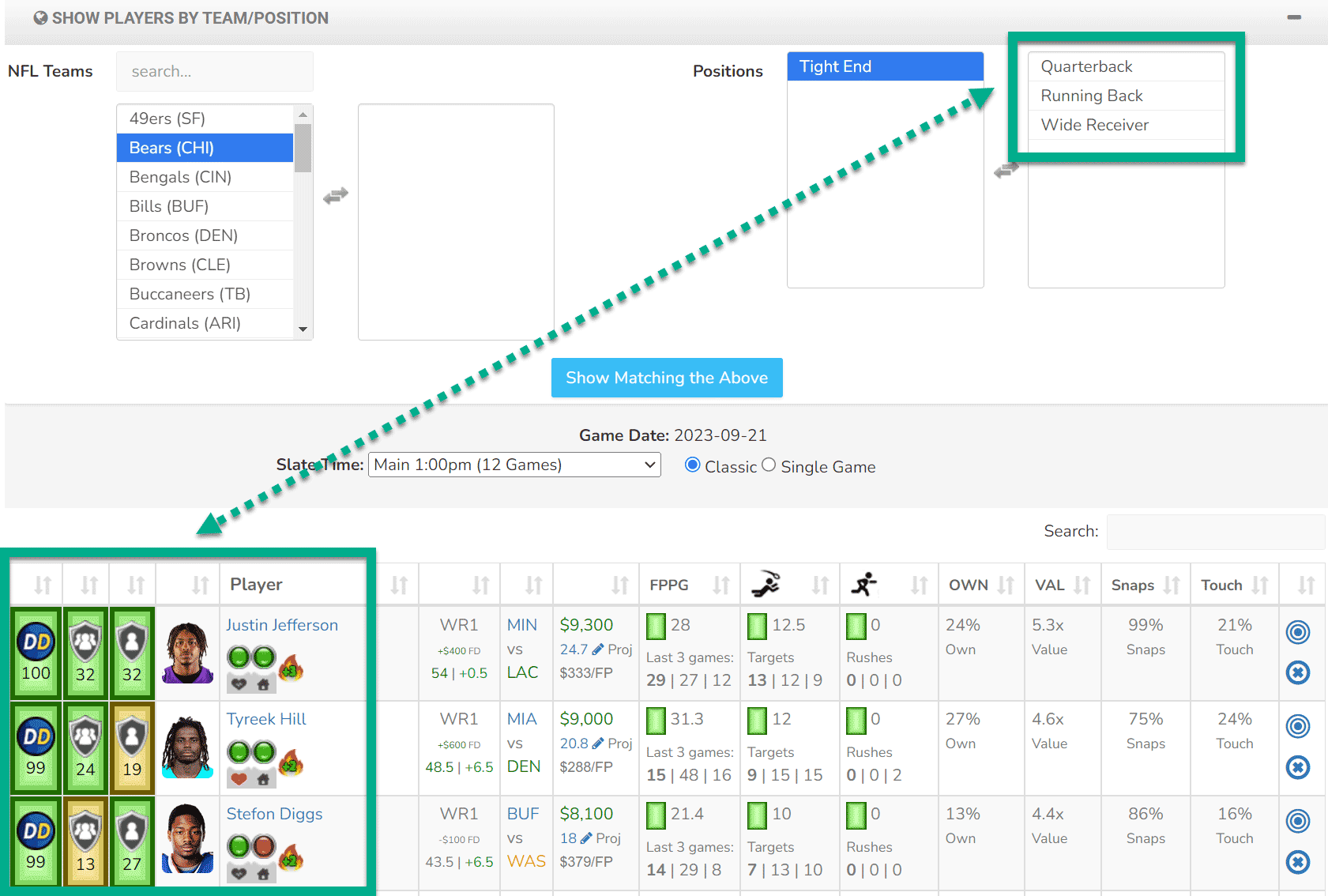 The edge case for elite TEs, Ks, and DSTs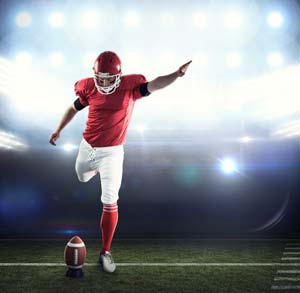 There are some unique scenarios where selecting an elite TE, K, or DST as a captain can pay off. But these cases are somewhat rare and only effective in certain contest types.
For example, if you have a consistent tight end like Travis Kelce or George Kittle, and they have an extremely favorable match-up, they could be a viable MVP option. But this works best when you're trying to differentiate your roster in showdown tournaments with many participants.
4. Use correlation and game script to build your lineups
Incorporating correlation and game script into your lineup-construction strategy can increase your odds of building winning rosters. Let's look at how to leverage these concepts.
Using game script to guide your decisions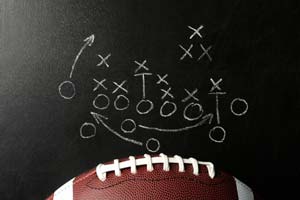 Game script refers to the way a game is expected to unfold. It considers essential factors such as the over/under (the predicted total points for the game) and the point spread (the predicted margin of victory) of the match-up in question.
By predicting the script of a game, we can better predict which players will have high-production performances.
For example, let's consider an NFL game with the highest over/under of any other game for that week. In this high-scoring affair, we would expect the two quarterbacks (and their respective wide receivers) to put up substantial fantasy points.
We can thus increase our chances of building a winning team by focusing our research (and potentially a large portion of our salary budget) on those wide receivers who are most consistent on those respective teams.
Leveraging correlation to find roster synergies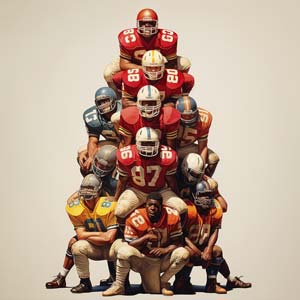 Correlation is a statistical technique that quantifies the relationship between two variables. In daily fantasy football, we can use correlation to identify players with consistent connections on the field (and in the record books).
For example, a quarterback and wide receiver combination that consistently connects for touchdowns has a positive correlation.
When building a DFS lineup, we can leverage this correlation to stack players from the same team. By stacking a quarterback with his top wide receiver, we increase our roster's potential for significant scoring opportunities (due to those players' potential for big plays and touchdowns).
This is admittedly a boom or bust strategy. But this tactic can pay off handsomely, especially in high-scoring games where both players have the opportunity to shine.
Stokastic takes care of correlation for you, as they incorporate it into their roster generation algorithms. Select an Ownership Setting based on your contest type, and Stokastic does the rest.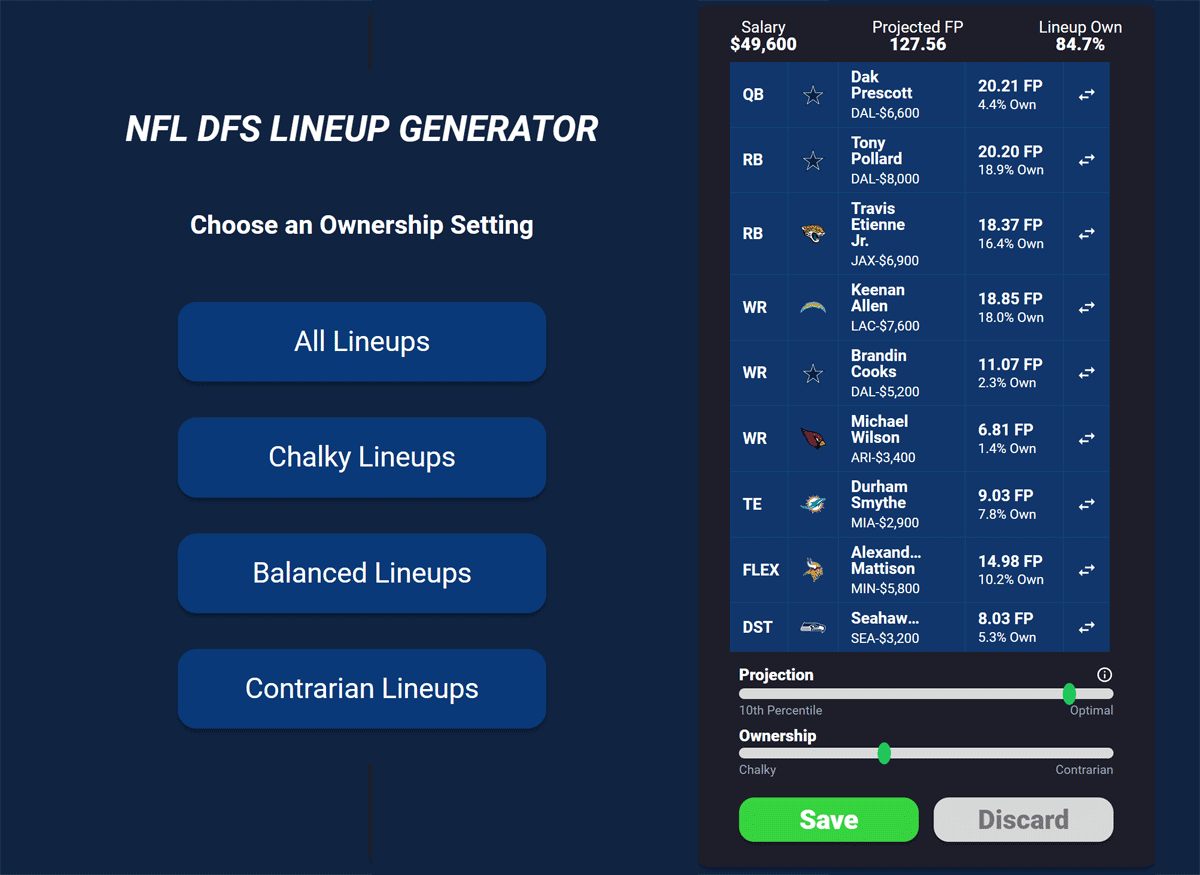 5. Let Vegas Guide Your Lineup Construction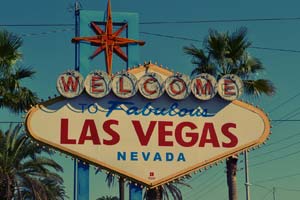 Vegas odds can provide valuable insights into the expected outcome of a game. You can then exploit this proven wisdom to inform your player selections.
Let's explore how you can leverage Vegas odds to optimize your showdown squad and increase your chances of success.
Player stacking in high-scoring games
Let's say you're evaluating an NFL game with an over/under of 55 points (considerably higher than the 43.4 average points per game). You might want to consider stacking each quarterback with their most reliable wide receivers.
If the game turns into a shootout, you'll potentially have multiple players from both teams racking up fantasy points.
The implications of low-scoring games
Let's say you're analyzing a game with a much lower over/under line of 38 points. In this scenario, you might consider rostering the same team's running back and defense.
By doing so, you're maximizing your exposure to the expected low-scoring nature of the game.
Daily Fantasy Nerd incorporates Vegas odds right into the user interface. It includes the spread, over/under, temperature, weather, and their picks for each match-up. Everything you need is on one screen, making this a dead-simple toolkit.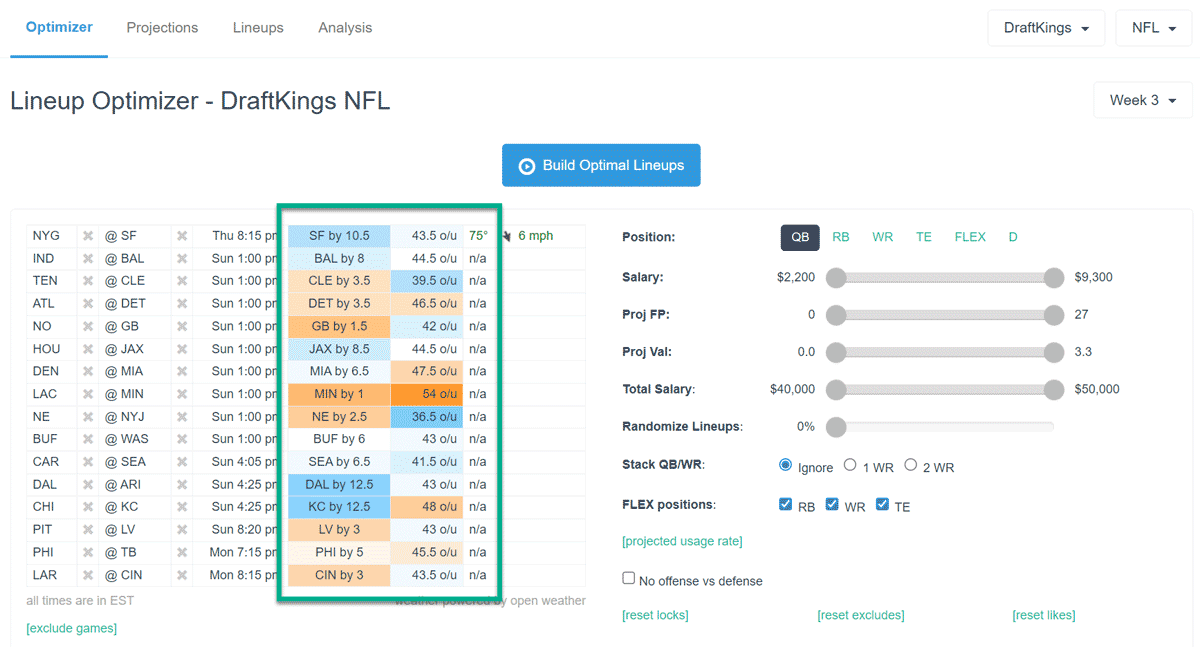 6. Embrace the Volatility of Showdowns to Take Risks in GPPs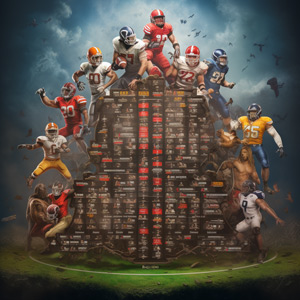 Guaranteed Prize Pools (or GPPs) are known for their many entries and the potential to win big money playing fantasy football. This type of contest encourages risk-takers to construct unique rosters to stand out from the competition.
And when it comes to taking risks, there are no better contests for GPPs than showdowns.
The unpredictability of showdown contests
Showdowns are inherently unpredictable because the outcome depends on the performance of a small handful of players. This unpredictability is what makes them so appealing to some players.
To succeed, you must develop a deep understanding of the NFL match-up to identify players with the greatest chance to shine. And once you've narrowed the field to a few promising players, that opens up a world of possibilities for taking calculated but strategic risks.
The issue of duplicate lineups in showdowns and GPPs
In GPPs, the goal is to score big while also fielding a unique lineup, ensuring you won't have to share some of the grand prize with the other participants should you win.
And while the field of possible players is smaller for a single-game showdown slate, the number of GPP entrants is also drastically lower than with a contest spanning multiple games. So, instead of identifying stealth sleepers across the entire league, you only need to find that one diamond in the rough for a single match-up.
Let's say the prizes for a tournament are 1st place is $10,000, and 2nd place is $50,000. If two players tie for 1st place, the 1st and 2nd place prizes will be combined and then split. So, both players will win $7,500.
Choose a contrarian captain with low ownership but a high upside.
The best showdown DFS strategy for GPPs is to select an MVP with low ownership but a high upside. This tactic allows you to differentiate your roster while maintaining a high potential point output.
And with the salary you save by picking a low-ownership captain, you can upgrade multiple other positions. Then, if your captain bucks the trend and beats the captain with the highest ownership, that puts you in a great position to ascend the leaderboard.
So go against the grain and take some chances.
DFS Army has a setting called Projected Ownership Cap. This setting allows you to automatically prioritize high-projection players who have lower ownership. This helps you create unique but high-performing rosters- the key to winning large GPP tournaments.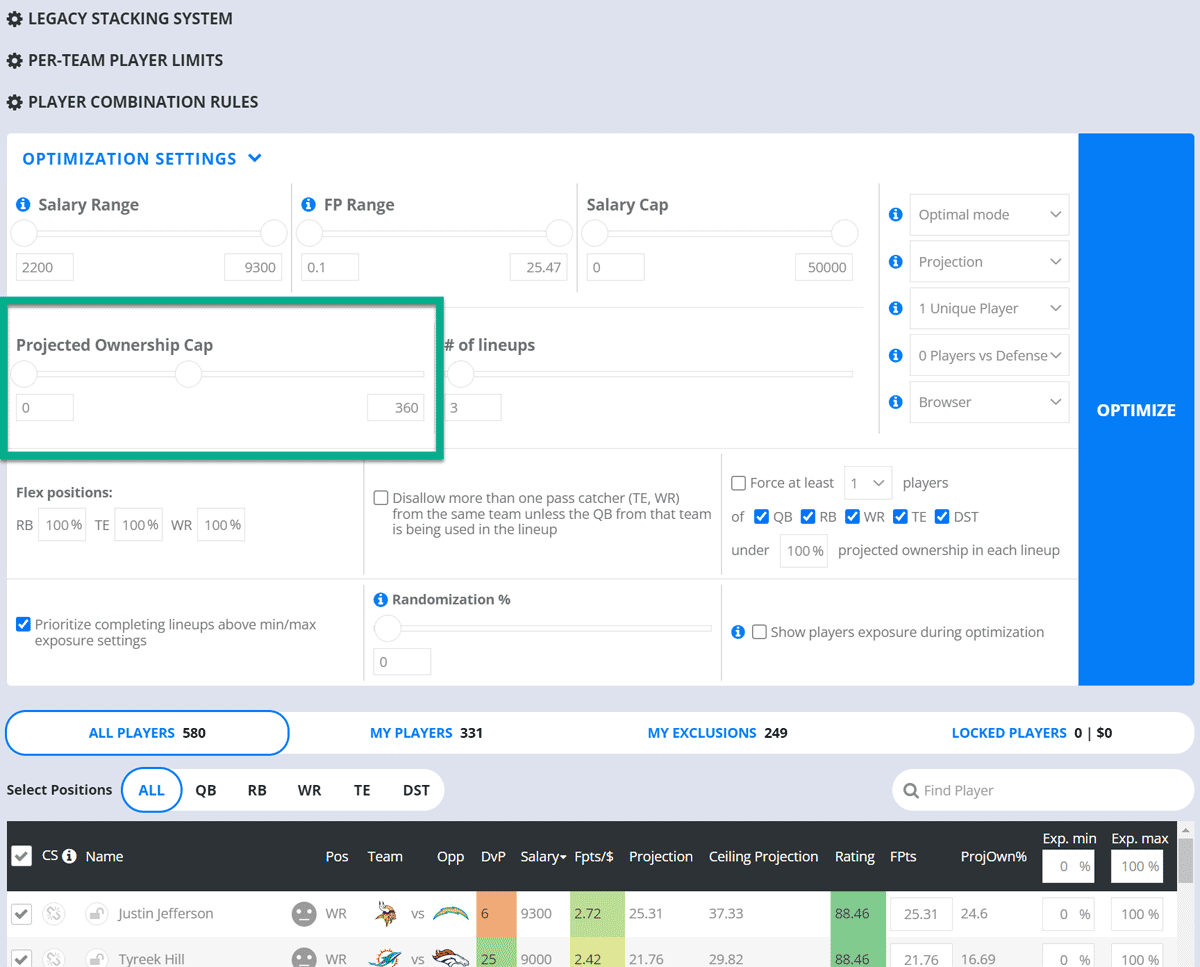 The video below explains the theory behind this setting and how to leverage it to gain an advantage in tournaments.
7. Don't expend your entire salary in showdowns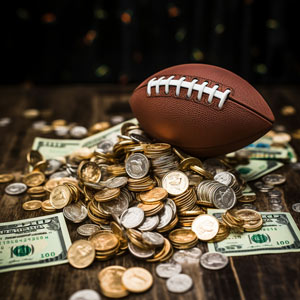 Spending every last bit of your allotted budget on the best players is perfectly logical. But doing so frequently leads to lineups that are identical to many other entrants.
But to successfully field a promising, distinct squad, you sometimes need to think outside the box.
Leaving some salary on the table (i.e., having unspent salary remaining after you've finalized your roster) in showdown tournaments is an unconventional but reliable way to field a distinct group. And while this strategy may initially seem counterintuitive, it undoubtedly decreases your chances of having to split the top prize.
Uncommonly owned players have the greatest potential to disproportionally boost your points and separate you from the middle of the crowd. This is critical to success, especially in large tournaments.
The benefits of leaving salary on the table
By not spending your entire budget, you'll be forced to identify lower-priced players who may have the potential to outperform their value. Others often overlook these players, making it a natural way to diversify your roster.
Preserving some of your salary pool also gives you flexibility when swapping players. If you have extra money available, you can target more players based on late-breaking news or unexpected developments.
This adaptability can be a game-changer for contests with many entrants.
Draft Dashboard's optimizer prominently displays your salary status, making determining how much you have remaining easy. They even have a nifty feature that shows swappable players and their corresponding salary. Together, these features allow you to create unique but high-scoring rosters by not expending your entire salary.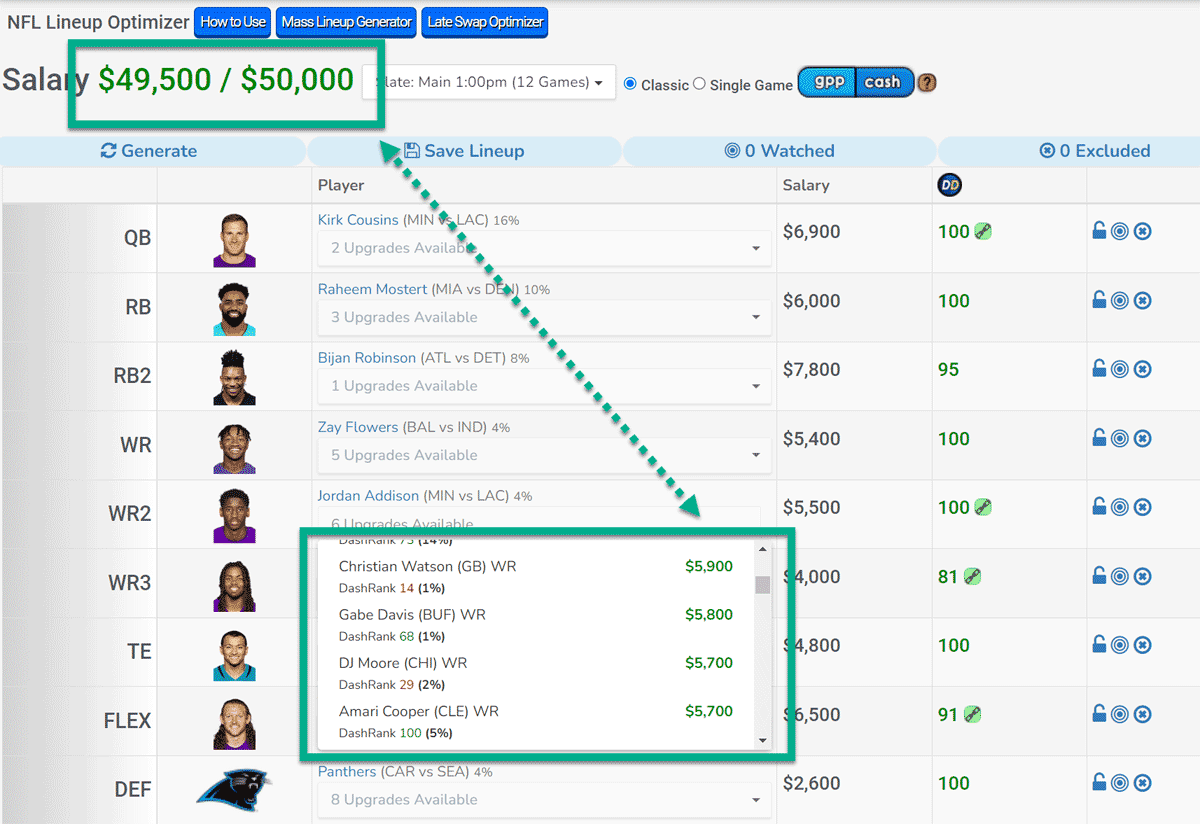 More Sites with NFL DFS Showdown Strategy Advice
I love daily fantasy sports but don't have all the answers. These sites can provide valuable insight if, like me, you're constantly seeking fresh and effective showdown contest strategies.
Let's explore and level up our game together!
Draft Dashboard has a suite of DFS tools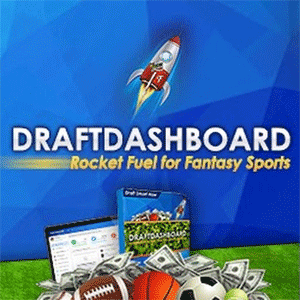 Draft Dashboard has a suite of DFS tools centered around lineup construction. This provides flexibility as you have several ways to approach roster optimization. They have bust and sleeper tools, a position optimizer, and an optimal lineup tool.
The best part? You can try out all of their tools for only $1. This is a low-risk way to attempt to elevate your game at DraftKings and FanDuel.
---
DFS Army has the weapons to win in daily fantasy battles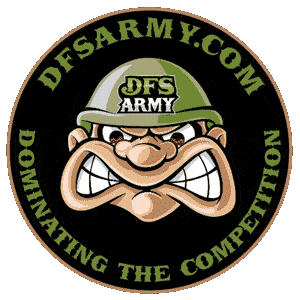 DFS Army creates innovative daily fantasy tools and functions as a collaboration platform. They have an army of experts to help you win more showdowns through exclusive content, podcasts, and an active Discord server.
You can earn 10% of any of their plans by using the coupon code: CHEATSHEETWARROOM
---
Stokastic's has complex tools designed for normies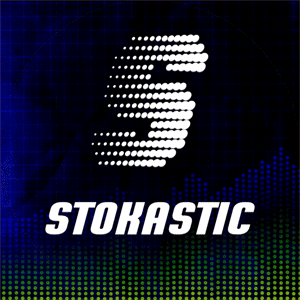 Stokastic blends metric-heavy tools with thoughtful player analysis. In addition to their world-class software, they feature instructional articles and videos that help you master the theory of daily fantasy sports (including showdowns).
Right now, Stokastic is offering my readers a 15% discount on their NFL Sims Max package. This includes player projections, simulation software, a roster optimizer, and access to their Discord servers.
---
Customize your showdown strategy at Draft Sharks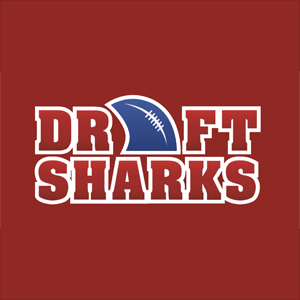 Draft Sharks develops tools to help you gain an edge in daily contests. For example, their value charts help you identify players that provide the best bang for your buck, perfect for identifying low-ownership, high-potential players.
Their distinctive optimizer allows you to create and customize a player-targeting strategy. This feature generates a distinctive algorithm that helps ensure the rendered lineups are uniquely tailored to your singular methodology.
---
FantasyPros support showdown fans on a budget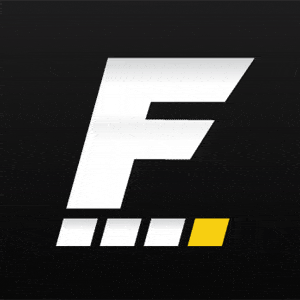 FantasyPros features some of the most affordable tools on the market. For $8.99 a month, you'll get access to optimization tools, daily projections, and a ROI analyzer (great for tracking your long-term success).
You also get access to every feature of their Pro and MVP packages. Sign-up now for an annual plan to save 60% off your monthly membership.
---
Daily Fantasy Nerd prioritizes odds integration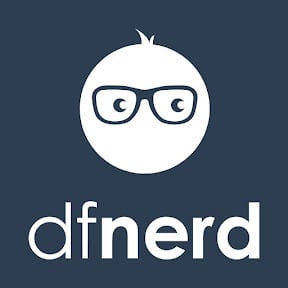 Daily Fantasy Nerd aids showdown construction by integrating the latest Vegas odds into their daily fantasy software. This makes it easier to both find optimal captains and identify promising player stacks.
DFN's tools are simple, but they are metric-heavy and affordable. Right now, they're offering my readers the opportunity to try their daily fantasy software for free for seven days.
What is a DFS Showdown?
A DFS Showdown can be considered a single-game slate involving only two teams, with the player pool consisting of only players from those teams. It's a condensed version of the classic contest type that focuses exclusively on one distinct match-up.
Leveraging Projections to Build Effective Showdown Lineups
Because the slate for these contests is limited to a single game, lineup construction is significantly different than those that span multiple games. This is an important concept to grasp if you want to win consistently.
And while this may be limiting in some ways, it allows you to showcase your skills and knowledge in a more focused setting.
Showdown 101 – Scoring rules for players and captains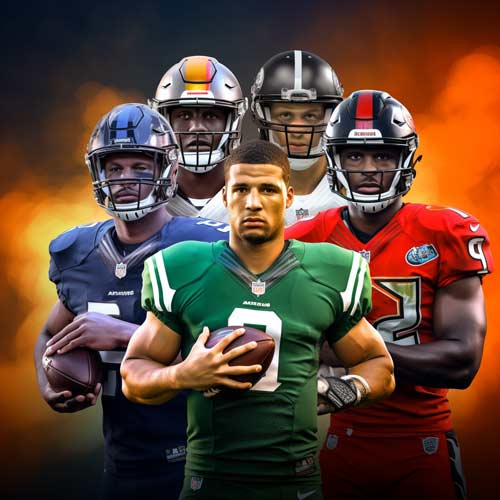 A showdown lineup typically consists of six players, including one captain designation. The captain earns 1.5 times the points they would normally earn, making this selection crucial to your lineup's success.
In addition to earning 1.5 times the points of other players, the captain's salary also costs 1.5 times more than their standard salary. So, the payoff for this designation is proportional to the investment.
The specific rules for lineup construction depend largely on the DFS platform, which we'll detail next.
Roster rules across the popular DFS hosts
Here's how the top daily fantasy sites run their showdown contests.
DraftKings showdown salary and lineup configuration
On DraftKings, the total salary you have to work with is $50,000.
You will pick six players in a Showdown lineup, one of which is called the captain, and five flex players.
The captain will have his points multiplied 1.5x, but his salary will also be multiplied 1.5x.
The five utility players can be any offensive player in the game, including kickers and the team defense and special teams' units.
The scoring itself matches up DraftKings scoring.
FanDuel's showdowns lineup and salary settings
On FanDuel, they give you a total salary of $60,000.
You will pick five players for your Showdown roster, one of which is the MVP, and four flex players.
The MVP will have his points multiplied 1.5x, but his salary will not change.
The four utility players and MVP can be any offensive player.
The scoring itself matches up with FanDuel's standard scoring.
Showdowns lineup and salary settings for Yahoo DFS
On Yahoo, you start with a budget of $115.
You will pick five players in a Showdown lineup, one of which is referred to as the Superstar, and four flex players.
The Superstar will have his points multiplied 1.5x, but his salary will not change.
The four utility players can be any offensive player in the game (or DST), as can the Superstar.
The scoring itself matches up with Yahoo's official scoring.