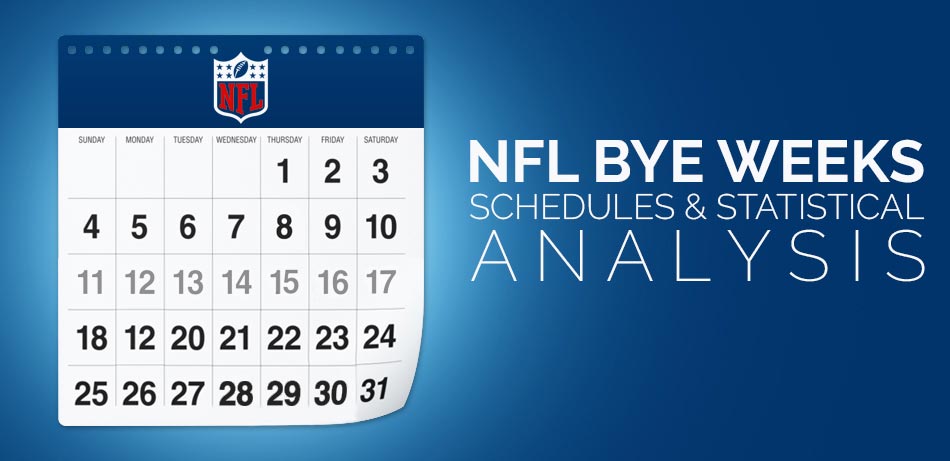 Bye weeks are an essential component of the NFL season as they give teams a much-needed break during the grueling, 16-game season. Although bye weeks are not the most interesting part of the season, they do have a sizable impact on the league and associated industries like fantasy football.
Fantasy football owners pay special attention to bye weeks as it helps them analyze fantasy draft boards and make smart selections on draft day.
This article is a comprehensive guide to the 2019 NFL bye week schedule. I provide a statistical analysis of team performance following their bye weeks for the last five seasons (2014 through 2018).
2019 NFL Bye Weeks
| | |
| --- | --- |
| | New York Jets, San Francisco 49ers |
| | Detroit Lions, Miami Dolphins |
| | Buffalo Bills, Chicago Bears, Indianapolis Colts, Oakland Raiders |
| | Carolina Panthers, Cleveland Browns, Pittsburgh Steelers, Tampa Bay Buccaneers |
| | Baltimore Ravens, Dallas Cowboys |
| | Atlanta Falcons, Cincinnati Bengals, Los Angeles Rams, New Orleans Saints |
| | Denver Broncos, Houston Texans, Jacksonville Jaguars, New England Patriots, Philadelphia Eagles, Washington Redskins |
| | Green Bay Packers, New York Giants, Seattle Seahawks, Tennessee Titans |
| | Arizona Cardinals, Kansas City Chiefs, Los Angels Chargers, Minnesota Vikings |
League Bye Week Schedules and Shareable Graphics
I created several bye week graphics to represent the 2019 bye week schedule in various formats:
Full Season Bye Weeks: Provides a bird's eye view of the bye weeks over the entire NFL season.
Bye Schedule by Week: For those tracking byes on an NFL schedule.
Bye Weeks by Division: Easily see when each team (and their division opponents) gets their break.
Full Season Bye Weeks
This graphic a high-level view of how the NFL assigned 2019 bye weeks to teams from week 4 through week 12. Just like in 2018, the NFL has scheduled bye weeks between week 4 and week 12.
2019 Bye Week Schedules By Week
This graphic illustrates team by weeks in a table-based format.
2019 Bye Weeks by Division
For those who are more interested in bye weeks for intra-division or intra-conference play, this is the image for you. In this graphic, I grouped bye weeks by conference and ultimately division.
For some historical perspective, the graphic also shows each team's 2018 (as a smaller, faded number next to the 2019 bye week). Only five teams have the same bye week as they did in 2018: Pittsburgh, Houston, Denver, Dallas, and Seattle.
Bye Week History & Statistics
NFL handicappers pay special attention to NFL bye weeks to identify bye week trends. Instinct tells us that teams returning from a bye week should have a better winning percentage than their opponents, primarily because they've had a week to rest while their opponents likely have not.
But is it true?
Let's analyze league-wide, and teams-specific statistics related to games played following a team's bye-week. To maintain some level of recency, stats only consider games played in the last five years.
Winning Percentage of Team Returning from Bye Week
Over the last five years, from 2014 through the 2018 season, teams returning from a bye week have a collective record of 84-76. That's 84 wins and 74 losses for a winning percentage of 54.5%.
This trend of teams returning from a bye week having a winning percentage slightly higher than .500 has remained consistent for several years. It supports the belief that teams with fresh legs have a small advantage over teams that didn't have the last week off.
Team-Specific Performance Following a Bye Week
It stands to reason that some teams perform better than others when returning from a bye. The following table lists each NFL team's record for games played after their bye week over the last five years.
2018 is the first time in several years that no team has a perfect 5-0 record returning from a bye.
Best Teams After a Bye Week
Baltimore Ravens (4-1)
Detroit Lions (4-1)
Seattle Seahawks (4-1)
Buffalo Bills (4-1)
New England Patriots (4-1)
Houston Texas (4-1)
Carolina Panthers (4-1)
Kansas City Chiefs (4-1)
Dallas Cowboys (3-2)
San Diego Chargers (3-2)
Miami Dolphins (3-2)
Indianapolis Colts (3-2)
Tennessee Titans (3-2)
Atlanta Falcons (3-2)
New Orleans Saints (3-2)
Denver Broncos (3-2)
Worst Teams After a Bye Week
Cleveland Browns (2-3)
Pittsburgh Steelers (2-3)
Tampa Bay Buccaneers (2-3)
Green Bay Packers (2-3)
Minnesota Vikings (2-3)
New York Giants (2-3)
Philadelphia Eagles (2-3)
Washington Redskins (2-3)
Jacksonville Jaguars (2-3)
Oakland Raiders (2-3)
Cincinnati Bengals (1-4)
New York Jets (1-4)
Chicago Bears (0-5)
San Francisco 49ers (0-5)
The Best Weeks to Play Following a Bye Week
While it is true that some teams play better following a bye, it is also true that teams as a whole perform better on certain weeks following a bye. The following table and chart detail the collective record of teams playing on certain weeks which follow their bye week (again, over the last five years).
For the second year in a row, the best two weeks to play after your bye week are week 6 and week 7. That is if we ignore Week 2 as it is an anomaly. Remember this is due to the Dolphins and Bucs getting a Week 1 bye back in 2017 due to Hurricane Irma.
The graph shows that post-bye week win percentages are almost cyclical.
Win/Loss Ratio by Weeks of Teams Returning from a Bye (2014-2018)
Team-specific Game Results Following a Bye Week
The following section details the results of every post-bye-week game over the last five years. I organized teams by conference and division for easy identification.
To make it simpler to visualize game results, I highlighted wins in green, losses in red, and ties in yellow.
Updated on