It's true. If you've been a fantasy football enthusiast for any length of time, you're probably a bit tired of the same old fantasy champion trophy being passed around from year to year. Luckily, there are now superior, modern prize options available to give your league some newfound swagger. One of those is the fantasy football championship belt.
This unique prize alternative is the latest rage in the fantasy world and several companies are making fantasy championship belts that are stylish, appropriately gaudy, and high quality. Sure, it might seem like a ridiculous prize to the prudes of the fantasy football world. But this game we play is also a bit ridiculous, so they actually make a nice pairing.
So who sells the flashiest championship belts and what makes those belts superior to the lesser knock-offs ? That's what I'll be covering in this review of the best fantasy football championship belts for 2018.
I scoured the web for the most sought-after fantasy football belts and found the top four belts that are high quality, have the best reputation, and offer the most customization options for your league.
More...
Championship belt comparison table
Here is a quick summary of the belts I'll be covering in this review. If you want to check the current prices on these belts, just click on the product links below.
Fantasy championship belt buying guide
When searching for the best fantasy football championship belt for your league, there are a few important factors to keep in mind. Championship belts are more expensive than most trophies, so let's evaluate these factors to ensure you have the necessary knowledge to get the best belt for the best price.
The 5 things you must consider when evaluating fantasy football belts
Belt plate construction: Avoid belts featuring cheap or plastic plates. Metal plates are the standard, and the thicker the plates the better.
Merchant reputation: Limit your choices to merchants with the best reputation and satisfied customers.
Belt strap material: Genuine leather is better than synthetic (PU leather), but also harder to find and priced at a premium.
Price point: As you'll see in this review, the best belt doesn't have to be the most expensive. Identify your must-haves, then find the belt that provides the most value ​​​​given your budget.
Customization options: If you want to record league champions on your belt (or even engrave your league logo), I've got you covered. Almost every belt in this review provides some level of customization.
Would a fantasy football belt make sense for my league?
Championship belts first started appearing on the market around a decade ago and have been growing in popularity ever since. They've always been a bit pricey compared to your typical fantasy football prizes, but the cost per year can actually be quite low if you consider a customizable belt that can be passed from champion to champion.
In talking to other fantasy players, and owners in my own leagues, there is usually some debate about whether a title belt is a ridiculous idea for a fantasy prize. For those who think the idea is bizarre, I point to the New England Patriots who were presented with their own NFL Championship Belt from the WWE following their 2016 Super Bowl victory.
The WWE has made a tradition of awarding a yearly championship belt to the Super Bowl champs. Why should your league be any different? You gotta admit, it looks really cool and shiny.
Now that we've covered the basics, let's dig a little deeper into the characteristics that make a top championship belt.
Pay close attention to belt construction materials
Almost all fantasy belts sold these days are made of either real, genuine leather or PU (Polyurethane) leather, a popular synthetic leather. Real leather is always better than fake leather, but be prepared to pay a bit more for this option.
Unless you have expensive taste, PU leather is probably more than adequate for this type of fantasy prize. In all likelihood, you'll be pulling this belt out once a year to rub it into your league owners' faces. You won't be wearing it to your day job riding bulls.
Because fantasy belts are almost always sold by the same companies that manufacture fantasy trophies, the plates adorning commercial belts are almost always made of metal. More times than not, this metal is thick aluminum and adequately durable.
Fantasy football belts can be re-used year after year
Championship belts have finally matured to the point where they can be re-used in a manner similar to perpetual fantasy football trophies. That is, many belts support blank metal plates that can be used to engrave championship teams or league graphics.
Although championship belts are pricey, the fact that you can re-use them year after year makes them much more attractive to leagues on a budget. For instance, if you usually spend $50 on a yearly trophy, it can actually be much more cost-effective to purchase a title belt and pass it between league champions.
As an example, the belt plate shown above from Fantasy Jocks can be used to record league champions for several years, eliminating the need to buy a new prize every year.
Yes, your custom fantasy football championship belt is finally here
Although customizable fantasy football championship belts are a relatively new concept, most belts in this review allow for some level of customization. The placement of the customizable plates and the space available for your graphics will vary by belt and vendor.
One custom fantasy football championship belt in this review is so flexible that you can essentially design all of the belt graphics on your own (including the center plate). These types of customization options were unimaginable just a few short years ago.
Fantasy football title belts are sized to fit just about anyone
Fantasy football belts are sold as a one size fits all product. Most belts Incorporate metal snaps which allow the belt to be adjusted based on waist size.
Each belt I review below is at least 50 inches in length. That means they should fit anyone with a numerical belt size of 50 or a general waist size of 4XL (or smaller).
The best fantasy championship belts reviewed
The top four belts are each from merchants that specialize in the creation and manufacture of fantasy league prizes. I chose these belts based on their competitive price, superior materials, customization options, and the high level of satisfaction from their customers.
Each fantasy football championship belt is reviewed in detail. I'll cover the main features of each product, while also summarizing the best and worst aspects of each belt. Let's get it on!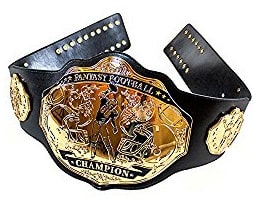 Undisputed Belts does offers several products, but does one think particularly well: they manufacture stunning and affordable fantasy football championship belts. If you agree, and would like to take a deeper dive into their extensive line of championship belts, check out my full Undisputed Belts Review.
The Spike Belt is their signature belt and as you can tell from the picture it's a formidable piece of fantasy attire. This fantasy football championship belt measures 55 inches in length and is completely adjustable to fit any champion's waist. The front metal plate measures 11"x9" inches, which is truly massive.
Blank plates provide a canvas for customizations
In addition to the front plate, this belt includes four metal side plates. Two plates contain imagery while the others are completely blank and can be customized with your league name, championship teams and owners, or anything else you league desires.
If you need a completely custom fantasy football championship belt (one on which you can add your own imagery anywhere on the belt), Undisputed Belts offers this option as well. Check out this new offering on their official website to get the details.
Undisputed Belts has the backing of major players
If you need any more reassurance that this is a top-quality belt, consider that Undisputed Belts is the official fantasy championship belt provider for NFL Network Fantasy Live, NFL AM, and many other high-profile fantasy leagues.
The look on her face is priceless.
As I stated in my latest Fantasy Jocks Review, they are one of the premiere (if not the premiere) fantasy football merchants on the market. From their draft boards kits to their championship rings and belts, they consistently produce high quality and unique products for fantasy football leagues.
Like the belt from Undisputed Belts, this fantasy championship belt also contains a total of five plates. But the center plate of this belt is slightly larger, measuring 12"x9.5". The belt length is 53 inches, more than long enough to fit most waist sizes.
Limited customization options are available
Although this belt sports five plates, only one of those plates is blank for customization purposes. This could be a limiting factor if you were planning on going big on customizations (or if you need to record more than 4-5 league champions).
If you don't need customizations, only have a few years worth of champions to engrave, or just plan on engraving your league logo, this belt should work just fine. You can always purchase additional blank plates from the Fantasy Jocks website and affix them to your belt as needed in the future.
For you fantasy divas, several styles are available
If you like the overall style of this belt, you'll be happy to know that the Jocks offer four belt styles and color combinations to choose from at checkout. This is a stellar belt from a respected merchant.
This fantasy football championship belt from SLD Awards is both fully-customizable and made from real, genuine leather. As you might expected, this means it is priced at a premium compared to the other belts in this review.
But as you'll see, these guys spared no expense to create a truly high-end, top-quality, exclusive championship belt.
One of the first things you'll notice about this belt is the large plates. This isn't a flimsy, sheet-metal stamped design. The three plates on the belt are made of thick metal, with the center plate measuring 12"x7".
If you're still not convinced that this belt is fit for a heavyweight, consider that it weighs-in at a full 6 pounds (almost as heavy as an infant)! That's 50% heavier than the the next heaviest belt in this review, and at least twice as heavy as the others.
The only fully-customizable belt in this review
This is a 100% customizable fantasy football title belt (every plate can be engraved), which makes it the most versatile belt in this review. SLD Awards will even provide you with a free proof of your design before crafting your belt, just request one when you make your purchase.
This belt is also a nice balance of class and glitz. There are 32 clear sparkling stones on this belt, but it doesn't feel like too much bling. And it certainly doesn't go crazy with multi-colored gemstones.
With high-end features comes a premium price
The price of this belt will be the only real drawback for many leagues. But when you consider its heavy construction and customization options, it's the clear choice for leagues with deep pockets and high-end taste.
This is the latest edition of SDL Award's top selling fantasy football championship belt. Their most recent design incorporates new and improved graphics which make this a stunning belt.
The belt sports five incredibly detailed plates that are polished and designed in such a way that they look almost 3D. All of the plates are metal. The text backing of the main plate is black which really makes the text pop!
Like Undisputed Belt's offering, this belt is one of the biggest belts in this review. It's truly a monster. You'll appreciate the craftsmanship of this belt when you feel its thickness and weight.
Out of all the belts reviewed in this article, this belt most closely resembles a belt you might be awarded if there was truly such thing as a fantasy football wrestling belt. The Ultimate Warrior would surely be happy to wear this belt to the ring.
If you love the look of this belt, you'll have to take it as-is. There are no customization options.
My pick for the best fantasy football championship belt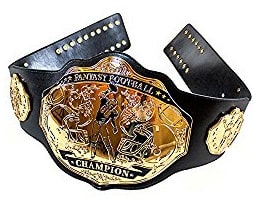 Consider all the desirable features of a fantasy football belt: quality, design, customization options, and customer satisfaction. One belt in this review hits all of these points, and does so at a reasonable price. That is the championship belt from Undisputed Belts.
It may not be the most customizable belt, or the most high-end leather, but it's a great championship belt that provides insane value- all at a price that is within reach of most fantasy football leagues.