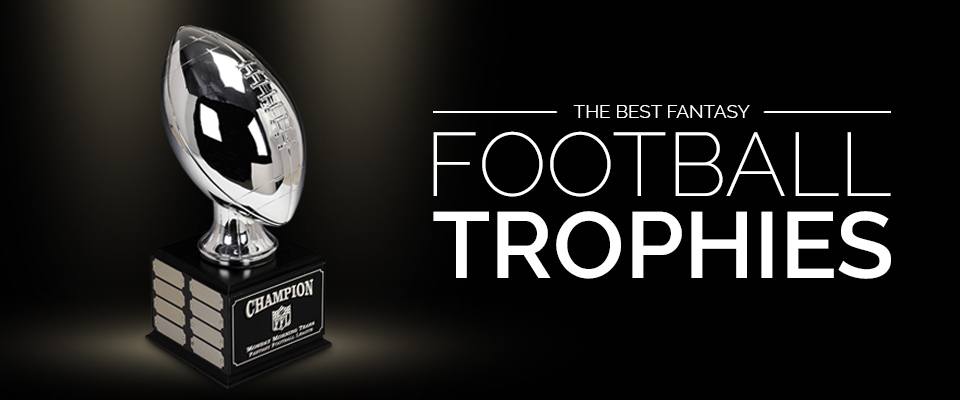 Every fantasy football league worth its salt rewards the best teams with a tangible prize. And although there are more fantasy football prize ideas than ever, the fantasy football trophy is still a staple in most leagues.
Today I break down the most spectacular perpetual and single-year trophies. If you're looking for the best fantasy football championship trophy to award your league champion, you're in the right place.
And keep reading for instructions on how to win our pick for the top fantasy trophy of 2023 (for free).
Trophy
Product
Rating

Giant Silver Perpetual Trophy

Free Championship Ring /w Purchase

Gold Football Perpetual Trophy

Free Championship Ring /w Purchase

Armchair QB Perpetual Trophy

El Presidente Perpetual Fantasy Trophy

Free Championship Ring /w Purchase

Single Year Championship Trophy
Reviewing the Best Fantasy Football Trophies of 2023
Let's jump right into the best fantasy football trophies for 2023, starting with the new champion of perpetual trophies.
Trophy Smack Giant Perpetual Lombardi
This beauty from Trophy Smack is my pick for the best fantasy football trophy of 2023. From the amazing football topper to the customization options, it has everything you want in a cool championship trophy.
This trophy is available in three colors (for the base and football): silver, gold, or gunmetal black. So regardless of your league's taste, Trophy Smack has you covered. The column colors are also customizable; you can choose from silver, black, blue, or red.
While most fantasy leagues will use this as a perpetual award that you can pass around yearly, you can also choose a front engraving plate that supports a single champ. And if you want to list past champions retroactively, all of those engravings are free at the time of purchase (you only have to purchase any additional plates).
Too many trophy configurations to count
Another unique feature of this huge fantasy football trophy is its various height configurations. The standard size is 26″ tall, but they even manufacture a massive 56″ trophy. That's taller than the NFL's shortest player!
Head over to Trophy Smack, and you can design your own custom trophy in real-time.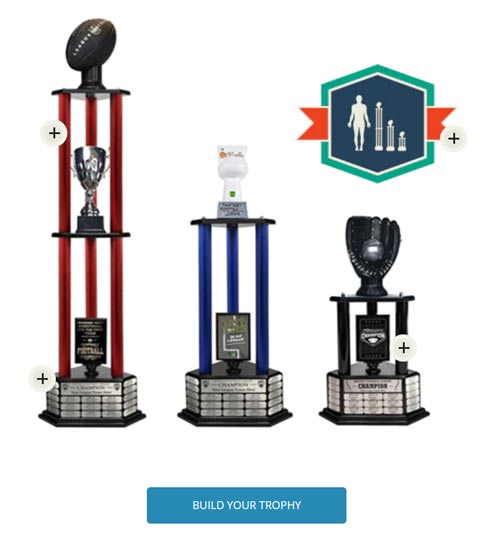 Enter to win the silver perpetual for 2023
Want a chance to win this fantasy football trophy for the 2023 season? I'm going to send this silver perpetual trophy to one loyal reader for free.
This trophy ships for free, and they'll have it out to you within 2-3 business days of your order. Engraving could take a bit longer.
Pros
Available in various heights, up to 56″
Many colors to choose from
Free engraving for up to nineteen league champions
Free shipping
Trophy Smack Perpetual Trophy (Gold)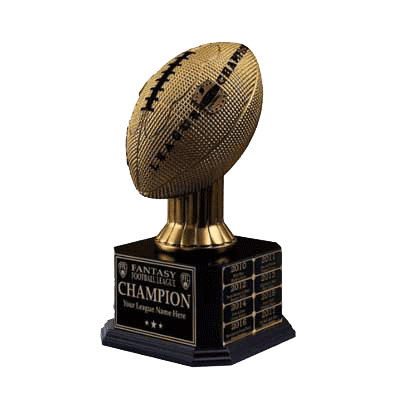 This gold perpetual fantasy football trophy is another impressive Lombardi design from Trophy Smack. While this one isn't as customizable as the giant perpetual, it's sure to impress your entire league.
We use this trophy in one of my longest-running fantasy football leagues, and it makes an excellent centerpiece for our fantasy football draft parties. The base has space for twenty-four champions, so it'll probably be around long after most leagues fold.
This trophy makes a particularly good fantasy football award for existing leagues that need a new trophy. That's because Trophy Smack will engrave up to 17 past champions for free with every order. You don't even have to pay for additional plates.
Throw in free shipping, and this badass perpetual trophy is an affordable option for most fantasy football leagues. Choose between gold, silver, or black designs.
Pros
Free engraving of up to sixteen past champions
Free shipping
Next-day air shipping is available (for procrastinators)
Available in three colors
Cons
Only one size is available
Fantasy Jocks Armchair Perpetual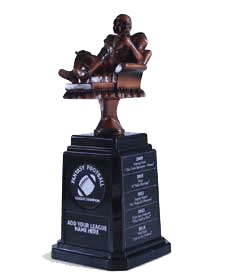 Fantasy Jocks is an established fantasy prize merchant with an extensive product line and a stellar reputation. The Armchair Perpetual trophy supports the engraving of 15 years of champions and stands over 12″ tall.
The Armchair Perpetual is my pick for the best-value fantasy football trophy because it is affordable yet has enough room to list all your fantasy league champions. It's the first and last trophy your league will ever need to buy.
Cheap perpetual fantasy football trophies (that are also high-quality) are challenging to find. But this trophy is built to last and won't break the bank. That means more money for beer at league parties!
You can read my full Fantasy Jocks review here, where I break down all of their fantasy football products.
Although you can't customize the front plate of this trophy, they will engrave your four previous champions for free as part of your initial purchase. If you run a fantasy football league that's on a tight budget, I'd seriously consider the Armchair Perpetual.
What I like
Outstanding value for the price
Room for fifteen league champions
Sturdy, heavy, durable design
Not so much
No free shipping
Only four past champions engraved for free
The front plate isn't fully-customizable
Free Championship Ring /w Trophy Purchase
Trophy Smack is offering my readers an incredible deal for 2023. If you purchase any of their championship trophies (or belts, for that matter) valued at over $100, they'll throw in a championship ring for free.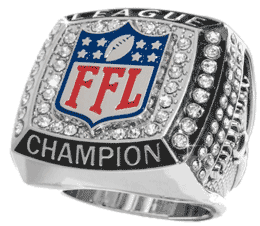 To claim this deal, just add the Stunna Championship Ring to your cart during checkout and use the coupon code: CHEATSHEETWARROOM.
If this deal intrigues you, read my review of the best fantasy football belts. There you'll find belts that also qualify for this offer.
Tips for Buying a Fantasy Football Trophy
How much does a fantasy football trophy cost?
Compared to unconventional fantasy football award ideas (such as fantasy football championship belts), fantasy sports trophies usually cost considerably less. Cheap fantasy football trophies, especially single-year trophies, are frequently sold for under $30. So for leagues on a budget, they're a great option.
However, for perpetual trophies that span for the lifetime of a league, you're going to pay a bit more. But the payoff is that these trophies with tons of engraving space are a one-time cost. And, of course, they look amazing and motivate your owners to participate.
Factors to consider when buying a fantasy trophy
When picking a trophy type, it's advisable to take a league vote. Some owners might want a trophy they can keep, even if it isn't a large trophy. Others would rather have a flashy perpetual that they can share among the fantasy league champs.
Here are a few factors you might consider when choosing a trophy:
Do your fantasy football leagues usually last more than a couple of years?
Do most of your owners to be able to keep their trophies each year?
Does your league have a budget for a low-cost or a high-end trophy?
Are you looking for a fantasy football trophy with engraving plates?
Answering these questions will help to steer your decision about the best trophy for your league.
The trophies we've reviewed in this article are fit for league champions. However, check out my other article on the funniest fantasy football trophies if you want to present ridiculous prizes to the bottom-dwellers of your league.
What's the best place to buy a fantasy football trophy?
There are many trophy merchants online and in brick-and-mortar businesses nationwide. However, I personally like buying my championship trophies on the web for a few reasons:
The convenience that comes with buying online
It's easier to compare prices among various merchants
The unlimited variety that you can't find in a physical store
If you're looking to buy a fantasy trophy from a proven online vendor, here are my favorites:
Trophy Smack – I'm a big fan of their perpetual fantasy trophies
Fantasy Jocks – I've used them for years; check out my Fantasy Jocks review
Fantasy football trophies are undoubtedly the most popular prize in many leagues. But if you're looking for something more unconventional for your league, consider a fantasy football championship ring. Although championship rings are typically a yearly expense, they're a slick alternative to your typical fantasy trophy.
Unique fantasy football trophy ideas
If you're looking to get a bit more creative with your league award, you have options. Here are some unique fantasy football trophy ideas for 2023.
Go the 'Do it Yourself' route
You can get some creative ideas for homemade fantasy football trophy designs on Pinterest. People have created with some incredible DIY designs that incorporate beer bottles, glass goblets, and even more ridiculous trophy ideas that integrate unicorns and dinosaurs.
Work with a boutique trophy manufacturer
If you aren't the creative type but still want a distinctive trophy for your league, check out fantasy football trophy decanters.
Who has the best fantasy football trophies?
Do you use a different merchant for your fantasy football trophies? If so, tell me about them in the comments below.