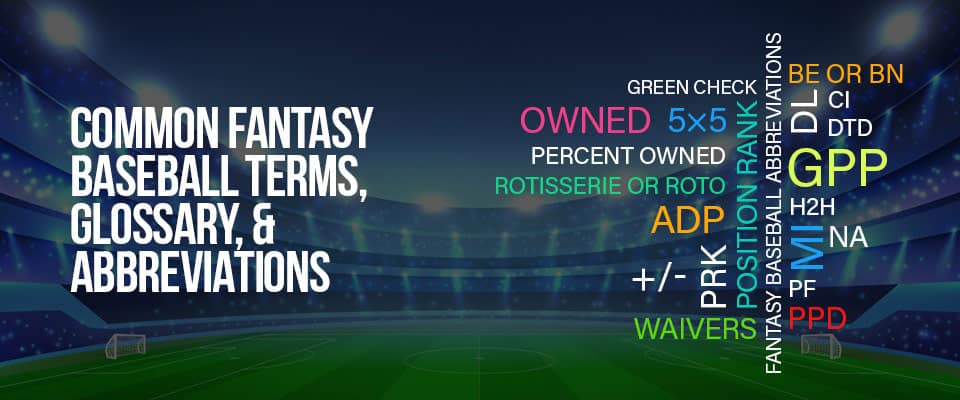 Just as fantasy baseball is its own game within the game of baseball, it also has its own language even within the specialized terminology of baseball. This fantasy baseball glossary will help you broaden your vocabulary, get clarification, and give you all the linguistic tools you need to dominate your league.
Fantasy Baseball Terms
Even if you're a veteran baseball fan, there may be some fantasy-specific lingo that confuses you. Learn these terms to go from roto rookie to league champ in no time.
5×5
5×5 is a type of scoring system used in fantasy baseball. It means that scoring is based on your ranks in five offensive categories and five pitching categories.
Box of Rocks
A fantasy baseball trade in which one of the owners gets nothing of value.
Green Check
A green check, when it appears next to a player's name on a roster, indicates that player is in the starting lineup for that day's game.
Fantasy Baseball League Name
A fantasy baseball league name is a goofy name given to your entire league that captures the spirit of the owners.
Owned
Owned is a term used in fantasy baseball to indicate that a player is rostered on your team.
Percent Owned
Percent owned is a metric that is used to show the percentage of fantasy teams that have a given player on their roster. It is a useful way to use the wisdom of the crowd to evaluate your roster choices.
Rotisserie or Roto
Rotisserie or rotoleague baseball is a type of scoring system that determines winners and losers by using season-long standings in key statistical categories. It is named after the scoring system used by the original fantasy baseball league, which used to meet in the back of a rotisserie chicken restaurant.
Position Rank
Position rank is a metric that shows how a player compares to all other players eligible at that position.
Team Name
A fantasy baseball name is a (usually funny) moniker used to identify your team among others in the same league.
Waivers
Waivers is a system that helps determine ownership priority for recently released players or players that have been previously unavailable. During the waiver period (usually 2-3 days) any interested teams can put a waiver claim on the player, who is then rostered based on the team with waiver priority.
Waiver priority can be determined by a variety of factors including reverse draft order, to the team with the worst record, or to the team who has gone the longest without placing a claim. If a player clears waivers, they are made a free agent and are able to be added without penalty by any team.
Fantasy Baseball Abbreviations
The fantasy baseball landscape is littered with spreadsheets, stat columns, shorthand, acronyms, and abbreviations. A game that's supposed to be fun can turn into a frustrating, confusing experience if you don't know this common shorthand.
+/-
Plus/minus, often annotated as +/-, is a metric used in fantasy baseball to indicate how many times a player has been added or dropped from team rosters by a particular host site.
ADP
ADP is an abbreviation for "average draft position," the aggregate of all the fantasy drafts performed on a given hosting site. ADP is useful when planning your drafts to help you show how other fantasy owners have valued a given player.
BE or BN
BE (or BN) is short for "bench." A player on your bench is on your roster but not in your starting lineup, meaning that their stats will not count for your team.
CI
CI stands for "corner infielder," a position on some types of league rosters. The corner infielder position can be filled with any player with either first base or third base eligibility.
DL
DL is an outdated abbreviation for "disabled list." Now called the injured list, or "IL," the DL are players that are hurt significantly enough that they are removed from the active roster for at least ten days and potentially even longer.
DTD
DTD is an abbreviation for "day-to-day," an informal injury designation that means a player is hurt, but not enough to put them on the injured list. When a player is day-to-day they are reevaluated on a daily basis to see if they are fit to play and may or may not be used on any given night.
GPP
GPP is a term used in daily fantasy leagues that stands for "guaranteed prize pool." The guaranteed prize pool is the minimum amount of money that will be awarded to players entering a specific contest or tournament.
H2H
H2H is short for "head to head," a type of scoring system that pits two teams against each other every week. H2H matchups are generally decided by similar statistical categories as roto leagues, but each week these categories are reset and a new opponent is scheduled.
MI
MI stands for "middle infielder," a position on some types of league rosters. The middle infielder position can be filled with any player with either second base or shortstop eligibility.
NA
NA stands for "not available," a roster designation that's used to indicate that a player is not currently on a major league roster. This could be because they are currently a major league free agent, in the minor leagues, or have been removed from an active roster for other reasons.
PF
PF is an abbreviation for "points for," a metric used in points-based fantasy baseball leagues. PF is the total number of points accumulated by all of your players, either in the season as a whole or for a given period.
PPD
PPD is short for "postponed," a designation used for games that have been halted before becoming official games. The majority of postponed games are made up later in the season.
PRK
PRK is short for "player rank," a metric that measures how valuable a player has been when compared to others in the league. Player rank can be used to show a player's value against players of the same position, other hitters or pitchers, or against the entire rest of the MLB.