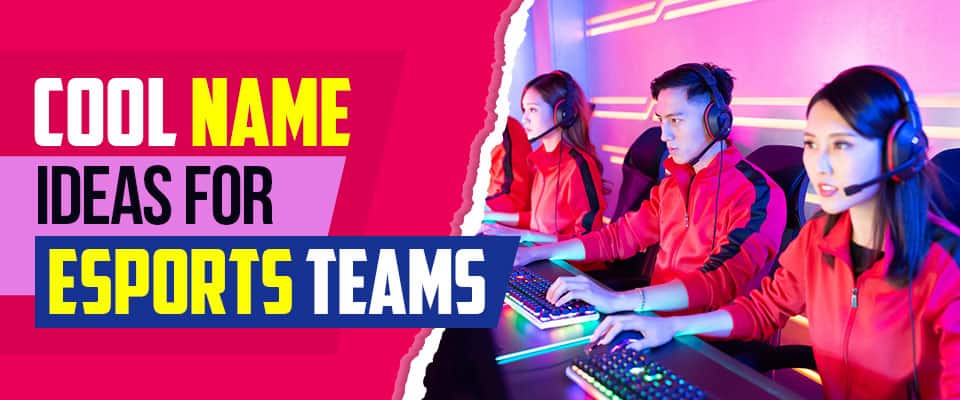 It's only a matter of time. The eSports industry is growing so fast that it could conceivably surpass the regular sports industry.
The Madden championships could draw more viewers. We could start calling eSports sports and real sports rSports.
Ok, maybe that's a while off, but still – the industry is growing. New squads are being formed all the time, and we're going to need some good team names for gaming. Let's get the party started.
eSports Team Name Ideas for 2022
You have to pay attention to character limits, punctuation options, and, of course, if a name is taken already. But the most important rule for gamers' team names is that they have to look cool on screen.
GLHF
GLHF isn't just spamming the chat, it's a way of life.
Big Boss
Pixelotls
This also gives you the cutest mascot in all of electronic gaming.
KDAssassins
Zerggressive
The Stack
Stack Attack
1Upsmanship
9Lives
ABABStart
Button Mashers
Speed Runts
Buttoned Up
Creep Farmers
Glitchy Trigger Finger
Glitch Hunt
Son of a Glitch
In case you were wondering if there were other glitch puns out there:
Glitch About It
Glitchcakes
Dirty Glitches
Head Glitches In Charge
Unique eSports Team Names
Look, we'd all love to be Ninja – and maybe for more reasons than one – but that gamer tag is taken. What you need are some good team names for gaming that aren't going to bounce back when you submit them.
Metaversus
Manna Live
This might be too old-timey for you whippersnappers. If my nanna gamed though, she'd think this was hilarious – speaking of which…
Manna Nannas
QQ Me a River
Kings and Pwneds
Cheese Mongers
People hate cheesy players just as much as they hate the word monger – so I say just lean into it.
Team FF
Flame Warriors
GG Gang
GG-Unit
Control Crowd
I also like Crowd Controllers.
CC Me
Nintendont
PowerLove
Competitive Team Names for Gaming
Don't make the mistake of thinking every gamer is soft.
Seggressive
Final Blow
Tuff Buffs
Winner is Coming
Triggered
Or Triggering, if that's more your style.
Kappa Ass
KEKing Ass
This might also work for an NSFW soccer team name idea.
KEKcellent
KEKcited
TriHarder
You can see the top Twitch emotes here. Maybe that sparks an eSports team name idea, maybe it just helps the last handful of names make sense.
Dirty Team Names for eSports
Backdoor Bombers
Backdooring is well known in gaming circles, but this could make a clever hockey team name as well. The back door in hockey is the area of the ice on the far side of the offensive zone.
Catchy Video Game Team Names
Video games are supposed to be fun and so are eSports team names.
Nuclear Nerfs
Deep Divers
Name Gaming
Start Screens
ReSpawn of the Devil
ReSpawndents
OMGames
No Interest
Smoke Show
Team Tilted
Gang Gank
eSports Team Names from Around the Web
Just a heads up: most other video games team names lists are just copies of existing team names. So I looked through those and copied only the good ones.
OK Boomers
Because part of the wisdom of age is knowing exactly where you stand.
Brute Force
Digital Chaos
Final Boss
Polite Butchers
Not a pun, just evocative writing that lets your opponents know what to expect.
Silent Shooters
Ninjas in Pajamas
Or simply Pajama Ninjas.
Evil Geniuses
Unquenchable Overkill
Some might say this name itself is a bit of overkill. Others might argue that one can never have enough kill.