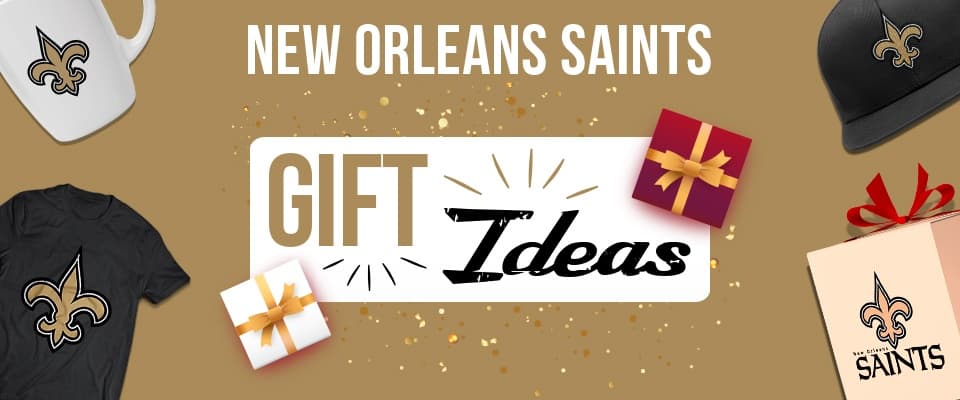 The Saints have some of the most passionate fans in the entire NFL (3rd most passionate, to be precise). So it's no surprise that New Orleans Saints gifts are a popular idea for NOLA residents and fanatics alike.
Whether you're looking for a Christmas present or a gift for a Who Dat birthday, I've got you covered. In this article, I review my favorite Saints gift ideas for 2021. I'll cover cheap Saints gifts, gifts for him, gifts for her, Saints collectibles, and more.
Saints-Themed Games for Parties & Tailgaiting
Even when the Saints aren't on the field, Saints fans remain competitive amongst themselves. Here are some fun games that incorporate are Saints-branded and are sure to liven up any party.
New Orleans Saints Collectible Gifts
The 2021 Saints team has notable players who have cemented their place as NFL legends. If you're looking for a fantastic memento from a Saints icon, you'll love the following Saints memorabilia.
Saints Tailgating & Party Presents
When it comes to Nola Saints fans, they tailgate city-wide. From Poydras all the way down to the French Quarter, you see Saints fans setting up early, listening to WWL 870, and getting mentally prepared for the upcoming battle.
Here are some fantastic Saints gifts for fans who love to tailgate or throw parties.
Saints Gear Gifts for Her
The women in New Orleans love to flaunt their black and gold gear. So Saints merchandise like apparel and accessories are always a hit for female fans.
Here are some of my favorite Saints gifts for women in 2021.
Unique Saints Gifts for Him
Are you looking for a New Orleans Saints gift for a man in your life? These Saints themed gifts are sure to please.
Are you a Saints fan who also loves fantasy football? Check out our article on Saints fantasy football team names.
Cheap Saints Gift Ideas
For those looking to save a few bucks but still buy a high-quality Saints gift, this list is for you. These cheap Saints gifts are useful, and some even offer an element of customization.
Gifts for Local Saints Fans
If you're looking for a Saints gift for a local New Orleans resident (or someone you know is visiting the Big Easy), you'll love these unique gift ideas.
Gift Ideas for other NFL Teams
If you're looking for gifts for other NFL teams, check out our review of New England Patriots Gifts and Dallas Cowboys Gifts.