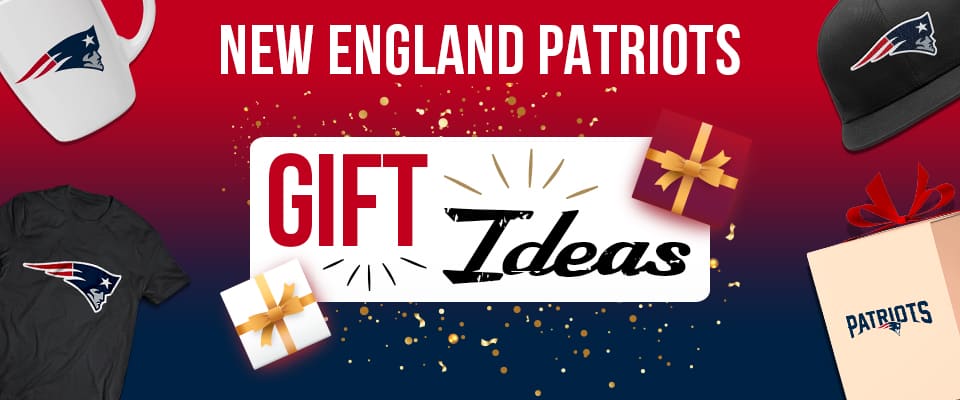 Patriots fans are hard to buy for because they already have everything a football fan could want: six championship rings.
The good news is that after the championships comes the gear. Here's our helpful list of New England Patriots gifts to help you find the perfect present for your patriotic loved one.
Patriots Partying & Tailgaiting Gifts
A good tailgate party cannot have too much team-themed gear. It helps get your fellow loyalists in the mood, and as a bonus, it rubs your team in the face of a rival that has the audacity that comes to your party.

They have to sit in Pats-branded chairs, cool their beers with Pats coozies, and wipe their mouths with Pats-themed napkins. Want nachos? Eat them off plates that look like Bill Belichick's face.
Gifts for Him
Don't be the boring dunce that gives the man in your life yet another shaving kit – we can only shave so much folks. Instead, be the spouse, sibling, or generous philanthropist that gives them what they really want: gear from their favorite team.
Patriots Gifts for Kids
Indoctrination is a powerful thing. You need to teach your kids about the important things – like the Patriots – or you never know what will happen to them.

Like they could grow up to be a Jets fan. Shudder.
Gifts for Babies
Let's be honest, these aren't gifts for babies. The babies don't care what they're wearing, as long as it's soft and fits right.
Mommy and daddy, on the other hand, they care a lot about what baby wears. Maybe a little too much.
Here are some Patriot gift ideas for newborns, infants, toddlers, and the parents that take pictures of them.
Patriots Gifts for Locals
No Pats fan is ever mad at getting clothes, accessories, and the like. If you love your team, there's no such thing as too much gear.
But if you really, really want to impress a Patriots fans, these gifts go above and beyond. These are the types of gifts that get mentioned every future Christmas as they're opening inevitably inferior gifts.