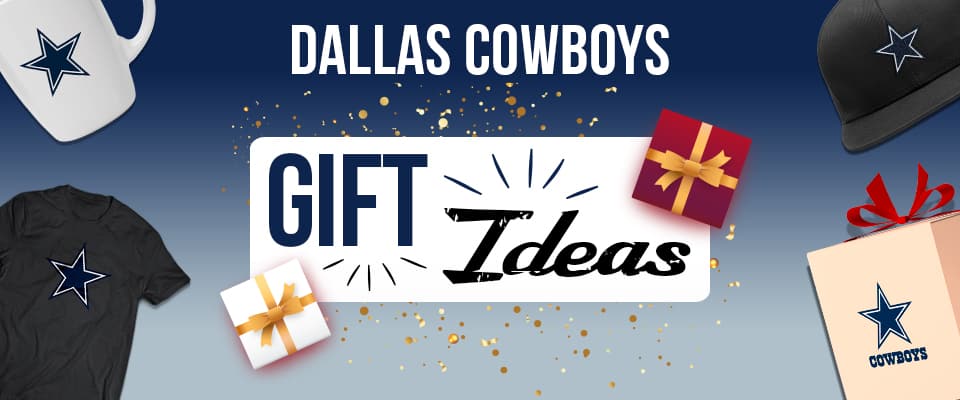 Having a Cowboys fan on your gift list is fantastic because there's no stressing about what kind of present to get them. Simply use this handy-dandy gift guide to Dallas Cowboys gifts and score easier than Ezekiel Elliott from the one.
We've got Cowboys gift ideas for all styles in various price ranges, from undrafted free-agent to perennial All-Star. Find something they don't already have in the price range you're looking for, and boom: you win the holidays.
Man Cave Gifts for Dallas Cowboys Fans
There are two types of man caves: the sad man cave and the rad man cave.
Sad man caves have a single sofa parked in front of the tv in an empty, unfinished basement. Rad man caves celebrate everything awesome with player posters, Cowboys memorabilia, and as many Boys-themed goodies as your cave can hold.
Make it so rad your buddies beg to watch the game at your place. Here are some Dallas Cowboys gifts for dad, a boyfriend, or any other man in your life.
Dallas Cowboys Gifts for a Traveling Fan
Whenever I travel, I try to bring a little bit of home with me. Symbols of home keep me from getting lonely and keeps me centered wherever I go.
Also, showing off a big-ass Cowboys star lets everyone know precisely where you're coming from. Bring Big D with you wherever you go – even if it's just to the gym and back.
Here are some gifts for Cowboys fans who spend considerable time on the road.
Cheap Dallas Cowboys Gift Ideas for 2021
Not every gift should be an all-out extravagant celebration of the art of generosity. Sometimes you just need a simple stocking stuffer or an inexpensive present to round out a gift set.
Sometimes, you draw Jerry in the Secret Santa, and no way you're spending more than $10 on that weirdo. Whatever the reason, here are some cheap Dallas Cowboys gift ideas that won't break the bank.
Dallas Cowboys Gifts For Her
I've heard some men say things like how can a woman love the Cowboys when they would never have the chance to play for them? To those men, I can only respond: you never had the chance to play for them either, hoss.
Some of the most dedicated, passionate Cowboys fans that I've met are ladies. Here are some gift ideas for the ride-or-die Cowboys boosters that just happen to be women.
Best Dallas Cowboys Gifts for Local Dallas Fans
The Cowboys have one of the most recognizable brands in all of football. They aren't just America's Team because people the world over know and love the Dallas Cowboys.
That said, the dedication of the fans from the Dallas area is next-level. Here are some unique Dallas Cowboys gifts for those fans that don't root for the Cowboys but live them every day.
Gifts for Fans of Other NFL Teams
If you enjoyed these football present ideas, and you're looking for gifts for fans of other teams, then check out my articles on New Orleans Saints gift ideas and New England Patriots gift ideas.