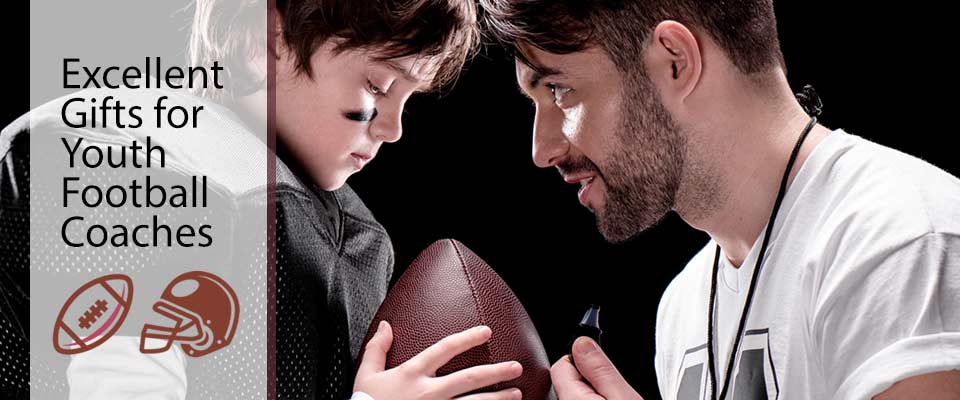 If you're researching gifts for a football coach, you're in luck. I spent considerable time scouring the web looking for unique, practical, thoughtful, and sometimes personalizable football coach gifts.
In this article, I reveal my picks for the best football coach gift ideas of 2021.
Youth Football Coach Gift Ideas
Trying to find unique youth football coach gifts can be challenging when you want more than some generic football-themed gift. So surprise the coach with one of these practical gifts that any football coach will both appreciate and put to good use.
I wrote a separate article detailing the best football gifts for boys. It's a great resource if you're looking for unique present ideas.

A digital dry-erase board for the 21st century
Gone are the days of searching for markers and rags when drawing up a play. The Boogie Board eWriter lets the coach electronically diagram the winning play on a moment's notice.
This digital clipboard comes pre-loaded with templates for several sports, making it an ideal gift idea for multi-sport coaches:
Your kid's head coach can use the included stylus to erase the board just like a pencil. Or, he can delete the entire screen with one touch.
The free Blackboard app makes it simple to share winning plays with the entire team.
A battery with an insane lifespan expectancy
Even though this dry-erase board is electronic, constant battery replacement is not an issue. The Boogie Board comes with a 5-year replaceable battery.
With a battery like that, the clipboard may last longer than his coach's career!
Why users love the Boogie Board clipboard
Users particularly enjoy the large surface and ability to write with no lag or delay. Since there is nothing to turn on, it is ready to go at all times.

Keep coach hydrated with this insulated tumbler
A coach can tuck this stainless steel tumbler and head to the big game without spilling a drop. The smart vacuum design keeps drinks cold for 24 hours or hot for a full 12!

With a 30 ounce capacity, it's large enough to last the entire game without refilling. The tumbler includes a closable lid but also has a straw hole.
Owners of this tumbler love it's durable construction. They also rave about the capacity and range of available designs.
This tumbler is an excellent, practical gift that every football coach would appreciate.
Pair this tumbler with these stainless steel straws for a thoughtful gift package. The straws are dishwasher safe and come with cleaning utensils.

Help his football coach travel in style
This oversized leather overnight bag is the perfect way to pack up essentials for the next big road game. They crafted this bag from high-quality leather, so it won't rip or tear even when it's packed full.

Easy-carry handles and the included shoulder strap make the bag a breeze to transport. It could also make a functional gym bag.

Compact design qualifies as a carry-on
This bag's small size makes it a perfect airline carry-on bag and owners love its combination of stylish looks and rugged durability.

Put a pep in the coach's step with this mug
Let the coach know how much he means with a Dream Big Mug. This 11-ounce mug is made from glossy stoneware and is dishwasher and microwave safe.

A mug with a message
An inspirational message that any coach would appreciate is featured on the mug. With its combination of excellent quality and heartfelt sentiment, this is the best way to thank your coach for their hard work and dedication.

Buy a thoughtful gift and help kids in need
The makers of this mug use the proceeds to fight childhood poverty through the #allprofitstohelpkids program. They donate their net profits from these mugs to help kids in need around the globe.
Show your gratitude and fight hunger at the same time. Win-win!
Personalized Football Coach Gifts
When searching for gift ideas for youth football coaches, why not buy a present that is unique and personal?
These gifts are practical and thoughtful, but they also offer a unique way to personalize the gift for that hard-working coach on your list.

Gift your coach a one-of-a-kind clipboard
Why give his coach a run-of-the-mill clipboard that you would find at some home office store? Thank your kid's football coach with one that has a personal touch.
You can configure this personalized clipboard in three ways:

A personalized football coach gift is a thoughtful yet inexpensive way to show his football coach that you appreciate his hard work.
An engraved whistle to call his own
Any coach can buy an ordinary whistle to use at practice. But why not make it something special?

This high-quality coach's whistle comes on a keychain and can be custom engraved. During the checkout process, you can configure the text to see how it will ultimately look.

This whistle comes in a luxury velvet drawstring bag for safekeeping and an added touch of class. It is made of brass with a silver finish for long-lasting use.

A distinction they deserve for their hard work
This hardwood plaque is the perfect way to memorialize the coach's hard work after a long season. The 8.5 by 11-inch plaque is made in America and built with solid wood (American Beech Hardwood) for a great look and feel.

The custom engraving process delivers a vibrant look to the message but brings out the natural beauty of the wood. Buyers appreciate the fast shipping and top-notch customer service they get with this plaque.
One buyer even bought this plaque for his son's flag football team!
A one-of-a-kind beverage for that special football coach
Give his football coach something that reminds them of a great season. These customizable tumblers are double-insulated, BPA-free, and lead-free.

No cheap printing on this tumbler
You can customize this tumbler with the team name, the year, and the football coach's name. The text is etched into the tumbler rather than printed, so it is guaranteed never to wear off.

You can choose from 12 different themes for your tumbler, so it's a good gift for just about any sport.

Unique Gifts for a Special Football Coach
Are you searching high and low for that out of the ordinary gift for your son's football coach? Well, I have a few gift ideas that will likely fit the bill.
These gifts are incredibly unique and will make for fantastic conversation starters in the coach's office.

Say thank you from the entire team
This creative print features five football–inspired images that spell out the word "coach". You can customize the area directly below with the coach's name, the team name, and the year.

Let the whole team make this gift one-of-a-kind
One of the coolest aspects of this product is it's a bit of a DIY coach gift. In addition to personalizing the print with the coach's name, you can recruit the entire team to show their thanks.
The bottom of the print is left blank so the entire team can add their signature or personal message. You can also choose between a color print or black/white.
When paired with a stylish frame, this thank you gift for a football coach will be something he can keep for a lifetime.

Bring the field to the coach's office
When it comes to unique gifts, I don't think this one can be topped. These funky yard line drink coasters are designed to look like actual field turf.
They printed on these five coasters both yard numbers and markings. And with a sturdy rubber sole, they will keep his drink on the table instead of the floor.

If you're looking to splurge a bit on that special coach, pair these coasters with one of the tumblers reviewed in this article.

Patent art prints detail the history of football
This set of six prints portrays original football patent art. These prints reinforce every football coach's core principals: teamwork, character building, and innovation.

Old world appeal will spark nostalgia
They created the prints with an old-world, vintage feel that harkens back to the early pigskin days. Printed on Fuji Crystal Archive paper, these images have a vibrant quality.
If you're enjoying this article, you'll love these gift ideas for photographers.
These prints come with a 30-day money back guarantee. If you don't love them, you can return them for a full refund.
Help Coach preserve his voice during practice
This multi-function 50-watt megaphone is a useful addition to any football coach's toolbox. It can ensure Coach will be heard anywhere the field, without destroying his voice.

The coach can be heard from up to 1200 feet away using this powerful megaphone. That's enough range to cover the entire football field (and more).
In addition to a megaphone function, it also comes with an auxiliary input and a siren feature.

Versatile, functional, sturdy, and lightweight
The mic is detachable so that it can be handheld. The megaphone has no chords as 8 C batteries powered it.

With a lightweight and ergonomic grip, Coach can fly through his next practice with no fatigue, all while being heard loud and clear.

Gifts for Football Coach
Many youth football coaches don't get paid for their services. As such, thank you gifts are a common way to show your appreciation.
Youth football coach gifts don't have to be expensive. Every present suggested in this article is both cheap and appropriate for a football coach gift. Seeing as how football season concludes at the end of the calendar, the gifts in this article also make excellent Christmas presents.
The best football coach gifts are usually those with a personal touch. Those are the ones your coach will cherish for many seasons to come.