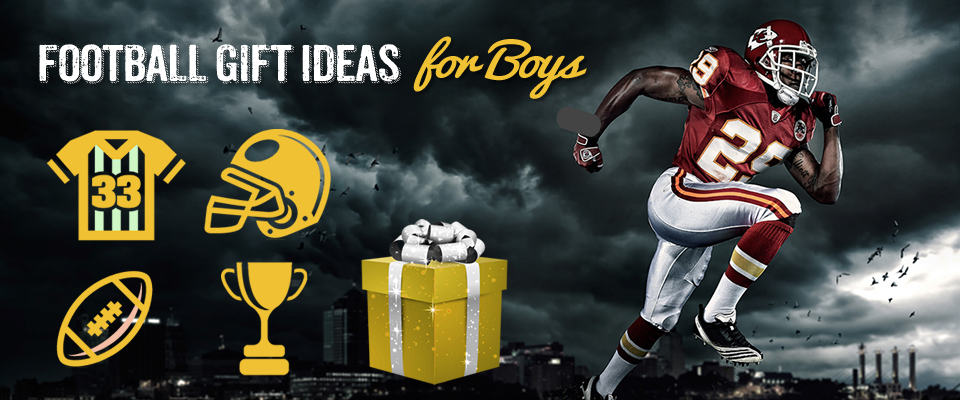 If you're searching for the perfect gift for a football fan, you're in the right place. For 2022, I researched and compiled a list of the most popular and unique football gifts for boys of any age.
These football gift ideas are organized by age group. So you can quickly jump to presents for men, teens, grade-schoolers, toddlers, and even baby boys.
Every gift I review below is suitable for birthdays, Father's day, Christmas football gifts, birthdays, Valentine's Day, or any other special occasion. Let's get started.
Football Gifts for Boys in their Teens
When considering gifts for teenage boys, sport-themed presents are a sensible place to start. If the pigskin is what he prefers, you know he'll appreciate football-related gifts I cover next.
Here are some unique and fun football presents for teenage boys.
Youth Football Goal Post
When we were young and played football in the neighborhood, we loved pretending to kick the game-winning field goal as time expired. Although, this usually meant kicking a football over the powerlines or between two trees.
Now, kids the world over can use an authentic, steel football goal post just like the pros. This post is extremely sturdy, easy to assemble, and even has those little flags at the top that blow in the wind.
This is my favorite gift for football players in 2022, even if I'm a bit jealous. I wish I had one of these back in the day. There's no telling how many game-winners I would have kicked!
GoSports Football Trainer Throwing Net
Have you ever seen those halftime games where fans compete by throwing a football through a tiny hole (sometimes for tens of thousands of dollars)? I bet all of those contestants wish they had practiced with the GoSports Football Trainer Net!
Regardless of whether your football fan is a quarterback or a lineman, everyone enjoys throwing the football. This cool football gift idea makes playing catch a competition as everyone in the family can determine who has the best arm.

For players, it also helps to increase accuracy. And there is even an 8 x 8 version for experienced players (or QBs looking to up their game).
This kit comes with a net, three target pockets, and even a portable carrying case! This is a popular item around the holidays, so be sure to check out the stellar customer feedback on this potential Christmas football gift.
Shake, rattle, and roll to the end zone with this classic
The Electric NFL Football Game is an all-time classic with a modern makeover. You set up plays, flip the switch, then march your team down the field to victory.
Historically, this favorite NFL present has been hard to manage because the player pieces tend to go everywhere when you flip the switch. But this new design has features that make it easier to control the play.
Their proprietary Invisibase cleat technology ensures the pieces go where you intend. The PlayAction remote control makes it easy to start and stop the action while also regulating the vibration intensity.
This set also has a companion app that is free to download. The app keeps score, controls the clock, and allows you to manage all aspects of the game. Here is a quick demo video.
A personalized football to seal his legacy
For the young man who never drops the ball, a football with his name and likeness will prove he's made it to the big-time. You can place any text or image onto the two custom football panels.
Personalized football themed gifts are thoughtful and always stand-out. This football is regulation size and transforming into a one-of-a-kind present is a simple process (you can do it right on Amazon check-out).
But what do customers typically have printed on these footballs? If you're looking for inspiration, here are some things that customers had printed on their footballs.
Have other ideas? Tell me about them in the comment section at the bottom of this article.
Cool Football Gifts for the Man in your Life
Of course, he has a man cave. What true football fan doesn't?
So how do you transform an ordinary room into a stylish man cave? The trick is outfitting it right. The hard part is finding NFL gifts that are both unique and fit his love of the game.
These football related gifts for men and young adults are perfect for guys who love to show their support for their home team. They'd make a cool football present for your relative, boyfriend, or significant other.
Is the man in your life also into fantasy football? If so, check out an article that I wrote specifically about fantasy football gifts. I detail lots of great gift ideas including subscriptions to fantasy football preparation tools, books about fantasy football, and even gift certificates for services that provide fantasy help.
"I'd rather be watching football" socks
These hilarious socks are fitting for a man who'd rather watch football from his favorite chair. If your man is a football lover, he'll love these knitted socks as they're large, warm, and cuddly.
Although they're novelty socks, customers note that they don't feel cheap (they're made of cotton) and remaining colorful after many washes. If you're not completely amazed by them, they offer a 100% money-back guarantee.
While these socks are an inexpensive football present idea for men, they're also popular among the ladies. Just read the reviews and you'll see.
A fumble-proof tumbler that insulates his drinks
Even when he is bringing that drink up to his mug, he still wants to show his team pride. Gift him this stainless steel travel tumbler to keep his drink warm (or cold) when out in the elements).
If your man is anything like me, he fumbles his drinks at least once every few contests. The no-spill lid on this tumbler will ensure he doesn't lose his drink when the fumble-fingers strike.
It also features a stainless steel design, so you know it is durable and will last. It sports a handcrafted team logo, based on the team you select on the product page.
Because this tumbler is well-insulated, it works great for both hot and cold beverages. So regardless of whether your man is a fan of hot or cold weather teams, this cup is versatile enough to handle any drinks you throw at it.
Give their cave some context with a team helmet replica
So he's not ready to suit up in the NFL? Well, these Riddell replica helmets are the next best thing to getting in the game.
They're NFL licensed, sold through Amazon, and feature identical dimensions as the helmets that the real pros wear. They're available for all NFL Teams and make a spectacular addition to any man cave.
Just be sure they use it on to play ball in the yard. These beauties are for display purposes only!
Choosing a Gift for Football Players in 2022
When it comes to finding gifts for football players, it's best to choose something that will help advance their game. Here are some football gift ideas for boys looking to take it up a level.
Spark 3 water bottle technology
If your young man loves football, he must value solid coaching. Take that to the next level by gifting a personal hydration coach.
The Hidrate Spark 3 Smart Water Bottle tracks water consumption to ensure you stay healthy and hydrated. Using bio-metrics, this smart water bottle calculates your ideal daily water intake.
As he drinks water throughout the day, the Spark 3 provides real-time feedback on his consumption and progress toward his daily intake goals. If he's falling behind his goal, or he hasn't consumed water for an extended period, the bottle will light-up.
This smart water bottle is BPA-free and both the lid and bottom are dishwasher-safe. This is a useful gift for a football player or any other athlete in your family.
Customized Wilson Football
If your football player is serious about the game, it only makes sense to gift him an official football. These Wilson footballs are regulation size for high school players and up.
You can quickly customize this ball right on Amazon, and the turnaround time is only 2-3 days. The engraving is permanent and will last as long as the football itself.
When it comes to football player gifts, you can't go wrong with a football. This makes a fantastic football gift for the holidays.
Football Gifts for Kids in Grade-School
So your favorite little man is getting started in his school years. Someday soon he will be choosing the best college to launch his football career!
Now is the time to get him a present that shows his passion for the game. Here are some football-related gifts for grade-school boys.
Personalized jewelry for your budding football star
We all know pro footballers craft their signature look. Why not give your little football star a gift that showcases his unique brand?
This Spotlight Jewels Customized Football Necklace features his name and number on a rubber cord that measures 18″. An included extension chain allows you to adjust the length, if necessary.
They advertise that the beads on this necklace are indestructible, so it'll stand-up well against abuse. The pendant is made of cabochon glass.
This necklace is an ideal football-themed Christmas present, as most football seasons are wrapping-up right around the end of December.
Spotlight Jewels offers a sweet 20% discount if you purchase necklaces for an entire football team (10 or more items). This necklace also makes an excellent gift for a football mom to show her support for her little man!
Keep his mind on his money with a football bank
Someday he will sign that big contract and outgrow this starter bank. For now, give him the gift that ensures he keeps his eye on the prize.
This Football Boys Piggy Bank is an excellent way for him to save up for tickets to the big game. This bank would look great on his dresser or in his mini man cave.
The coolest feature of this piggy bank is that it is customizable and hand-made. That makes for a very thoughtful gift for the little football fan in your life.
Football Presents for Toddlers
By now, mom and dad have exposed him to his first football game. The little man loved it, and he is now hooked for life!
It's time to hook him up with some age-appropriate football gear. If you're attending a football baby shower, you'll love these ideas.
These are some of the best football gifts for kids and toddlers.
Full size, 4-piece football comforter set
You've found the perfect gift for the kid who eats, drinks, and sleeps football. It's a plaid comforter set with a football theme.
This set includes a full-size comforter, sham, and even a plush football pillow! It's microfiber, making it durable and 100% machine-washable.
If you want to go all-out, you can also purchase curtains with the same pattern. A matching set!
A bag of sports balls to keep him busy
Drop this collection of sports goodies in his crib and watch his eyes light up. This bag is a fabulous gift for any child's sports-themed birthday party (or even a baby shower).
This set comes with a plush football, soccer ball, baseball, and basketball. So even if your boy decides football won't be his primary sport, he's covered.
The 11.5-inch colorful carrying bag is high-quality and machine-washable. Parents will love this gift as well because the balls can be neatly organized and stowed-away once playtime is over.
Track his growth with this football locker height chart
Monitor your future superstar's progress with this football locker growth chart. The locker comes filled with all the gear your future athlete needs for the big game.
Use a permanent marker to note dates or ages on the chart and track his growth over the years. Grommets placed in the four corners make it easy to hang the chart on any wall. Cleaning the growth chart is a breeze with a damp cloth.
In addition to being a cool gift, this present also makes a fabulous childhood remembrance. Roll it up and store it away for safekeeping.
Cuddly Football Gift Ideas for Babies
Trying to find the right gift for a baby boy can be a challenge. With these football present ideas for babies, you can guarantee that he will be a football fan in no time.
A cuddly bear snuggler for little rookies
The Bearington Snuggler lets him hold on to the ball right in the crib. This security blanket is soft and plush, providing comfort for your favorite little football fan.
The blanket measures 15″ long, making it the perfect size for a newborn baby to cuddle. Customers rave about this product, giving it stellar reviews.
Bearington Baby blankets are well known for their exceptional quality. The premium materials are ultra-durable and machine washable.
This well-made blanket will quickly become your baby boy's most treasured sleep companion.
An engraved football bank gift for a baby boy
Let your baby boy get into the game of savings right away. This brush nickel football bank will not tarnish and is an ideal gift for a baby shower.
This bank is a little over four inches long, so it is smaller than it looks in pictures. This small size makes it ideal for coins but not cash.
To give this present a personalized touch, you can specify engraving instructions at the time of purchase. Add the boy's name and date of birth to create a unique football gift and keepsake they can cherish for years.
Football play mat to practice his touchdown dance
This Bearington Football Play Mat is a plush teddy bear, shaped into a football floor mat. This mat acts as the perfect tummy time spot and could quickly become his favorite activity spot.
The blanket folds up to take to road trips or road games. It is soft yet durable and is machine washable.
This mat is approved for ages 0 and up, meaning it's a suitable football gift for baby boys, newborn or otherwise.
Gifts for Boys Who Love Football
The best football gift ideas for boys can be determined by their age and interest in specific NFL teams. They are the perfect solution for:
Football Christmas presents
Football birthday gifts
Football Baby Showers
Football themed gifts for Valentine's Day
Babies are happy with snuggly football presents. Toddlers will appreciate anything they can throw, so soft toy footballs and the like are an easy win.
As kids get older, they become more interested in football gear that reflects their personality. That's why personalized merchandise is perfect gifts for kids who love football.
Men and young adults generally start to develop an affinity for specific NFL teams, so football team gifts begin to make more sense. Football fan gifts include clothing and man cave accessories.
By categorizing these football present ideas by age group, it should be quite easy to find a unique present that your loved one will enjoy. If you have other football present ideas you'd like to share, tell me about them in the comments below.