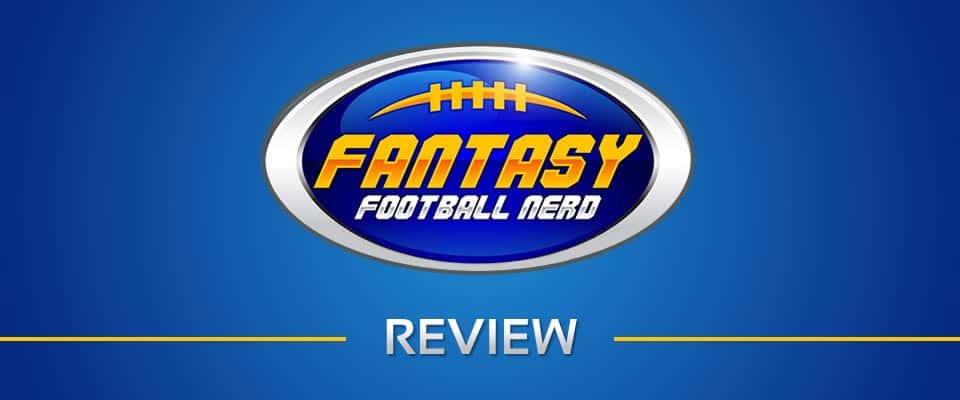 There is a never-ending quest for actionable data in the fantasy world. Solid preparation and roster management separates the players who hoist fantasy prizes from those that watch their team fade into obscurity.
Into the fray steps Fantasy Football Nerd, an industry veteran looking to be your go-to source for seasonal and daily fantasy advice. In a crowded space, their versatile tools make them one of the best fantasy football advice sites.
In this Fantasy Football Nerd review, I'll reveal how to leverage their toolset to improve your performance in traditional leagues and on the four best daily fantasy sites.
Fantasy Football Nerd provideds tools, advice, data, and rankings site designed to help both daily and seasonal fantasy football players analyze and configure winning lineups.
On the DFS side, their tools are compatible with FanDuel, Draft Kings, and Yahoo Daily Fantasy. Seasonal players can import and manage rosters from CBS, ESPN, My Fantasy Leagues, and most other major fantasy hosts.
Fantasy Football Nerd S

i

g

n

-Up Deal
If you purchase Fantasy Football Nerd's Premium Package today, it's only $19.95 for the whole season! Subscribers have access to all seasonal features and the DFS optimization tool.
Things to Think About Before Purchase
Fantasy Football Nerd offers some free features, such as cheat sheets, player rankings, and projections. However, accessing their most effective features requires a premium membership.
Practical tools for both daily and seasonal players
Their DFS Optimal Lineup tool can help daily fantasy players select the best possible combination of players for the available budget defined by DraftKings, FanDuel, or Yahoo DFS. You won't find any free DFS tools at Fantasy Football Nerd.
For seasonal players, Fantasy Football Nerd has both pre-season and in-season tools. Most of the paid tools are part of the pre-season features, whereas most of their in-season tools are free of charge.
Low seasonal cost - no promo code required
Fantasy Football Nerd's tool suite can seem a little thin when compared to other premium advice sites. There are fewer week-to-week suggestions, they don't have a mobile app, and they don't produce any in-house content like podcasts or videos.
But consider that you get a full season of draft preparation, in-season, and DFS tools for less than what you'd typically pay for a single month at competing fantasy sites. This especially true for DFS research sites that usually charge substantial monthly fees.
If you're a purely seasonal player looking for advice during the season, you can probably get better advice from your league host. But for seasonal players needing draft prep tools, and especially DFS players seeking a low-cost optimizer, a seasonal membership to Fantasy Football Nerd is a no-brainer.
If you're looking for more features from your fantasy software, FantasyPros may be a better option for you. Check out my FantasyPros review where I evaluate their Draft Wizard, My Playbook, and DFS tool suites.
Fantasy Football Nerd's Features in Depth
Fantasy Football Nerd's free content can be useful for both DFS and seasonal leagues. But lets review a few of their premium features to see what you'll get with a paid subscription.
DFS lineup optimizer is a steal for the price
The Nerd's DFS Lineup Optimizer is the centerpiece of their daily fantasy tools. Other lineup optimizers, like the one I reviewed from Daily Fantasy Nerd, are much more comprehensive. However, they also come with a much higher, monthly price tag.
With Fantasy Football Nerd's optimizer, you're free to add or remove specific players from the optimizer to create a lineup around your personal favorites. Lineups can be refreshed multiple times, generating different lineup configurations until you find one that you like.
Fantasy Football Nerd uses what they call the Bang for Your Buck score to rate players, assigning a value to each player based on both their production and their hit to your salary cap.
How the Bang for your Buck metric works
In 2018, Alvin Kamara has had one of the better seasons of any running back in the league. However, his high salary (7400 on DraftKings) may make him less of a potential value than, say, Kareem Hunt.
On the other hand, Hunt has a slightly lower price tag (7100) and marginally higher projected output (20.6 to 19.4 for week 8). The lower salary and higher projections give him a better BFYB score overall.
Building a lineup of players with high Bang for your Buck scores is the key to winning DFS contests.
Fantasy Football Nerd's DFS optimizer also allows you to configure lineups based on a Conservative, Consensus, or Aggressive preference. The settings make it simple to adjust your risk tolerance when playing in large tournaments.
In-Season tools offer start/sit and waiver advice
The premium content that seems most relevant to seasonal players is their start/sit advice and waiver analysis. Most seasonal fantasy hosts provide fantasy football start or sit tools, so this isn't necessarily a ground-breaking tool.
If you're looking to get a full, in-depth analysis of your fantasy football team (at any point in the season), a rate my fantasy football team calculator could be the tool you're looking for. In that article, we evaluate draft analyzers, team analysis tools, and even team grading services where a group of experts will provide customize feedback and grades for every player of your team. You should definitely check it out.
I admit, I have used Fantasy Football Nerd's lineup assistant a couple of times this fantasy season. But it was mostly to get a third party opinion on roster decisions when my league host was falling short in its predictions. In that sense, it could be useful as a secondary source to reference if you're unsure about a particular roster move.
On the other hand, while it is dead-basic, I do like how they've configured their Waiver Wire Report. They put the best available players at each position next to existing players on your team (along with their projected point output). This makes it much easier to identify players for which to submit a waiver claim.
From a business perspective, it seems that the Nerd should put more of their free seasonal tools (like the fantasy trade analyzer) behind a paywall. Users seeking free fantasy football tools will undoubtedly have a good time experimenting with these standard Fantasy Football Nerd features.
My advice is that strictly seasonal players should sign-up early and take advantage of their draft preparation tools. Otherwise, just hold-off purchasing a subscription until the following season.
Alexa now gives fantasy football advice
Another unique feature that Fantasy Football Nerd offers is the ability to access their services through Amazon Alexa. Alexa is Amazon's virtual assistant that is available through the Echo smart speaker.
With Alexa, you can use voice commands to get actionable fantasy data. Utilize your Echo to ask for draft help, weekly start and sit advice, player news, and more.
Here are some of the more actionable queries for putting Alexa to the test:
Injury alerts enable last-minute swaps if you're on the go
Fantasy Football Nerd helps you avoid incomplete rosters with their iAlert system. This system can send text and email notifications to your connected devices regarding inactive players so that you can replace them in your lineup.
Injury alerts can be the antidote to the Belichick-style gamesmanship of the injury reports that often leave fantasy players confused about the seriousness of a player's injury. After all, what does questionable even mean anyway?
This feature is only available as part of the Lineup Analyzer tool, so you'll need a premium membership to receive these notifications.
What People are Saying About FF Nerd
There are not as many reviews for Fantasy Football Nerd as there are for some of the more higher-end fantasy football sites out there. What's more, some of the comments about their product are complaints, which doesn't inspire a ton of confidence.
Most of the complaints fall into the "You recommended Player X, and he did nothing this week" category, which any prognostication service will get. Football is hard to predict (that's why fantasy is fun) and any site that is making a season's worth of predictions is going to have its share of misses.
Still, it would be encouraging to see more positive testimonials to balance out the complaints.
Wrapping-up this Fantasy Football Nerd Review
For seasonal players, Fantasy Football Nerd will generally be most useful before the season starts. It can be especially useful for player research and generating your draft order, but is not as valuable once the season starts.
On the other hand, Fantasy Football Nerd provides an extraordinarily cost-effective way to get lineup help with your seasonal and DFS teams. It is far less expensive than other higher-profile tools and software, yet it offers the same core lineup optimization features.
Other sites may have more skins on the wall, but Fantasy Football Nerd provides the most affordable fantasy tools in the industry. You won't need a Fantasy Football Nerd promo code or coupon to get their low, seasonal price of only $19.95.
Click the link below to check out their feature suite and decide for yourself. Let me know what you think in the comments below.