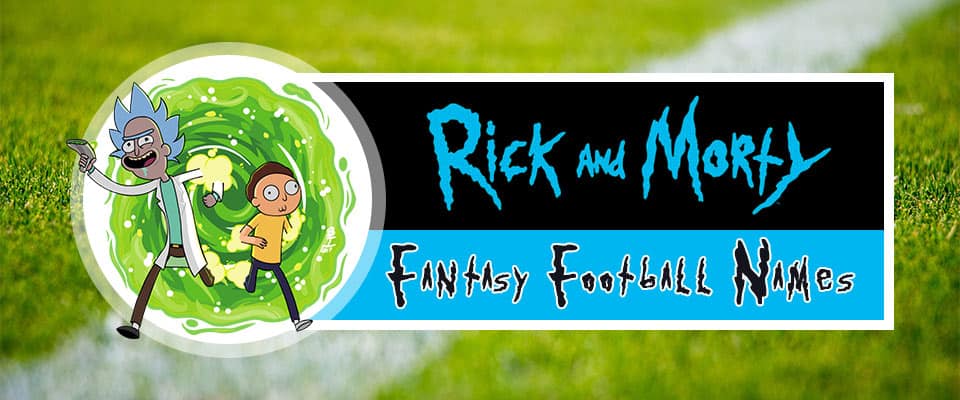 It takes a special kind of person to love Rick and Morty.
For one thing, you have to be smart enough to get down with jokes about Ernest Hemingway and Schrodinger's Cat. But you also have to be dead inside, able to accept that these jokes are about suicide and dead cats.
Here are some original and funny ideas for Rick and Morty Fantasy Football team names from across the interverse. Have a squanch, my glip glops.
Funny Rick and Morty Team Names
You can watch any episode of R&M and quickly find something that sounds like a Rick and Morty fantasy team name. Fortunately for you, I did the work for you.
Pickle-6 Rick
Blitz and Chitz
Alien Invasion Tomato Monster Mexican Armada Brothers Who Are Just Regular Brothers Running In a Van From An Asteroid and All Sorts of Things THE FANTASY TEAM
This may be the best Rick and Morty-themed name in existence. I just hope that there aren't any character limits.
Two Brothers
If there are character limits, this Rick and Morty team name should fit the bill.
The Squanch Squanchers
WubbaLubbaDouble-U
Is anyone else weirded out by the spelling of the letter W? If it's too creepy, you could spell it WubbaLubbaW's
Suggest a Rick and Morty Fantasy Football Team Name
Your name may be added to this post!
Rick and Morty Fantasy Football Names for NFL Players
Once you're done picking your Rick and Morty name, you're going to need an avatar. Lucky for you, I found this huge repository of avatar-worthy images.

You're welcome.
Ants In My Eyes David Johnson
Mr. Chris Godwinfold
Mr. Aaron Tophat Jones
Strawberry Sniggles – part of a well balanced breakfast!
Abradolph Eckler
Scary Terry McLaurin
Mrs. Refrigerator Perry
Rick and Morty Andersen
Yeah, he's retired (and a kicker). He's also second all-time in points scored and first in games played (out of everyone). So show some respect.
Also the pun was too obvious to ignore.
Rick and Morty Fantasy Football Team Name Generator
Rick and Morty Fantasy Football Team Names From Writers & The Community
Deep Cut Rick and Morty Names
Sometimes you're the only Rick and Morty fan in a league, and you have to go obvious with something like a Pickle Rick reference. But when you're in a league of Morticians (what I think R&M fans are called), you'll need to go a bit more obscure.
Sleeper Gary
Mrs. Pancake Blocks
You don't know me!
Hepatitis Seahawks
They're just good guys.
Check out our article dedicated entirely to Seattle Seahawks fantasy football names.
Legally Safe Knockoffs
Pirates of the Pancreas
Or, if you're a Tampa Bay fan, Buccaneers of the Pancreas – though that may be too much of a stretch for the lesser minds in your league.
Here are a bunch more Tampa Bay Buccaneer fantasy football names.
Fourth Dimensional Testicle Monsters of the Midway
Rick and Morty Fantasy Names From Around the Internet
These are alternate universe Rick and Morty fantasy names written by alternate timeline fantasy football team name writers.
Ball Fondlers
Rick and More TD's
Morty Niners
Shut Up Jerry
You could also just as easily do Shut Up, Morty or Shut Up, Summer. Rick tells a lot of people to shut up.
Gazorpazorps
The Flippy Nips
The Jan Michael Vincents
Meeseeks and Me Destroys
Schwifty Business
The Mega Seeds
Play well and you'll be the Mega 1st Seeds. Good luck this season, my scroopy noopers.