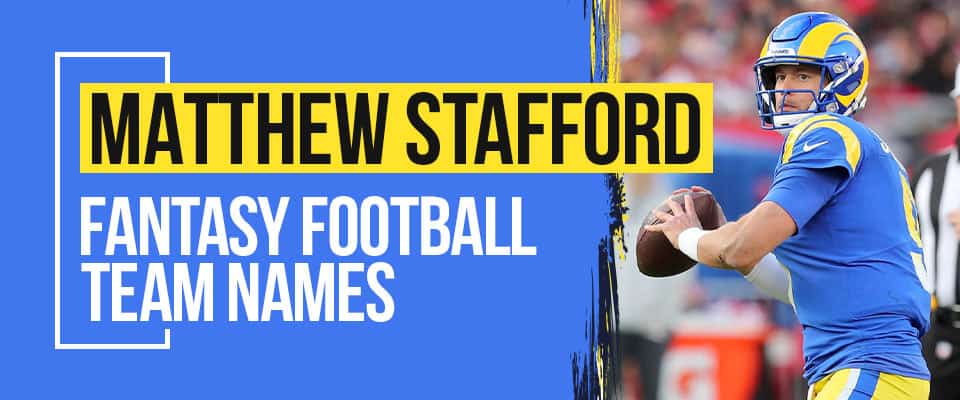 Matthew Stafford's career has been full of ups and downs.
He was the first overall draft pick, but it was for the Detroit Lions. He struggled with injuries but won Comeback Player of the Year.
He played eight straight seasons, and then he fractured his back. He bounced back again, got traded, then won the freakin' Super Bowl.
Here are some Matthew Stafford fantasy team names for a player that has earned it.
Matthew Stafford Fantasy Team Names for 2023
Here's a stat that shocked me: Matthew Stafford has only made one Pro Bowl.
He's the Lions franchise leader in everything. He's knocking on the top ten's door in many significant stats, and now he's got a Ring.
Get the guy in some Pro Bowls already. Geeze!
Mattsters of the Universe
Matty Light 6-Pack
Matt's a Bingo!
Matt's Amore
Mattaboy
StafFortnight
If that isn't specific enough for you, here are some more inside Fortnight names.
Staffortnight Battle Royale
Staffortnight Skins
Staffortnight Battle Pass
Staffortnight Dance
Staffortnight Event
Staffortnight Players Staffortnight Mobile
Out of the Staffordinary
OverStaffinated
If you trade Stafford or he gets hurt, you can change your name to DeStaffinated.
You Can't Stafford Not To
Staffordable Care Act
ExtraStaffordinary
SoFi Stafford
Is SoFiford going too far?
Matturaly
PreturMatturally Talented
The A Matterial
Matterial Girl
This is the perfect Matt Stafford fantasy football team name for the ladies.
We have an entire article dedicated to brainstorming fantasy football team names for women.
Matterial Object
The Matterial Realm
Staffortissimo
StafFort Apache
Pillow Staffort
Suggest a Matthew Stafford Fantasy Football Team Name
Your name may be added to this post!
Funny Matthew Stafford Fantasy Football Team Names
I wonder how Lions fans felt watching Stafford win the Super Bowl with another team.
Was it the feeling of watching that old friend who left your hometown and found success abroad? Or was it more like watching wedding videos of an ex and your much more impressive replacement?
If you're here looking for Matt Stafford's fantasy names, you must have love for the guy. And that's very Matt-ture of you.
Matt Journey's End
Matt Last!
Mattsimum Effort
You Can't Stafford It
Staffordinary Love
Staff Entrance
Matt the Drive-In
This Matt Stafford fantasy team name is for those fans of 90's indie rock.
Mattster of His Domain
If Matt First You Don't Succeed
Then get traded to the Rams, I guess?
Matt Risk Students
Matt Will Employment
Matt Your Service
Who Has The Last Staugh?
If that Matt Stafford team name doesn't make you laugh, here are some others that might:
Who's Staffing Now?
Staffing All the Way to The Bank
Staff Out Loud
A Staff a Minute
Matthew Stafford Fantasy Football Team Name Generator
Matthew Stafford Fantasy Football Team Names From Writers & The Community
Matthew Stafford Fantasy Names from Around the Web
It's depressing how many Matt Stafford fantasy names articles still have him in a Lions uniform. What I'm saying is you're lucky to have us, people.
Stafford and Sons
Stafford Infection
Inglorious Staffords
Stafford University
This Stafford team name idea has a solid pun, but Matty Staffs went to Georgia. Just sayin'.
The Stafford Wives
Francis Stafford Coppola
Well, Isn't Matt Special?
Props to whoever it was that came up with this Church Lady reference.
Built Stafford Tough
Ford Mattstangs
Team Names for Other NFL Quarterbacks
If you're looking for team names for other NFL quarterbacks, check these out.
More Matthew Stafford Fantasy Football Names
Do you have an idea for a runny or ridiculous Matthew Stafford fantasy team name? Put it in the comments below. We'll include the best ones in this list.