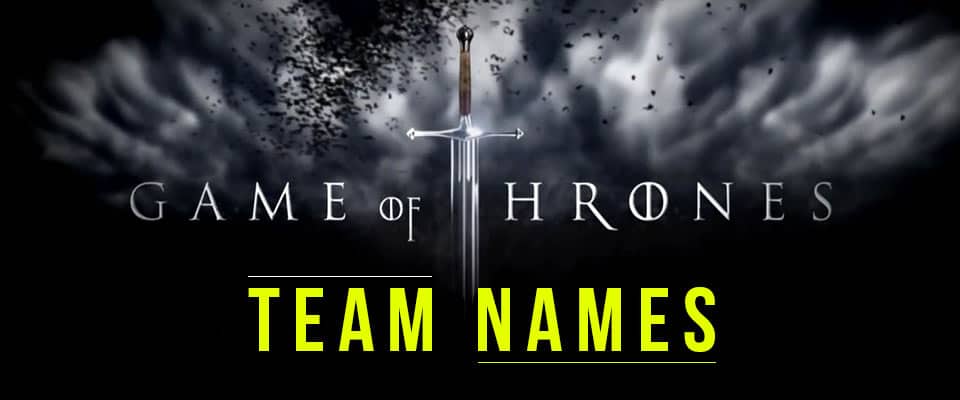 When you get right down to it, football and Game of Thrones are basically the same thing. At their core is a violent struggle for territory between warriors clad in body armor.
Opposing factions attempt to gain victory over one another in a bid for ultimate supremacy. And both involve massive head injuries.
The intersection of fantasy football and straight-up fantasy is natural, and I attempt to capture this in our compilation of Game of Thrones fantasy football team names. Use these GOT names in your 2023 leagues, for some Arya-style yuks, or inspiration for your own Game of Thrones puns.
Funny Game of Thrones Team Names
Think George R. R. Martin plays fantasy football? I bet he does. He's probably one of those managers that cuts players left and right, making you wonder if he even has a plan.
Westeros Coast Offense
Bill Walsh is the George R.R. Martin of the West Coast Offense.
I Drink and I Throw Things
Arya Stark's Facemask
Winner Is Coming
Offensive Hodoring
Or Defensive Hodoring, whichever team name you prefer.
Gridiron Throne
Dinklage and Dunklage Offense
A 40-Yard Dash of Kings
A Feast For Throws
The Pointy Endzone
First Drowned God
Sansa-tional Catch
We're Number Wun
Suggest a Game of Thrones Fantasy Football Team Name
Your name may be added to this post!
Game of Thrones Fantasy Football Names for Mascots
Some people would rather not look at the same dumb Game of Thrones puns all season long. Sometimes you just want a strong, fearsome name that you proudly carve on your league's version of the Iron Throne.
These Game of Thrones Team names are sure to instill fear in the heart of your fantasy football opponent.
Winterfell Dire Wolves
Targarian Dragons
Lannister Lions
If you want a super deep cut you could also go Casterly Rock Lions or Casterly Rock Lannisters.
Dothraki Horse Lords
The Unsullied
The Faceless Men
Vorathian Stags
Game of Thrones Fantasy Football Team Name Generator
Game of Thrones Fantasy Football Team Names From Writers & The Community
GOT Names Based on NFL Teams
There's room in the heart to love two things. You can root for your hometown team while also being passionate about serialized fantasy dramas with high production value.

These Game of Thrones fantasy football names let you show your fandom for the gridiron and the battlefield.
Valerian Steelers
Redskins Wedding
Or, if that's not dark enough for you, Redskincest.
Check out our article dedicate entirely Redskins fantasy team names.
Night Vikings
Check out our full list of Vikings fantasy football team names.
Denver Bran-cos
Detroit Lionnisters
The God of Titans and Wine
Davos Seahawk
Game of Thrones Nicknames for NFL Players
There's nothing quite as satisfying as the perfect medieval name that merges your favorite GOT character and NFL player. These Game of Thrones fantasy team names pay tribute to some of the more notable players in 2023.
Devonta FreeFolk
George R. R. Kittle
If you like this GOT team name, you'll love our complete list of George Kittle fantasy football team name ideas.
Keenan the North
Lord Christian McJoffery
Baker of Chains
Tyrion Matheu Lannister
Brady of Tarth
Check out our full list of New England Patriots team names.
'Fon Snow
You might say that Stefon Diggs is the Jon Snow of the Vikings offense. Or you might not, because that's a very confusing metaphor.
'Veon Snow
You might say that Le'Veon Bell is the Jets offense. Or you might not, because that metaphor was just used with the last name.
You Know Nothing Johnson
White Welkers
I know he's retired, but this was too spot-on to pass up. This will be best of all White Walker names for some time.
Dinkledgerin James
The House of Manningster
The last in the line of Mannings is finally gone. That is, until Arch Manning is ready to reclaim the throne.
GOT Fantasy Football Names Based On 'Song of Ice and Fire' Series
Before HBO came along, there was just the Song of Fire and Ice book series.
Saquon of Ice and Fire
Deshaun of Ice and Fire
A Tom of Ice and Fire
A Song of Rice and Fire
For those old-school Niners fans out there. Not for fans of the former Baltimore running back – he doesn't get any more fantasy teams named after him.
A Song of Ice and Kyler
A Song of Ice and Fuller
LeSean of Ice and Fire
Is anyone out there still rostering LeSean? Has he transitioned into mascot status yet?
Game of Thrones Names based on Danaeris Targarian
Danaeris TarGoreian
You can never kill either one.
Daknaeris Targetian
DeMaryius Targetian
Deshaunaeris Watsgarian
Mother of DraGoffs
Mother of Falcons
Derricknaeris Targarian, Mother of Titans
Ninaeris TarGaroppolo
Mother of Dalvins
Mother of Gordons
Game of Thrones Names based on Khal Drogo
Khal Drogo: the role that introduced the world to their future Aquaman.
Carr Drogo
Dal Drogo
Because Dalvin Cook is the Khal Drogo of the Vikings offense?
Check out our dedicated article on Dalvin Cook fantasy football names.
Al Drogo
Works for Alvin Kamara or Keenan Allen.
Game of Thrones Fantasy League Names
Why stop at medieval names for your fantasy teams? Go all the way and name entire your fantasy league (or create your division names) using Game of Thrones themes.
That is, unless you want to name your team based on Harry Potter.
The Masters of Coin
The Gridiron Throne
Arya Ready for some Football?
Game of Thrones Fantasy Names From Around the Web
Because there are people out there that have really put some thought into this.
Three-Eyed Baltimore Ravens
Arya Ready for Some Football
Alshon Joffery
Cleveland Brans
Cleveland Bronns
Cleveland Briennes
Why would he write three characters with such similar names? Weird choice, George. Weird choice.
A Feast for Flaccos
The Monday Night's Watch
The Dothrookies
Mover of Chains
New York Giantsbane
House of Chargeryen
Jameis Lannister
Theon Sanders
A Team Has No Name
Is this name a lazy cop-out or brilliant meta-commentary?