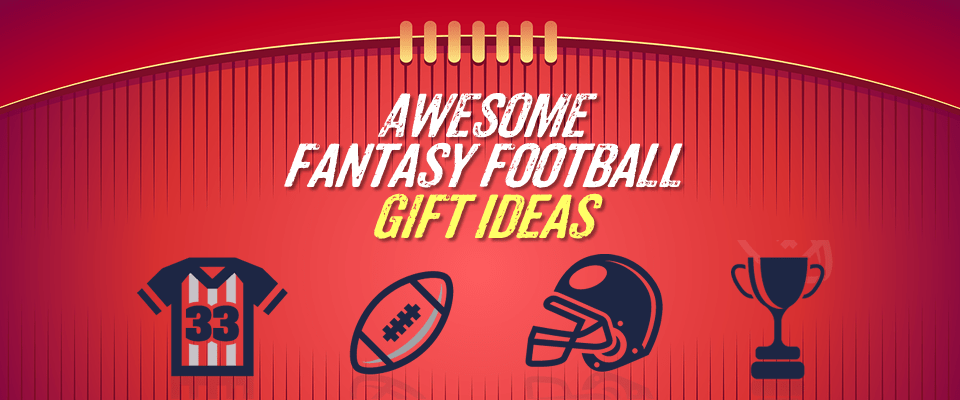 With more than 41 million people playing fantasy sports worldwide, chances are you, or someone you know loves to compete in fantasy football leagues. However, finding the perfect fantasy football merchandise for someone that plays this imaginary game can sometimes be a challenge.
But I'm about to show you some excellent fantasy football gift ideas to make their Sunday's everything a fantasy fanatic would ever want.
How about helping them find the ideal draft strategy with some fantasy football books? Maybe you can deck them out in fantasy football gear to wear while they watch their favorite teams.
We'll look at these ideas and more as I help you pick the ideal fantasy gift.
Help Increase Their Fantasy Football IQ
When Sir Francis Bacon said that knowledge is power, who could have known he was talking about fantasy football?
Let's face it, the fantasy football guru in your life wants to rocket to the top of their league. As such, they need the best, most up-to-date information available to pack their Sunday lineup with winning players.
Here are some cool gifts for fantasy football fans that will boost their fantasy football 411 while also keeping them one step ahead of the other losers in their league.
Send NFL and fantasy knowledge straight to their door
I love the behind the scenes information that you get from the USA Today Sports Weekly magazine. It offers excellent year-around NFL content to help with their fantasy football draft prep. Sports Weekly also has tons of in-season insight to find that diamond in the rough on the waiver wire.
A gift subscription to Sports Weekly will ensure they have year-round, actionable football metrics at their fingertips. Plus, they'll be thinking of you every week for a year as they receive their magazine.
As a bonus, if you indicate this is a gift at the time of purchase, they'll include a free card with your subscription! Oh, and MagazineLine guarantees that they have the lowest magazine prices.
In addition to Sports Weekly, a fantasy footballer would also get good value from these publications: Sports Illustrated, Beckett Football Magazine, and ESPN the Magazine.
Help them dive deep into winning fantasy draft strategy
Have you ever heard professional poker players talk about how they do not play the cards, they read the players? Fantasy football is no different.
Having useful information is only half the battle. Give a fantasy football lover insight into why their opponents do what they do, so they can understand what they are likely to do next.
Fundamentals for seasonal fantasy leagues
Every fantasy player has found themselves halfway through a season, muddling around in the middle of the pack and wondering how they got there. Don't just give them hope they will win their league, give them the tools to create a sound strategy roadmap to guide them week-by-week to the top of their league.
The authors of Fantasy Football For Winners promise that they will give you the blueprint to "win your league year after year until you are too senile to care." How can you go wrong with a gift like that?
They'll learn how to neutralize the impact of injuries (and inevitability in fantasy sports). This guide also covers trade theory in detail.
Winning strategies for daily fantasy players
More and more fantasy football players are supplementing their seasonal fantasy play with entries into daily fantasy sports contests. But this is a highly-competitive industry.
Fantasy Football for Smart People: The Hidden Psychology of Winning DFS will give them actionable insight into player psyche for daily fantasy. This knowledge can give them a leg-up in an industry where the average player is frequently shark food.
Daily fantasy football books are a useful resource for any fantasy football player, even those whose currently play exclusively in traditional leagues, as most seasonal players will eventually dip their toes into DFS.
Gear Designed for a True Fantasy Football Lover
If they're a fantasy sports fan, why not outfit them in gear explicitly made for a fake-sports buff? From jerseys to shirts and hats, fantasy gear is affordable, sometimes customizable, and a killer idea for a fantasy football gift.
Design a custom fantasy football jersey just for them
Would your fantasy legend be happy with second place in their league? I don't think so. So why let them wear a second-tier jersey?
The NFL Shop offers customizable fantasy football jerseys with numerous design options.
Just choose the themed jersey for their favorite NFL team, enter the name you'd like to appear on the jersey, and pick a number. These jerseys are 100% licensed by the NFL, so you know they're top-notch and the highest quality.
One interesting thing about this fantasy gift idea is that you can design the customizable components of the jersey right on their website. Just choose the team jersey, then enter a name and number. The site will then generate a real-time proof of how your custom-designed jersey will ultimately look.
Here is the one I created for myself:
The cool think about jerseys is they're a fantastic gift for fans of just about any sport. Whether its hocky, basketball, or even college football (check out our pick for the best gifts for college football fans), customized jerseys are a hit among sports fans.
Gift a fantasy football legend shirt & hat combo
Amazon has a large selection of affordable fantasy football shirt and hats. Promote your love one's fantasy legend with an accessory combo that will boost their ego and gain you some brownie points.
Gift a Subscription to Fantasy Football Tools
Fantasy players are always looking for advice and analytics that can give them an edge. Whether it's preparing for a fantasy football draft, trying to optimize our weekly lineups, or evaluating our league for trade opportunities, players need to the best fantasy tools to help us understand the dynamic fantasy landscape.
Several premium fantasy services that allow you to gift a subscription to their software. Of all the fantasy football gifts mentioned in this article, these are by far my favorite because they genuinely help you win fantasy championships.
A RotoPass Gift Subscription Provides Multi-Site Access
If you're willing to spend a few extra bucks on a fantasy football gift, you should consider a subscription to RotoPass. RotoPass is unique in that they bundle several fantasy football services together, giving you access to all of them for a substantial discount.
Veteran fantasy footballers will recognize names like FootballGuys, RotoWire, ESPN, RosterWatch, and Football Outsiders. If you were to purchase these services separately, you'd pay over 60% more.
You can purchase RotoPass as a gift, entering your email and payment information. RotoPass will send you an email with details that you can print and put in a card. You fantasy guru only has to follow these instructions to create their account and start leveraging the services (they won't have access to your payment information).
4 for 4 Offers Tiered Subscription Plans
A 4 for 4 membership offers access to some of the best fantasy projections in the industry. Fantasy Pros ranked John Paulsen, their senior editor, one of the top five fantasy experts in four of the last five years.
Accuracy is key to winning fantasy football as the players with the best projections tend to build the best teams. 4 for 4 has three subscription plans that would work for just about any budget.
This fantasy football gift would make sense for someone who you may not be able to see in person. That's because you can provide their contact details on the gift purchase page and they'll get everything they need in an email with a personalized message from you.
Fantasy Football Gift Cards & Gift Certificates
Why buy gifts for a fantasy football lover that you think are great when you can instead let him or her choose their gift! Alright, let's be honest. A fantasy football gift card is a fall-back option if you're completely out of ideas.
There are a couple of companies that specialize in fantasy football products and also offer gift cards. These types of gift cards are an especially thoughtful gift for people who operate their own fantasy leagues as they can be used to purchase draft supplies, league trophies, and other fantasy football draft gifts.
We'll look at two of these and also throw in a gift card geared more toward NFL merchandise.
Get the gift card designed exclusively for a fantasy jock
Buy a gift certificate to use toward a hand-made fantasy trophy
At Fantasytrophies.com, they sell hand-crafted awards to memorialize fantasy triumph. They like to say that their trophies define leagues. When you and your BFF see the quality of their work, I'm sure you will both agree.
The high-end products at Fantasy Trophies can get a bit pricey, so buying one of their gift certificates could help contribute to the purchase of one of these stellar league trophies. This gift idea would be especially suitable for the fantasy league commissioner in your life.
All things NFL in a convenient gift card
Jerseys, shirts, sweats, hats and collectibles, the NFL shop has everything a real football fan would ever need. If you can't find a suitable fantasy football gift, a gift card for football merchandise is the next best thing.
They're so confident in their product line that NFL Shop offers a 90-day return policy. Just return your gear in original condition with all the tags and labels still in place, and you will receive a full refund less shipping costs.
Fantasy Football Gag Gifts
Just as fantasy football is a absurd game, sometimes it's appropriate to give a gift that is equally ridiculous. Here are some ideas for gag gifts that will make them smile and laugh at the same time.
"I suck at fantasy football" merchandise
For those owners who just can't seem to put together a successful fantasy season, a little swag to highlight their shortcomings may be in order. These items are especially applicable to fantasy football leagues that have rules which explicitly dictate that the last-placed team be ridiculed in some way.
I wrote another article where I review specifically fantasy football loser trophies. If you're looking for a last place fantasy football trophy, you're sure to find a suitable gag trophy there.
Fantasy Football Gifts Made Simple
Regardless of whether you're buying fantasy football gifts for guys or girls, it doesn't have to be complicated. Thoughtful fantasy gifts are out there, but you have to know where to look.
You can apply these fantasy football gift ideas to Christmas presents, Father's or Mother's day gifts, or even as presents for a birthday.
Do you have any other ideas for fantasy gifts? If so, tell me about them in the comments below.