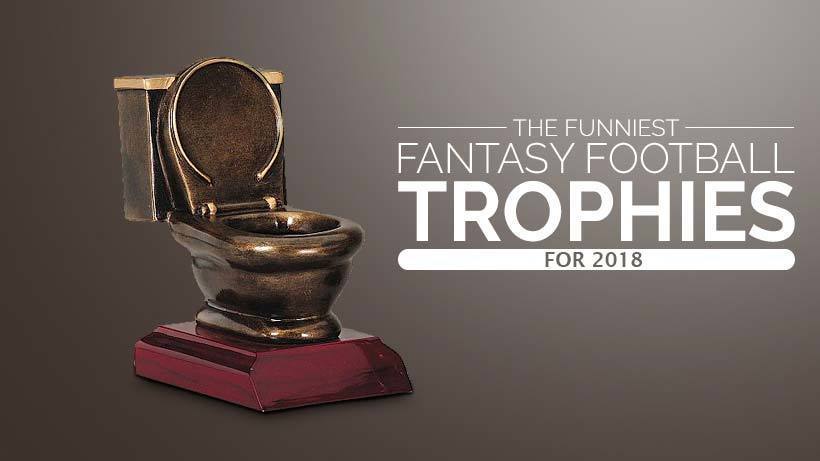 Fantasy championship prizes are a must for any respectable league. But let's be honest, only one owner in your entire fantasy league actually gets to enjoy that honor each year. The great thing about funny fantasy football trophies, for your league bottom-dwellers, is that they can be enjoyed by the entire league (ok, maybe everyone except for the owner who actually receives it).
There is nothing funnier than watching the last-placed team accept a loser trophy in front of the entire league at your fantasy draft. The funnier the trophy, the better.
And in much the same way that a fantasy championship trophy promotes healthy competition, a loser trophy helps to motivate the bottom-tier teams in your league to avoid the shame that comes with earning that dishonor. And let's face it, that shame is usually well-deserved.
More...
Here is a quick summary of the funniest fantasy football trophies for 2018 that I'll be reviewing in detail below. If you want to save some time you can click on these product links to check the current prices on Amazon.
Funny fantasy trophy buying guide
When researching the funniest fantasy football trophies for league losers, I narrowed my focus to the most humiliating trophies possible. In this review, I tried to choose a variety of embarrassing trophies to give you a wide range of prizes to choose from, based on your level of depravity.
Funny fantasy trophies are not very expensive
One of the reasons that every league should invest in a funny loser prize is that they are inexpensive. Also, these are not the type of fantasy prizes that are purchased every year. Loser trophies are generally purchased once and passed around from loser to loser, year after year.
In that sense, the comedic value they provide is well worth the one-time investment. Loser trophies also provide some incentive for the worst owners to actively manage their teams and start optimal lineups each week, which is never a bad thing- especially later in the season.
Which owners to recognize with a loser trophy
In most of the leagues that I've played, the loser trophy usually goes to the team that loses the final game of the loser playoff bracket. This game is aptly named the Toilet Bowl. As you'll see in the reviews below, one of the funny trophies specifically targets this pivotal game.
I've also been in leagues where the team with the worst record, or the team with the lowest point output, are recognized in some funny way. I generally prefer the Toilet Bowl approach because it also gives the worst teams something to play for late in the season.
Funny fantasy football trophy names
Most leagues crown the recipient of the loser trophy the Toilet Bowl Champion. In my leagues, we call this owner the League "Chumpion" (and the Toilet Bowl is re-branded as the "Chumpionship").
However, simply accepting the Chumpionship trophy isn't the end of the suffering for our last-place team each year. They have to endure other forms of humiliation that I'll describe next.
Other funny ideas for embarrassing the worst teams
For my leagues, one of our rules is that the loser trophy recipient has to display their trophy out in the open for all to see until the next fantasy season begins. This is to make sure they don't just go home and stick the trophy in a closet and forget about it.
In addition, the Chumpion does not get to name his fantasy team the following year. The championship team gets to name his team and also pick the team logo for the Chumpion. As you can imagine, this never ends well for the league loser.
Finally, the Chumpion has to serve as the "Sticker Wench" for the next year's live fantasy football draft. This means they are responsible for placing all of the player stickers onto the draft board during the draft proceedings. Oh and they also earn the worst fantasy football draft position.
All of these funny antics add to the hardship that is being the worst team in our leagues. It's a great motivating factor that our owners want to avoid at all costs.
The funniest fantasy trophies reviewed
In the next few sections, I'll review the best fantasy football loser trophies for your fantasy league. In choosing these trophies, I paid particular attention to cost, the reputation of the trophy merchant, and the satisfaction of the customers who have already purchased these items.
If your league loser is determined by a final game pitting together the two worst teams, then this Toilet Bowl championship trophy from Decade Awards will definitely fit the bill.
The picture of this fantasy football loser trophy doesn't give it justice as it is actually six inches tall! That's enough to garner some attention as it sits on the mantle of your league's worst team.
This is a customizable trophy on which you can add an engraving plate. Because this trophy is stocked by Amazon, it ships without a plate. But Decade awards will send you a free engraved plate to you with each order. You just send them the info after you've made your purchase.
Each plate can accommodate up to three lines of text. That's enough space to add the name of your league, the name you've given to your loser fantasy football trophy, and maybe another humiliating one-liner.
Well, let's just say this funny fantasy football trophy from Trophy Partner speaks for itself. If the league loser is wondering how they should feel after a pitiful excuse for a fantasy season, this trophy should make it quite clear.
Much like the Toilet Bowl loser trophy from Decade awards, this trophy is customizable with four lines of custom text on the front of the trophy. However, the text on this trophy is much more prominent as the plate is much bigger.
This trophy stands five inches tall, which is slightly smaller than the Toilet Bowl trophy, but still plenty big enough to make a statement.
Also, this is the only trophy in this review that can fit multiple plates around the sides for recording the owner and team names of all your worst teams over the years. The seller advises choosing these plates if you decide to go that route.
The is one of the more expensive trophies in this review, but also by far one of the funniest trophies on the market.
This Horse's Rear trophy from Decade Awards is their second entry into my best fantasy football trophies review. And yes, the rear-end of the horse actually bobbles if you shake it around.
This fantasy football loser trophy is customizable with three lines of text. At last check, you can actually specify the engraving instructions for this trophy at the time of purchase, so no having to go back and email Decade Awards to have a separate plate shipped.
The only complaint I've seen about this trophy is that it was once chipped during shipping. If we're being honest, that's probably fitting for what this trophy is meant to represent.
Your league will no doubt get a kick out of this funny loser trophy, pun intended.
Although this trophy doesn't exactly have a sports connotation to it, I still think it's a hilarious choice for a fantasy football loser trophy. I bought a ballerina loser trophy for one of my leagues that we have passed around for more than 10 years, and I always get a chuckle every time I see it brought out.
This stunning trophy from Awards R Us is antique bronze electroplated which means it will never fade, just like the memory of your owners' worst fantasy seasons. It's also a huge trophy, standing at just over a foot tall. That's almost as big as an Oscar! But way sexier.
Like the other trophies in this review, this award can be personalized with custom engraving. This is done by sending a message to the merchant after your purchase.
There are cheaper ballerina trophies available at Amazon, but this one is a beauty. For a one-time fantasy purchase that will bring your league years and years of joy I think it's well worth it.