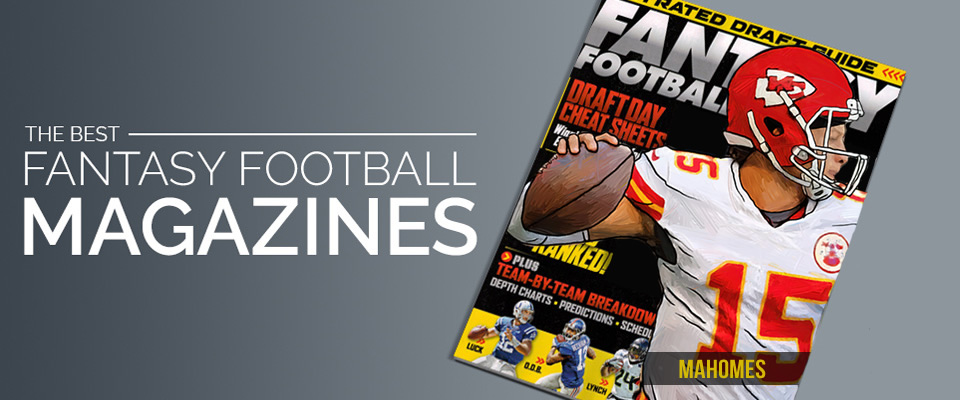 Today I'm going to show you how a fantasy football magazine can give you the edge necessary to out-perform your fellow fantasy owners on draft day. In this review of the best fantasy football magazines of 2023, I'll break-down the top mags in the industry and detail what makes each of them unique and valuable.
More...
The Best Fantasy Football Magazines of 2023
Fantasy Magazines are Crucial for Staying Informed
When it comes to fantasy football preparation, some owners who follow the NFL closely year round. They examine the NFL draft, team news, free agent acquisitions, and player movement with a magnifying glass.
I used to be one of these people.
As I've "grown up," staying up to speed on relevant NFL news has been replaced with real-life responsibilities like a career and children. Now when August rolls around, I typically find myself entirely out of the football loop.
I'm sure many other middle-aged fantasy owners echo this sentiment.
It takes a bigger person to ask for help
As my football knowledge slowly slips away with each passing season, I've become increasingly dependent on fantasy draft guides to quickly bring me back up to speed as my draft approaches. Fantasy football magazines have been a big help in this regard.
Fantasy football magazines are a great resource and provide fantastic value if you need to:
Quickly get up to speed on recent NFL happenings (trades, free agent signings, etc.)
Learn about new NFL rookies and their draft potential
Get summaries of team and player production from the previous year
Check out early player rankings and cheat sheets to begin draft preparation
Publishers pack fantasy football magazines with useful player data, but they are typically light on theory. If you're looking for a more in-depth guide, finding a fantasy football book that focuses on strategy may be a good idea.
In this article, I'll discuss why these fantasy football draft magazines can be so helpful to those of us who need a quick refresher on the changing NFL landscape. I'll follow this with five fantasy football magazine reviews, detailing how they can help you fill in those knowledge gaps so you can draft with confidence.
In closing, I'll crown the best fantasy football magazine for the 2023 season and explain why it should be your draft guide of choice heading into this NFL season.
Leveraging Fantasy Football Magazines to Gain an Edge
Before I considered purchasing a fantasy football magazine, I must admit I was very skeptical about their usefulness. I mean, with the way the fantasy landscape changes so quickly during the preseason, how could a printed fantasy sports magazine stay relevant for more than a week?
I'll take a closer look at this problem (and possible solutions) next. I'll also explain where the real value lies when purchasing a fantasy football magazine to aid in your draft preparation.
Avoiding outdated information in fantasy football draft guides
The truth is, many of the top fantasy magazines on the market are very comprehensive and provide fantastic value. They are worth a read even if some of the information is slightly dated.
Sure, some people will get injured in camp so the printed rankings and player evaluations won't always be 100% accurate in a magazine. But that doesn't mean the other 95% of the content isn't useful and applicable to your fantasy football drafts.
Still, people start to question a writer's credibility if they don't provide 100% current information, all of the time. If this sounds like you, keep reading as I reveal the methods some publishers use to maintain accuracy.
Four strategies to avoid dated fantasy advice
The fantasy landscape changes quickly. One injury to a key player can throw entire draft strategies out of the window.
And you know it will happen. It almost always does.
The last thing you want is to be that guy at your fantasy draft who picks a player on injured reserve because they're referencing rankings from a date fantasy draft magazine.
So how can you benefit from a fantasy football magazine and minimize the amount of dated information contained therein?
When buying a magazine, here are four ways to ensure you get the most out of your purchase.
1. Buy fantasy football magazines close to their publication date
The best solution to the problem of old player news is to get your hands on the magazine immediately after it's printed. Of course, this won't always be possible.
And there is still the chance that some players will get injured before the ink on the pages is even dry. But it goes without saying, newer printings are generally better.
When do fantasy football magazines come out?
New issues of yearly fantasy football guides & magazines usually start appearing at the beginning of June. These magazines are typically stats-centric, meaning they focus primarily on players' fantasy production from the previous year. In this way, their content remains relevant regardless of what happens during the preseason.
2023 fantasy football magazine release dates
Here are the release dates of the best and most popular fantasy football magazines:
2. Buy a weekly sports magazine subscription
Unfortunately, there is no such thing as a weekly fantasy football magazine subscription. That would be great to keep up with current events in the NFL. But when it comes to fantasy football, you usually get one publication per year.
But staying current on sports news throughout the year can be a smart move for a fantasy owner. It means you won't have to do as much cramming during the preseason to get ready for your draft.
3. Buy football magazines backed by websites
Another option to avoid dated draft advice is to buy a fantasy football draft magazine that has a sister website. This way, you can use the magazine as a base, then scan the site to get up to speed on any significant shifts in player values.
Every fantasy draft guide I review in this article is backed by a website.
Another obvious way to avoid the problem of dated fantasy football information due to magazine shelf life is to buy digital versions of the top fantasy magazines. Digital versions of magazines (Kindle, PDF, or otherwise) can be downloaded and updated quickly, which means you can download the newest version.
The best-selling fantasy football magazine in this review is available in Kindle edition. With a Kindle version, you can download updates regularly during the preseason.
Want to read the Kindle version of all supported fantasy football magazines this year, for free? Sign up for Amazon's free Kindle Unlimited plan. If you don't like the service (or you completely blow it at your draft) cancel the service before the 30-day trial is over and you don't pay a dime.
But if we're being completely honest, isn't most of the information you find in these magazines readily available on the Internet in some form or fashion anyway? Why even bother paying for a fantasy draft magazine?
This question brings me to my next and most crucial point about fantasy football guides.
Where the real value lies in a fantasy football magazine
When you buy a fantasy football magazine, you're not strictly paying for the wisdom it imparts. Yes, good content is essential. Otherwise, purchasing and reading them would be a waste of both time and money.
The real value of a fantasy football guide lies in its form factor. You're essentially paying these publishers to take the best nuggets of fantasy football goodness and condense them into a single, well-organized magazine that is easily (and quickly) digestible.
We buy a fantasy sports magazine because we don't want to do the work ourselves
The people whom a fantasy football magazine would benefit most don't have the time to scour the Internet for fantasy information, verify if the sources are trustworthy, page through hundreds of pages of player profiles, and transform all of this information into a coherent draft strategy and cheat sheet.
We need all of that information condensed down, organized intelligently, and delivered by trusted industry experts. This is the real value that a fantasy football magazine provides.
These magazine characteristics are the criteria that I'll now use to evaluate the top magazines for the upcoming 2023 NFL season.
Once you've adequately prepped for your fantasy football draft, how can you ensure that every one of your draft picks count? Wouldn't it great if you had your own fantasy GM to help you evaluate each potential trade?
I found just that when I researched the best fantasy football software for live drafts. Check out those programs as they are an excellent companion on draft day.
What is the Best Fantasy Football Magazine in 2022
My pick for the top fantasy football magazine in 2023 is the Fantasy Football Black Book. I buy this magazine every year because of the team previews, dynasty content, and insight on draft strategies.
It's consistently the #1 magazine in both football and fantasy sports on Amazon and is a must-buy for serious fantasy owners.
New Suggestions for a Fantasy Football Magazine?
Do you read a fantasy football mag that I haven't mentioned in this article? If so, tell me about it in the comments below. I'm always looking for new publications to review.