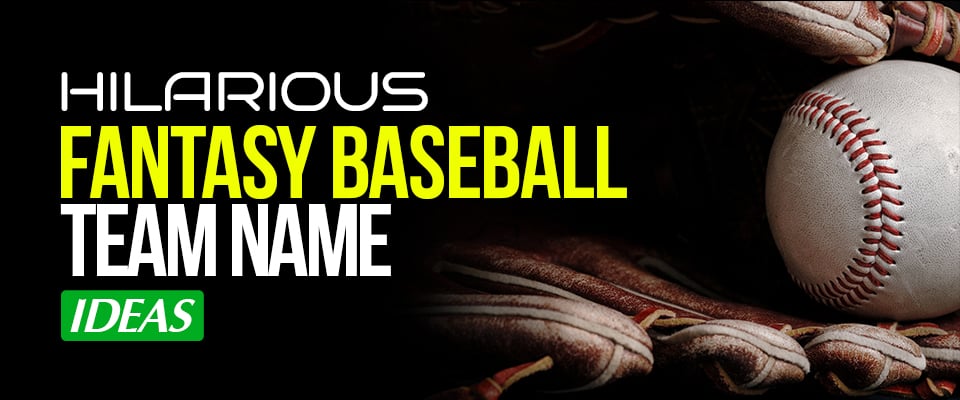 There are classic formulas for brainstorming awesome fantasy baseball team names.
Puns based on baseball slang
Puns based on a favorite baseball team or player
Baseball puns referencing TV, music, or movies
Non-puns, I guess? (not completely sold on this one)
Whether you're looking for clever, funny, or offensive, this article will help you find the perfect fantasy baseball team name for 2021.
Best Fantasy Baseball Names of 2021
Some people will tell you the person who won the playoff bracket is the champion. I say it's the fantasy baseball team with the funniest name at the end of the season.
So skip the draft and take your pick of the best fantasy football team names for 2021.
Big League Chew-pacabras
Let's Get it On Base
Smalls Killers
Spoiler alert: this probably won't be the last Sandlot-based fantasy baseball team name on this list.
The Queens Gambit
I was inordinately happy when I heard about this show. Not because I love chess particularly, but because new fantasy MLB team names this perfect don't come around that often.
This is definitely one of the top fantasy baseball team names of 2020.
BasebAll or Nothing
Troutliers
This is one of the best baseball fantasy names because Mike Trout is the ultimate outlier.
Ryu Jays
The Bryce is Right
U Down With OBP?
Yeah, you know means.
[HOMETOWN] [TEAMNAMES]
Meta.
Covid Fantasy Baseball Team Names
You know the old saying: tragedy plus time equals fantasy baseball team names.
VacciNationals
The Starting Covid-9
The Pand Lot
You're killing me, smalls. If by smalls, you mean coronavirus.
CovIdiots
This baseball fantasy name can even be a Johnny Damon 2004 Red Sox reference if that's your kind of tea party.
Justin Ventilator
More Astros fantasy baseball names to come.
Grandemic
Yasmani Grandal has been one of the only decent fantasy MLB catchers for the better part of a decade. Plus, you can sing his name to the tune of Raspberry Beret, which is fun.
J.D. Quarentinez
Winning is Contagious
Unprecedented Tims
Here's a fun fact: Tim Anderson is the only good active baseball player named Tim.
CoronaPirates
You can try Corona Rockies, if that's not too far of a reach.
Offensive & Dirty Fantasy Baseball Names
Like beauty, music, and barbeque, offensiveness is a subjective thing. That said, if you just made it through my list of coronavirus fantasy MLB names, you should be fine.
Now that you're warned, he's my list of NSFW, offensive, and dirty fantasy baseball names for 2021.
The Bichette is Back
This name is an especially dirty fantasy baseball name if you're a fan of Bo Bichette's dad Dante as well. And I was – big time.
Show Me Your Tatis
I have to admit this is my favorite NSFW fantasy baseball name.
Joe Buck Yourself
Story's Happy Endings
Bundy's Killin' It
Dylan, not Ted. That guy was actually not very cool.
Don't Bogaerts that Joint
Free Basers
Betts Sluts
Lowe Jobs
I'll break down this offensive fantasy baseball team name for you. Brandon Lowe hits home runs (i.e. baseball slang for jobs).
And there are no other meanings.
Biggo Sticks
I prefer the alternative, Bigg Sticks.
Dirty Bunts
Who Are These Fucking Guys?
Classic Fantasy Baseball Team Names
Here are some nostalgic fantasy MLB names if your league goes for class over crass.
And hey, if you are, hit me up! I'm always looking for a chill league.
New York Baseball Giants
Rockford Peaches
The 1994 Montreal Expos
A baseball fantasy name inspired by a true baseball tragedy.
Not in Our League
Lords of the Realm
This creative fantasy baseball team name is based on one of the great baseball books of all time. You get bonus points if you can do Lourdes of the Realm.
Lollygaggers
Lollygaggers is a classic phrase from a classic scene from a classic movie.
Schilling Me Softly
The Musial Suspects
Stockings and Spats
Brooklyn Tip-Tops
It's a very classy move to name your modern fantasy baseball team after a team from a bygone era. Honestly, I could do an article of just names of old baseball teams.
But here's a handful of my favorites:
Wilmington Quick-Steps
Pittsburgh Stogies
Cleveland Spiders
Newark Peppers
Baltimore Terrapins
Funny Fantasy Baseball Name Ideas
How do baseball players keep in touch with each other? They try to touch base when they can. [Hold the applause]
Yep, I saved the funniest fantasy MLB names of this section.
Good Eye Mates
Acuña Matata
DJ Trea Turner's Tray Turners
Lugo My Yugo
Seth Lugo is a pitcher. The Yugo was a car. Leggo My Eggo was a slogan.
In this hilarious fantasy baseball name, it somehow all works together.
In Didi Did
RBI'd for Her Pleasure
I Just Mets You, So Call John Mabry
Ozuna or Later
Max Fried Chicken
When it comes to funny fantasy baseball names, you can Frie anything:
Fried Dumplings
Fried Fish – even better if he ever gets traded to the Marlins
Fried Cauliflower
Fried Snickers
Cool Fantasy Baseball Team Names
Here is my list of cool fantasy baseball names for your 2021 team. That is, assuming you trust a middle-aged white dude's evaluation of what's cool.
Velociraptor Paddack
Zen Cohen
If anyone can afford to be cool, it's baseball's richest owner.
JoeGallos
Woop-Woop.
The Lindoors of Perception
This cool fantasy baseball name is simultaneously a Doors reference, a William Blake reference, and a reference for absolutely nobody.
Nelson Cruz Liners
Tim Bandits
The coolest fantasy baseball team name because Tim Anderson steals bases while the Time Bandits steal hearts.
Rays Bannon
You can even expand this fantasy baseball name into Rays Bannon's Quest if you feel like going deeper.
Snells Like Team Spirit
This idea is a grungy fantasy baseball name for us products of the 90's.
Homestead Gray Aliens
Rico Suarez
A suave fantasy baseball name. Go ahead, you know you want to sing it.
Clever Baseball Fantasy Team Names
These clever fantasy baseball names are like a left-handed power bat off the bench. They aren't always needed, but at the right time and place can crush it.
And the Teoscar Goes to…
Glasnow and Peristroika
Declaring Marcell Law
Detroit Tigers' Neighborhood
The parents out there will get this clever fantasy baseball name.
Royals Hobbs
Naturally.
Dansby Swansong
The Yoan and the Restless
deWallace and deGrom
Release The Kraken of the Bat
Stone Cold Loch Ness Monsters
Cubs Fantasy Baseball Names for 2021
Why Cubs fantasy baseball team names? Remember, it's always 2016 somewhere.
Cubby Hubby
Wriggly Feels
Twirling Darvishes
Hayward Jablome
Mr. Mago
What I love about Javy Baez is how he makes even the most mundane aspects of baseball seem amazing. To see what I mean, check out this highlight reel of nothing but Il Mago's tags.
Rizzo and Isles
Schwarber Shop
The Life of Bryant
A to the Rizzo
Lester We Forget
Astros Fantasy Baseball Names
Guys, 2017 was in the past, ok? We don't need to keep making fun of it.
Well, maybe a little more fun.
Tipped Bitches
Astroisks*
I won't say that the Banging Scheme invalidated the Astros championship, but it was definitely trashy.
Codebreaks and Pains
Dark Arts Holes
Bang the Trash Can Slowly
This Astros fantasy team name is a classic baseball tearjerker reference made modern with a little Astros shade.
Series Bregulars
Bregging Mantis
Greinke Blackness
North Correa
The River Yordan
Framber Colored Energy
Tucker Gently
Kyle Tucker looks like he's going to be effective for a long time. I love this because you can integrate Tucker into so many fantasy baseball names (most of them dirty):
Mother Tuckers
Tucker Yourself
Tucker? You Brought 'er.
Tucker Once for Me
Tucker Everlasting
Out of Tucks
Tuckered Out
Dodgers Fantasy Baseball Team Names
If you don't have at least one player from your favorite team on your roster, you have no heart. But if you have more than two players from your favorite team, let's hope you're a Dodgers fan.
In that vein, I present my Dodgers fantasy team names for 2021.
Brooklyn Trolley Dodgers
See my previous comment on defunct team names.
Seager and Destroy
You could name your fantasy baseball team Seag and Destroy if you trust your audience.
Kershawshank Redemption
Walker Buehler's Day Off
Buehler. Buehler. Buehler.
I like it with the periods because it really sells the Ben Stein inflection.
Ring My Bellinger
No Uri
This fantasy baseball name translates to no hurry. But you could also go with No Uris, as in no worries.
Joc Itch
I Like Big Betts
And I cannot lie.
All Betts are Off
Do you guys remember all those great catches Mookie Betts made in the 2020 postseason? That doesn't have anything to do with these names- just like thinking about it.
Yankees Fantasy Baseball Team Names
Why Yankees fantasy baseball names? Because no one else ever actually wins the championship, they're just holding it for the Yankees.
Null and Voit
LeGhosts in LeMachine
Aroldis Royce
Gleyber Day
My apologies to John Sterling for this Yankees fantasy team name.
Gleyber Union
Babe Ruthless
This Yankees fantasy baseball name also doubles as a Whip It reference.
Lords of the Rings
Funky Cold Mussina
Los Yanquistadores
Yank Bank
Fantasy Baseball League Names
Because you and your buddies are better than just being called Yahoo League #113459.
Made-up League Baseball
YaWho's Counting
BeLeaguered
Real Life Fantasy Friends
Fantasy Sports for IRL Dorks
Majorly Based Lads
League Me Alone
Rotocops 2021
UTILitarians
Union of Ten Idiots League
Or UTIL for short. Also it very handily works for both 10 and 12 team leagues.
The Components of a Good Fantasy Baseball Team Name
Good fantasy baseball team names are a slick combination of a creative baseball pun (or not), notable or current events and inside jokes topped-off with a blast of irreverence. But the truth is, the best fantasy baseball names simply make your fellow owners laugh (or cringe).
Do you have more ideas for funny fantasy baseball names for 2021? Tell me about them in the comments below. I'll add the good ones to the list and create some logos for the top fantasy baseball names.