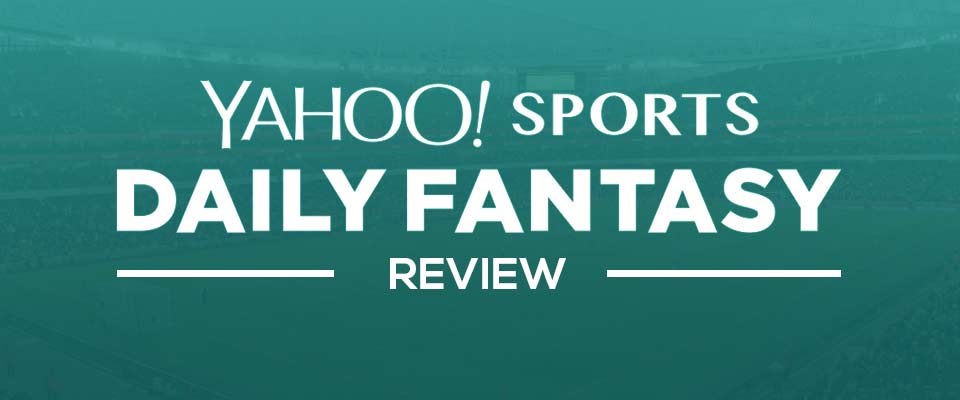 In a daily fantasy sports world dominated by DraftKings and FanDuel, Yahoo has managed to establish a viable DFS platform of their own. And it's pretty darn good!
By implementing a clean user interface and beginner-friendly features, Yahoo DFS carved out a sizable market share by transitioning their traditional fantasy user base to daily fantasy.
In this Yahoo Daily Fantasy review, I analyze the significant strengths and weaknesses of this daily fantasy sports platform. From the contest lobby to the research section and referral program, I'll help determine whether Yahoo Daily Fantasy is worth your time and investment.
Yahoo Daily Fantasy is one of the more polished fantasy sports platforms on the market. It features a main lobby supporting contests in each of the four major sports leagues (NFL, NBA, MLB & NHL) in addition to Soccer and Golf.
The intuitive user interface allows you to manage your current contests and leagues with ease. You can even create custom contests and leagues, which makes this Yahoo DFS feel a bit like the seasonal leagues we all know and love.
Yahoo Sign-Up Special
New sign-ups receive 1000 Yahoo! Sports Reward Points to use when entering paid contests.
A ton of low entry-fee and rookie-only tournaments make Yahoo a beginner friendly DFS host.
Members earn YSRP's as they enter more contests and can even earn rewards for referring their friends.
Yahoo DFS is a user-friendly platform with a clean desktop interface and a free mobile app for both iOS and Android.
Is Yahoo Daily Fantasy For You?
Yahoo is a familiar face online, but they aren't the first name that comes to mind when you think about daily fantasy sports. If you're new to DFS, or just looking to give a new daily fantasy site a try, should you consider Yahoo Daily Fantasy Sports?
Let's review some of the factors you should consider when evaluating Yahoo as a daily fantasy host.
Beginner contests let you play without a huge commitment
Are you considering joining a DFS site and looking for a place to get your feet wet? If so, Yahoo Daily Fantasy Sports is an ideal training ground.
While there are some contests with a higher entry fee, many contests with an entry fee under $5. A quick browse through their contest lobby showed there are 50+ contests (across four sports) under $2. And that is during the NFL offseason.
These beginner-friendly features help ensure a smooth transition into DFS that won't prove to be too costly for new players.
Yahoo Daily Fantasy Sports covers the biggest leagues
Unless you're into playing DFS in the most obscure leagues, Yahoo DFS should have you covered. They host contests and DFS leagues for the most popular sports leagues:
Yahoo Daily Fantasy Football offers freerolls with huge payouts
Yahoo's fantasy football leagues have been around forever, and they're trying to make an even bigger splash with their fantasy football DFS contests. For instance, Yahoo's annual NFL Yahoo Cup is a single-entry, season-long DFS tournament with over $150,000 in guaranteed payouts and a $1,000,00 grand prize to anyone who can configure a perfect lineup.
The NFL Yahoo Cup is a freeroll contest (i.e., completely free to enter), so there's no reason you should be on the sidelines for this tournament.
Yahoo Daily Fantasy Basketball incorporates a utility roster spot
Yahoo's DFS basketball tournaments are similar to other DFS sites, but with some interesting twists. For instance, Yahoo has introduced a utility position into all of their lineups.
The utility position is similar to the flex position in fantasy football. The only difference is that you can designate any player as a utility player, regardless of their position.
Much like their big NFL free tournament, Yahoo daily also hosts an NBA Yahoo Cup tournament. This tournament is a season-long free-roll contest with $25,000 in total prizes and a $10,000 grand prize.
Yahoo Daily Fantasy Baseball emulates other DFS hosts
Major League Baseball was the first sport that Yahoo offered when they entered the daily fantasy arena. Yahoo Daily Fantasy Baseball is very similar to DraftKings (check out my DraftKings Reviews) and FanDuel when it comes to roster rules and configurations.
There is no season-long freeroll tournament for daily baseball at Yahoo, but they offer most contest types and tons of both low-price and high-price tournaments.
Yahoo Daily Fantasy Hockey eliminates the utility roster spot
Unlike their daily basketball lineups, Yahoo's Daily Fantasy Hockey rules dictate that there ​is no utility position. This lineup configuration is in contrast to most other DFS hosts that include the utility position for all hockey contests.
Although NHL isn't their most popular daily fantasy sport, there are many contests to enter. At the time I'm writing this Yahoo DFS review, I can count over 100 hockey contests available for an entry fee of $20 or less.
Hockey double-up contests are a favorite play among DFS experts as they're the easiest to win if you employ the right strategies.
Yahoo Daily Fantasy Soccer Supports UCL and EPL leagues
Yahoo only accept and disperses money through PayPal
PayPal is the only method of deposit and withdrawal at Yahoo DFS. If you don't have a PayPal account and don't intend to open one, you'll have to look to other DFS hosts.
If you've never used PayPal before, you're missing out. PayPal is a simple, safe, and quick way to transfer money online. And it's way, way easier than dealing with credit cards that expire and could get stolen.
When you request money from Yahoo, you can expect to get paid within two business days. You can sign-up for a free PayPal account here.
The Key Features That Set Yahoo DFS Apart
Established in 2015, Yahoo Daily Fantasy has rapidly risen to prominence and as a viable alternative to industry titans like DraftKings and FanDuel (I wrote a review of FanDuel if you'd like to learn more about them). Due to Yahoo's huge fantasy user base, contests on their DFS platform receive consistent action and offer considerable payouts.
Let's look at some of the ways that Yahoo daily differentiates itself from other DFS sites.
Yahoo Daily Fantasy prioritizes fair play on its platform
In an industry dominated by a few major DFS hosts, Yahoo recognized that they have to offer unique features to stand out. To that end, they have implemented standards that help them attract DFS newcomers and maintain fair play.
Here are some creative ways that Yahoo DFS has carved a niche and attracted a loyal daily fantasy player base.
Limiting contest entries from each participant helps levels the playing field
Larger DFS site rarely place significant limits on the lineups you can submit to tournaments. DFS experts exploit these contests by entering many lineups, significantly increasing their odds to finish in the money.
This strategy of entering contests in volume leaves players who submit a few lineups at a considerable mathematical disadvantage.
For every 100 entrants in a Yahoo contest, you can submit an additional lineup of your own (but only up to a maximum of 10 entries per contest). This limitation ensures that you have a realistic shot at winning money in large, guaranteed-prize tournaments.
Using scripted contest management tools will get you banned
Another way that DFS sharks gain an advantage is by entering many different contests. If the sharks can gain a small edge in each contest, they can generate more substantial returns as their number of games they enter increases.
To manage the many contests it requires to gain a significant advantage, DFS experts leverage software that helps to manage their many contest entries. Tracking every contest manually (and making the necessary lineup changes as the games approach) isn't efficient or practical at large scales.
Yahoo strictly prohibits contest management using scripting tools or software. Any users caught leveraging lineup management software will be banned.
Prohibiting contest automation software is another way that Yahoo aims to level the playing field and build a loyal user base.
Yahoo DFS is a beginner-friendly platform
The Know Your Opponents initiative is another differentiating factor for Yahoo Sports Daily Fantasy. Yahoo strives to categorize their players so that you compete against players of a similar skill level in things like head-to-head contests.
Yahoo brands successful players as Veterans
Players who have achieved a certain level of success at Yahoo DFS will earn the Veteran badge. As a beginner, you'll see contests where veterans participate because Yahoo marks with a 'V'.
Historically, players have earned veteran status by doing some combination of the following:
Rookie Only contests ensure you compete against comparable players
Rookie Only contests are open to players who have entered less than 51 contests and meet none of the Veteran status criteria. Yahoo labels these contests with an 'R' icon.
Yahoo fantasy daily goes out of their way to prioritize their new customers and ensure that they have a positive experience. For DFS newcomers, this is an ideal opportunity to learn the ropes before you face stiffer competition.
Yahoo Sports Rewards Points can be used to enter paid contests
Users earn Yahoo Sports Rewards Points for participating in contests and recruiting new users. YSRP's can be used instead of cash to enter paid contests, but you can withdraw the money you win from these contests.
Some of the common ways you can earn YSRP's:
YSRP's expire if you haven't used them after two years.
The Lobby is as good as you'll find in the DFS industry
Another strong point of Yahoo Daily Fantasy is the simple and straightforward user interface. Using the extensive filtering and sorting capabilities, you can quickly find suitable contests for your taste and budget.
Free research tools help you prep for contests
Solid research is the easiest way to gain an edge as a DFS player. The Yahoo Daily Fantasy Research section provides player news and projections that can help you set smart lineups.
Of course, if you're playing in big tournament contests, you probably want to avoid Yahoo's advice. If you do, you'll be starting the same players as everyone else who is relying solely on Yahoo for lineup advice.
But for head-to-head contests, it's convenient to get reliable player recommendations at Yahoo without having to scour the web.
The Yahoo Daily Fantasy App is essential for serious players
If you're going to be a consistent winner in daily fantasy Yahoo contests, you need the ability to adjust lineups at a moment's notice. If you're away from your computer, you need to be able to swap players quickly based on player trending news.
Yahoo has a free daily fantasy app for both Android and iOS. Both are rated as the #1 fantasy sports app on their respective platforms.
Yahoo Daily Fantasy Sports is a Trusted Brand
Yahoo is a trusted brand, so you know they won't make off with your money. 2019 marks the 4th year that Yahoo Daily Fantasy Sports has hosted contests, and there are no signs they'll be closing shop any time soon.
In 2018, Yahoo awarded over $1,000,000 in overlay prizes. Yahoo Daily Fantasy Football had several $250,000+ guaranteed prize tournaments, and they even offered a $1,000,000 payout for anyone who configured a perfect lineup.
All this means Yahoo was willing to lose money to grow their DFS user base.
Wrapping-up this Yahoo DFS Review
Yahoo isn't the most popular DFS host in the industry, but they're a reputable site and a viable option for both daily fantasy novices and experts. If you already use Yahoo for your seasonal fantasy leagues, transitioning to DFS should be seamless.
Yahoo Daily Sports is also a great DFS site for beginners, putting controls in place to ensure you face comparable competition. Beginner-only contests, limitations on scripting, and badges for experts all ensure you'll have a positive experience as you learn the DFS ropes.