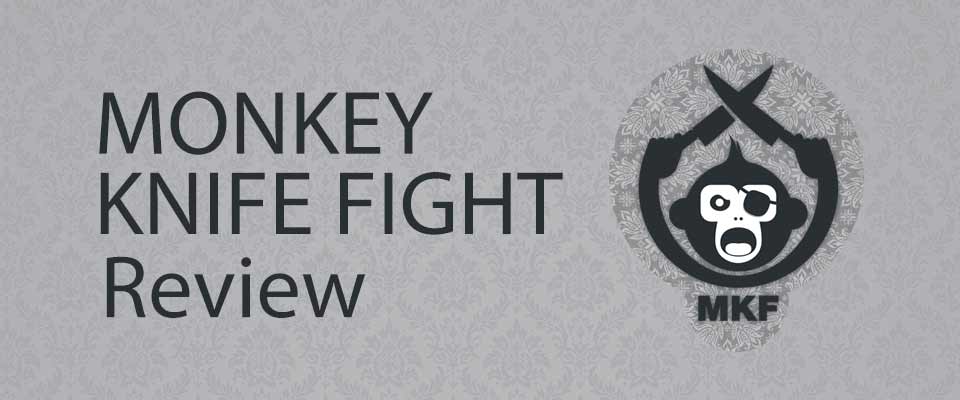 If you dabble in DFS but hate pouring through stats and building lineups, prop bets might be the answer. Somewhere between daily fantasy sports and general sports betting lies Monkey Knife Fight, a new site that can satisfy that weekend wagering fix without the considerable time investment.
In this Monkey Knife Fight Review, I detail how their unique prop games differ from the analytics-heavy world of your typical daily fantasy site.
Monkey Knife Fight offers a wide variety of contests that ask you to make predictions (i.e., bets) about specific players. The more predictions you bundle together (think parlays), the more money you win if they are all correct.
Monkey Knife Fight is a dead-simple alternative to DFS sites that require a significant amount of research to be competitive. Instead of competing against other players, you're playing against the house. Just make two or more correct projections, and you're a winner.
Monkey Knife Fight 2019 Sign-Up Deal
Their initial 100% deposit match is very generous compared to other DFS sites.
Because all of their games involve prop bets, it's easy to get in on the action.
Earn $25 by referring your friends to free games and having them sign-up.
There is no dedicated app, but the mobile version of the site is excellent.
Comparing Monkey Knife Fight to DFS Sites
Sometimes I don't have the time to play daily fantasy sports effectively. And as anyone who has dabbled in DFS lately knows, it can get costly if you don't know what you're doing.
It takes a significant amount of research time to consistently create winning lineups on sites like Fantasy Draft or Yahoo Daily Fantasy. And you have to stay on top of your lineups all the way to roster locks if you want to have a chance to generate positive cash-flow.
That's a significant time investment.
The great thing about Monkey Knife Fight is that the types of games are very straightforward. Because you're making common bets like over/under, there isn't much homework required.
Just pick a sport you frequently follow, evaluate the game options, and you'll be playing prop games in seconds.
Picking a game and a contest is intuitive
I am a huge NHL fan and have a pretty good knowledge of players, teams, and match-ups. So I jump on Monkey Knife Fight and choose from tonight's games.
From there, I select from a variety of contests for that specific game. Different contests require that you make a different number of projections to win.
Bets can be as simple as picking the over/under on a game to predicting stats like goals or shots.
How MKF games are different from traditional DFS contests
In most Monkey Knife Fight games, you are betting on the performance of specific players. You don't need to know how his team will do, but rather how he will perform in one specific statistical category.
Everything is simplified.
Sports supported at Monkey Knife Fight
Monkey Knife Fight supports several sports. Currently, you can play games associated with the following pro sports:
Monkey Knife Fight promo code for deposit match
At the time I'm writing this Monkey Knife Fight review, they're running a promotion where they'll match your initial deposit of up to $100 when you use the promo code: CSWR.
Currently, the only other DFS site that is offering a deposit match (currently offering a 110% bonus) is FanPicks. I wrote a FanPicks review that evaluates that service in detail. Check it out if you're looking for a DFS site that offers tons of college sports contests.
Like most betting sites, you will earn the deposit match gradually as you play more games.
Who can and can't enter contests on Monkey Knife Fight
You must be at least 18 years old to bet on Monkey Knife Fight. You must live in one of the approved states and be able to show proof of residency.
Getting started at Monkey Knife Fight
Make a deposit using a debit or credit card
When you are ready to start making bets, you need to add funds to your account. Monkey Knife Fight lets you make deposits using either a credit or debit card.
Press the "New Game" link to start making predictions
Click on the "New Game" button in the left sidebar, and you'll see a lists of all the games available for that day. Once you choose a sport and game, select your contest and make your predictions.
The amount you can win depends on the sport and contest type. For example, for a typical NBA game you can earn anywhere from 2 to 14 times your bet.
Winning 14 times my bet sounds good, so what is the catch?
To double your money, you have to make two correct prop bets (for instance, over/under picks). But as you might expect, the more massive payouts require that you correctly predict a more significant number of outcomes.
For instance, you want to win fourteen times your money you'll need to be correct on your over/under choices for five players.
Below you can see the sample payouts for a typical five-team parlay in sports betting. Whereas the odds for a standard parlay are 25-1, MKF only pays 16-1.
Keep track of all your bets in the dashboard
The Monkey Knife Fight Dashboard keep track of all your bets. It shows upcoming, live, and completed contests/games.
Show me the money
Since we all assume we're going to win a ton of money, we'll want our winnings in a timely fashion. Monkey Knife Fight issues payments either via paper checks or e-checks delivered via email.
The smallest withdrawal amount is $20, and it usually takes 1-3 days to process a withdrawal request.
Invite your friends and earn extra rewards
Monkey Knife Fight offers a way to get your friends involved. To do this, enter a game and then specify your friend's email address to invite them to a free $10 game.
When your friend registers, they will get the same promotional deposit match that you did. And when they do sign up, you get a $25 referral fee!
Updated on