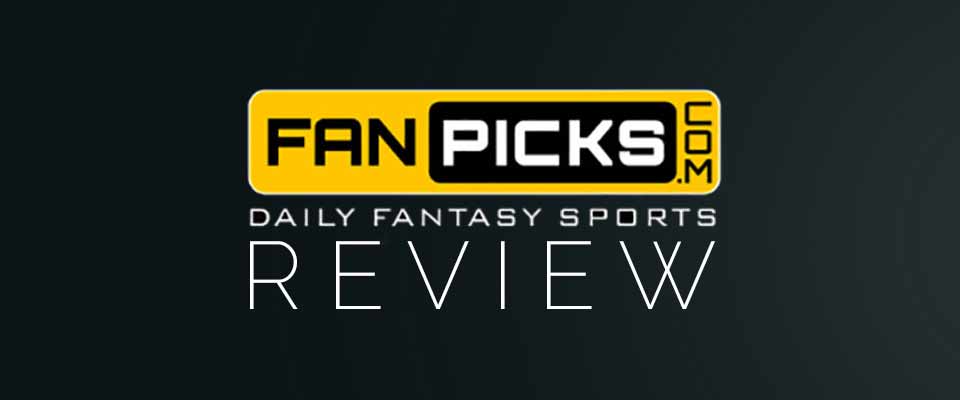 It's no secret that DraftKings and FanDuel dominated the Daily Fantasy Sports (DFS) industry. Their control of the market has forced smaller DFS hosts to carve out a unique to survive.
One of these sites is FanPicks, considered by many to have the best college sports contests of any daily fantasy site.
In this FanPicks review, I'll reveal the most exciting features that the site has to offer. From the sign-up bonus to the NCAA contest offerings and ongoing promotions, I'll help you decide whether FanPicks is for you.
Established in 2015, FanPicks has emerged as a popular daily fantasy platform in a competitive DFS space. They gained prominence and maintain a loyal user base by hosting the most college sports DFS contests of any daily site.
A generous sign-up bonus and ongoing promotions highlight the importance they place on customer satisfaction and retention. If you're into college sports and DFS, then FanPicks is the best around.
FanPicks Sign-Up Special
If you join today, FanPicks will match your initial deposit (100%) plus enter you in a free contest to win an additional $100.
No beginner-only contests, but they host a significant number of free or low-cost contests.
Unique Features Make FanPicks an Attractive Host
The big draw to FanPicks is their investment in daily college sports contests. Whereas the bigger DFS hosts have avoided college sports for potential legal reasons, FanPicks staked their future on it.
New users are also drawn to FanPicks by their deposit bonuses, a perk that other daily sites abandoned years ago. Let's look at these and other reasons why FanPicks has managed to thrive in a highly competitive market.
The most college sports contests of any DFS host
If you're a fan of college sports, you should at least check out the breadth of FanPicks' NCAA contests. They are the only DFS site that places a heavy emphasis on college athletics.
At the time I'm writing this FanPicks Review, there are over 150 NCAA basketball contests in their lobby. Entry fees for these contest range from free to $100 and payouts are as high as $1000.
FanPicks is a small but targeted DFS site
FanPicks doesn't have near the user base of FanDuel or DraftKings (Is DraftKings Legit?). Those two companies combined have over 12 millions users (I wrote a separate Fan Duel Review if you're interested)!
But this doesn't necessarily have to be a bad thing.
A smaller user base will admittedly lead to smaller big tournament payouts. However, this also means there are fewer sharks and more opportunities to identify lucrative contests.
A Review of the New FanPicks Experience
FanPicks has overcome some past criticisms to become the viable DFS host you see today. Several factors have contributed to the turn-around:
The new and improved contest lobby is much easier to navigate
FanPicks has a much cleaner and easier to use interface than it did just a couple of years ago. Where it was once a hindrance to use their site, I now find the FanPicks lobby much easier to navigate.
If you're new to DFS, the How It Works and Rules pages provide all of the information you need before entering a contest. Here is one of their instructional videos on the basics of salary cap football contests.
FanPicks has streamlined the withdrawal process
Withdrawal options had been an issue in the past. However, improving this aspect of their services has been a focus of the FanPicks team.
Now, virtually any money you earn in FanPicks contests is available for immediate withdrawal. And there is no arbitrary minimum limit as there was in the past.
You also get your money much faster. For this review, I requested a few test withdrawals. FanPicks processed both requests in full within 24 hours (I tested both PayPal and bank transfers).
FanPicks does run on an 8-5, M-F schedule. So if you want to receive your withdrawal in a timely fashion, try to make your request at the beginning or middle of the work week.
A new emphasis on customer satisfaction and responsive support
In their earlier years, FanPicks didn't have the most exceptional track record when it came to support. But they claim to have re-invested in this side of their business.
As part of this review, I made three separate customer service requests over two weeks. They resolved every ticket within 12 hours.
Try this FanPicks promo code for an extra 10% deposit match
FanPicks recently began a promo where they match even more of your initial deposit bonuses. If you use the promo code 'FREE10', you'll earn a 110% bonus on your first deposit (usually only 100% match).
As usual, you'll also receive a free entry into a contest where you can win another $100.
Side Jackpots give you two chances to win certain contests
Contests with side jackpots (marked with an "SJ") give you an additional way to earn money. If your roster scores over a certain total, you'll win a dedicated pot that grows over time.
I took a snapshot of the Side Jackpot as I'm writing this review.
​

There are also quite a few contests currently listed that are eligible for the jackpot, but that only cost a ticket to enter.
Here are the side jackpot payouts for various sports, organized by payout tier.
Every deposit can earn you free money and tickets to weekly freeroll contests
FanPicks even rewards existing members for deposits. As you can see below, they issue bonuses for even the smallest deposits.
Also, anyone who deposits $25 or more earns an entry into the weekly freeroll contest to win real cash. Deposits also increase your chances of winning their $1,000,000 grand prize.
Frequent promotions compensate for no rewards program
FanPicks doesn't offer a dedicated rewards program. However, their ongoing promotions effectively provide the same value to players.
For instance, they disperse free vouchers to frequent players. These vouchers can be used to enter contests that pay real cash prizes.
Vouchers are especially useful for beginners. They provide another way to enter more free contests as you fine-tune your skills.
FanPicks offers many free and low-cost contests
Although FanPicks doesn't host dedicated beginner-only contests for novices, it's a decent site for learning DFS. They host a ton of free and low-entry fee contests that make for great practice without breaking the bank.
Being a smaller daily fantasy host, FanPicks does have a bit of a reputation for softer competition. By avoiding the sharks, you may notice a higher contest ROI than you achieve on larger hosts.
The FanPicks platform is available on most devices
Any legit DFS host should work seamlessly on all screen sizes. The FanPicks website is fully-responsive, meaning you'll get a similar experience on mobile as you do on a desktop.
Also, FanPicks supports a native mobile app for both Android and iOS devices.
Wrapping-up this FanPicks Review
If you're a new DFS player or a veteran looking to try out a new daily host, FanPicks is definitely worth a look. Their emphasis on college sports, deposit bonuses, and ongoing promotions help them stand-out in industry where freebies are increasingly hard to find.
If you enjoyed this FanPicks review, use the button below to claim your 2019 deposit bonus. You can also try to FanPicks Promo Code FREE10 for a 110% deposit match.