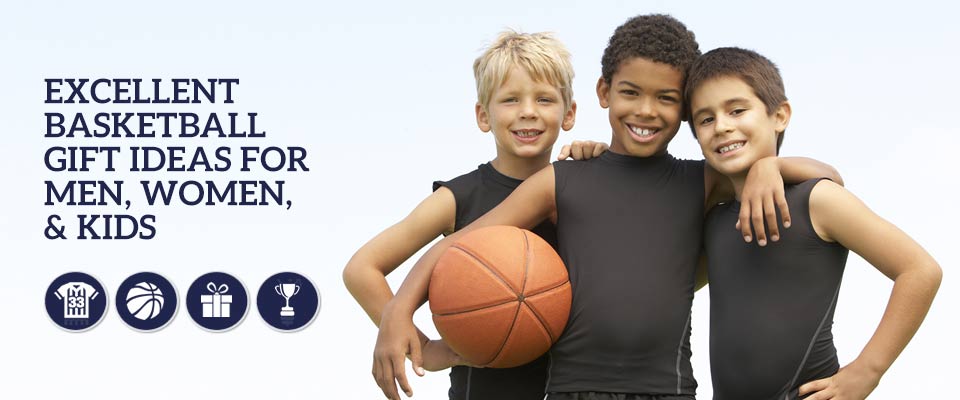 When looking to buy a gift for a loved one, it can be nerve-wracking to find a present that's just right. But if you're shopping for a basketball fan, there are tons of unique and exciting gift options that could fit the bill.
Basketball's popularity grows year over year. So the web is filled with cool basketball stuff that is perfect for gifting.
This article is a detailed compilation and review of the best basketball gifts on the web. Use these ideas for a birthday present, Christmas gifts, or even a senior night gift.
Fun Basketball Gifts for Kids and Basketball Players
Kids want gifts that are fun, flashy, and entertaining. But trying to decipher what they think is cool is like trying to find the proverbial needle in the haystack.
However, I've found a few basketball gifts for kids that are sure to intrigue. This includes some of the best gifts for basketball players.
Hoop it up at night with this LED B-Ball
Basketball players don't want to stop playing just because the sun goes down. So give them a gift that lets the game go on.
This durable, regulation-sized light up basketball is loads of fun both indoors and out. The ball is impact activated and shuts off automatically when not in use.
Long-lasting LEDs are pre-installed along with replaceable batteries. So they'll get lots of life from this basketball without having to change batteries regularly.
A 60-day, hassle-free repair/replace guarantee shows that Glow City sells a quality product. This ball is an excellent gift for any basketball players, boys or girls.
Brighten up your home basketball court
Grab the Light Up Action Basketball Hoop Kit and host a pick-up game anytime, day or night. Your favorite player can easily attach the kit to any basketball hoop using the included bungee system.
This kit is programmed to flash green when you sink a shot, or red when you miss a shot. So no more excuses or missing a rebound!
There are over seven LED colors to choose from, so it should be easy to pick one that matches your basketball player's style or team colors.
If you don't want to hard-wire this kit, there is also a rechargeable version. So you can charge during the day and utilize the kit at night.
Stylish B-Ball socks to make kids take notice
How about adding some fun and flair to their game with these MadSportStuff Basketball Socks? The 25+ funk designs will make them stand-out both on and off the court.
Not only do these socks look great but they are made from high-performance materials. They feature moisture-wicking and blister control, so they can play for hours without slowing down.
This new style of basketball socks is popular with both boys and girls. I guess this isn't much different than the jams we wore in the '80s?
Although they're a bit bold, they blow the Cable Guy's socks out of the water.
Cool Basketball Gifts for Boys
When it comes to basketball gifts for him, you want to go for the wow factor. Boys want cool, shiny basketball stuff that they can show off to their friends.
So that's the theme behind the ideas for basketball-themed gifts.
They won't believe their eyes with this illusion lamp
This Optical Illusion Basketball Lamp is an intriguing gift idea if you're looking for something a bit unorthodox. The lamp creates a 3D floating basketball effect and colors that change with a single touch.
This basketball gift is an instant conversation starter. It can be powered by batteries or through a wall socket.
The display itself features a basketball player in mid-dunk and offers the inspirational message: "You are the best."
Any boy who is a basketball fan is sure to be wowed by this killer holographic lamp.
Basketball-Themed Canvas Wall Art
Boys love decorating their walls with sports-related memorabilia. So this canvas wall art could be a good fit for a basketball fan.
This set of basketball wall art comes with three separate pieces. They feature a player dribbling, jumping, and dunking.
The prints are stretched onto a wooden frame, ready to be hung on the wall. Check out these positive customer reviews for this basketball wall art.
Stylish Basketball Gifts for Girls
Trying to find a gift that is basketball-themed, yet explicitly made for a girl, can be a challenge. But I have a couple of basketball ideas that she will love.
Girl basketball gifts can include clothing, jewelry, or even personalized basketball presents that appeal to women. There are even some basketball gifts for girl players.
A comfy hoodie for a basketball-loving lady
Let her rock a hoodie that leaves no doubt that she is a hoops fanatic. This warm and cozy B-ball hoodie with LOVE emblazoned on the front (with an "O" in the shape of a basketball, of course) is excellent for warming up pre-game or just watching a big game.
They manufactured this hoodie using a 50/50 blend of cotton and polyester. You can also choose between numerous sizes and five different colors: black, blue, grey, pink, and red.
With a relaxed fit and hooded top, this hoodie will keep her comfortable and warm while repping the game she loves.
Let her bling show her love of basketball
If the girl in your life likes tasteful jewelry as much as she loves hoops, then the Basketball Bangle Bracelet is the perfect gift. The design is a classic charm bracelet with various basketball-themed charms attached.
Not only is the bracelet stylish, but it offers positive motivational messages. It comes packaged in an elegant, velvet bag for safekeeping.
This gift is made in the USA and customers rave about its craftsmanship. It's a trendy yet simple gift for your sweet little basketball fan.
Sweet Basketball Gifts Ideas for a Boyfriend
Are you in a constant battle for your boyfriend's attention? His honey-do list is growing, but there he sits on the couch watching his favorite hoops team.
Instead of fighting a losing battle, why not make the most of the situation? Gift something that recognizes his love the game, but is also a reminder of how special you are to him.
Make him think of you with every sip
The E-FirstFeeling 30-ounce travel mug looks like someone took a basketball and shrunk it down into a tumbler. It is constructed from 18/8 stainless steel for maximum durability.
This cup is eco-friendly, non-toxic, and BPA-free. These materials ensure your boyfriend will remain strong and healthy (assuming you want him to stick around for a while).
This tumbler is double-insulated to keep hot drinks hot and cold drinks cold, easily retaining ice overnight. It fits snugly into most cup holders and will never sweat or leave a nasty mess.
The wide mouth opening means it's easy to clean. It makes an excellent basketball gift for any occasion: Father's Day, Christmas, or even a boyfriend's birthday.
Help him express his love explicitly, for you both
What says I love you more than plastering it all over a t-shirt? This basketball lover's shirt makes it clear that he only has two loves in his life: basketball and you.
There is room for no more!
The shirt manufacturer designed this with an eye towards grunge style. The text has a distressed feel and comes in six different colors.
This shirt is another basketball gift that is suitable for any occasion. There are styles for both men and women, so you can even buy a matching pair if you're feeling particularly affectionate.
The ideal gift for a basketball player boyfriend
If your boyfriend is a basketball player, it only makes sense to get him a present he can use on the court. A quality basketball will give him years of enjoyment playing the game he loves.
As a former player myself, I know that most basketballs sold in stores are garbage. Within a month or two, the grip is worn down and they start leaking air.
But this Spalding Basketball is the official basketball of the NBA. To earn that distinction, you know it's high quality.
Although this ball isn't the same design that they use in the NBA, it's essentially the same design that the pro's use. Check out the user reviews of this high-end rock.
Basketball Team Gift Ideas for 2020
There may be no greater bond than teammates after a long, hard-fought season. Coaches, team moms, and player parents sometimes need to buy gifts for the entire basketball team.
A thoughtful present is a sweet way to commemorate the team's fantastic accomplishments.
So here are some cool yet inexpensive basketball team gift ideas that the entire team can enjoy. These are my favorite youth basketball gifts, some for girls and some for boys.
Motivational basketball team dog tags
These motivational dog tags are an ideal gift for a boys basketball team. They sell these tags in 12-packs, so there should be more than enough to cover an entire basketball team.
There are four unique inspirational tag messages mixed into the pack. Each tag comes with a 20-in chain so they should fit anyone and can be easily adjusted.
These tags are also a smart gift idea if you're hosting a basketball-themed party. You can include the tags in gift bags, and the kids will love them.
Bracelets for an entire girls basketball team
I love the Sportybella Basketball Charm Bracelet because it combines good looks with a great message. This bracelet is an ideal team gift if you're buying for a girls basketball team.
The orange and black strands mimic the colors of a basketball. The included charms send a message of infinite love for the game and their teammates.
With a durable, adjustable clasp the bracelet always stays in place. They are made in the USA and customers compliment the quality construction.
Show them how key they were to the team's success
These key2Bme basketball keys are a fantastic team gift idea. Each key is constructed using the word B-A-S-K-E-T-B-A-L-L and is attached to a keychain, ready to be put to use.
Another benefit of these keys is that they are perfect for gifting. They package each key in its own small, chambray drawstring bag.
The affordable price and ready-made packaging make this basketball team gift a no-brainer. You can even save a significant amount if you purchase three at a time.
Along with the bag is an inspirational quote from the best player to ever put on a jersey.
Some people want it to happen. Some wish it would happen. Others make it happen.

Michael Jordan
Gifts for Basketball Lovers
Finding a gift for basketball lovers isn't an impossible task. In this article, I grouped the basketball gift ideas to make it easier to find one that is perfect for your special someone.
These gift ideas included gifts for basketball fans, personalized basketball gifts, gifts for basketball players, and even gift ideas for a boyfriend.
Whether you're researching a gift for a basketball senior night, looking to buy a basketball Christmas gift, or even considering gifts for an entire basketball team, these ideas are sure to please any basketball fan.
Updated on