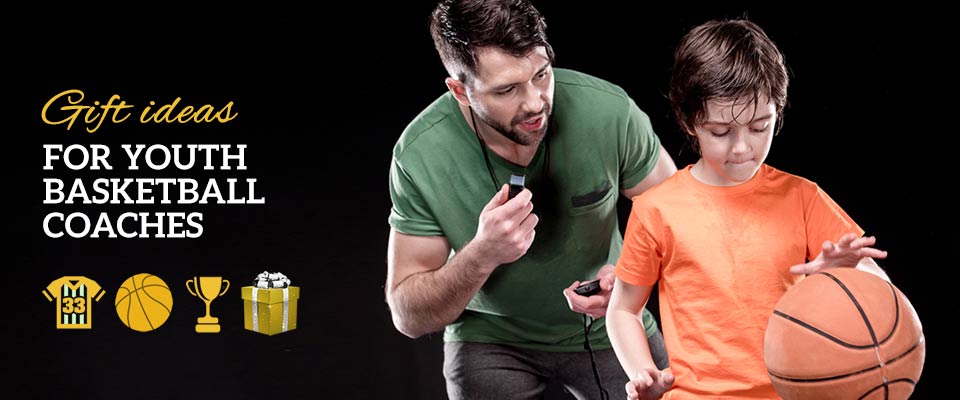 After a hard-fought season, it's customary to show your appreciation to the basketball coach with a gift. It's a small way to say thank you for their hard work in helping your child be a better player.
While buying gifts for youth basketball players is relatively easy, finding that perfect present for a coach can sometimes be a challenge. However, I have done the hard work and compiled a list of thoughtful yet affordable gifts that basketball coaches will love.
Let's get started.
Fully-Customizable Team Picture Frame
The Personalizable Photo Frame is the perfect B-Ball coach gift for the whole team to say thanks for a great season. It's made of top-quality natural wood and comes in several sizes and orientations.
The coolest thing about this frame is you can customize it quickly right at checkout. And instead of simply engraving the coach's name, you have plenty of room to engrave the coach's name, a message, the team's name, and the name of every player on the team.
This frame ships between 2-3 business days. So if you're in a time crunch, the turnaround time for this basketball frame is pretty quick.
Gift Ideas for Male Basketball Coaches
If you're buying a gift for a male basketball coach, my advice would be to find a gift that is basketball-themed, yet practical. Guys like to receive presents that we can use, so this list of gifts has that goal in mind.
Gift something practical: a Game Day Basketball Bag
If there is one thing that every basketball coach needs, it's a gameday bag. These are the bags that contain the basketballs that the team will use to warm-up before a game.
If you've been to a few youth basketball games, you know that most of these bags are hideous (and frequently falling apart). But this b-ball bag from Baden is stylish and constructed of high-grade, durable polyester. It should last for years.
It holds six official-size basketballs (or even 10 footballs). So for coaches that handle both basketball and football, this gift can serve a dual-purpose.
Best of all, this coach's bag is affordable and has stellar reviews.
Get in the heads of their players
Idan Ravin's The Hoops Whisperer makes an excellent gift for basketball coaches who want to take their craft to the next level. This book is not about on-court strategy, but a roadmap for how to build a player's game from the inside-out.
The book is full of unorthodox drills and techniques that focus on maximizing potential. Ravin showcases his history of working with some of the NBA's top talent.
I think this is the perfect gift for B-Ball coaches who don't want to merely build better players, but better people.
The hat that leaves no doubt what they are all about
This basic yet stylish baseball cap proclaims their role on the court: coach. It features a distressed and trendy look and feel.
Emblazoned with the word "COACH" in all caps on the front, it leaves no doubt who is in charge. This hat is perfect for the sidelines or for a relaxing time out and about.
This cap comes in eight different colors. If you're buying for a female coach, they even sell a pink cap.
This hat is adjustable, so it is guaranteed to fit. They manufacturer it in the USA and will ship it to your door for free.
Gift Ideas for Female Basketball Coaches
If you're seeking a gift that is as unique as your kids' basketball coach, you'll love these gift ideas. I have put together a list of gift ideas targetted specifically to female basketball coaches.
These female coach gifts offer a reminder of her accomplishments and your appreciation.
Drain it before you drain it
Let her stop, pop, and drop one of these in her next bath. Created to look like small basketballs, they are the perfect addition to a relaxing soak.
These B-Ball bath bombs are therapeutic and moisturizing. They contain Epsom salt that is proven to relieve muscle aches and pains.
Each of the bombs is individually shrink-wrapped, so they'll stay fresh for quite some time. The set of three comes in a clear, tennis-ball-style can for added flair.
These bombs are a smart gift idea for those high-maintenance female basketball coaches (we know who you are!).
Long live the basketball queen
This Queen of Hoops shirt is perfect for the female coach who demands respect. It features a vibrant message and a basketball with a crown for your child's queen of the court.
This gift makes a great practice, workout, or lounging shirt. It is lightweight yet durable, stitched at the sleeves and on the bottom hem.
The shirt comes in five different color combinations. Returns and exchanges are free, so if you need to adjust the size that's no problem.
Basketball coach apparel is always in demand. This shirt is a simple but relevant gift for any female basketball coach.
Make the next shot count
Basketball coaches are aware of the wisdom they impart. They're problem-solvers by nature, and this shot glass reflects that attitude.
The ceramic shot glass itself features a pithy saying only a basketball coach truly understands. It is printed with HD ink to resist fading.
This gift comes with a lifetime guarantee, so you know it is built to last. The basketball shot glass is the perfect gift to toast her future victories or to drown her sorrows after a rough season.
Personalized Basketball Coach Gifts
If you're looking for something more personal than just a plain plaque or shirt, a customizable basketball gift is worth exploring. Personalized gifts go that extra mile and make fantastic keepsakes.
This list of personalized basketball coach gifts includes leisure items and present ideas that are a bit more classy. Each offers heartfelt details that make it a gift to be remembered.
Give them the gift to capture the season
This thoughtful basketball gift idea combines a photo you provide with a basketball-themed frame. The glass front of the 10×10 frame features basketball slang, making it a great addition to the coach's den or office.
To personalize this gift, add a 3.5×5 picture of the coach (preferably of them in their natural habitat, the sideline). The frame comes with a glass front and an easel back with a wall hanger.
Few youth basketball coaches have a keepsake that features them directing the game they love. This gift idea is one of my favorites.
Remind the coach how special they are next time they tip one back
What could be better than a personalized hoops gift they can put to good use? This personalized 16-ounce beer glass and matching coaster are sure to be a hit with your favorite, fun-loving basketball coach.
The set features a basketball-themed crest that can you can personalize to include the coach's first and last name. The coaster features a high-quality background of a basketball court.
The glass is sand etched by hand, so it will not rub off or fade. The set also comes in a personalized gift box, so no wrapping required.
Say thanks to the coach with every stroke of their pen
If you want a gift that is both stylish and functional, this personalized pen set is the answer. It contains a rosewood pen case with matching ballpoint and roller-ball pens.
The pens themselves are carved from real rosewood and feature bright gold accents. You can customize the case with the coach and team names.
A 100W laser engraver ensures the personalization elements will never fade or disappear. Check out reviews from happy customers if you want to learn more.
Gifts for Basketball Coaches
In this article, I reviewed my picks for the best gifts for basketball coaches. You can present these gifts at the end of a season, but they make excellent Christmas gifts for a basketball coach.
If you have other gift ideas for a basketball coach, tell me about them in the comments below.