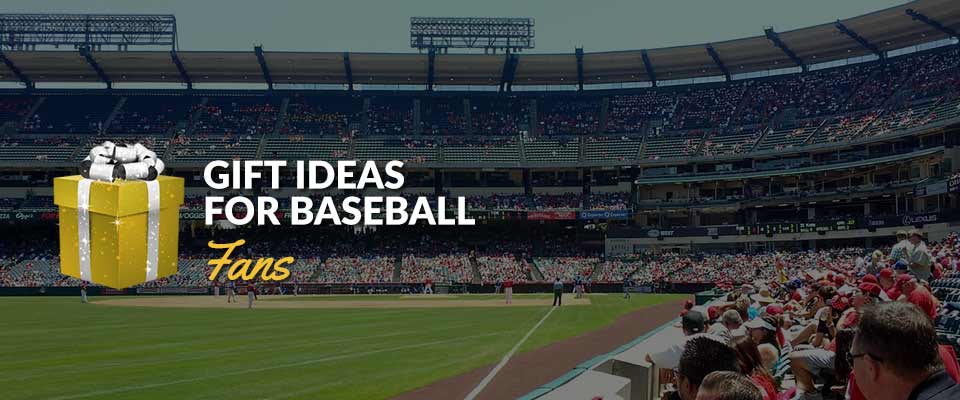 When shopping for baseball gifts for the fan in your life,
you want to buy a memorable present that will both stand-out and last for years to come. But trying to find a quality, fun, yet functional baseball gift can sometimes be a challenge.
Luckily for you, I've done the hard work!
I scoured the web to find the best gifts for baseball fanatics. These present ideas combine a love for the game with unique features that are sure to please.
Gift Ideas For Baseball Fans
When shopping for a baseball fan, it can be difficult to find something that is both baseball themed and practical. But these three baseball gift ideas that check off both boxes.
Hit your next beverage out of the park
Party hosts are always looking for ways to make their celebration more memorable. This TrueZoo Iced Mold is an eye-catcher with a baseball angle.
Sphere ice molds are popular because spheres have a smaller surface area than cubed ices. This means the ice melts slower and doesn't dilute their drink!
This is a perfect gift for a baseball lover who likes throwing parties. It's also a good option if you're looking for baseball coach gift ideas.
The mold is dishwasher safe for easy cleaning. Grab a few so he'll have several on hand when it's time to break out the good stuff.
Chronicles of the most storied franchise in baseball
The Story of the Yankees is a fantastic collection of articles written about the Yankees in the New York Times. The 350 stories are organized by era, chronicling the team's most amazing accomplishments throughout history.
For even a casual baseball fan, this is a educational gift to learn about this storied franchise. Articles from the world-renowned New York Time are sure to amaze.
This book is must-have for any Yankees fan. The ability to go era by era will let them relive great moments throughout their lives as Yankees fans.
Hitting it on the barrel of the bat never tasted so good
Why drink beer from an ordinary mug when you can drink from a genuine Dugout Mug? These hollowed-out baseball bat mugs are handcrafted from real birch wood, so every mug has its own unique grain pattern.
The mug is completely sealed, both on the inside and out to assure durability. It can hold up to twelve ounces of hot or cold beverages, so your baseball lover can enjoy the game knowing his drink will last.
Looking for a unique and memorable baseball coach gift? This inexpensive gift idea will definitely fit the bill.
This unique mug is the definition of a conversation starter. Several customers mention the attention they got when bringing it to the ballpark.
Baseball gifts for boyfriends
When shopping for gifts for baseball lovers like your boyfriend, you want something that will resonate with him. I have found three baseball gifts for him that are just what the doctor ordered.
Each of these gifts is incredibly distinct, are sure to get a ton of use, and show him that you put a great deal of thought into finding the perfect present.
No need to keep a hat in hand with this fantastic hat rack
A baseball hat rack that is so simple it is indeed genius. Simply fasten this over any hangar with the included velcro to hold up to 10 hats securely.
Most hat racks have hooks that make it easy to knock hats off. I love this design because there are clips that hold hats securely.
It is made from heavy-duty nylon for long life. Your baseball fan can also use it for smalls items like socks or gloves.
Take your valuables out to the ballpark in style
If you can imagine cutting a baseball and making it into a wallet, this would be the result. This clever wallet is made from genuine baseball leather.
It will last a lifetime, and just like a baseball glove it will break-in as you use it. It also contains 108 waxed stitches, just like a real baseball.
With eight credit card slots, the wallet is not only stylish but functional. This is a gift that any baseball fan will love and also makes a fantastic conversation starter.
Knee high team socks that will catch the eye
If you're researching baseball gifts for boys, this is a present that will definitely get him noticed. With a unique 360-degree digital printing design, these superior quality socks will always keep him in style.
They are made from a high-performance fabric that is light and breathable. They will fit any shoe size between 6 to 11.
With moisture wicking and ankle compression included, these are not just good looking but promote high performance. This gift can be used for a variety of sporting and outdoor activities.
Baseball Gift Ideas for Women
Trying to find a baseball gift for a woman that is uniquely her can be a challenge. A random baseball-themed gift will not do the trick.
I have found three items that a woman would love because they combine baseball with high style and function. These are gifts that emphasize her love of the game but also shows her tasteful and feminine style.
A fashionable tote for a baseball fanatic
This amazing baseball-themed tote is sure to catch anyone's eye. It is as if handles were added to a hollowed-out baseball to create an extra-large, stylish tote.
It is made from a blend of cotton, canvas, and polyester for a soft feel and long-lasting quality. The bag offers a magnetic closure as well as a slip zipper pocket inside.
This is an excellent gift for the oft–traveling girl in your life.
Stories of inspiration from women going for the win
This inspiring book makes a perfect gift for women who love sports and the thrill of competition. Whether she loves to play or just to watch, these compelling stories are sure to fill her with exhilaration and hope.
There are over forty stories from female pioneers in a range of sports. The book celebrates the bold and fearless women that have paved the way for young girls and women in sports.
Let her wear her love of the game
She loves the game, and this is just the tee to show that. With a baseball heart on the front, this tee is a perfect gift for a baseball-loving woman or girl.
This is a lightweight tee with a classic fit. It offers a double-needle sleeve and hem for long lasting durability.
Women love this tee not just for the baseball theme, but the style as well. It's the perfect gift for her to wear to the next big game.
Highly Unique Gifts for Baseball Fans
When you want to find one-of-a-kind gifts for baseball fans, the search can be tedious. There are plenty of generic baseball gifts out there, but few that truly stand-out.
Blend their faith with their love of the game
This beautifully engraved baseball pendant necklace makes an excellent gift for a woman who loves jewelry. The pendant has a cross above a baseball on the front, and an inspirational bible verse etched in the back.
The pendant and chain are made from high-quality stainless steel. The tough meatal means it will not scratch or tarnish over time.
The lobster claw clasp makes it easy to put on or remove. When you give this gift to a special baseball fan in your life, they are sure to be blown away by the unique melding of baseball and faith.
The ultimate baseball gift bundle
Why stop at one baseball-themed beverage holder when you can give a whole set?. The Iron Band Baseball Gift Bundle comes with a tumbler, two bottle coolers, a tote bag, and even baseball earrings.
The tumbler holds thirty ounces and will keep drinks cold for up to 12 hours. The bottle sleeves are perfect for keeping your beer super cold the entire time.
This set is crafted to resemble actual baseballs. The high-quality construction and unique design make this a gift that can be used for years.
Hang your baseball cap collection in style
There is no need to keep your collection of baseball caps on some generic hat rack. This rack is literally a baseball bat that has eight hat hooks screwed into the length of a baseball bat.
Each of the hooks is can hold several hats. Sawtooth hangers are affixed to the back for easy mounting to any wall.
This gift comes in a unique drawstring bag that makes it easy to give as a gift they will not soon forget. This gift is incredibly versatile since the rack can hold items like coats and jerseys in addition to hats.
Updated on