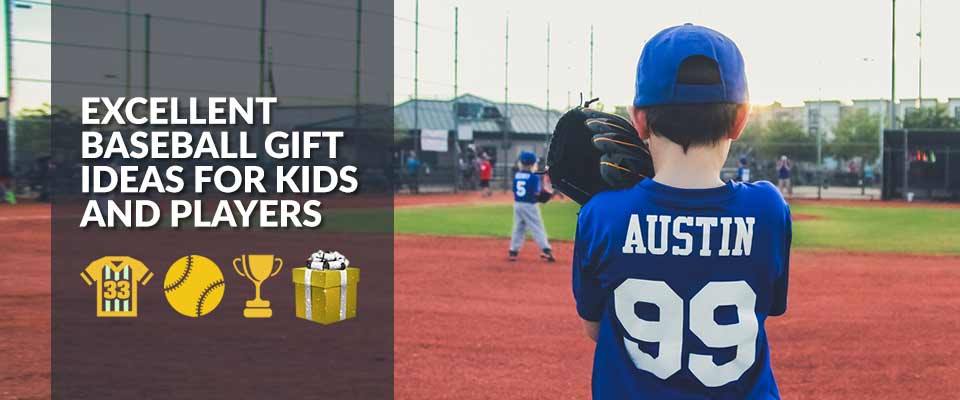 It is not that uncommon to find a boy that loves baseball. What is uncommon is finding a gift for them that is as unique as it is stylish or practical.
I have compiled a list of baseball gifts for boys with an unusual slant that will make them a gift they will cherish. These baseball gifts share a common idea of novelty that will make you proud to give them as gifts time after time.
Unique Baseball Gift Ideas For Kids of Any Age
Most boys love baseball. So giving a baseball-themed present is usually a safe idea. The problem can be finding the right gift that is baseball themed and that kids will love.
Here are a couple of ideas that are sure to please. These are more than just generic baseball gifts; they offer something novel that baseball kids are sure to love.
Catch a great night's sleep with this ingenious night light
When your little one loves a nightlight, why not give them something that will remind them of the game they love. This 3D nightlight forms the shape of a baseball glove in one of seven different colors.
The light offers easy push-button operation while consuming very little power. The light is cool to the touch for your kid's safety.
Users of this light rave at how the cool light creates a fantastic ambiance in any room. The light even offers a flashing mode if you want to use it as a conversation piece at your next party.
Give them the birthday card they will love forever
Most people go to the store and buy generic cards for special occasions, but this personalized card is indeed one of a kind. With over 100 different designs, you are sure to find the one that is perfect for your little baseball fan.
This is a card that is so much more than a generic card because it is a photo keepsake. This is a card that will look great on a wall, shelf or desk.
The message is presented in a beautifully scripted font. The whole card is encased in durable plastic for long life.
Baseball Gifts For Boys Who Love The Game
When your boy loves the game of baseball, it goes without saying that he would cherish a gift inspired by the game he treasures. The problem is that you want to find something original and different.
I have found two gifts that are as funny as they are uncommon. They offer boys who love the game a gift that screams baseball with just a little bit of irreverence.
Give them the print that will have them howling….because it is all true
This high-quality print features inspirational and funny sayings. This print expresses the thoughts any baseball pitcher has time and again.
The print is made from a glossy, thick cardstock giving it a solid feel and look. The image of a pitcher in mid-windup is supplemented with many sayings pitchers will love.
Parents rave because this is a gift their kids will display proudly. This 8×10 print comes with a rigid backer board meaning it can be hung with or without a frame.
A little dab will do ya
Kids love to dab so why not give them the shirt that does just that. This shirt features a player in uniform dabbing.
The shirt is made from high-quality material and is lightweight with a classic fit. You know your baseball kids will love this because all of their friends will rave about the hilarious image.
This is the type of shirt that makes a great gift to get a season kicked off on the right foot. In fact, why not outfit the whole team in these since once your kid has one, everyone else will want one.
The Best Baseball Gifts For Players
If you're buying a gift for a boy who is a baseball player, chances are they have all sorts of baseball gear. As such, it is somewhat difficult to find a gift that they don't already have.
I researched and found three baseball gifts for players that most of them have likely never seen. Best of all they not only have a baseball feel, but they offer function and style for any player.
The bedside lamp for a baseball fan
The crack of the bat has never looked better. This inventive desk lamp creates a 3D visual effect of a batter about to hit a pitch.
The lamp offers a sturdy base and can be lit in seven different colors. This makes a fabulous gift for a baseball player to decorate their room.
Kids will love this lamp because how many kids have a nightstand lamp that has its own remote control? The lamp puts off very low heat so it is safe to the touch and it offers a soft and warm light.
The shirt that offers simple instructions for life
Ask any baseball player and they will tell you that life is pretty simple. You wake up, you eat, you play baseball, and then you do it all again the next day.
This shirt will make an excellent gift for a baseball player that lives and breathes baseball. The shirt is great to wear to practice because of its lightweight and durable design.
This shirt would also make an excellent gift for a whole team to set a tone for a new season. It comes in several colors that will fit well with almost any team's colors.
Help make the baseball player in your life the best they can be
Having good hands is something baseball people are always talking about. Whether it is fielding a grounder, making a throw, or hitting a ball, strong and agile hands are a must.
The Sportsgrip Hand and Finger Exerciser makes a great gift to improve any baseball player's game. This is a perfect gift since a player can use it anywhere and at any time to develop hand strength and dexterity.
Users can choose between three different resistance levels as their strength increases with use. The soft finger caps means they can use it again and again with no fatigue and with their fingers securely in place.
Personalized Baseball Gift Ideas For Kids and Players
There may be no better way to show how much someone means to you than by getting them a personalized gift. But when searching for a personalized gift with a baseball theme, you may find your choices are limited.
I have found two baseball gifts for kids and players that are highly customizable.
Spell their name in baseball images
What could be more unique for a baseball player than a gift that spells out their name in well-known baseball images? This frameless wood block is ready to hang on a wall as is.
The block uses images from baseball to spell out any name. The best part is that the same image is not used twice even if the name has the same letter more than once.
The printed background is a photo of a baseball with the letter images superimposed over that image. This gift is so unique that any baseball player will hang it with pride.
A great tee with their name and number
This is a fully customizable shirt that you can give to the player in your life. You can add your favorite player's name, number, and team to this exceptional shirt.
This jersey shirt is soft and comfortable making it perfect to wear to practice or just around the house. The shirt is digitally printed with a state of the art technology to resist fading over time.
This makes an excellent gift for your favorite player or the entire team to start a season off right. Users rave at the high quality and the level of customization that is possible.
Updated on