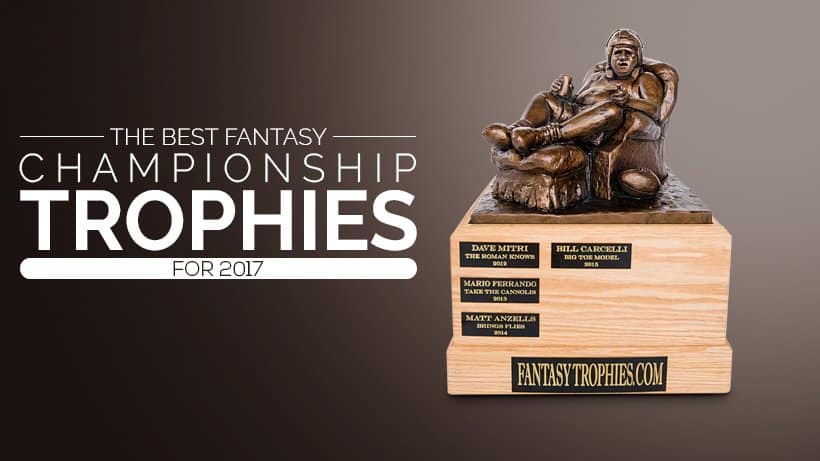 Every fantasy football league worth playing in rewards its best teams with some sort of tangible prizes. Although there are more fantasy prize ideas than ever before, the fantasy football trophy is still a staple in most leagues.
Compared to some of the more unconventional fantasy prizes out there (think fantasy championship belts), trophies are generally much cheaper. Even for fantasy leagues on a tight budget, the best fantasy football trophies on the market are still within reach if you spread the cost among the owners (and across multiple years, as we'll see).
More...
The trophies in this review are the best awards for your top league performers. Check out my other article on funny fantasy loser trophies if you want to award something to your league bottom-dwellers.
Here is a quick summary of the top trophies for the upcoming season (each trophy is reviewed in detail below). I'll cover both premium trophies, creative trophies, and cheap trophies for leagues looking to save a few bucks. You can quickly click on any of these links to check their current prices on Amazon.
Fantasy Championship Trophy Ideas
When coming up with ideas for fantasy football trophies, there are a few factors to consider:
Do you want to present a new trophy each and every year?
Are you looking for a low-cost or a high-end trophy?
Does your trophy need to be customized with league or champion names?
Do you want to give your trophy a name?
I'll discuss each of these points in detail next.
Choosing a name for your fantasy football trophy
I frequently talk to commissioners who want to give their championship trophy a name. They want a list of the best fantasy football trophy names.
I believe that trophy names should be based on the makeup of your league. If you're a league of accountants, then give your trophy a name with a money-related angle. Maybe you're in a league with college buddies? So name your trophy something related to your Alma Mater.
The point is, be original. You don't want to be one of thousands of leagues with a "Brophy" trophy.
Perpetual vs Single-Year Trophies
Fantasy championship trophies generally come in two varieties: single-year or multi-year (perpetual). The best option for your league will depend on the personality of your owners and your league budget.
When choosing between the two, it's best to take a vote and record the league's decision in your league constitution.
Perpetual trophies are a one-time purchase and are shared among owners
Perpetual trophies are passed from owner to owner and are much larger because they must have enough space to engrave many years worth of league champions. Perpetual trophies are more expensive than single-year trophies, but because they're a one-time purchase the yearly cost is actually quite low.
Benefits of a Perpetual Fantasy Trophy
Drawbacks of a Perpetual Fantasy Trophy
Single year trophies are usually purchased and awarded every year
Single year trophies are generally much smaller than perpetual trophies. They are also kept by their winner. If your owners would prefer to keep their awards, then single year trophies are probably the way to go (unless you have a huge budget to buy a high-end trophy each year).
Benefits of a Single Year Trophy
Drawbacks of a Single Year Trophy
There is nothing to prevent you from sharing a smaller trophy among your owners, especially if your league is on a tight budget. But the price of a perpetual fantasy football trophy is minor when shared among all owners. Not to mention, they're almost always a one-time purchase.
This is why many fantasy fantasy leagues choose to go the perpetual trophy route.
The reputation of your trophy merchant
If you commit to spending your league's hard-earned money for a fantasy trophy, you need to ensure you're getting a quality product. Good customer service is quite important because trophies can and do get damaged during shipping.
I did most of the work for you in this regard as all of the trophies in this review have a well-documented, satisfied customer base. But don't take my word for it! Check out these trophies for yourself and look at what their owners have to say.
The Best Fantasy Championship Trophies Reviewed
I have reviewed five of the best fantasy football championship trophies on the market. Three of the trophies are perpetual trophies that can record multiple league champions. The other two are popular, well-crafted one-year trophies for leagues on a budget or who award single-year trophies.
There are an endless number of fantasy trophy vendors in the world. But this incredible trophy from Fantasy Trophies is the best fantasy trophy available anywhere. It doesn't take a genius to recognize that the Armchair Quarterback Perpetual Trophy is one of the most creative fantasy football trophies on the market.
It embodies what the sport of fantasy football is really about: being an armchair quarterback.
This unique trophy is made of a solid cast urethane compound. The bronze finish is hand-painted, meaning no two trophies are the same and you will truly get a one-of-a-kind award from these guys.
Compared to the other trophies in this review, the ArmChair Perpetual from Fantasy Trophies is definitely a luxury item. At last check, this trophy is priced on the high end at $375. But if you consider that it allows for the engraving of 36 years of champions, it makes a lot of sense for long-running leagues with expensive taste.
If you love the idea of a custom-made trophy, but this trophy it outside of your price range, don't' fret. They offer several other hand-crafted trophies on their website that are just as stunning, but a bit more affordable.
This perpetual trophy from SDL Awards Line offers most of the amenities of the Fantasy Trophies' Armchair trophy but at a much more affordable price. This trophy stands an impressive 16 inches tall and the chrome football is actually life-size.
The one thing I really like about this trophy is that you can customize it by engraving your league's logo onto the front of the trophy. No other trophy in this review supports this feature. If your league doesn't have a logo that's no problem, you can choose from one of six stock fantasy football logos during the checkout process.
If your league has already been in existence for a few years, SDL will actually engrave three of your league's previous champions for free at the time of purchase. As an added bonus, they'll even toss in a fantasy football keyring bottle opener to sweeten the pot.
If you're looking for an awesome perpetual trophy with cool customization options, this could be the ideal fantasy football trophy for your league.
This QB Perpetual trophy from Fantasy Jocks supports the engraving of 15 years worth of champions and stands over 12" tall. Fantasy Jocks is an established fantasy prize merchant with an extensive product line and stellar reputation. You can read my full Fantasy Jocks review here.
This is a popular trophy among fantasy commissioners because it is very affordable and will likely be the last trophy you ever have to purchase for your league. When you compare these prizes dollar to dollar, this trophy easily has the highest value of any trophy in this review.
Although you can't engrave your league logo onto this trophy, they will engrave your four previous champions as part of your initial purchase. For moderately-funded leagues that like the idea of a perpetual trophy, this would be a great fit.
This trophy from Decade Awards is a great option for leagues that choose to present a trophy to the league champion each and every year. Standing 9.5 inches tall, it's a considerable size for the price. Compared to other budget trophies on the market, it just looks much nicer.
A versatile feature of this trophy is that you can attach it to one of Decade Award's perpetual bases if you want to dress it up or convert it to a multi-year trophy. If you check out this trophy's reviews,
you'll see that their customer service is very responsive and can help you out if you decide to go this route.
One drawback of these smaller trophies is that many simply don't have customization options. For instance, you can't swap out the logo on this trophy or engrave any league champions. But for the price, this is a fantastic single year trophy.
I like the FFL Monster trophy because it just looks ridiculous. After all, we are playing a ridiculous game. It's also a true reflection of what a fantasy owner feels like as he wins a fantasy football championship.
This single-year trophy has the benefit of sporting an engraving plate. This way you can customize it each year before presenting it to your league champ. It's a nice touch and is free with your purchase of the item.
Owners rave about this fantasy football trophy and it's very popular among leagues that present yearly awards. If you don't like this award for any reason, Decade Awards has a no questions asked return policy.
You can rest assured you'll be happy with your purchase or you'll get your money back.
Conclusion
Fantasy trophies are by far the most popular prize awarded in fantasy sports. Whether you're looking for a high-end multi-year perpetual trophy or a low-cost single-year design, there are an endless number products to choose from.
In this review, I researched the best championship trophies for you, so you can focus on the task at hand: winning your fantasy league. I hope you enjoyed it.